We use affiliate links. If you buy something through the links on this page, we may earn a commission at no cost to you. Learn more.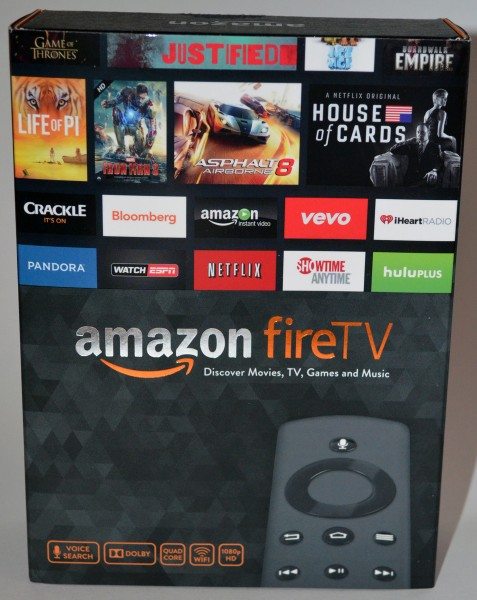 Three years ago, Janet and I posted a dual review of two of Roku's latest video streaming devices at that time, and we've been using those devices ever since.  Over the years, I've used similar devices like the Apple TV (original model), Boxee Box, Popcorn Hour and WDTV. Of all those devices, my favorite has been the Roku due to size and ease of use. But when I heard that Amazon was going to jump into the same product category with their own video streaming device, I knew I would want to try one.  I ordered one on the first day they were announced and have had a few days to try it out. Janet did the same and now we're ready to share our thoughts.
My comments will be in black; Janet's will be in blue italics.
Note: Images can be clicked to view a larger size.
Julie: I want to start off by admitting that I only use my Roku 2 XS for two things,  Hulu Plus and Amazon Prime. If I miss an episode of one of my favorite TV shows like The Following, I always catch up later in the week using Hulu Plus. I also use the Roku to watch an occasional movie or show from Amazon. The Roku 2 has never let me down. It's easy to use and never locks up.
Janet: I used to use my Roku 3 as my Time Warner Cable box for my bedroom TV, in addition to watching Netflix and Hulu Plus.  I eventually cancelled the Netflix and Hulu Plus because we just didn't watch either of them very much.  Now that we've moved, I don't need the Roku as a cable box, either.  I had just been using the Apple TV boxes (latest versions) we have to watch the programming we'd buy or rent on iTunes.  I've been a long-time Amazon Prime member, and I didn't have a good way to watch the streaming programming that Amazon makes available to Prime members.  Yes, I could have used my iPad and AirPlay to watch it on my TV, but I just didn't want to go to that much trouble.  I was excited to try the Fire TV because I wanted to get more than just the free shipping benefits from my soon-to-be-even-more-expensive Amazon Prime membership.
Julie just reminded me that I can watch Amazon Prime videos on my Roku box, too.  I had forgotten about that because I hadn't had my Roku hooked up in a while.  Unfortunately, this means the Apple Fire TV has to offer me something more than just Amazon streaming video to make it worth the purchase price.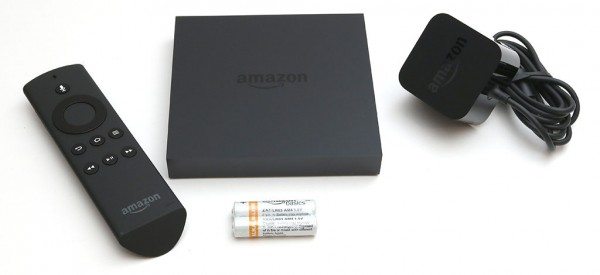 Package contents
Amazon Fire TV
Remote
2 AA batteries for remote
AC adapter
Hardware Specs
Amazon Fire TV box
Size:  4.5″ X 4.5″ X 0.7″, 9.9 ounces
SOC platform: Qualcomm Snapdragon 8064
Processor:  Qualcomm Krait 300, quad-core to 1.7 Ghz
GPU:   Qualcomm Adreno 320
Storage:  8 GB internal
Memory:  2 GB LPDDR2 @ 533 MHZ
WiFi connectivity:  Dual-band, dual-antenna Wi-Fi (MIMO) for faster streaming and fewer dropped connections than standard Wi-Fi. Supports public and private Wi-Fi networks that use the 802.11a/b/g/n standard with support for WEP, WPA and WPA2 security using password authentication.
Bluetooth:  Bluetooth 4.0 with support for the following profiles: HID, HFP 1.6, SPP
Cloud storage:  Free cloud storage for all Amazon content
Ports:  5.5 mm DC jack; Type A HDMI 1.4b output, w/HDCP; Optical Audio (TOSLINK); 10/100 Ethernet; USB 2.0 Type A
Audio:  Support for Dolby Digital Plus, 5.1 surround sound, 2ch Stereo and HDMI audio pass through up to 7.1
Content formats supported:  Video: H.263, H.264, MPEG4-SP, VC1; Audio: AAC, AC-3, E-AC-3, HE-A, PCM, MP3; Photo: JPG, PNG
Supported output formats:  720p and 1080p up to 60fps
TV compatibility:  Compatible with high-definition TVs with HDMI capable of 1080p or 720p at 60/50Hz, including popular models from these manufacturers: Hitachi, JVC, LG, Mitsubishi, NEC, Panasonic, Philips, Pioneer, Samsung, Sharp, Sony, Toshiba, Vizio, Westinghouse
Regional support:  Certain services may not be available outside the U.S.
Closed captioning:  Watch videos and TV shows with closed captioning displayed. Captions are not available for all content.
Warranty:  1-year Limited Warranty and service included.
Remote
Size:  1.5″ X 5.5″ X 0.6″, 2.4 ounces
Bluetooth:  Bluetooth 2.1 + EDR with support for the following profiles: HID, HFP 1.6, SPP
Voice search:  Dual digital microphones with noise suppression technology integrated
Buttons:  Voice, 5-way Directional, Back, Home, Menu, Rewind, Play/Pause, Fast Forward
Batteries:  2X AAA (included)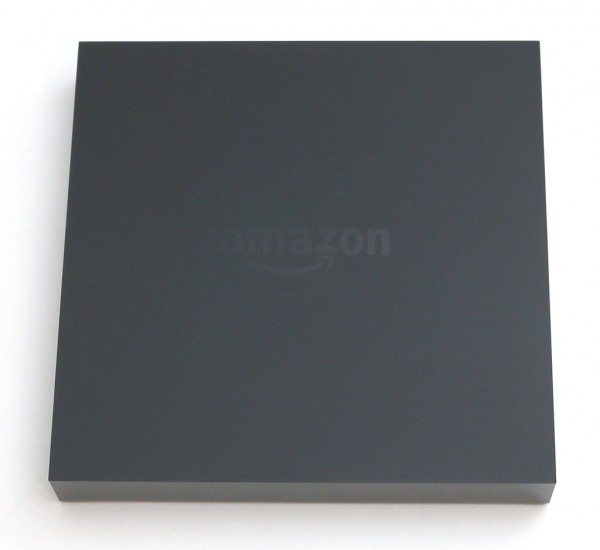 Julie: The Fire TV device is a small charcoal colored slab with the Amazon logo etched in the top. It's completely bling-free, so it should easily blend in with your other home theater components.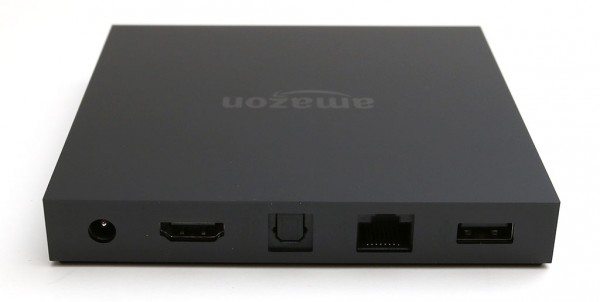 Julie: The front of the Fire TV is unadorned except for a tiny white power status LED on the left front edge (not shown), while the back edge has all the connection points. From left to right, there's power, HDMI (be aware that there isn't an HDMI cable included with the Fire TV), optical audio, Ethernet and USB.
Janet: The Fire TV box was supposed to come already set up with my account information, so I should have been able to plug it up to my TV using my own HDMI cable, plug in the power and start watching programming.  It didn't happen that way, though.  As soon as it started, it said it needed to install an update.  There was no choice to delay the update; it just started downloading.  It went for a while before giving me an error message saying that it couldn't complete the download.  I cycled the power on the box, as it suggested, and my download was able to complete and install.  It then showed me a little animated movie to help me get started.  It did already have my Amazon account info setup for me.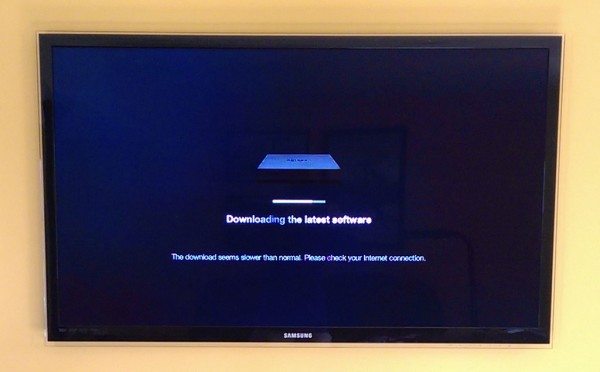 Julie: My first impressions weren't as "good" as yours. Like you, as soon as I plugged it in, it wanted to download an update. After a minute or two of trying it failed and said to try again. The second try failed too. I scratched my head and decided to hard wire the Fire TV into my network using an Ethernet cable instead of WiFi. So I restarted it and it immediately wanted to update and failed again. I rebooted it and it failed a fourth time. By then I was frustrated and flipped over to DirecTV and watched something else. The next day I turned on the Fire TV and for some unknown reason it actually started and finished the software update. It did tell me that the download was slower than normal though. Not sure why.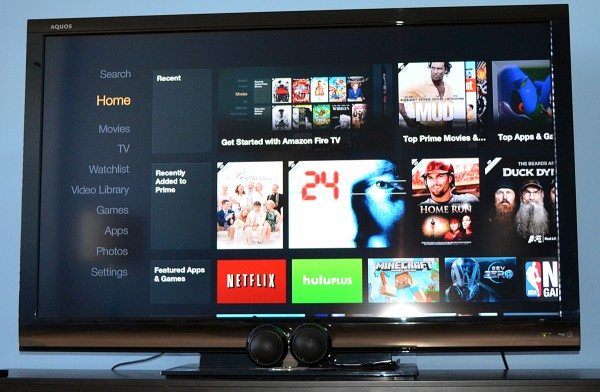 Janet: The Fire TV menu features the Amazon streaming videos, as you'd expect from an Amazon product.  You can watch Amazon Instant Video (for purchase or rental) or Prime videos, which are available for unlimited viewing at no additional cost to Amazon Prime customers.  You'll notice there's a row on the menu highlighting products recently added to the Prime offerings.
Julie: I wonder why they didn't include Music?
Also I just discovered that if you leave up the main menu like you see above, it will time out and go to a screensaver that shows the most beautiful fullscreen nature pictures for several minutes before it automatically powers off due to no activity.
Janet:  Hmmm, the specs say it will play music, so I investigated the information at the Amazon site.  They say you'll "soon" be able to access your Amazon MP3 library to play the music you've purchased from them.  There are music services, like Pandora, I Heart Radio, Vevo, and TuneIn, that you install apps for.  I don't subscribe to any of those services, though, but I did find that TuneIn has some free content.  I tried it, and I found that music played well with the TuneIn app, and it sounded great going through my amp and my Orb Audio speakers.  
The screen saver images are pretty!  I've noticed them showing when I turn on the TV, too.  You never power off the Amazon Fire TV, so it's always ready to go when you are.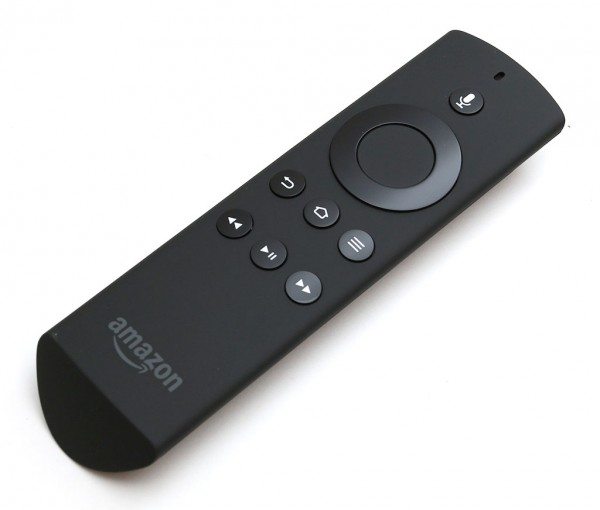 Julie: The remote that is included with the Fire TV has a nice feel complete with a good button layout. This is a Bluetooth remote, so it doesn't have to be pointed directly at the Fire TV device in order to work.
Janet:  The button with the microphone is for the voice search.  You press and hold the button while you speak the search phrase.  The hole just above that button is apparently one of the microphones.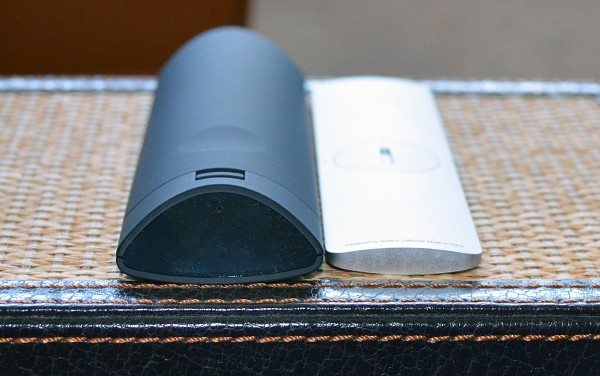 Janet: Here's a comparison of the Fire TV's remote with the Apple TV remote. They have a similar length and width, but you can see the Fire TV's remote is triangular and much thicker than the Apple TV remote.  The extra thickness and rounded edges makes it much more comfortable to hold, and it's certainly easier to keep up with.  
If you enlarge the above image, you'll be able to see a little circular hole in the shiny black cap on the Fire TV remote.  It's near the rounded peak of the triangle.  This is actually one of the microphones that capture your voice commands for search.  I am amazed at how well my search commands are understood.  I've searched for everything – movie titles, TV show titles, actor's names – and the Fire TV understood everything I said with two exceptions.  It didn't understand Geneviève Bujold when I tried to pronounce it with a French accent, and it didn't understand Reuben Blades until I pronounced his last name as "blades" instead of "Blah-dess".  It got everything else, even "vampire movie starring Kiefer Southerland."  That's not to say that Amazon's search found a match for every search term, because it did not, but it correctly translated every thing I said.

Julie: I am also impressed by how well the voice search works. It even understood me when I did a search on "Jake Shimabukuro" – one of my ukulele playing idols. It's usually pretty quick to display results, but sometimes there can be a 15-20 second delay. One thing to note is that in addition to bringing up TV shows and movies that match your search queries, it will also show other content like apps.
Janet:  I never seemed to have such a long delay for results.  Something you need to keep in mind about the voice search features is that it only works with Amazon's content.  No matter what app you're in, when you do a voice search, you'll only see matches from Amazon's streaming library.  Even if you are in the Showtime or the Crackle app or anything else, you'll be allowed to do a voice search, but you'll only see matches from Amazon.  If you want to search in one of the apps, you'll have to use their search option, which means you'll probably be back to scrolling around a matrix of letters and clicking on the ones you want.  My Crackle app, for example, doesn't seem to have a search utility at all.  It apparently has few enough options available to you that it feels you can just browse to find what you want.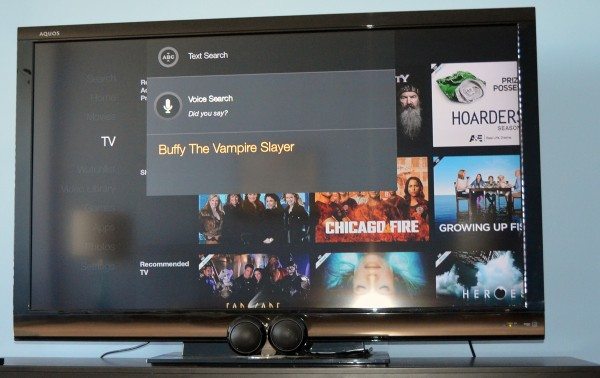 Janet:  Also, the voice search will not let you enter user names, passwords, or anything other than a search string.  You'll be scrolling and clicking letters to enter that sort of information.  If the voice search utility can't translate your search string, you can scroll up and select the text search option.  This doesn't even have a matrix to scroll around in – it's just a line of letters that you scroll through.  The Amazon search does start suggesting matches, so you could simply type in a D, then drop down into the list of suggestions beginning with D until you find what you're looking for, "Dexter" for example.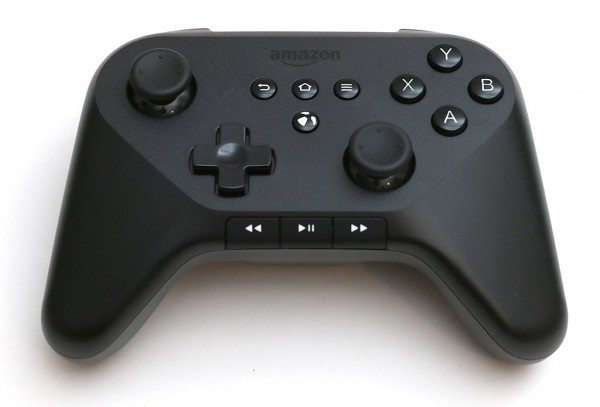 Julie: Speaking of apps, this is where the Amazon Fire TV differs from the Roku and Apple TV. In addition to the main feature of streaming video content, the Fire TV is also a gaming console. You can play games with the included remote control or you can opt to buy the separate gaming controller – like I did.
On the top surface of the gaming remote you will find two joysticks, one D-pad and other buttons which control games and the Fire TV. The gaming controller can be used in place of the included remote control.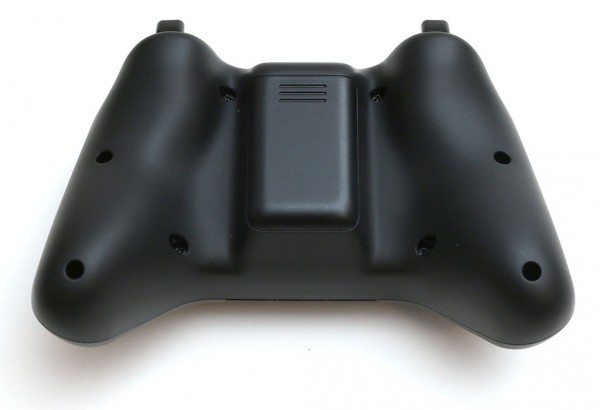 It's powered by two AA batteries which are included. A set of batteries is supposed to last for 55 hours of use.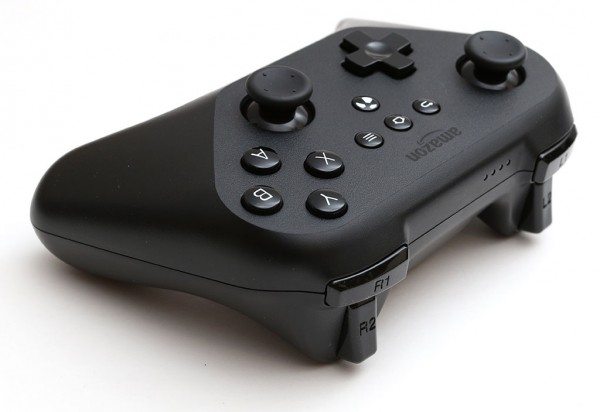 The gaming controller has two sets of trigger buttons as well. I don't consider myself a gamer, but the controller feels good in my hand and relatively responsive. For only $39.99 extra it didn't seem like that much of a splurge to include it with my Fire TV purchase.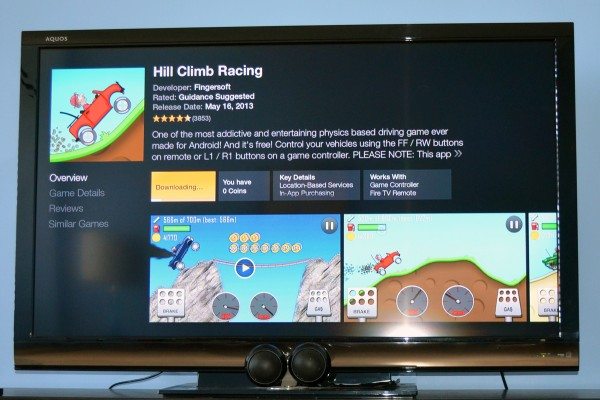 Janet: I'm not a gamer, so I didn't spring for the extra-cost game controller.  There are some simple games that can be controlled using only the standard remote, so I downloaded Hill Climb Racing and tried it.  The game was a simple car-driving game, and I somehow always ended up crashing my car and breaking the little driver's neck.  It wasn't very fun, but it might have been a bit more entertaining if I had cared about getting the little car across the bridges and over the hills.  When Julie and I were talking about the games, I said they might be okay for playing at Grandma's house when there was nothing else to do, but I couldn't see them being very satisfying as your only system at home.
Julie: I have been disappointed with the gaming aspect of the Fire TV because the selection of games that you can download is pretty small. You would think that any game in the Amazon appstore could be installed on the Fire TV. Unfortunately this is not the case. I searched the Amazon appstore on my Macbook and saw that there were lots of versions of Angry Birds available for regular Android phones and tablets. But none of those versions is available for the Fire TV. That's one of my biggest gripes about the Fire TV in general… it's an Android powered device but you don't have access to the Google Play app store and even the entire Amazon appstore. But like Janet said, as a gaming console it does offer some entertainment – but not for a true gamer.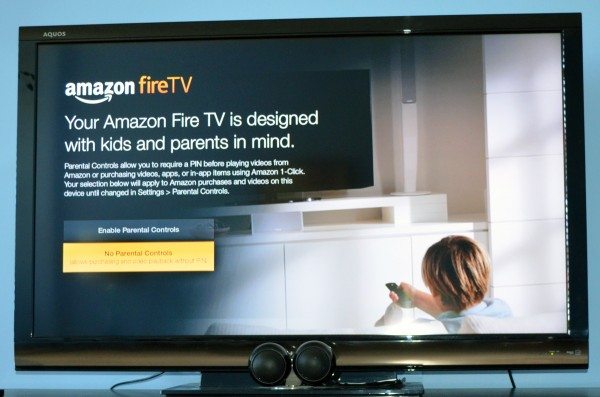 Janet:  You'll notice on the screen for the Hill Climb Racing game, there's a box that shows I have zero coins.  I fear this is going to lead to a lot of parents complaining that little Junior spent $2000.00 on the credit card stored with the Amazon account.  The Fire TV certainly has remembered my Amazon password when I look at movies and TV shows, so it should for other purchases.  However, I did see that you can set Parental Controls that will require a PIN entry before anyone can purchase videos, apps, or in-app purchases.  If Junior runs up a huge bill buying and playing games or watches programming you don't want him to see, it's your own fault for not setting the PIN.
Julie: My purchase of the gaming controller gave me 1500 free coins. I've yet to spend them on anything though as I've only installed free games so far.
Speaking of purchasing videos, I did notice that you will NOT be asked an "Are you sure you want to purchase X?" message when browsing videos. I accidentally purchased an episode of an Amazon show when I was clicking around willy nilly trying to test the responsiveness of the device. Oops…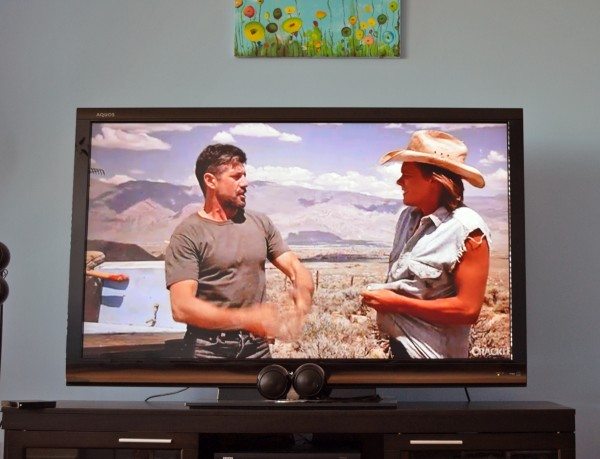 Janet: One of the first things I did was log on to my Crackle account and see how it worked.  I tried watching Tremors, and I found that it played very well.  I didn't end up watching the entire movie, but I didn't have any trouble with playback – no glitches, no pixellation, and no freezing.  I also watched some "Twilight Zone" episodes and a "Buffy the Vampire Slayer" episode from Amazon's streaming library, and they all played perfectly.  I only had one episode of the Twilight Zone buffer for a second or two.  I didn't want to start paying for Netflix or Hulu Plus at this point, but I found that Showtime Anytime had some free content; I loaded up the app and gave it a try.  Showtime let me watch edited versions of episodes of some of their shows.  It played well.  Fans of HBO GO should know that it's not available at the present for Amazon Fire TV.
Julie: My first test was to try some Hulu Plus shows. I had a weird glitch where the video part of the show froze but the audio still continued in the background. Even exiting the show and going back in didn't solve the problem. It would just show a blank / black screen with the logo for the show's network in the bottom corner, while the audio played. I had to reboot the Fire TV to fix the issue. I have watched several Amazon Prime videos and have not have any issues with them. After more tests watching at least 8 different Hulu Plus shows, I did have another glitch occur after a commercial break. The show started back up with a blank/black screen and channel logo in the bottom right corner, but the audio was playing just fine. I had to go back to the main menu a couple of times before it finally started playing normally. This was obviously annoying.
Janet:  I had a problem with a couple of free Amazon streaming videos that I had to purchase.  (Went through the purchase process even though the cost was $0.00.)  I tried to play them right after I purchased them, but I got an error message saying they couldn't be played at that time.  I should try again later and should contact Amazon if the problem persisted.  It did persist, and I found that I couldn't play anything.  The problem cleared up after I just cycled the power on the Fire TV box again.  It's a good thing I hadn't yet permanently installed the Fire TV in my media cabinet during this trial period, so it's still easy to cycle the power.  (You can see the Fire TV sitting beside the TV on the far left side of the picture.  It's the tiny, flat black box with a white light on the corner.)
I've already mentioned listening to music and watching free content on the Showtime app with no problems, and I've watched several shows from the Amazon Prime library.  I haven't had to reset the device since Saturday morning.  Even though I haven't found a way to sleep the Fire TV when I'm through using it, it does appear to eventually sleep.  Waking it is as simple as just tapping the Select button.
Julie: If you were paying attention at the beginning of this review, you might have noticed the USB port on the back of the device. I loaded up a flash drive with some jpg images, different format video files and some mp3 music files. I figured that's what the port was there for, to play your own stuff…right? Wrong. At the moment, it appears that the USB port does nothing for end users like us. At least not yet. Bummer.
Janet:  I was surprised to see in the online manual that the USB port doesn't do anything, especially since there is a Photos entry on the main menu.  You can view your own images and videos on the Fire TV, but you'll have to load up an app on your smart phone or tablet to automatically upload them into the Amazon Cloud Drive.
Julie: After a week of using the Amazon Fire TV for videos and games, I've come to the conclusion that it doesn't offer me a better experience than my Roku 2 for the main tasks that I use it for: Hulu Plus and Amazon Instant Video. The Fire TV's gaming feature is really the only feature that would get me to keep it. But with such a limited selection of games and a closed system to a very small subset of Amazon's appstore offerings, I'm left feeling with a huge case of buyer's remorse. I am 99% sure I'll be returning mine. What about you Janet?
Janet: I think the Fire TV does a good job playing back content from Amazon's Instant Video offerings, and it worked well with Crackle, too.  I loved how well the voice search translated my search phrases, but I wasn't so thrilled that it only worked with Amazon's own offerings instead of also letting me see that I could find the movie on Crackle, too, for example.  Because I'm not interested in the gaming aspect at all, and because I now remember that I can watch Amazon Instant Video on my Roku 3, I'm not so sure that I need the Amazon Fire TV.  I'm still on the fence, because I love the search feature.  I still have a few days to decide if I'm going to return the Fire TV, and I'll probably need to discover some great hidden feature before I can decide it's definitely worth the $100 when I already have a paid-for Roku box that can play the same content.
Julie: Mine is boxed up and going back to Amazon today. Good first gen effort for the device, but not compelling enough to make me want to use it instead of my Roku.

Product Information
Price:
$99.00
Manufacturer:
Amazon
Requirements:

HDTV
HDMI cable that you'll provide

Pros:

Simple to setup
Voice search does a great job of translating what you say

Cons:

Does not have access to full Google Play app store
Game offerings sparse
Some video pausing glitches encountered with Hulu Plus
Voice search only works for Amazon's store