We use affiliate links. If you buy something through the links on this page, we may earn a commission at no cost to you. Learn more.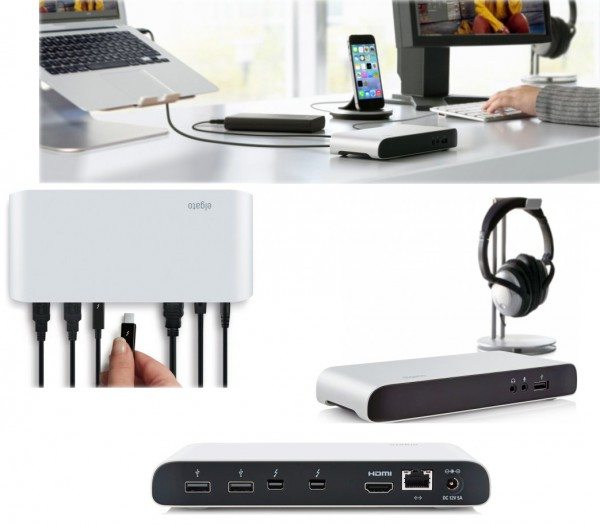 If, like my husband, you have a laptop that you plug into a monitor, connect to WiFi, and maybe attach a couple of USB peripherals, you'll find connecting and disconnecting everything to be a pain.  At work, Butch plugs in a monitor, network, and a disk; when he needs to work from home, he only plugs up to a Thunderbolt monitor.  Although he doesn't use a ton of peripherals at either location, plugging and unplugging each day gets old.  If he had one of the new Thunderbolt Docks from Elgato at work, he'd only have to plug in one Thunderbolt cable to be connected to everything.
Although the dock is encased in a sleek aluminum chassis that complements the Apple laptops, it works with either Macs (OS X 10.9 or later, Thunderbolt port) or Windows PC (Windows 8.1 or later, Thunderbolt port).  The dock adds:
2x Thunderbolt ports (10 Gb/s, bi-directional Input/Output)
1x HDMI 1.4 Output (up to 2560 X 1600 pixels resolution, HDCP compliant)
1x RJ45 10/100/1000BASE-T Gigabit Ethernet
3x USB 3.0 (5 Gb/s, support for bus-powered devices, UASP & USB 2.0 compatible)
1x 3.5mm Audio Output (analog stereo, via built-in DAC)
1x 3.5mm Microphone Input (mono, via built-in DAC)
1x Power Input (DC 12V 5A)
Free Elgato Thunderbolt™ Dock Utility (installs a Status Menu that makes it easy to eject all storage devices at once and see at a glance when it's safe to unplug your Elgato Thunderbolt™ Dock)
Not that the Thunderbolt dock is powered, so you can charge tablets and smart phones from the USB ports.  It's $229.95, and it includes an Elgato Thunderbolt cable.  Read more at the Elgato website.