We use affiliate links. If you buy something through the links on this page, we may earn a commission at no cost to you. Learn more.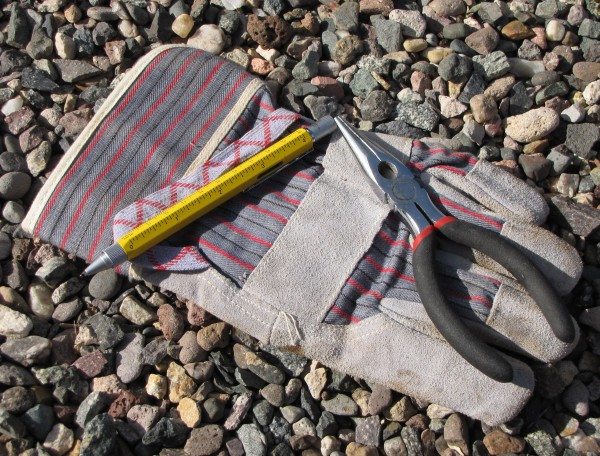 I am not much of a pen to paper writer, I use my iPad to write as much as possible. But I do own pens for those occasions when I do need to write something. So, for me to want to review a pen it has to be a little different in either design or function. The Monteverde One Touch Stylus Tool Ballpoint Pen sent to me from Pen Chalet hits both the design and function aspect of my interest.
Note: Images can be clicked to view a larger size.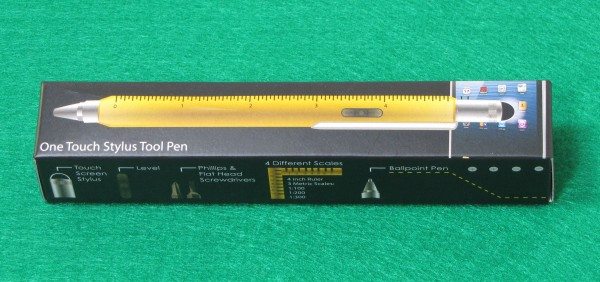 Janet reviewed the Monteverde One Touch Stylus Pen a few years ago, but that was simply a ballpoint pen with a capacitive stylus cap. Multi-functional is the key word here; the Monteverde One Touch Stylus Tool Ballpoint Pen (hence forth referred to as the Tool Pen) is a handyman's dream with nine built-in functions. The Tool Pen appears to be made out of some type of metal, weighs 1.2 ounces and is 5.875 inches long. The Tool Pen has the following features:
Ink pen (accepts standard D1 refills)
Stylus
Level
Screwdriver (both Phillips and standard heads)
Ruler and scales (4 inch ruler, metric 1:100, 1:200, 1:300)
Spring clip
The Tool Pen also comes with an info card on how to change the ink cartridge.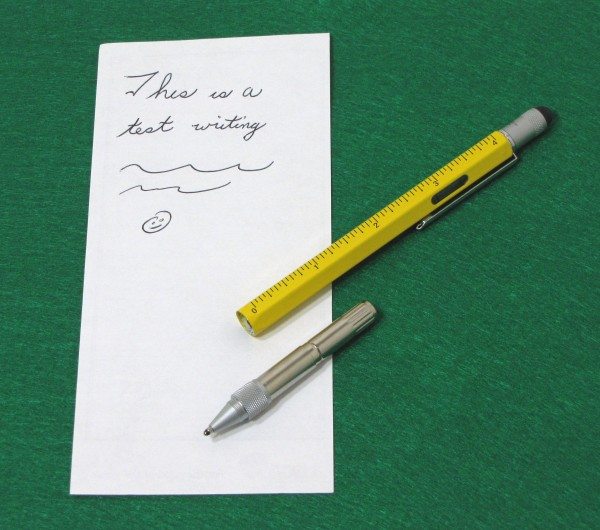 The ink pen comes with a medium black ink cartridge already installed. The pen writes smoothly. To operate the pen, you twist it open until you feel it lock into place. The ink cartridge can be changed by pulling the pen section away from the pen barrel. Although the pen is heavy, it seems fairly balanced, so writing is not uncomfortable.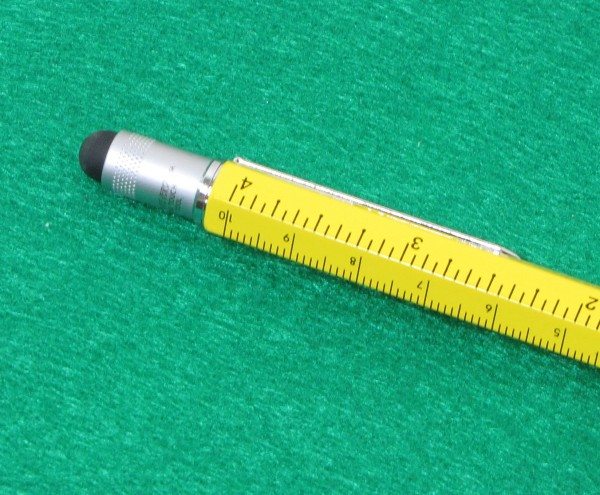 The stylus for the Tool Pen is built into the screw-on cap on the back of the pen. The rubber was soft, but firm, and worked as expected with my iPad and iPhone. As with using the ink pen, the pen is on the heavy side, it was not unbalanced when using the stylus.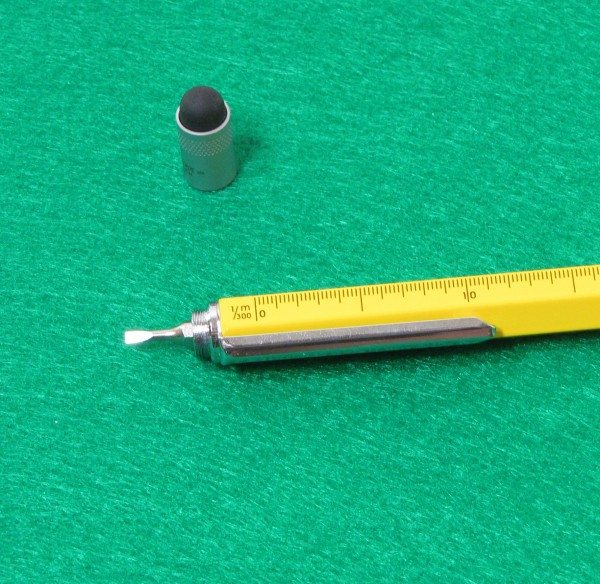 If you unscrew the stylus cap on the Tool Pen, you will reveal a screwdriver. The screwdriver on this pen is a double-ended bit that has a Phillips screwdriver blade on one end and a standard screwdriver blade on the other. The bit is held in place by a spring-tensioned ball bearing, much like quality bit driver sets. This allows the bit to stay firmly in place. The screwdrivers are great for small screws, such as those used on eyeglasses or electronics.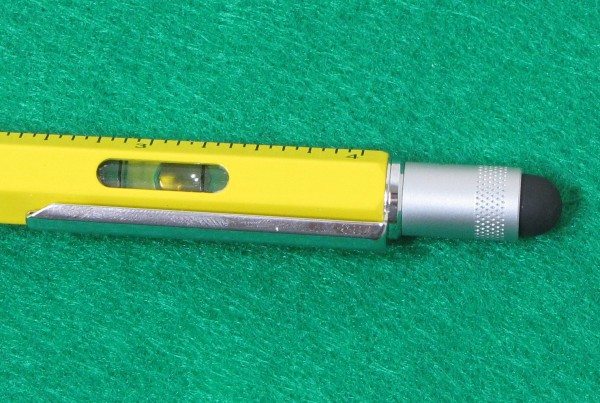 One of the more unique items on this pen, at least in my opinion, is the level. The simple bubble level sits towards the back of the Tool Pen, and for its size is fairly easy to read. This is not something that I would use on an everyday basis, but it would come in handy for setting up my tripod for pictures. Looking at it from a handyman's perspective, it would be great for all sorts of little fixes, leveling a picture frame comes to mind.

As for the ruler and scales, to be honest, I can see a lot of use for the ruler, but I would be totally lost tying to describe how to use the scales on the Tool Pen. The 4-inch ruler is definitely a great addition to this pen, and with markings for 1/4, 1/8 and 1/16 inches, it has some versatility. Not being a builder, I don't know how useful the 1:100, 1:200, and 1:300 metric scales would be, but it couldn't hurt to have them.
What is my bottom line on the Monteverde One Touch Stylus Tool Ballpoint Pen? I actually like it a lot. I don't consider myself a handyman by any stretch of the word, but I do often have a need for the tools built into this pen, especially when traveling and shooting pictures or video. As a handyman's accessory, I would say this is a no brainer.  For a run of the mill pen user, it may be a little on the heavy side and not professional or demure enough, but for the gadget lover – whats not to love in a truly functional multi-tool that works great and looks cool? It's available in black, silver, or yellow from the Pen Chalet at a cost of $27.  I think any gadget lover would be happy to own this pen.
Product Information
Price:
$30 normally; on sale for $27
Manufacturer:
Monteverde
Retailer:
Pen Chalet
Pros:

Multi-functional
Well Made and designed

Cons: