We use affiliate links. If you buy something through the links on this page, we may earn a commission at no cost to you. Learn more.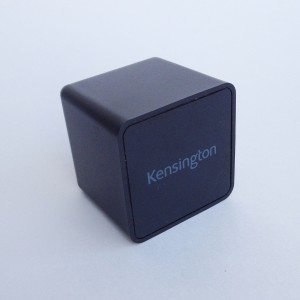 Personal mobile devices need power.  They crave it, like a politician craves…well, power.  Alright, maybe not quite like that, but it's an inescapable fact.  And because of this, we have chargers tucked all over our homes, offices and vehicles to power up or top off when needed, which for many of us is quite often.  With seven i-devices (iPads and iPhones) floating around our house, I am always on the lookout for a better charging solution.  The Kensington AbsolutePower™ 2.1 Fast Charge for Tablets with PowerWhiz is a compact AC adapter that claims to automatically switch between 2.1 Amps and 1.0 Amps depending on the device plugged into it, from a tablet to a smartphone, which covers the range of many of our devices.   I had the opportunity to try one, so let's have a look.
Click any image to enlarge.
Specs & Options
Input: 100-240V AC
Output: 5V DC,  2.1 Amps
Options: None (comes in black only)
Location of Manufacture: China
Packaging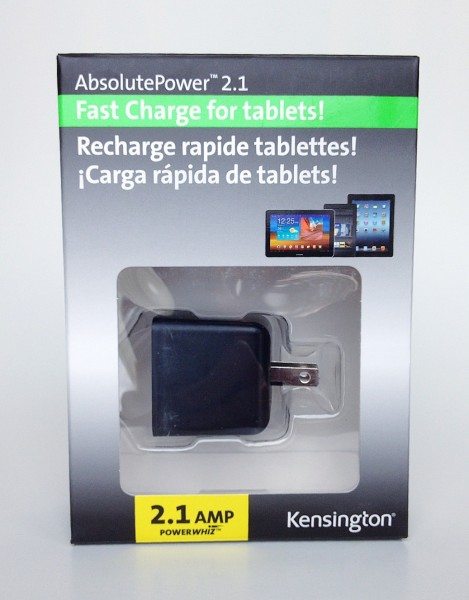 The AbsolutePower 2.1 packaging includes a viewing window on the front.  Not my favorite type of package since only offers a limited view of the product, but it does the job.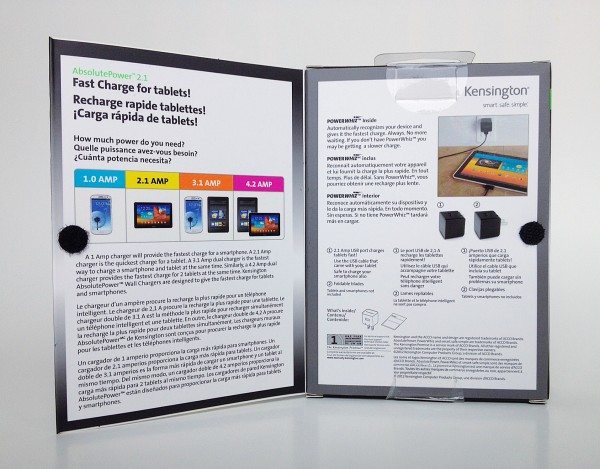 The rear of the package includes a flap that opens to show instructions and other information about the device.
Contents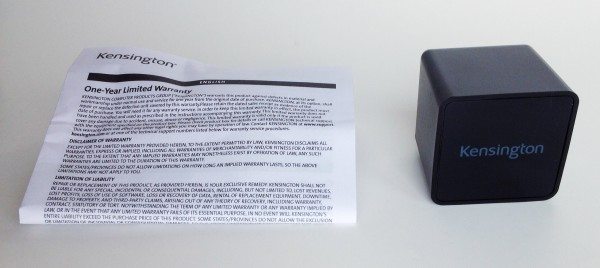 Kensington AbsolutePower 2.1 with PowerWhiz
Warranty information pamphlet
Features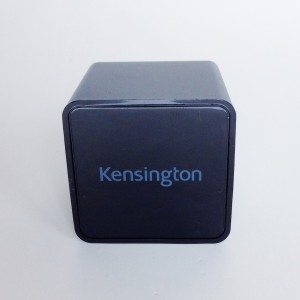 The AbsolutePower 2.1 is a basic black cube shape with the Kensington logo on front.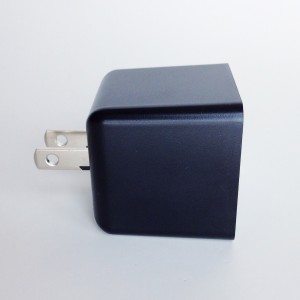 Never miss one of our posts again. Sent MON, WED, and FRI with the latest gadget reviews and news!
The electrical outlet prongs fold down into the device for storage, a handy feature, but really a must-have in this day and age and therefore not that special.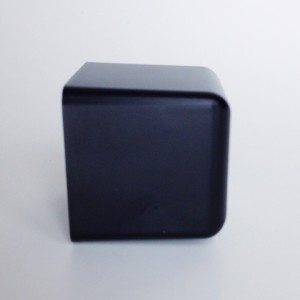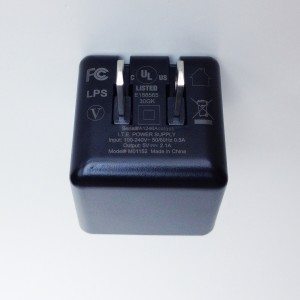 Kensington claims "The PowerWhiz technology automatically recognizes your device and provides it the fastest safe charge."  Seems straightforward enough, but I wanted to confirm this claim, so a devised a simple charging test as described below.

Size and Shape Comparison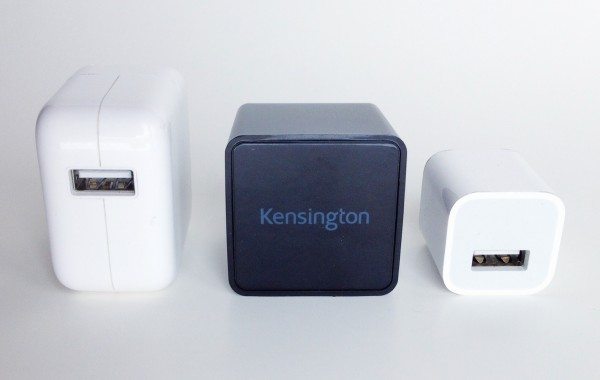 For purposes of comparison, in the images above and below are shown from left to right an Apple 10W USB Power Adapter, the Kensington AbsolutePower 2.1 and the Apple iPhone Apple 5W USB Power Adapter.  The 10W USB Adapter came with my iPad 3rd Gen and has a 2.1 Amp output.  The 5W USB Adapter came with my iPhone 4S and has a 1.0A output.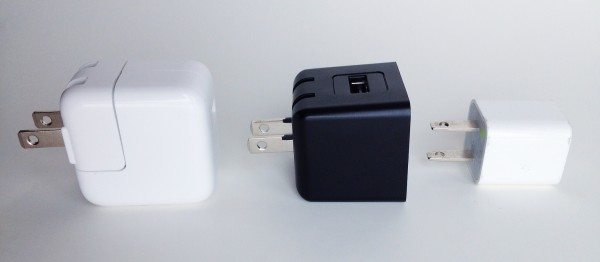 The 10W iPad Adapter and the AbsolutePower 2.1 are both compact, but each in their own way.  The 10W iPad Adapter is more rectangular, slim in the front view with a wide cross-section.  The AbsolutePower 2.1 is more cube-shaped, wider in the front view but with less depth than the iPad Adapter.  Also, the USB port is located on the front of the iPad Adapter, while it is on the bottom of the AbsolutePower 2.1.  This could be an advantage or a disadvantage depending on where you are using it and how much clearance is available where it is plugged in.  Note also that a 12W iPad Adapter, similar to the 10W Adapter shown here, is sold separately by Apple for $19.99 on their site.
Performance
I performed two Farmer Jones Tests with the AbsolutePower 2.1.  (FYI: A "Farmer Jones Test" is a quick-and-dirty, not particularly scientific little evaluation that gives at least a baseline of confidence that something performs the way it is intended.)  The first test was charging my iPhone with both the AbsolutePower 2.1 and also with the Apple 5W USB Power Adapter.  Similarly, the second test was charging my iPad with both the AbsolutePower 2.1 and likewise with the 10W iPad Adapter.  For all tests, I drained the devices down to 1% charge, closed all apps, put them in Airplane Mode and used the same charging cable, all with the intent of reducing the variables that might affect the charging rate.
The AbsolutePower 2.1 seemed, in this crude evaluation at least, to charge slightly faster than the respective adapter supplied by Apple.  However, regarding the "PowerWhiz" feature , I'm not sure that it is everything it's cracked up to be.  Per the Kensington site, "PowerWhiz technology automatically recognizes your device and provides it the fastest safe charge. Connect your Smartphone, such as the iPhone® or Samsung Galaxy®, and the AbsolutePower 2.1 will automatically recognize the device and deliver it the lower 1.0 Amp it needs and no more for fast, safe charging of your Smartphone, too."  Based on the results of my Farmer Jones Test, it doesn't really appear that any advantage that the PowerWhiz may have over the stock Apple adapters is minimal at best.  Basically, it isn't a whole lot quicker, but it does appear to be quicker.
Conclusion
The Kensington AbsolutePower 2.1 with PowerWhiz is a USB-based charger for mobile devices.  With its capability of automatically switching between 2.1 and 1.0 Amps, it is capable of charging most tablets and smartphones.  Its overall size and shape and folding prongs a fairly compact, cube-like shape.  In a simple test comparing it to the respective Adapters supplied by Apple for the iPhone 4S and the iPad 3rd Gen, the AbsolutePower 2.1 did seem to charge those devices slightly faster.  However, with a price of $24.99 compared to $19.99 for the Apple 12W Adapter, the most closely comparable device here and which may charger even faster due to its 2.5A output, I'm not sure the extra $5 is worth it.  Especially considering that there are many other similar chargers on the market today, some with multiple USB ports for charging multiple devices, at a comparable or even lower price.  In fact, Kensington themselves offer the AbsolutePowe 4.2 Dual Fast Charge for Tablets for $29.99 which actually seems like it may be a better value.
Update 04/18/15
We use this item at our house all the time to charge iPhone and iPads.
Source: The sample for this review was provided by Kensington. Please visit their site for more info.
Product Information
Price:
$24.99
Manufacturer:
Kensington
Requirements:

100-240V AC input
A USB charging cable for your device

Pros:
Cons:

May not be a particular value for the price