We use affiliate links. If you buy something through the links on this page, we may earn a commission at no cost to you. Learn more.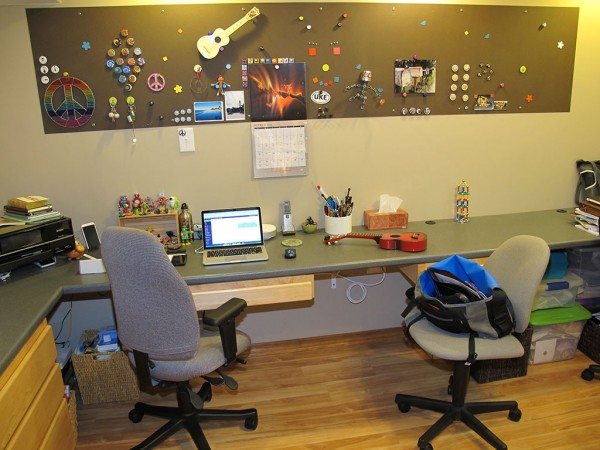 Do you ever wonder where all the writing magic happens for the Gadgeteer news and reviews that you read on a daily basis? Do you picture us hunched over a keyboard in a Starbucks or a library somewhere? We want to give you a glimpse into how and where we get things done. This first series will share our work environments and later we'll follow up with a how we work series. I get to go first since it was my idea! Welcome to Gadgeteer HQ. Oh, be sure and take off your shoes. Jeanne gets cranky if we wear shoes in the house.
Note: Images can be clicked to view a larger size.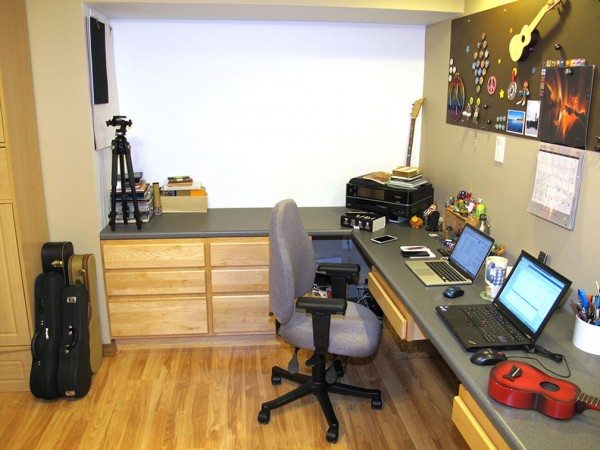 If you're one of our regular readers, you will probably already know that I live in Columbus, Indiana. We've been in this particular house since 1999. After looking almost a year for a new (new to us) house, we walked into this one and said we'll take it almost immediately. We're surrounded by woods, nature and quiet. One of the main reasons why I love my house is the basement. It was in pretty rough shape when we bought the house, but we could see the potential. The first remodeling project that we did on the house was to turn a basement bedroom into an office. I had been designing the room in my mind for years and I think it turned out great.
The desk takes up half the room and is in a U shape. The desktop is made of kitchen counter top material with Kraftmaid cabinets underneath and floor to ceiling Closetmaid cabinets in the other half of the room. The left side of the room is mine and the right side it Jeanne's. I won't show you Jeanne's side because it's a mess 😉
I have my photography "studio" setup on the left side. The walls and ceiling in that area is painted white while the rest of the room is beige. I usually place a piece of black or white poster board (the are hanging on the left side in the image above) on the counter and place the object on the poster board. I have a flash that I bounce off the ceiling (that's why that area is painted white) and back down onto the object. It works out great.
A recent addition to the room has been the 10 foot long steel bulletin board. I had the idea that it would be fun to use all sorts of magnets attach photos and other things for display. It's been painted to look rusty and is one of my favorite features in the room.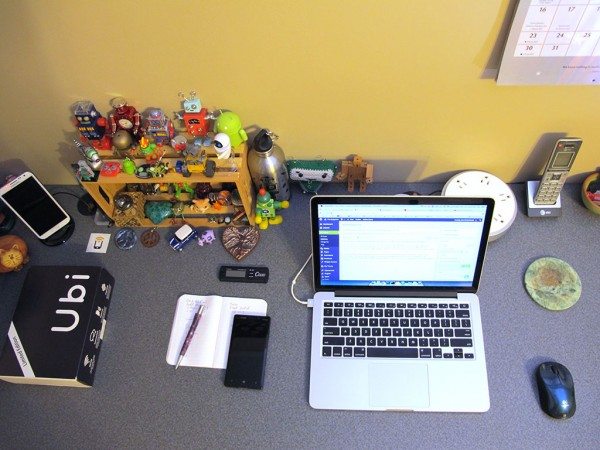 I like having a lot of room to spread out and try to keep things relatively tidy. It might not always look as nice as it does in these pics though – I had to clean up for the article! I do like to have fun things around me like my small robot and knick knack collection. I like to have a Field Notes or Moleskine Cahier notebook and pen next to my computer along with my phone. Right now that's a Nokia Icon. My Samsung Galaxy Note 2 is on the wireless charger taking a break for a few days while I test the Icon.
Over a year and a half ago I got rid of my 27″ iMac and switched over to a 13″ MacBook Air as my main and only computer at home. I was surprised that it wasn't that difficult to adjust to having a smaller display. Late last year I upgraded to a 13″ MacBook with Retina which is s lightly heavier than the Air, but the display and long battery life were an easy trade off.
So there's my desk. We'd love to see yours too. If you have images hosted somewhere online, you can leave a link to them in the comments. Those of you with HTML skills can paste an image tag in the comments so the images will display right in the comments. Just make sure to keep the width of the image at no more than 600 pixels wide.
Thanks to OfficeSupplyGeek for asking me to do a What's on my Desk post for him a few days ago. I enjoyed it so much that I decided we'd do the same thing here.