We use affiliate links. If you buy something through the links on this page, we may earn a commission at no cost to you. Learn more.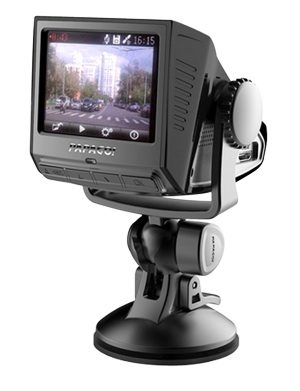 In my seemingly never-ending quest for a decent dash cam, I had the opportunity to review the Papago! P2Pro Dash Cam.  It may seem like another dash cam with an LCD screen, but the P2 Pro includes GPS, Lane Departure Warning and Collision Warning as well.  How do they do that?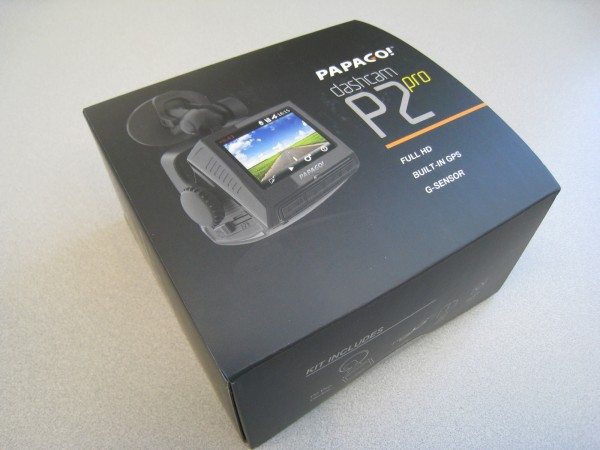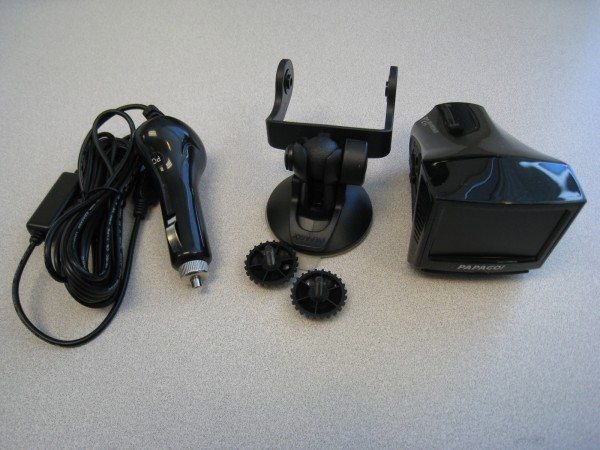 I was a little surprised to see how spartan the packaging was.  No memory cards, no USB readers, no adhesive mounts.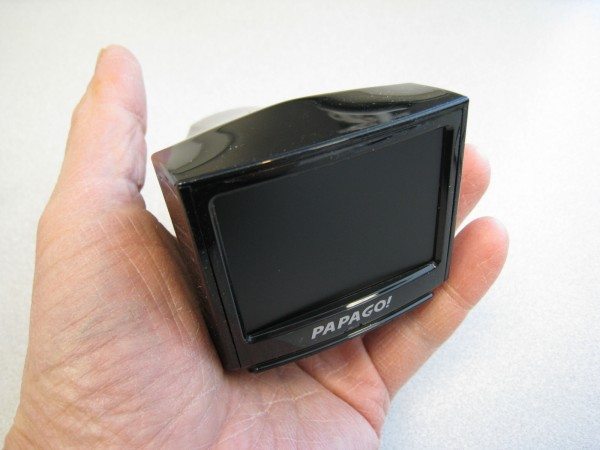 From the Papago! website:
Active car safety system including Stop and Go,  LDWS (Lane Departure Warning System)  and FCWS (Front Collision Warning System)
Supports Driver Fatigue Alarm which drivers can set up the alarm for resting for long hour drive.
Device alerts you when headlights are necessary for driving conditions
Embedded GPS. Record  coordinates, speed, direction and dates while driving
Build-in G-sensor supports video file backup when an accident happens
Supports digital WDR (Wide Dynamic Range) and full HD 1080p high resolution video recording
Supports screen capture
Auto turn on once engine starts
HDMI output supports HDTV playback
Supports low and high temperature protection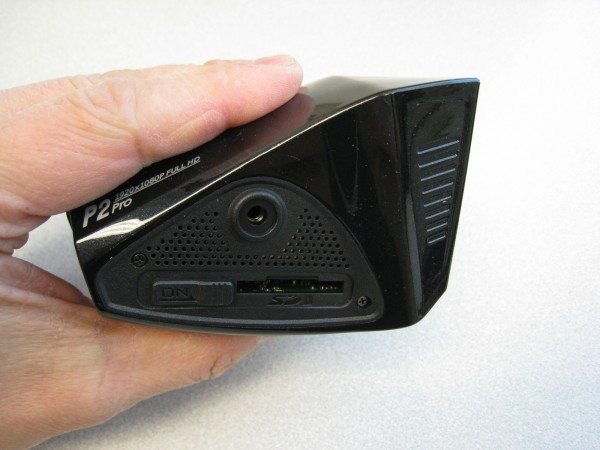 Left side: Power switch and SD card slot.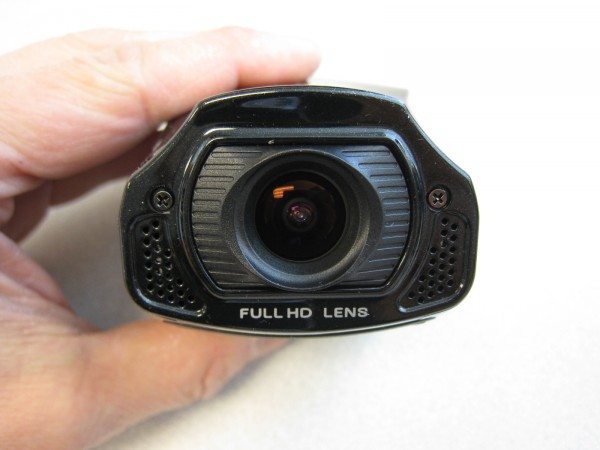 Front (lens side).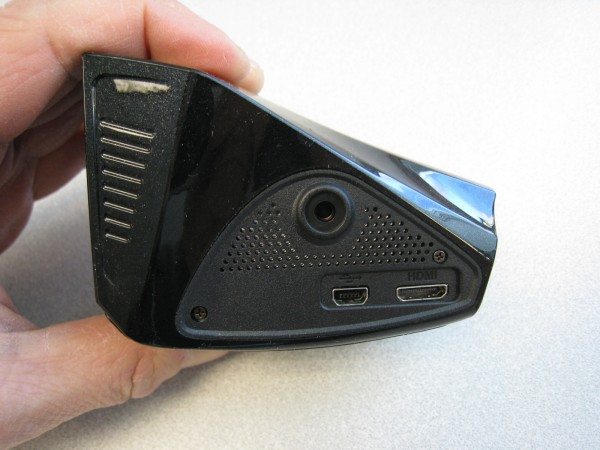 Right side: mini USB for power and HDMI.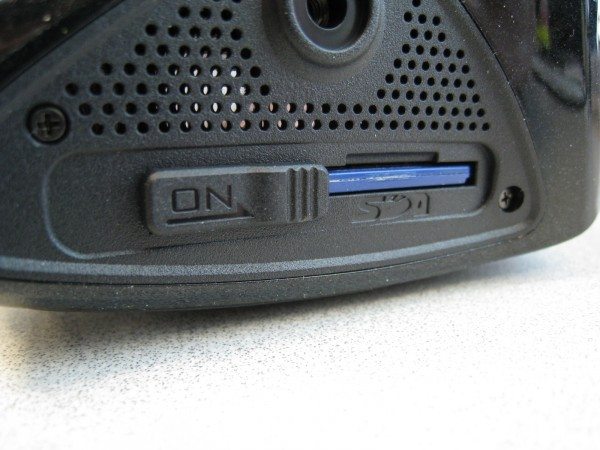 Closeup of power switch and SD card slot. Note that once the power switch is on, the SD card is physically blocked to prevent removal. (SD card not included)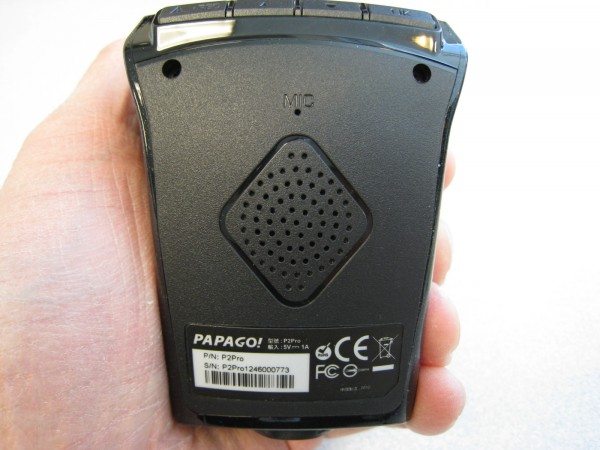 Bottom: Speaker and microphone.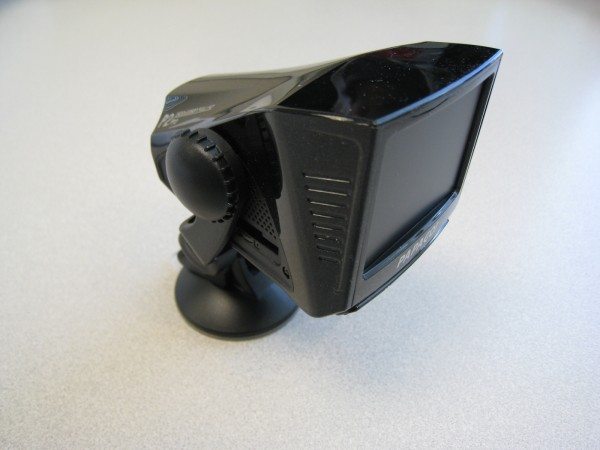 The Papago! P2Pro looks a little like an early iMac. Just imagine it in Bondi Blue.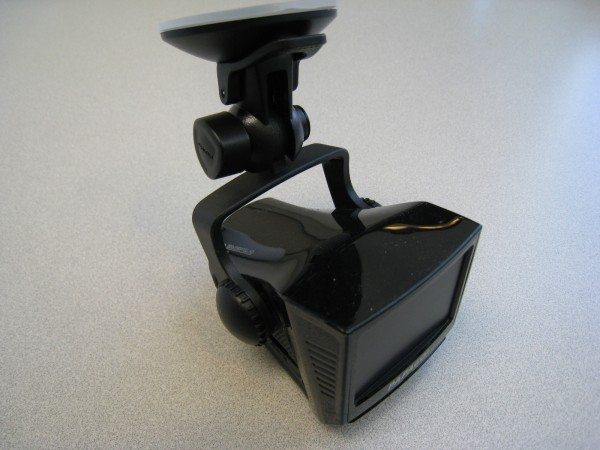 Suction cup mount mounted the other way around (for windshield)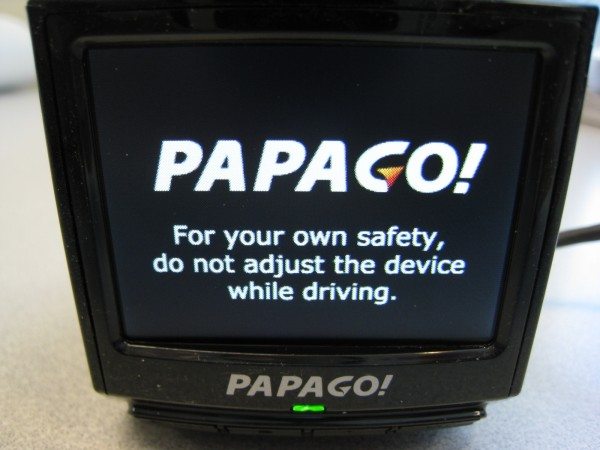 The boot-up screen. If you have the volume on, you'll hear an intolerably cute startup jingle that'll remind you of a old Samsung or LG flip phone text tone, or a Fischer-Price toy.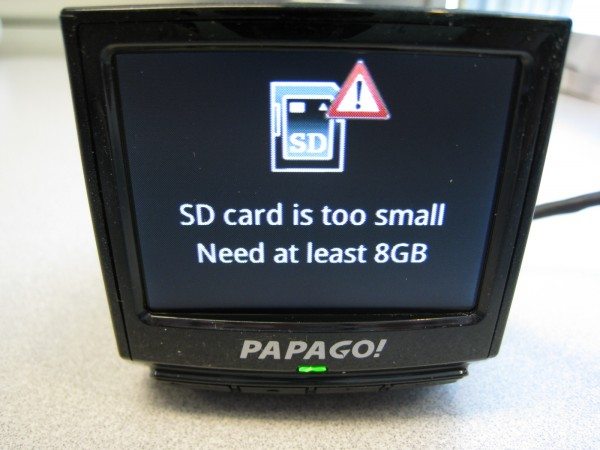 The Papago! P2Pro doesn't come with an SD card. If you want to play, you'll need one at least in 8GB in size (max. 32GB).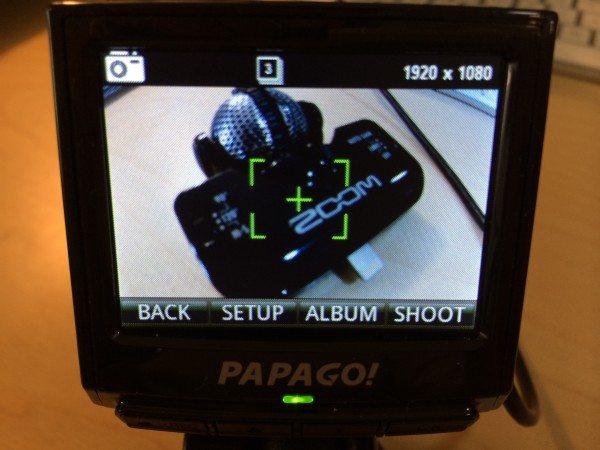 I found out, quite by accident, that the camera allows still shots. You can take optional bursts photos, too.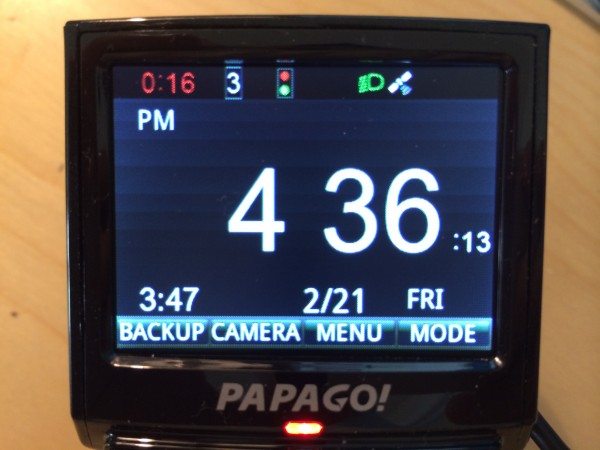 One of the standby screens shows the current time/date. Red numbers in upper left show elapsed time for current file (16 seconds) and lower left shows time since power up (3 min, 47 sec).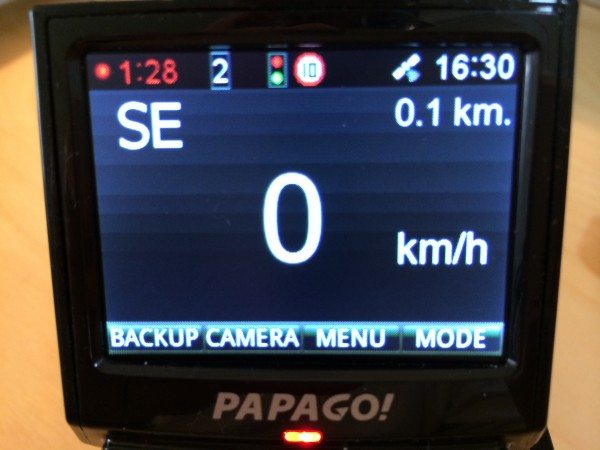 Another standby screen shows current speed and direction (user-selectable metric/imperial).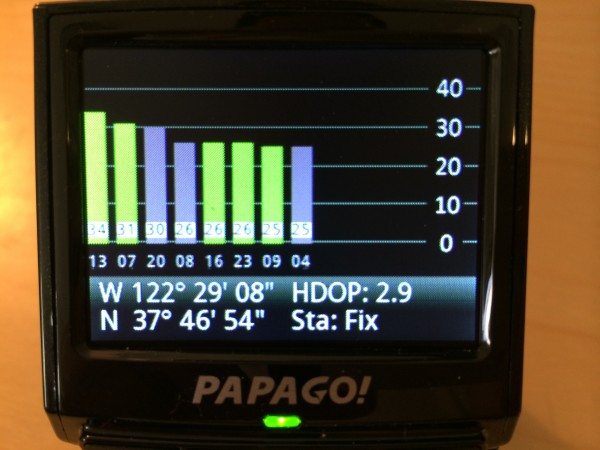 The GPS signal screen is pretty darn cool.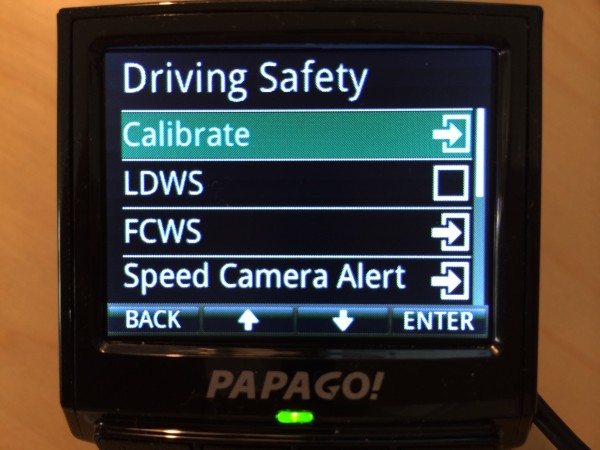 The P2Pro boasts several safety-related options, as seen here. This includes Lane Departure and Front Collision warnings, speed cam alerts, and others.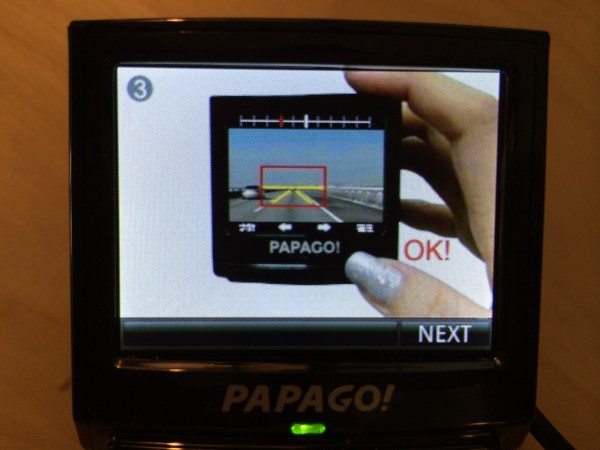 A little tutorial walks you through the calibration process.  Apparently, the P2Pro accomplishes lane departure by peering ahead, looking for the horizon and lane stripes. Collision sensing is based on GPS speed and object sensing.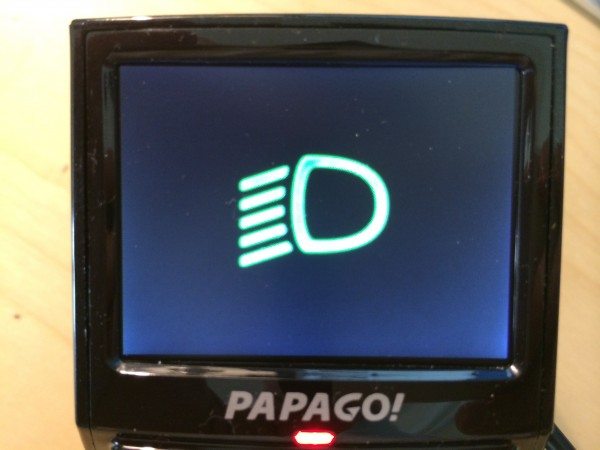 This appears (with a chime) when it's getting a bit dark outside. Turn on your headlights!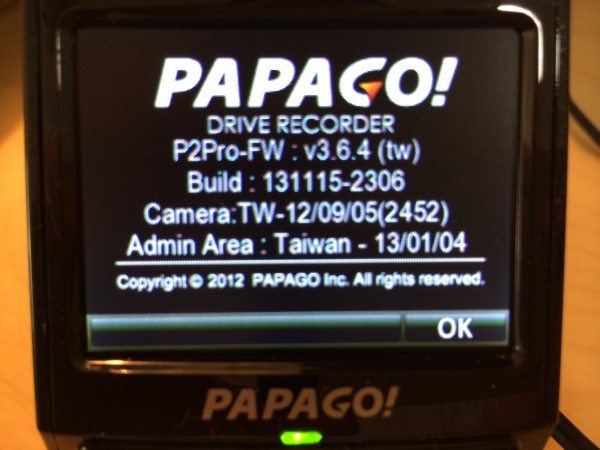 The system screen. Firmware can be updated from the Papago! website.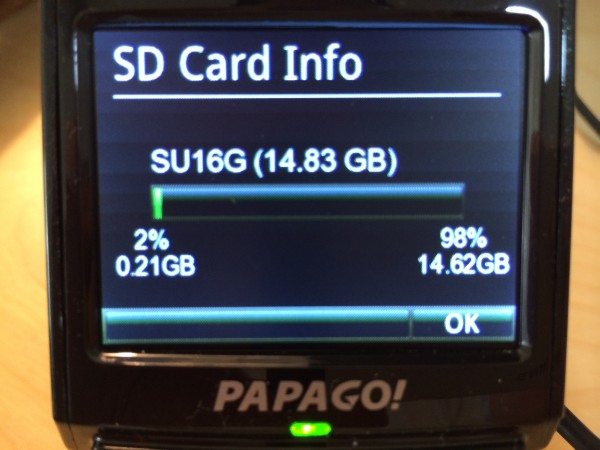 Another nice touch: A visual memory indicator. No more guessing how full your SD card is.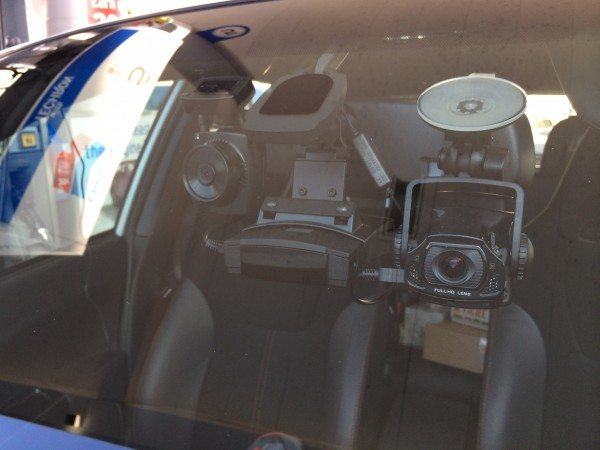 Left-right: Lukas LK-7500 cam, radar detector, Papago! P2Pro cam.
Now it was time to hit the road.  I mounted the Papago! P2Pro on my windshield with the suction mount and immediately wished the rubbery cup was a different color.  You'll see a large white disc.  Every time I see these on other cars, they're usually in varying states of browning from age.
The following are YouTube clips of both the Lukas LK-7500 dash cam (so far, the reigning champ) and the Papago! P2Pro dash cam.  All clips have been uploaded in 1080p HD, so be sure to click on the little gear and choose stand back for the HD-festival!
Papago! ProP2 videos are recorded in an MP2 format, which my Mac could read with VLC.  No viewing software is really needed, but you can download Papago's GoLife windows app here.
Click on the screen grabs below for full size image.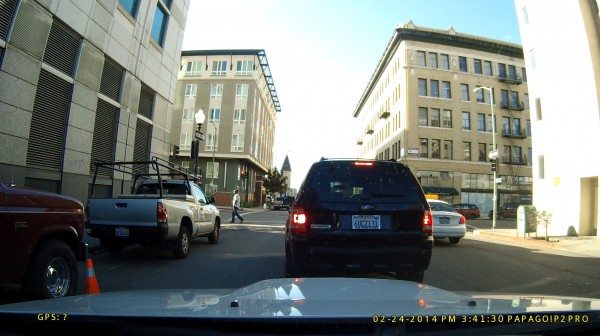 Downtown Oakland:  Papago! P2Pro (click for full size)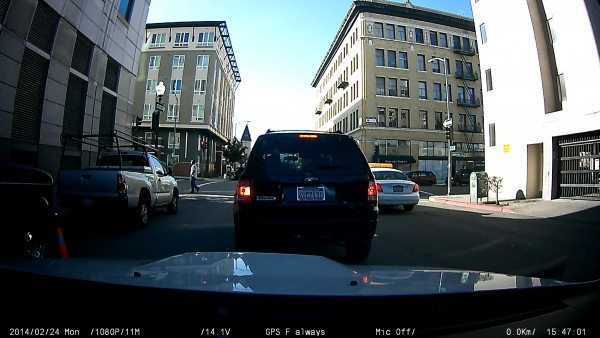 Downtown Oakland:  Lukas LK-7500 (click for full size)
In the Downtown Oakland shot, you can read the plates of the parked pickup on the left with the Papago! P2Pro.  On the Lukas LK-7500, it's just a darkened blob.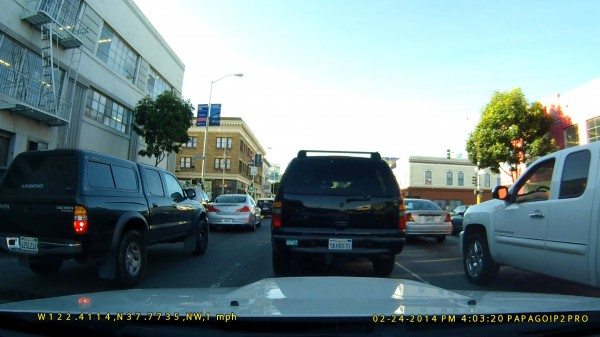 Approaching Folsom St, San Francisco:  Papago! P2Pro (click for full size)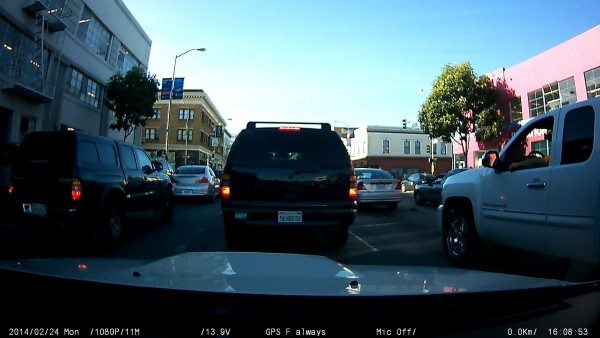 Approaching Folsom St, San Francisco: Lukas LK-7500 (click for full size)
Can you read the Folsom street sign?  You can on the Papago! P2Pro screen grab.  (Hint: It's on a light pole on the left, under the two banners)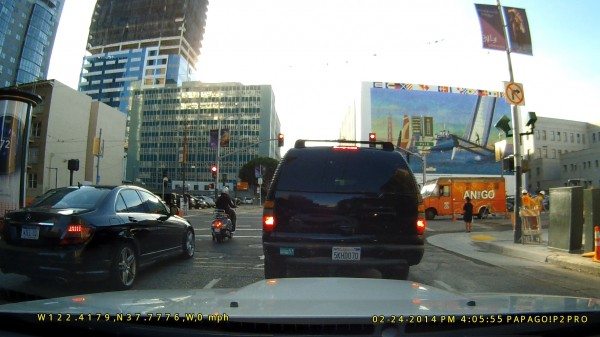 Sailboat mural:  Papago! P2Pro (click for full size)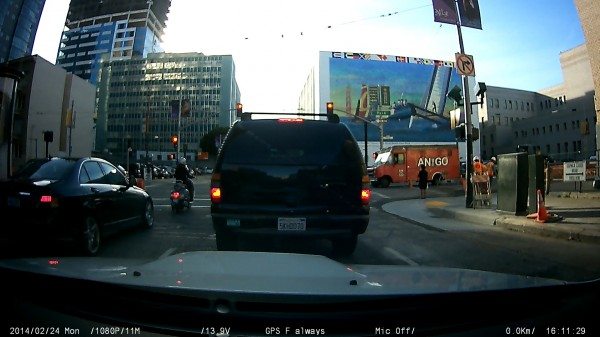 The Mercedes sedan on the left has a clever license tag.  "Can Yu" see it?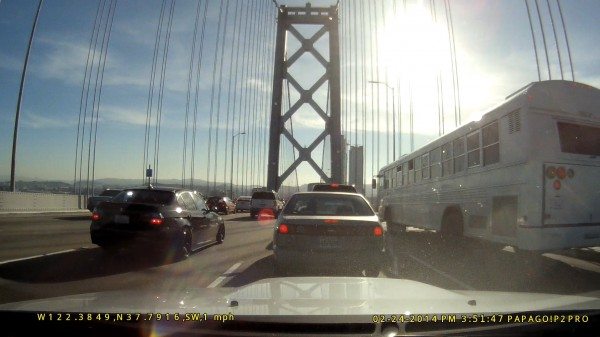 Bay Bridge, into the sun: Papago! P2Pro (click for full size)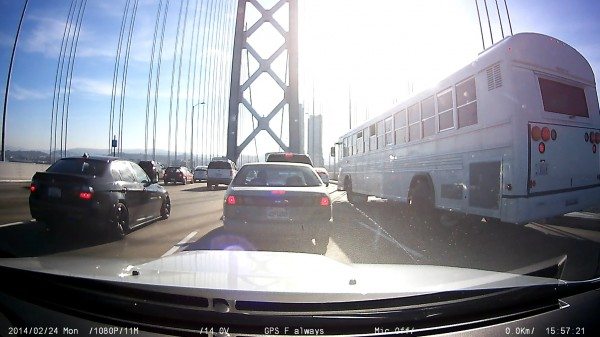 Bay Bridge, into the sun:  Lukas LK-7500 (click for full size)
As is always the case, both cameras sort of fell apart looking into the sun.  That's pretty much normal.
Things I noticed:
Nearly all aspects of normal use are adjustable.  When the Papago! P2Pro is powered up, you can have the LCD screen always show time/date, speed/distance, live view, or nothing at all.  Even the LED light on the front can be muted.  Don't like sounds?  The volume is adjustable.  Although this kills the horrible startup chime, it does NOT mute the shutdown sound.
Lane departure warnings seemed a bit hit and miss.  Same thing with the front collision warning.  I'm not surprised.  I will admit it was pretty cool to see the camera "target" a car in front of you with a tracked red square.  It's not unlike face detection in a modern point-and-shoot digital camera.  It was cool to watch, but also incredibly distracting eye candy for the driver.
The camera also has a driver fatigue feature.  There's no indication on how this works, or what triggers it.
You can download speed/traffic camera GPS data from the Papago! site for the US, but I have no way of knowing how accurate or timely that information is.
 Videos are recorded into bite-size segments of several min. each.  At 1080p, each segment took up about 390MB.  I noticed inexplicable shorter video files on my SD card, and I concluded that when you enter certain menu options or change screens on the Papago! P2Pro, the recording stops, saves, and starts a new file.  At least they're continuously sequential.
File overwrite is supported.  I let the Papago! P2Pro  sit overnight at home, plugged in, and record for several hours.  Once memory was filled, it overwrote and deleted the oldest video file.
Although some audible warnings can be set as "off/voice/beep" I didn't hear a single voice alert- just beeps.
Dashcam nerds:  Video appears to be recorded at about a 10 mbps bitrate.  I haven't personally tested the SpyTec Mobius (review here), which apparently boasts a higher recorded bitrate of 18 mbps.
Of all the dash cams I've tested to date  the Papago! P2Pro has unseated the Lukas LK-7500 dash cam for image quality and features. I just wish the Papago! P2Pro wasn't quite so big.  I would gladly trade in some of the extra "safety" features for a slightly smaller footprint.