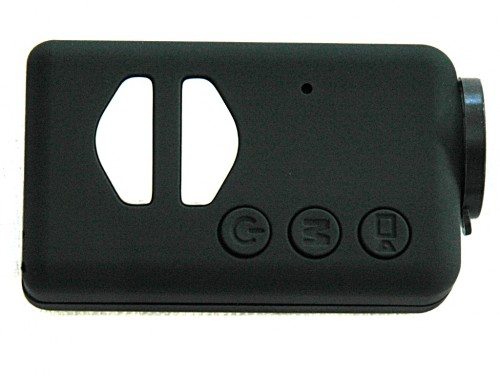 The Mobius 1080P HD Action Camera from SpyTec is a small, 1080p HD, fixed-focus camera that is small and light (and cheap) enough to be used for capturing video in settings where size and weight are a premium, or where you'd like to record video but the recording device could be in harm's way, or in more mundane applications, such as a dashboard cam or even a webcam. It's not going to replace a GoPro or other underwater/wet-environment camera since it lacks a waterproof housing, but at less than half the price of the base camera, it goes a long way towards being (as the web site claims) "the Best Bang-for-Buck Mini Camera on the Market".
In The Package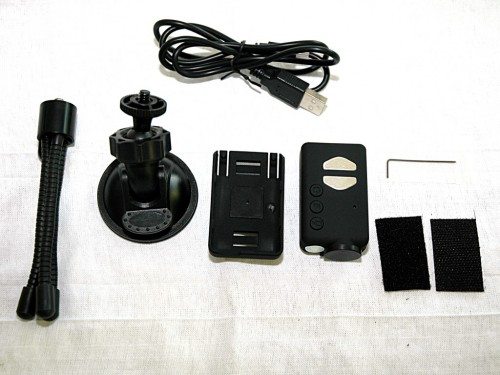 I was shipped the review unit in a padded shipping envelope. I am not sure if the final product has more polished packaging.  The review unit included a number of accessories: a small tripod, a suction mount suitable for auto windshield use, and a sleeve that the camera snaps into with a standard (for cameras) screw mount.
The Camera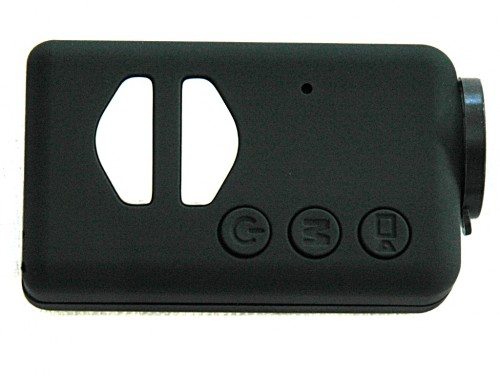 The camera is very compact and light – which is why it's a popular camera among RC enthusiasts. At just 1.2 ounces, it's not light enough to be carried by those sub-$100 RC helicopters for sale in the mall, sadly, but it is light enough to be used on the end of a pole for "selfie" action videos – or mounted to a helmet, or a skateboard, or pretty much anywhere. The top of the unit has two large silver heat sinks. They get hot – uncomfortably hot to the touch if used for a long time – but that just means they're doing their job. The three buttons are (from left to right) the power button, mode button, and shutter button. The small hole is an LED which indicates the mode the camera is in (by color), and if it is on (lit, solid) and recording (on, blinking.) I'll get into the operation of the camera more in a bit.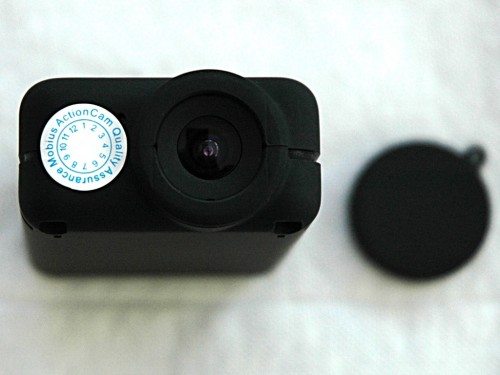 On the business end of the camera is a small mic hole to the left of the lens. The lens is covered by a lens cap.
In the back is the mini-USB port (for charging the 80 minute battery) and an SD card slot. It's nearly impossible to see in the photo, but below the card slot is another LED that blinks red when the device is recording video or when you take a photo. Next to it is a reset hole. The camera has no internal memory.
Configurations with Accessories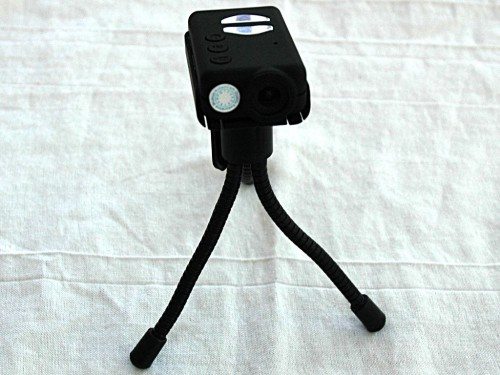 Here's the camera in the sleeve, mounted to the mini-tripod.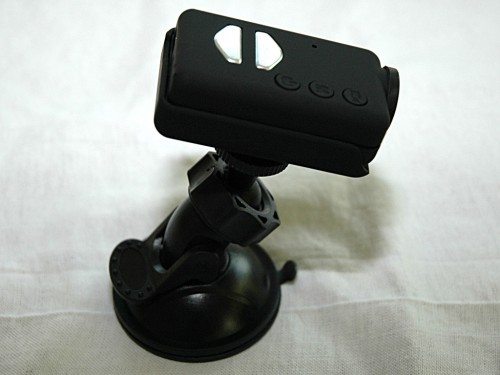 And again, on the suction mount.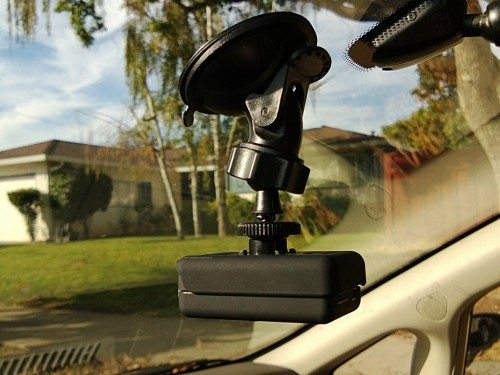 Here's a few shots of it mounted in my car.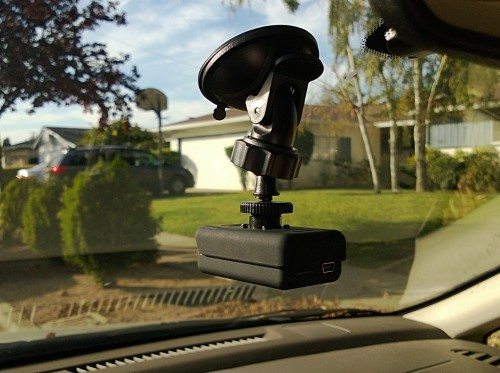 The interesting thing about this mode is that the camera is "upside down".  If you think you'll get this: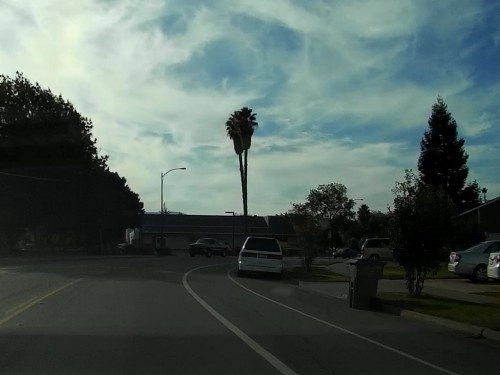 You actually get this: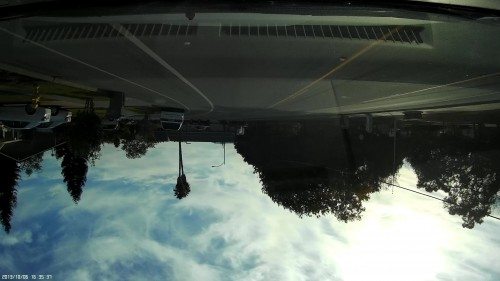 There's a way to flip the video which I will cover next.
Usage and Settings
The manual for the Action Camera is available on the Internet; although I was not able to find a link to it on the SpyTec site, a Google search turned it up here.  The manual is helpful not only because it explains the use of the camera as delivered, but also because it contains a link to a forum containing a wealth of information, including a configuration/settings application (for Windows only) and a description of the manual method of dumping a file onto the SD card to configure the camera. The forum link is here.
It's unclear to me if the settings application is supported by SpyTec, so I won't cover it in detail here. Using either the software or a manually-edited configuration file, you can configure basic date/time, auto power-off/power-on delay, and the time between frames for time-lapse video.
More importantly, you can configure the two modes available for recording. Recall there is a mode button; pressing it switches between two modes, and you can tell which mode you are in by the color of the LED on top. Yellow is Mode 1, and Blue is Mode 2. The configuration options for each mode are the same, so you can set each up differently, and then flip between modes without needing to reconfigure – for example Mode 1: 1080p 30fps, and Mode 2: 720p 60fps (for slow motion video.) There are options to flip the video 180 degrees (you'll want that for the window mount dashboard cam) and for the data rate/dynamic range to capture, as well as the clip length.
Assuming you get the camera configured the way you want, to capture video you press the power button to power it on. The LED on top glows yellow. Press the mode button to switch between yellow:1 and blue:2 modes. Press the shutter button to start/stop recording – the LED on top blinks whatever mode color you are in, and the one on the back blinks Red.
Here is a bit of video captured while the device was on my dashboard. Note that video is not YouTube ready.  It will be re-encoded during upload, so this isn't necessarily the same quality as you'd get from the camera.
The device will record blocks of video in whatever the clip length is, with 10 seconds of overlap between clips. The device will record clips of the specified length until it is out of power (about 80 minutes on battery), and it will overwrite older clips with new ones when it runs out of space. The standard 1080p data rate uses approximately 77MB/minute, so an 8GB SD Card should be sufficiently large enough to capture all the video possible in a single charge. If you're using a smaller card, or you want to be sure to protect some video you just recorded, pressing the Mode button while recording protects the current clip from being overwritten.
Disk or WebCam
If the camera is off and has an SD card in it, plugging it into a computer will make it act like a USB disk – you will be able to access the contents of the SD card, to copy off videos and also access the manual settings file, which is written to the SD card when you insert it.
If the camera is on when you plug it into a computer, it will appear as a standard USB webcam, with 720p resolution. Here's a screen shot of it in webcam mode on a Linux box.  I did also use it successfully under Windows.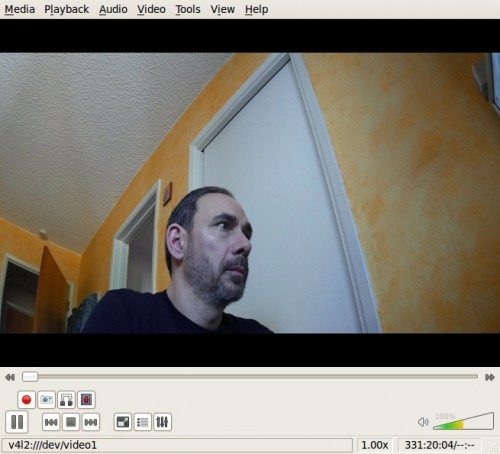 When you plug it in, it will charge off the USB cable. If it's powered off, it will fully recharge in about 2-3 hours.
Video and Audio Quality
Overall, I found the video and audio quality to be quite good, given the constraints of the device size and cost. Don't expect a $100 fixed-focus camera to give you HD video quality rivaling a DSLR or dedicated video camera. Heck, don't be shocked if your newer high-end smart phone shoots better video. Rather accept that you'll be more comfortable strapping this to your head before going on that zipline ride… or if you're a DIY filmmaker, you'll put this thing in harm's way to get shots you'd never risk your real gear on. Just don't get it wet.
That's a Wrap
I've used a GoPro (Hero2) on several adventures; the size and weight of it limits it from several uses, and the cost isn't exactly in the "oh well at least I got the shot" range. At $100 or less, you'd not say the 1080P Action Cam is exactly disposable, but it's inexpensive enough to put in harm's way. And you'll get some pretty amazing shots out of it if you do. Alternately if you need a dashboard cam, the 80 minute battery and 8GB or so recording space needed in a single charge would cover most commutes.
Some of our links in posts like this one are affiliate links, which means that we may receive a small commission on purchases at no cost to you.
Product Information
Price:
$79.95
Retailer:
SpyTec
Requirements:

USB 2.0, Mac/PC with USB port, SD Card (up to 64GB)

Pros:

Light, small
Good 1080p video quality
Inexpensive

Cons:

Rudimentary settings control