We use affiliate links. If you buy something through the links on this page, we may earn a commission at no cost to you. Learn more.
I have always wanted to try a SCOTTeVEST article of clothing for myself. Julie has reviewed many of their creations over the years.  Jackets, vests, pants, etc…all designed to inconspicuously carry your gear with you, giving each article its own space to ride along in.  I finally get my chance, SCOTTeVEST sent me their SeV Revolution Plus jacket to give it a try. It will be interesting to see how well it does against a wet, damp, windy winter and spring here in the Pacific Northwest.
Note: Click the images to see a larger view.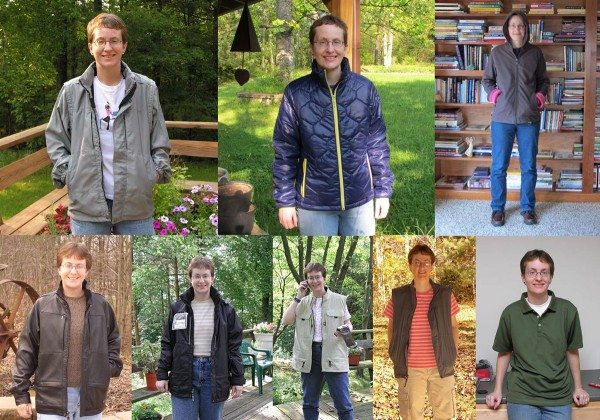 When I looked back on the-Gadgeteer, I was surprised just how far back we have been reviewing SCOTTeVEST gear and the evolution of their products. The pic above is a nice look back in time of some of the SCOTTeVEST gear Julie has reviewed over the years.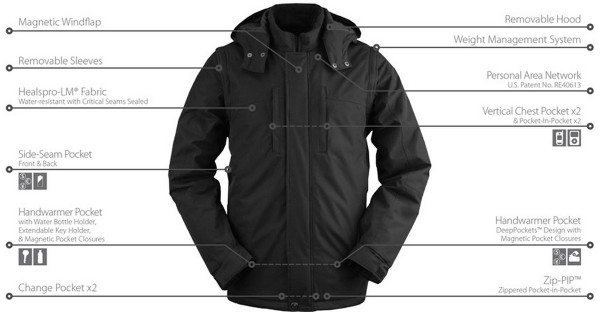 The SCOTTeVEST SeV Revolution Plus jacket is made of a 100% polyester shell and lining that is water-resistant, breathable and washable with all of the 'critical' seams sealed. The breathable shell, sealed seams and quilted lining are engineered to keep you warm and dry.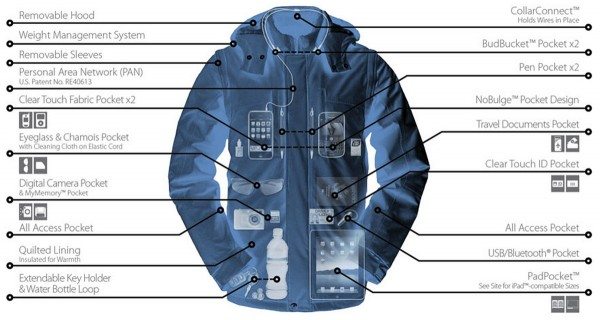 The Revolution is a follow on to their Evolution jacket and like all SCOTTeVEST clothing, the SeV Revolution Plus jacket is definitely tech-enabled clothing. The Revolution Plus has 26 pockets of all shapes and sizes all throughout it. The pockets are meant to hold most, if not all of your gear: smartphone, bluetooth earpiece, earbuds, passport, pens, sd card, tablet…I could go on and on.
Features:
26 Pockets are perfect for winter travel and everyday items
Insulation quilted to the lining makes this the warmest SeV ever!
Removable hood and sleeves
Water-resistant and breathable material, with critical seams sealed
100% polyester shell and lining
Patented Personal Area Network (PAN) for wire management
Ergonomic zippers and magnetic closures
Includes the Travel Smart System™, Weight Management System™, NoBulge™, clear touch pockets, etc.
Sizes Medium and up can hold iPad in PadPocket
This video explains the difference between the new Revolution and the discontinued Evolution.
Machine Washable

According to SCOTTeVEST, "the SeV Revolution Plus jacket is for the winter traveler–it's the warmest SeV ever". The insulated quilted lining does get the job done, it kept me warm and dry all winter. Admittedly Seattle does not get as cold as many other places in the world , but there were several weeks in the 20's this year that the Revolution Plus protected me from the low temperatures and blustery conditions. Its water-resistant shell and hood kept me dry during  walks through the dumping rain.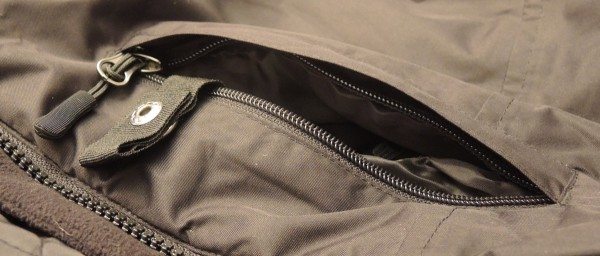 The polyester shell is finely woven but not as thick as some of the hardcore gear I have used in the past. As you can see, the zippers, seams, and stitching are all very well done. Many of the 26 pockets are engineered for a specific type of function like holding keys, sunglass, tablet or the like with a bungie clip in the case of keys or a soft cleaning cloth for cleaning your sunglasses, etc.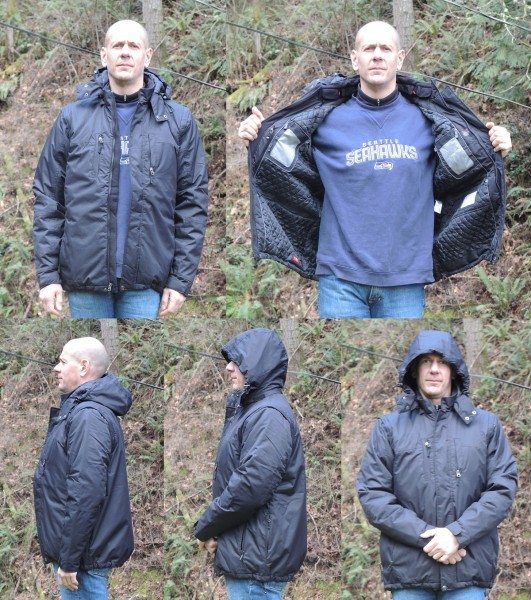 The Revolution Plus is truly an all-weather jacket, from the rain-soaked Seattle winters to a cool spring morning or even getting caught out in the dumping snow. Though I would not trust it keeping you warm long much below 20 degrees. Over the main zipper, the protective flap is held firmly in place by relatively strong magnets embedded in the fabric.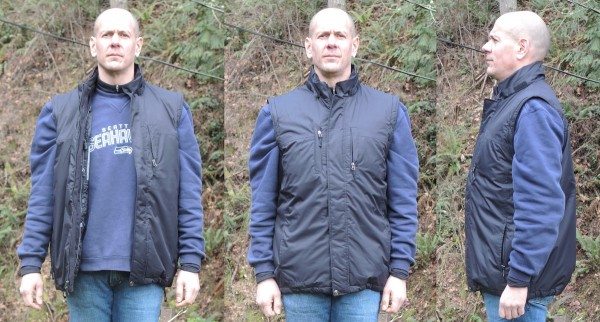 Along with being warm and water-resistant, the Revolution Plus has removable sleeves and hood, enabling it to transform into a tech-enabled vest. The hood and sleeves are able to be stuffed into pockets for quick/always there availability.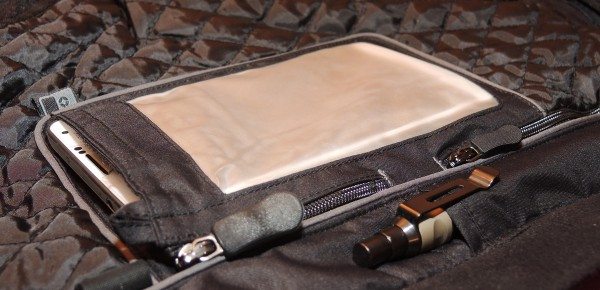 The first tech-related "issue" was neither smartphone pocket was large enough to completely hold my Samsung Galaxy Note 3. Though there were multiple other pockets throughout the jacket that were able to securely transport my phablet.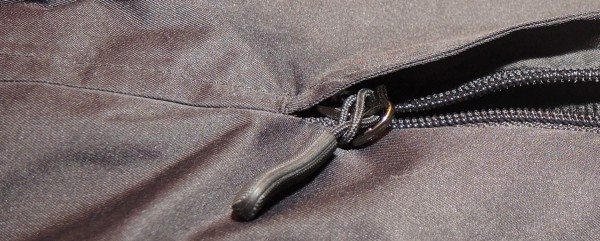 As I said, the SeV Revolution Plus is very well made with high quality materials and polished construction/workmanship.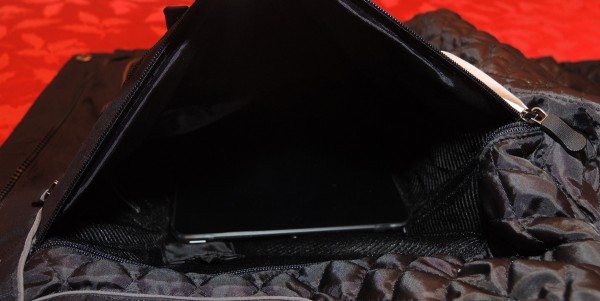 The PadPocket is huge, large enough to hold my iPad mini and/or the Gadgeteer Kid's iPad 3. Though the weight of the iPad does cause the pocket and bottom of the jacket to flop against the front of my thigh a bit.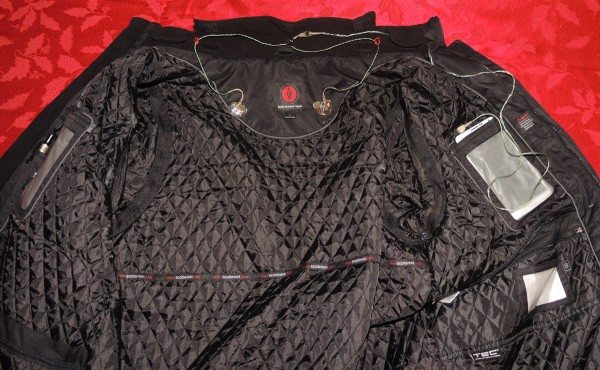 SCOTTeVEST's patented Personal Area Network (PAN) for wire management is definitely one of the best features of the Revolution Plus jacket. Here you can see my pair of JHAudio JH|5 Pro earphones I reviewed years ago installed in their system. It took me just a few minutes to figure out the system and string the wires throughout the interior of the jacket. I would suggest to those who have a spare pair of earbuds laying around, to dedicate a pair to the jacket so you do not have to take the time installing and removing them.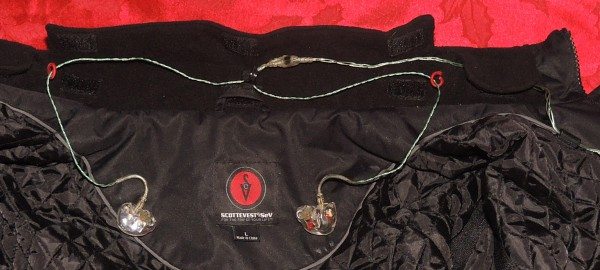 The CollarConnect system is engineered to hold the wires in place. There is a BudPocket on each side to (obviously) hold both earbuds when not in use. The BudPockets are too small to hold my JH|5 Pros but are perfectly sized for standard sized earbuds.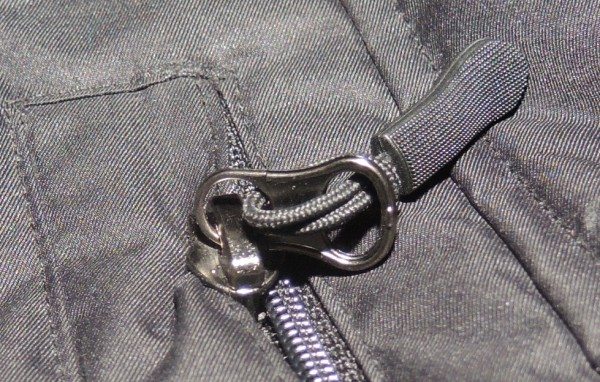 The only functional issue I have with this jacket itself is the flap material that overlays the zippers regularly gets caught in the zipper teeth when you are closing the pocket. It takes a decent bit of effort and diligence to get the material out. Seems like this could definitely cause unnecessary wear and tear on that area of the polyester fabric. That said, I have gotten better at closing those pockets without getting the zipper bound up with fabric anymore.
The SeV Revolution Plus is available in 6 sizes: S, M, L, XL, XXL and XXXL and any color you want as long as that color is black…
SCOTTeVEST's Revolution Plus is a great tech-enabled jacket, well made with much thought and excellent engineering put into it. With 26 pockets, it is able to carry nearly all of your tech and misc gear from your smartphone to full sized tablet/iPad, potentially eliminating the near to bring a gear bag. Its ability to transform from a jacket with hood to a vest and still carry just as much stuff allows for a good deal flexibility with little to no compromise. It keeps you warm and dry as well…what more can you ask of a jacket???

Product Information
Price:
$200
Manufacturer:
SCOTTeVEST
Pros:

26 pockets to carry your gear
Stylish
Nicely insulated/warm
Well made
Excellent design
PAN system works well

Cons:

Zippers get bound up in shell material
Phablet does not fit securely in smartphone pocket