We use affiliate links. If you buy something through the links on this page, we may earn a commission at no cost to you. Learn more.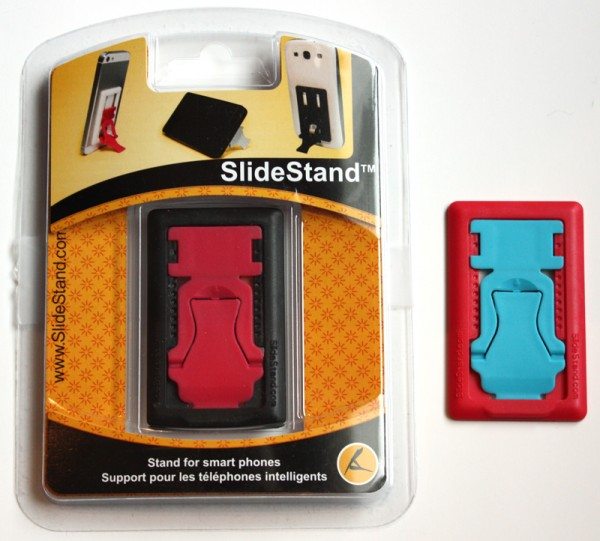 Sometimes you have a case you love, but you need a stand so you can FaceTime, Skype, or watch videos on your phone. Problem is, a lot of the cases that have stands built in are not as stylish as the ones you find without stands. In comes the SlideStand, a stick on stand for all smartphones, which sticks to the back of a case or phone and turns it into a stand case. Seems like a nifty idea, but let's see how well it works.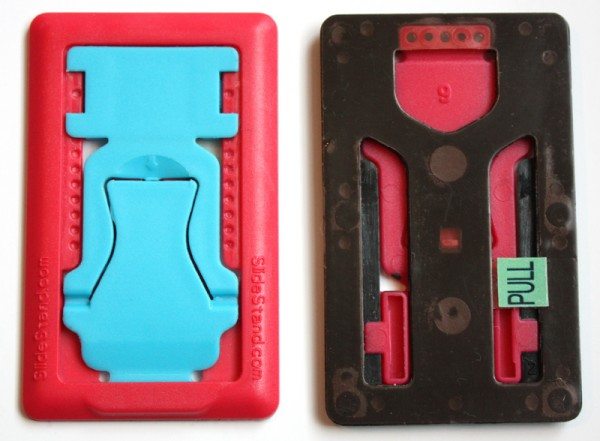 Inside of each package you get one SlideStand. The instructions are on the packaging for how to apply. Currently SlideStand comes in nine colors. I was sent the black/red and red/cyan color combinations. The red looks slightly pink to me, and even more so when I put it on my red case.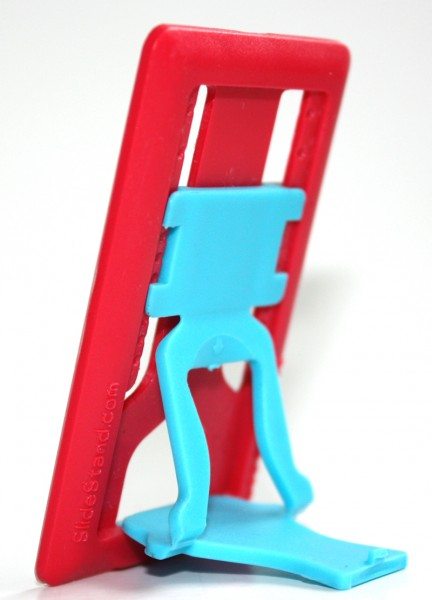 The SlideStand was easy to use. When not in use, the stand portion lays nearly flush against the attached portion. I say nearly flush because after several uses, the little piece that holds the stand portion down (just below that little arrow you see in the picture above) has worn down enough that it will not lock down into place. I didn't mind that it didn't lock into place anymore, since when it is locked down, it can take a bit of effort to get it to pop out, so the worn in version is much easier to use. If you have brittle or no nails, I would recommend opening and closing it a few times before putting it on your phone to break the SlideStand in.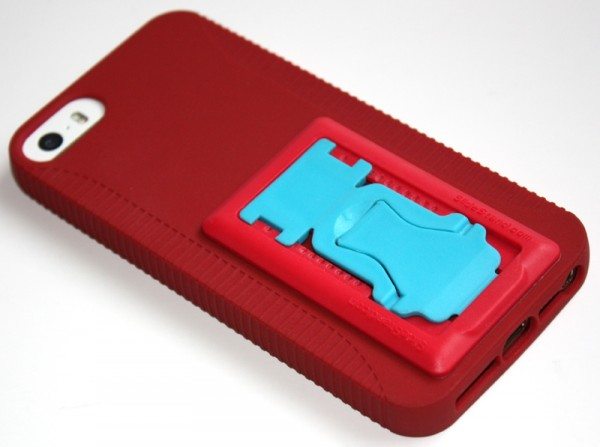 To apply, you peel off the plastic protecting the 3M adhesive backing and align it near the bottom of your phone, while making sure that the bottom of the SlideStand is parallel with the bottom of the phone. Press down firmly to adhere it, and you are finished. SlideStand will stick to many surfaces, the above case being a TPU case, but they specifically mention that it will not stick to the glass backing of an iPhone 4/4S.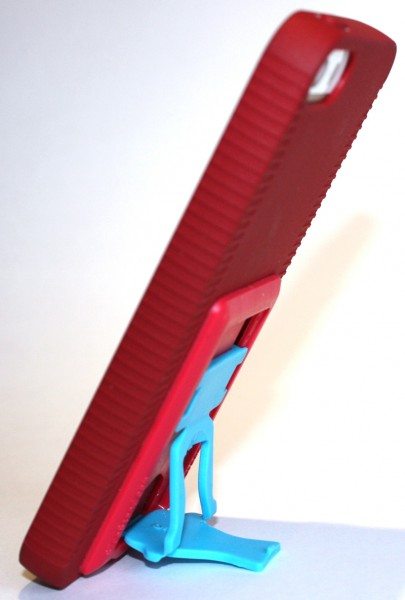 SlideStand is able to be used vertically in four different angles. This ranges from the above picture, being the shallowest angle, to completely vertical. On a firm surface such as a table, the stand worked great and was very sturdy. It was a little more tricky on carpeting in this vertical position. Having the phone in a vertical position made FaceTime calls a breeze.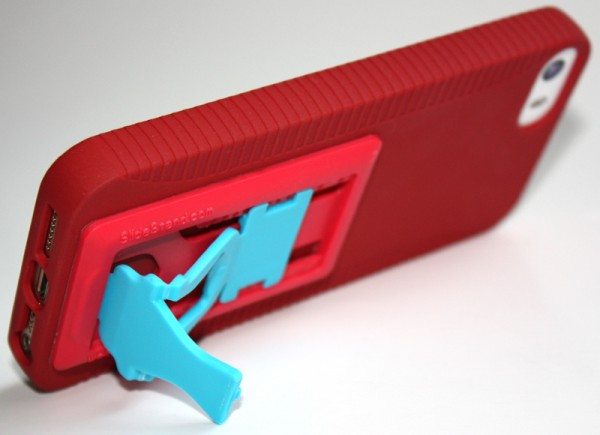 Knock the phone over into a horizontal position, and you have a viewing angle for watching videos. Most of the time I used the SlideStand in this position for playing games and watching YouTube videos.

Some friends have commented to me about the SlideStand and asked me if it was annoying to have it on my phone, since it took the normally flat back and added a lump at the bottom. The answer is yes and no. While I am holding the phone in my hands, I barely notice that it is there. When I set it down, that's when it can be annoying, since the phone will not lay flat anymore.
The SlideStand is meant for a single use, and will not easily reapply to another case or phone. In fact, getting the SlideStand off of my case required a butter knife to slide between it and the case. There was no residue left on the case after I removed the SlideStand, so you do not have to worry about ruining a case if you decide you do not want it on there.
For ten bucks, I think that the SlideStand is a decent add-on to my case. If I feel like I just don't want it anymore, I am not out of a case, nor did I spend that much to begin with. I kept the red/cyan version on my red case and it will probably stay there for the time being, as it is useful to have when I don't feel like holding my phone and it doesn't look bad either.

Product Information
Price:
$10
Manufacturer:
SlideStand
Pros:

Able to be used with most phones and cases
Easy to use
Cheap

Cons:

One time use only
Phone will not lay flat when not in use