We use affiliate links. If you buy something through the links on this page, we may earn a commission at no cost to you. Learn more.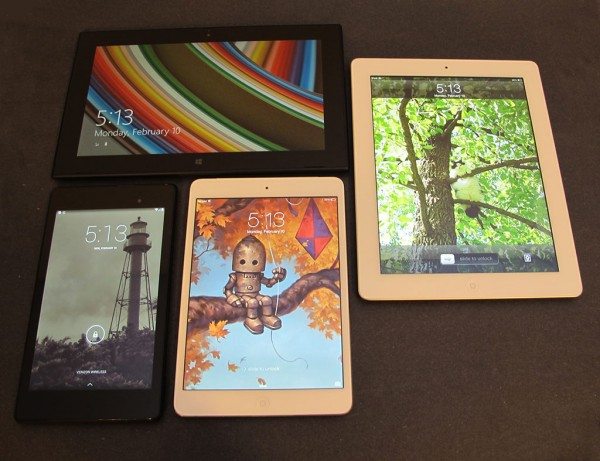 Years ago I was the ultimate Apple fan girl and wanted little to do with Android devices because they seemed clunky and lacked apps. Time went by, I dumped Apple, and have been firmly in the Android camp for a couple years. Now I find that Apple devices bore me to tears. I've tried a couple Blackberry devices, but they failed to impress me and are pretty much ready to have a fork stuck in them at this point anyway. But what about mobile Windows devices? In the past year, I've looked at just one Windows device and that was a Nokia Lumia 822 Windows Phone 8. I think it's high time that I tried a Windows tablet. So when the folks at Verizon Wireless asked me if I was interested in taking the Nokia Lumia 2520 Windows 8.1 RT tablet for a quick test drive, I was happy to accept. Note: Images can be clicked to view a larger size.
Before we go too much further, I need mention that the Nokia Lumia 2520 is a Windows 8.1 RT device. Windows RT is a special version of the Windows operating system that has been designed especially for devices using the ARM chip. It may look almost identical to your main desktop or laptop's Windows operating system, but it's not. Windows RT devices will not run legacy applications. That means if you have a favorite app that you have been using on your laptop or desktop with Windows XP, 7 or 8, you won't be able to install it on the Lumia or any other Windows RT device. There is an online app market called the Windows Store where apps can be downloaded, but this is where Windows RT reminds me of the early days of Android – lack of apps.
Hardware specs
Operating System: Windows RT 8.1
Processor: 2.2GHz Quad-Core Qualcomm Snapdragon™ 800
Memory: 32GB internal (formatted capacity is less) / 2GB RAM
Network: 4G LTE (Band 13)
Display: 10.1" IPS LCD, Full-HD 1920 x 1080 resolution, 218 ppi, 16:9 aspect ratio, TrueColor (24-bit/16M)
Camera: 6.7 Megapixel rear, 2.0 Megapixel front
Bluetooth 4.0 LE,Wi-Fi: 802.11 a/b/g/n, Miracast 2.4GHz and 5.0GHz
NFC
Micro USB 3.0 high–speed
Battery: 8000mAh (Usage time: up to 11 hours, Standby: up to 25 days)
Dimensions: 6.61" (H) x 10.51" (W) x 0.35" (D)
Weight: 21.69 oz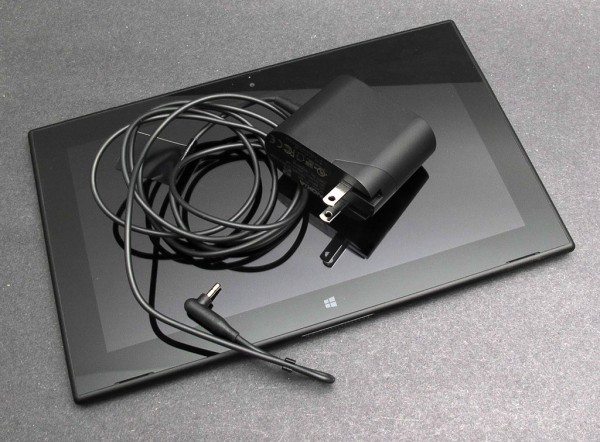 Package contents
Nokia Lumia 2520
Nokia Wall Charger AC300
SIM door tool
Quick Start Guide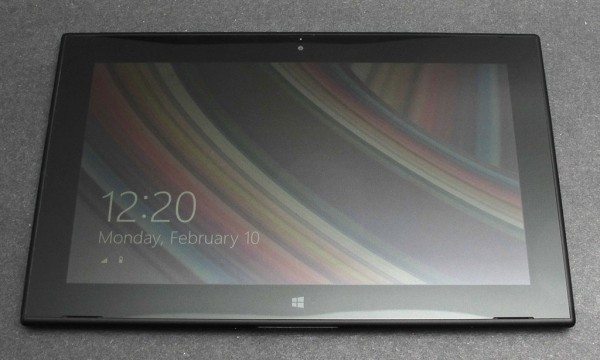 Style and design
The first thing I noticed about the Lumia 2520 was its obvious 16:9 widescreen form factor. Depending on the orientation you prefer to use, this tablet is about 1 inch longer or taller  than an iPad and most Android tablets. That's neither a good or a bad thing though. It's just the way it is and you'll either like it or not. When I first started using the tablet, I thought it felt way too big, but I quickly got used to it because the 10.1 inch display is so lovely. It is one of the best features of this tablet. With its  ClearBlack display technology, it is bright, crisp, vivid and has great viewing angles.  The 650 nits luminance rating is supposed to help when viewing the screen outdoors, but I was unable to test this due to the lack of sunshine this time of year in Southern Indiana.
The only issue that I noticed with the display was the fact that it is a horrible fingerprint and smeary smudge magnet.  Keep those polishing cloths handy if you buy this tablet.
The "face" of the Lumia has a forward facing camera above the display, a soft touch button below the display and forward facing speakers along the bottom edge (you can see the speaker slots on either side in the image above). Sound quality is good and at high volume levels, there wasn't a problem with distortion.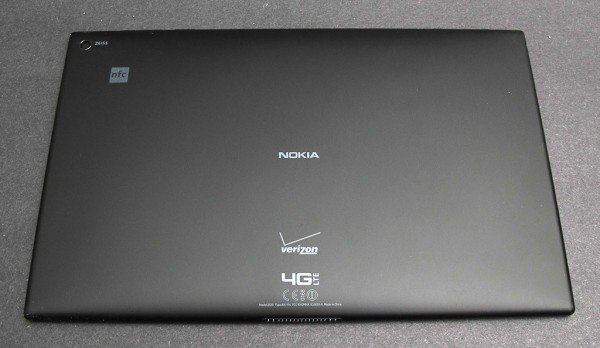 The 2520 is available in red and black versions, and I was sent the black version. The back of the tablet has a soft rubberized feel that provides a nice grip if you don't plan to use a case.  From what I've read (but haven't confirmed)  the red version of the Lumia does not have the grippy rubber feel that the black version has. It has a glossy plastic case.
The rear facing camera is located in the upper left corner along with the NFC receiver and the special keyboard docking connector located along the bottom edge. Verizon didn't include a keyboard with my loaner device, so I wasn't able to test that accessory.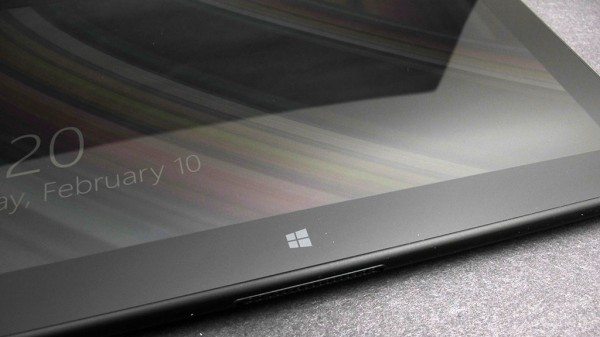 The Lumia features a wide bezel around the gorgeous display. The only button on the face of the tablet is the home button in the lower center of the screen. This is a soft button which wakes up the device while idle and takes you back to the Start screen when it's active. I prefer a physical button instead a soft button like this one because it seemed like I was always touching it when I really didn't mean to.

Here's another shot of the keyboard connector. The optional keyboard cover will set you back $149.99, but it does offer two USB 2.0 ports and up to 6 hours of extra battery life.

Along the top edge of the device, you'll find the power button, volume buttons and 4G LTE SIM card / microSD card combo tray. Note that you'll need to use the SIM door tool when you want to swap out microSD cards. It's a slight hassle if you regularly switch cards.

The right edge of the tablet has a micro HDMI port and a USB 3.0 port.

On the left edge you'll find a 3.5mm headphone jack and the power port. If you're like me, you'll try plugging the power into the headphone jack or the headphone jack into the power port. They look too much alike.
The build quality of the Nokia Lumia 2520 is very nice. There's no flexing, creaking or cracking when I performed the Gadgeteer squeeze test. Nokia definitely makes a quality tablet.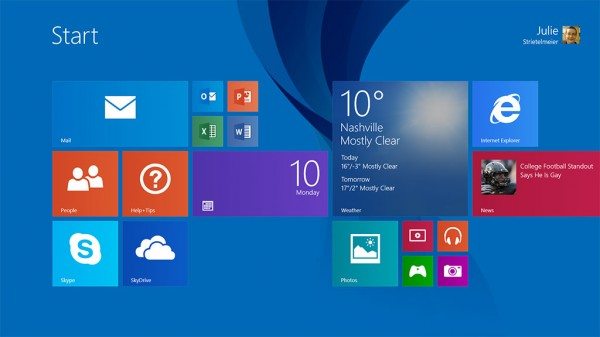 Dipping my toe into Windows RT waters
The only device that I use on a regular basis that has a Windows operating system, is the laptop for my day job. We use Windows 7 though. Last year at some point I bought a really cheap Acer laptop with Windows 8. After using it to root my Samsung Galaxy S3, it's sat on the shelf unused. I can say that using Window 8's live tile view on a laptop without a touchscreen was very painful. It caused me to dislike the interface and go into this Lumia 2520 tablet review with a preconceived notion that I wasn't going to like the interface. And I didn't – at least not at first.
Apps installed on the Verizon Wireless version of Windows RT 8.1 on the Lumia include: Microsoft Office suite (Word, Excel, Powerpoint, Outlook, OneNote) Microsoft Apps: Mail, Calendar, People, SkyDrive, Skype, Photos, Readling List, Camera, Xbox Music, Xbox Video, Xbox Games, Powerpoint, Word, Excel, Outlook, IE 11, OneNote, Bing Maps, Bing News, Bing Sports, Bing Travel, Bing Finance, Bing Weather, Bing Food, Bing Health, Store, Desktop, PC Settings, Reader, Scan, Sound Recorder, Calculator, Alarms and Help & Tips.
NOKIA apps: Nokia Storyteller, Nokia Camera, Here Maps, Nokia Music, My Nokia, Nokia Video Director and Dragon's Adventure.
Verizon Apps: Verizon Connection Manager, and My Verizon Mobile.
The Start screen does take a little getting used to. Especially if you're an iOS or Android person like I have been. But after a couple of days playing with this tablet, I actually started liking it <shock!> No really, I'm not kidding. This fact surprised even me. 🙂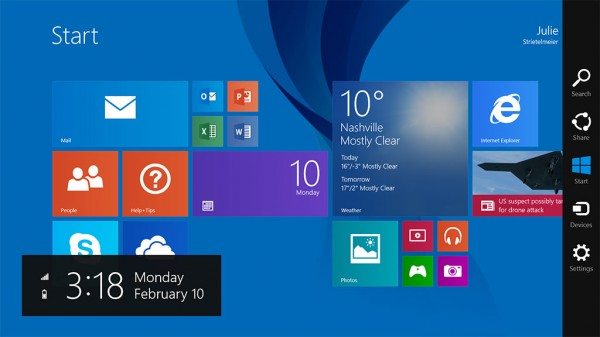 The Start screen can be customized with your favorite apps, websites, contacts, etc. Special gestures help you navigate the OS. Swiping your finger from the right edge of the screen will bring up a charm bar that has search, sharing, start, access to devices like printers and settings. This gesture will also bring up the clock, which isn't always visible.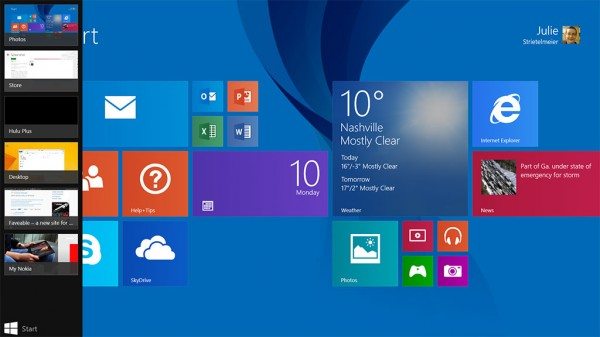 Swiping your finger from the left edge of the screen will switch to your last app, or swiping your finger from left and back to the edge will bring up a thumbnail view of open apps.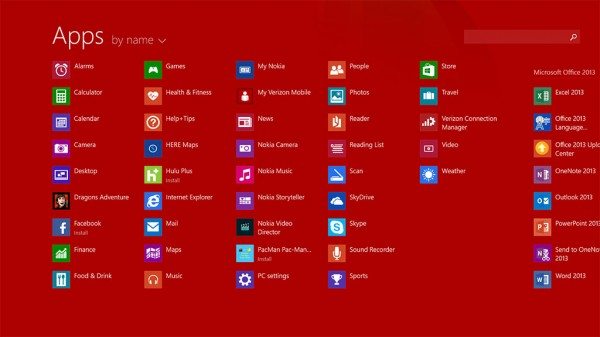 Swiping up from the bottom of the screen will display your installed apps.
All these gestures take a little while to get used to, but they aren't difficult to remember.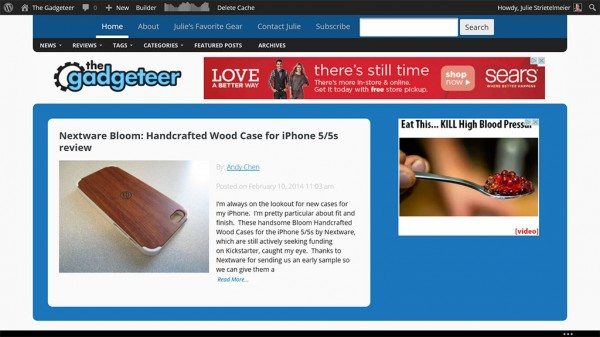 I found the Lumia's large display a joy to use. Surfing was my favorite activity with this device. Surfing in either orientation almost completely eliminated the need for pinching and zooming.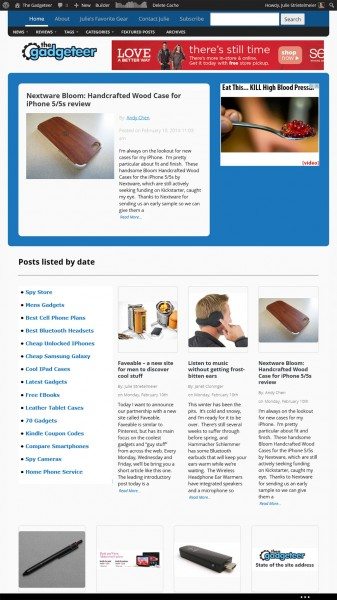 Although the widescreen format of this tablet makes for a large device, it's worth it with all the info that is able to be displayed.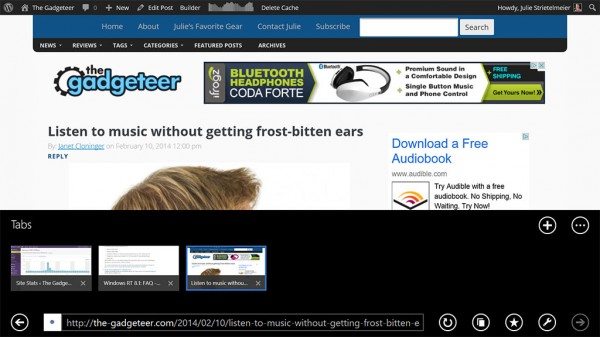 Windows RT 8.1 uses Internet Explorer 11 and although I shun IE on my work laptop and use Chrome on all my devices, the experience with IE on the Lumia was good.
Swiping up from the bottom of the screen brings up the address bar and thumbnails of open tabs.  The address bar also doubles as search bar using your default search engine.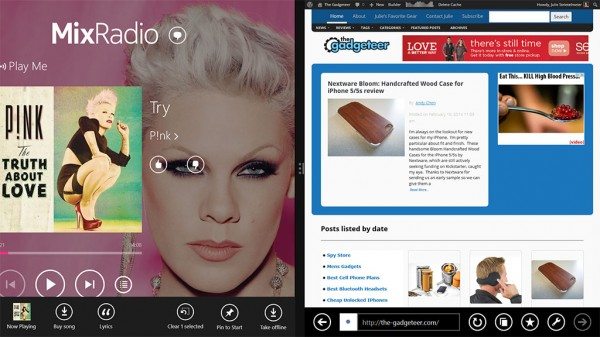 Windows RT allows you to run multiple apps side by side like you see above. I was under the impression that you could only run two apps side by side, but apparently you can have up to four apps on the screen at once depending on the resolution of the screen. I didn't find this out until after I sent the tablet back to Verizon, so I only tried it with two apps at once.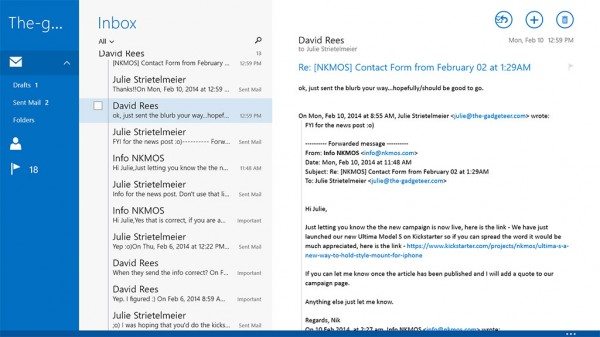 I was able to easily hook in my google for domains email account into the stock email client and it ended up being a pretty decent email client. Better than the Gmail app on Android, which has always been a problem on my Samsung phones.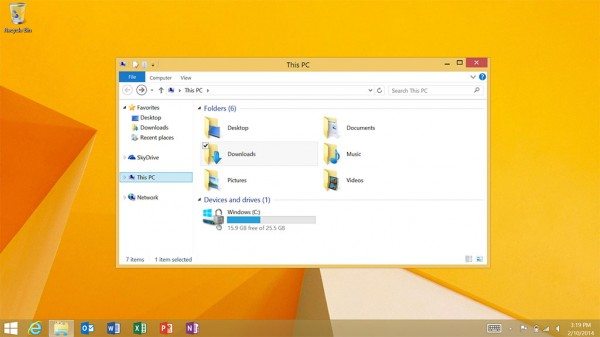 Going to the desktop view will make you think that you have full Windows 8 installed because it looks so similar, right down to the file manager and control panel.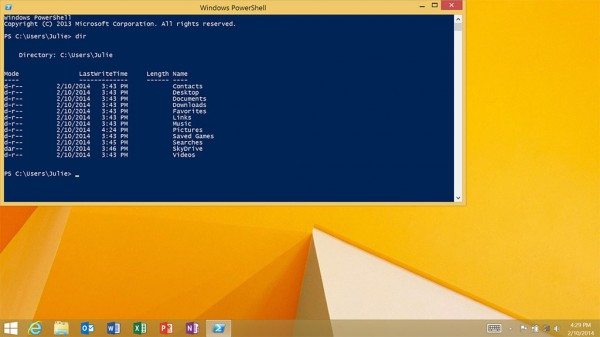 You can even bring up a DOS command shell. Nice!
Camera
Nokia advertises that the Lumia's 6.7MP camera features a Carl Zeiss lens, but like most tablets, the camera on this device isn't going to impress you. Do people really even care about the camera quality of a tablet? I guess they do for the front facing camera, if they regularly use video chat, but anyone who goes around using their tablet as a camera needs to be told to stop because they look like a complete dork.
Here are two example shots, neither of which will win any photography awards.
One other thing to note is that the Lumia does not have a flash…
Performance and battery life
I was really impressed with the 2520's performance. Programs launched quickly, lists scrolled smoothly and flipping between applications was snappy. That said, the powerful processors in current mobile devices makes it tough to find one that is a laggy performer.
When it comes to battery life, the 2520 seemed to run forever per charge. I easily got a few days of light to medium use out of it. When the battery does need to be recharged, it does so quickly –  up to 80 percent within an hour. And if you opt for the optional keyboard case, it adds an additional six hours of battery to the tablet.
To buy or not to buy…
If you prefer your tablets to have a Windows flavor instead of iOS or Android flavor, the Nokia Lumia 2520 should satisfy you. Its main competition is the Surface 2, which I think is too thick and chunky looking.
The Lumia's LTE capability is great for convenience because you'll be able to use it almost anywhere and not have to worry about the security risks of an open WiFi access point at a coffee shop or other public place. However, it seems strange that a WiFi only version of the 2520 tablet hasn't been made available…
The only place where the 2520 or more specifically Windows RT has a lot of catching up to do, is in the area of apps. As per usual, it always comes down to the software and it's true this time as well. The software that comes with the tablet is good, but when you go looking for other apps that you can find for iOS and Android, you might be disappointed when you can't find the same apps for Windows RT. I couldn't find several of my must-install apps like: Feedly, Words with Friends, Directv, Chrome, Dropcam and Instagram. Like with Android, this will hopefully improve over time.
So when it comes down to it, I think the Nokia Lumia 2520 Windows RT tablet is a winner. With a display that is a real pleasure to look at, great battery life, and LTE connectivity, there's not much (other than maybe a few apps) that you'll be left wanting. Again, this tablet surprised me by how much I liked it. I was sorry to send it back…
Product Information
Price:
$499.99 with 2yr contract ($599.99 without contact)
Manufacturer:
Nokia
Retailer:
Verizon Wireless
Pros:

Gorgeous widescreen display
Long battery life
LTE connectivity

Cons:

Larger than most tablets
Can't run legacy Windows apps
Some popular apps missing from Windows Store
No WiFi version