We use affiliate links. If you buy something through the links on this page, we may earn a commission at no cost to you. Learn more.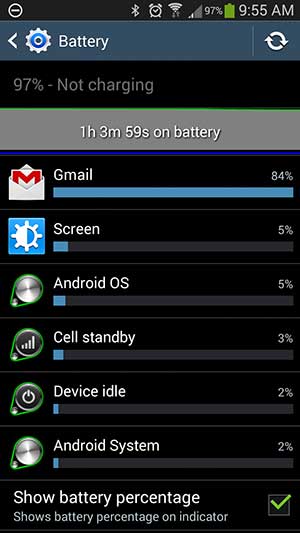 This is a quick tip for all my fellow Android users. Have you noticed that your Android smartphone is always warm to the touch or that your battery life has taken a nose dive? When I was using the Samsung Galaxy S3 as my primary phone, it would often feel warm even when I had not used it in hours and I barely got a day out of a charge. I attributed the problem to the fact that I was running a custom ROM (Carbon) and I just learned to deal with it. But then a couple months ago I decided to switch over to the Samsung Galaxy Note 2 as my main phone and I started having the exact same issues. After some digging around, I was finally able to find the source of the problem – Gmail. Specifically the stand alone app.
Problems with the Gmail app weren't new to me. I've always had problems where it gets stuck refreshing when I would check for new messages. I had this problem on both phones, but would tend to ignore it. This refreshing problem was actually the main thing that was causing the battery to drain quicker than it should. How do you see if you have the same issue?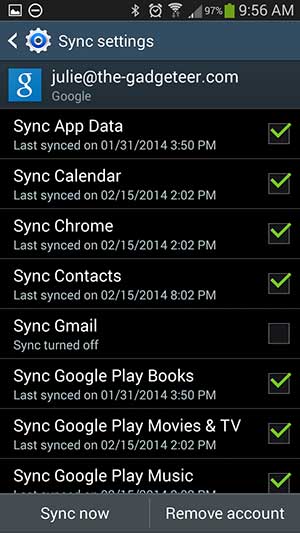 Go to your phone's battery settings (Settings > Battery) and you'll be presented with a list of all the apps and processes and how much battery they are consuming over time. In the image above, you can see that the Gmail app was using 84% of my battery.
The way I ended up solving the problem on my Note 2 was to first turn off Gmail syncing in the account settings (Settings > Accounts > Google). That did solve the problem temporarily. But the next time the refresh got stuck, the problem started all over again. I finally got fed up and went into the Application manager (Settings > Application Manager > Gmail) and clicked the Force stop and Turn off buttons. This will disable the Gmail app and remove it from your apps list. But once it's gone, how are you going to access your mail? The stock email app that comes with the Android operating system does not work with Gmail and instructs you to use the Gmail app.
There are third party email clients that are compatible with Gmail, but I didn't want to try a bunch of apps, so I decided to go with a very simple solution – the browser…
On my laptop I haven't used a stand alone email client in years, so why should my smartphone be any different?
I had not tried the mobile web based Gmail (http://mail.google.com) on my phone in a very long time, but when I did, I actually found that I liked it a lot more than the stand alone version. For one thing, it doesn't get stuck refreshing the inbox. You can even add an icon to your phone's home screen.
After making this switch, my battery life increased significantly and the phone no longer doubles as a space heater.
I can't promise this tip will help other brands of Android smartphones, but it helped with two Samsung phones, so it's worth a look if you're experiencing the same issues.