We use affiliate links. If you buy something through the links on this page, we may earn a commission at no cost to you. Learn more.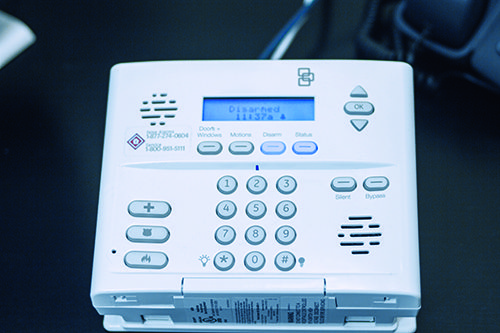 When it comes to home security, peace of mind seems to be a factor in the type of security you get. And with several home security companies competing for your business I guess what it really breaks down to is the ease of use,  added options, and the service.  When I received the security system from Protect America, it arrived in a rather large box that made me a little worried. I assumed that for such a large box there must be tons of wiring, and parts, and manuals, and more.  I cringed at the thought of having to assemble the security system unit, and run cable and wires through the wall, and fumble with small screws trying to mount the unit to the wall.  "What did I get myself into?",  I wondered. 
After opening the box, I quickly realized that installation wasn't going to be bad at all. The box only contained the security system control panel, also known as the Simon XT by GE, 11 sensors, 2 key fobs, a LCD touchscreen remote control panel, a home security yard sign, and the user manual. Surprisingly, the only connections I had to do was to connect the backup battery to the unit and connect my Ethernet cable.
Protect America offers three ways of alarm monitoring connections: a standard landline, high-speed broadband, or wireless cellular. I choose to use the high-speed broadband. Setup for the Simon XT is pretty standard: you just power it up and set the time and date. Then the next step is to install the sensors on the doors and windows you want monitored.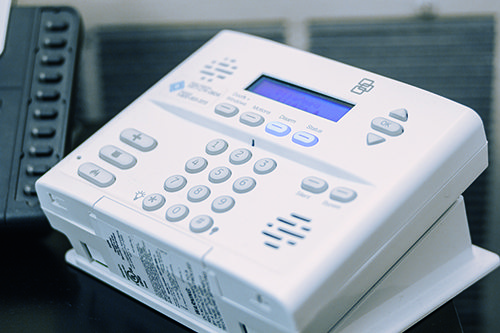 Protect America has packages that vary the number of sensors that you can choose from: 3, 5, 7, 12, or 15 doors or windows ranging in price from $29.99 to $42.99. Since there is not a service technician that would  install the system, you basically have to do the installation yourself.  The Protect America website has installation videos to help you do the installation.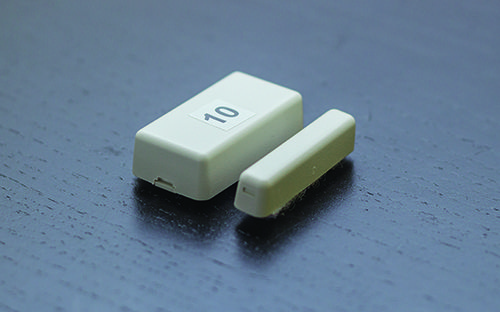 Installing the sensors was fairly easy and effortless.  Each consists of two pieces, the sensor and the magnet.  Once installed, the alarm goes off when the magnet is separated from the sensor.  The sensor and magnet have Velcro backing so you can shift either one during the install if you need to. Other alarm companies sensors and magnets have to be aligned perfectly and screwed in just right. If either one is not where it needs to be then they have to be unscrewed and re-screwed to align both pieces. With the Velcro backing, attaching it is super easy.   The backing uses 3M tape, so the hold is strong.
As you go throughout your home to install the sensors, the manual has a Sensor Information Worksheet inside so that you can identify the name and location of the sensor. You will need this information when you call to activate your alarm system. Activating the system depends on how many sensors and additional optional devices,  you have.  Since I am reviewing just the basic door and window sensors, it took roughly 30 minutes to "pair" the sensors with Protect America and their monitoring station. Fortunately, I had the pleasure of dealing with Douglas (x7118) over at Protect America. Not only was he patient with me as we activated the sensors and went through the worksheet, but he was very helpful after the install with emails and phone calls. He helped things go smoothly, even with some unforeseen hiccups that my broadband cable was experiencing.  As we tested the system, Douglas informed me of the available optional accessories, as well as future accessories, that they have to offer:  glass break sensors, motion detectors, interactive video cameras, garage door sensors, smoke detectors, carbon monoxide detectors, flood sensors, and even GPS tracking for your car.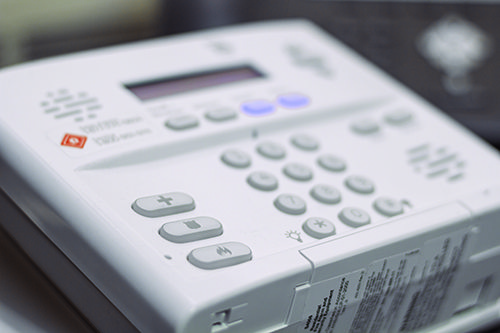 The Simon XT control pad can support up to 40  wireless zones, so you can have a ton of additional accessories right at your disposal. With all these optional devices, there was one that kind of stood out among the rest – a solar-powered light for the security yard sign that turns on at dusk and off at dawn. I thought it was advantageous to have the security yard sign visible at night. I read somewhere that even having a alarm company sticker or yard sign is a deterrent for thieves looking for a house to break into. I even read that some people have placed dummy security bullet cameras around their house as a deterrent. Every little bit helps I suppose.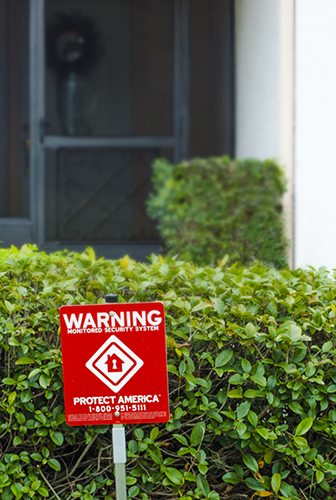 Testing the system worked flawlessly. The alarm was nice and loud with a 95dB Piezo siren. However, if you want that extra alarm sound, they offer an external siren that you can add to beef up the sound. The sensors alerted the monitoring station when a door or window was opened, and Douglas could tell which door or window was alerted. He went over the usual instructions with me on arming and disarming the system, as well as what the additional buttons were on the control panel. He also went over the standard codes and emergency passwords in case of a break-in or a false alarm. He was really thorough with everything. The buttons on the control pad were rather self-explanatory, as well, scrolling through the menus. Arming and disarming the system was much like any other security system. You have about 60 seconds to exit your home after you arm the system and about 60 seconds to disarm the system as you enter the house.
Now, the Simon XT control pad is a unit by itself, and they do offer a touchscreen pad as an optional access point. Having the touchscreen allows you to access wireless control and monitor the Simon XT. It is convenient to have, so you can leave the main control panel where it needs to be and just use the touchscreen as the remote control anywhere in the house. You can arm and disarm the system with a touch of a button and see any alerts or notifications. Plus, with the touchscreen's built-in voice commands, you can be alerted without having to look at the screen. There are user settings on the touchscreen (volume, brightness, etc.), if you want to customize it to suit you a little better.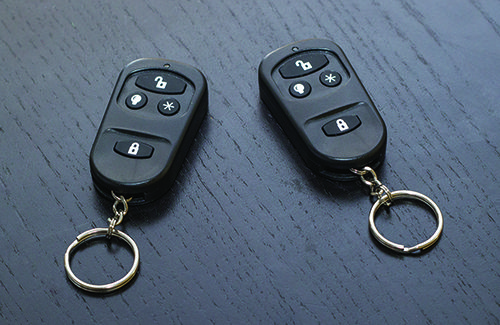 Another handy accessory is the keychain remote control. Think of it as  a car alarm key fob for the home with a lock(arm) and unlock (disarm) button. There is also an additional button to turn on and off the lights in your home, if you have the optional light controls. So as you leave your driveway or pull up to your driveway, you can arm and disarm your system without touching the control pad or touchscreen. The keychain remote was responsive and didn't lag as it armed/disarmed the system. Super easy. If you are at home with your keychain remote, you can also send out a panic alert to notify the proper authorities.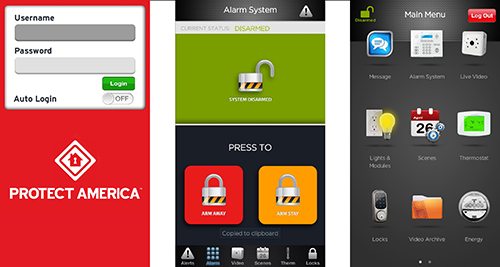 With today's technology, having an app for everything is just an everyday thing. So with that in mind, Protect America has an app for that too. Aside from the keychain remote control, I found their Android app to be extremely useful. The app was just as responsive as the remote. I love technology, especially when it works, so after installing the app and setting it up with  password, I was arming and disarming my house like crazy. I was pleasantly surprised to see that the app armed the system immediately, without any pausing. Same thing when I disarmed it. No lag time. I was expecting there to be a few seconds or longer to get a response from the Simon XT. It seemed like the system was armed the second I armed it from my Android phone. And each time I armed and disarmed the system, the app instantly pops up a notification on my phone. I also have the app connected to my Gmail to alert me of the status of the system. When I armed and disarmed the system through the app, I received an email notification from my Gmail at the same time I received the apps notification. Knowing that I'll be notified of any system activity gives me peace of mind.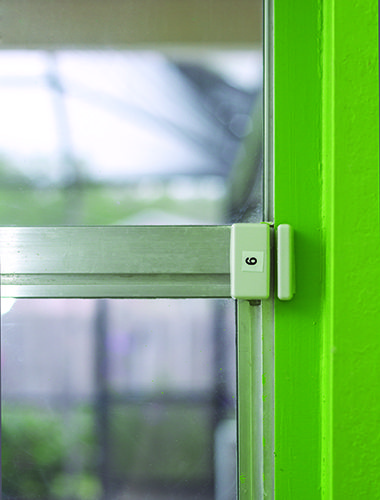 What makes Protect America different from other competing companies is that there are no installation or activation fees.  Some alarm security companies require installation fees starting around $99 dollars and activation fees around $350 dollars.  Protect America offers 5 different packages, from its Copper Package, starting at $19.99 a month, to their Platinum Package, starting at $42.99 a month. They also have a Business Package for your business; although this package does not have an installation fee, there is an equipment fee for this particular plan. And unlike some other companies, Protect America won't charge you a fee for transferring your security system to another home, should you move.
Protect America will replace any broken part free of charge with their Lifetime Replacement Part warranty. Now, that seems like a little peace of mind and a sense of security.

Product Information
Price:
Manufacturer:
Protect America
Pros:

No activation fees
No equipment fees
Can transfer system without charges if you move
Tons of accessories
Many package plans to choose.

Cons:

No service technician to install system