We use affiliate links. If you buy something through the links on this page, we may earn a commission at no cost to you. Learn more.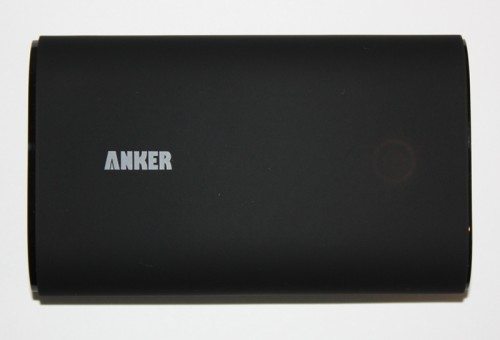 It seems like we have had a lot of different external batteries to review here on the Gadgeteer lately. They have become such an everyday factor in our gadget-filled life that the market is flooded with different sizes, shapes, and colors of batteries. Anker is one of the many companies producing external batteries, but with their Astro2 external batteries, they've simplified how to check the battery level and start charging your devices. The Astro2 comes in 3 different sizes and I was sent the mid-sized 9000 mAh variety. Let's see if it stands out in the crowd.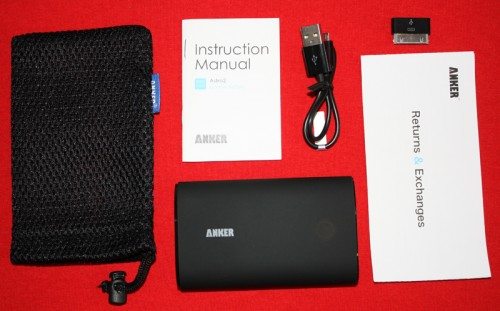 Inside of the box you will find the Astro2 battery, micro-USB charging cable, mesh carrying bag, manuals, and a micro-USB to 30-pin adapter. Adding in the adapter was a nice touch as I was able to use it for my iPad 3 without carrying a separate cable for it on my last trip!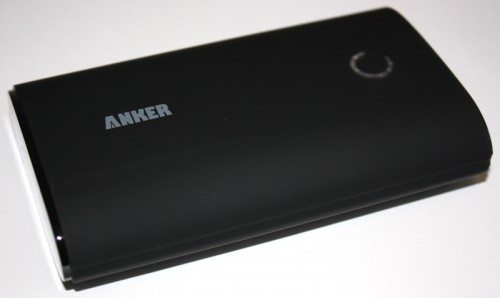 In most cases, this battery is pretty standard. The biggest difference is Anker's "shake to start" system where you plug in your device via one of the two USB ports, and give the battery a firm shake. This will start the battery up. While it is charging your device the indicator level lights will fade in and out to show you how much battery life is left. It is a bright, white light, so if you are using it next to your bed you may want to place the battery with the lighted side down. To check the battery level when not in use, you simply give it a firm shake and the ring of lights will light up. Each dot represents 10% capacity, so in the above picture, you can see that the battery is roughly at 70%. I liked their indicator system because it was easy to gauge how much life the battery had left.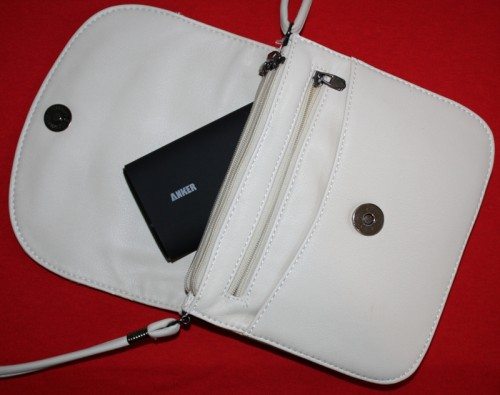 The battery is portable, but still is quite hefty. It fit inside of my purse, barely, so if you use a large purse or throw it in a backpack or shoulder bag, it should be the right size.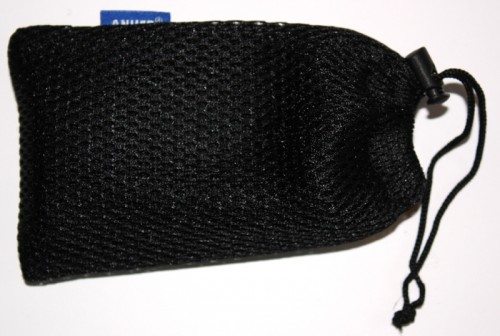 If you choose to throw it in a backpack, the included mesh bag will keep your battery and accessories safe. Once closed, the little 30-pin adapter did not fall out.


There are no buttons on the battery, just three ports. One for charging the battery itself, and the other two for charging two devices at the same time. It took about 10 hours to fully charge the battery, which is a bit slow to me since my previous battery took less than half the time and was not too much smaller than this. The smart port will detect the type of device it is charging and put out the power to maximize charging speeds. The universal port will charge phones at fast speeds, but my iPad was much slower using the universal port. Both ports together will charge up to 5V/3A combined.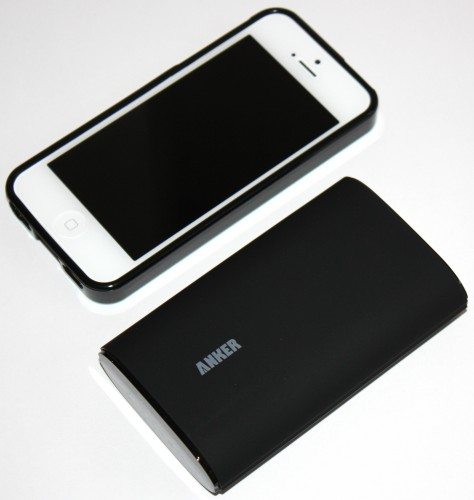 The Astro2 battery is about the same size as my iPhone 5, though it is twice as heavy at 8.8 ounces. The battery has a nice surface coating that doesn't attract fingerprints and provides a solid gripping surface. I was able to use this battery on for my phone on a 3 day trip and it had enough juice that it could have lasted another day. When it came to charging my iPad, I noticed it didn't seem to charge it as full as I hoped; topping off at around 65% consistently. If my calculations are correct, that is about 7500 mAh worth of power.
I had only one problem with this battery, and it involved their shake to check/start system. When carried around in my purse, I noticed that any sort of bumping the purse did against my leg (when walking especially) would shake the battery enough to light up the indicator lights. If I have this battery in my pack for several hours, I can imagine it can run some of the battery down simply by lighting up the bright white indicator lights. Perhaps a lock switch on one side of the battery could prevent this from happening.
Overall, this is a solid battery for a decent price at $39.99. If you need a big battery for a cheap price, you can't go wrong trying out the Anker Astro2. You also have the option to spend $10 more to get a 12000 mAh battery, or save $5 and get 6000 mAh. I think that the middle range, 9000 mAh will satisfy most needs for its size, price, and capacity.
Product Information
Price:
$39.99
Manufacturer:
Anker
Pros:

- Value priced
- Fast charging of all devices
- Can charge multiple devices at once

Cons:

- Needs a lock switch for turning off the "shake to check" battery level
- Doesn't quite use all of the possible 9000mAh advertised