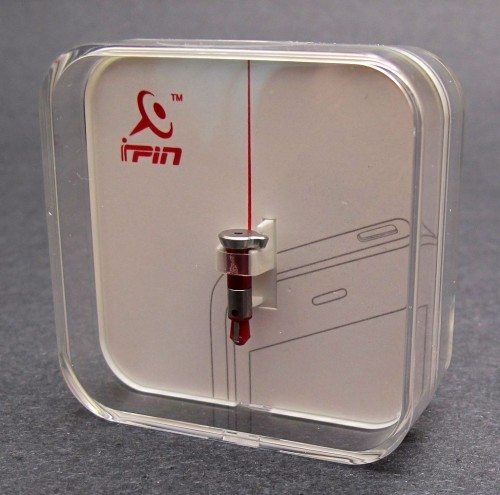 Just when you thought there wasn't anything more that you could do with your iPhone, comes the iPin Laser Presenter, which adds a laser pointer to your phone. At less than an inch long, the iPin has to be the smallest laser pointer on the planet. Let's see how well it works.
Note: Images can be clicked to view a larger size.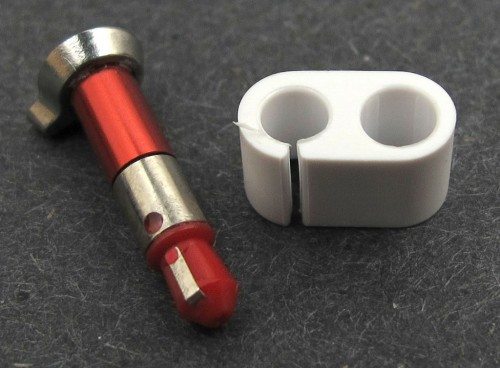 Package contents
iPin laser presenter
Earphone clip
Instruction guide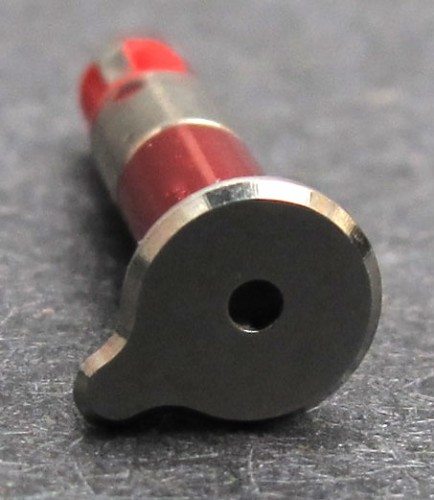 When I first discovered the iPin, I was pretty sure it would work with any smartphone having a 3.5mm headphone jack. Unfortunately I was completely wrong. The iPin only works with an iPhone or iPod Touch. I tried it with my Samsung Galaxy S3 and it did not work. I'm not sure how Apple has designed their 3.5mm earphone jacks, but the iPin can't be fully inserted into the Samsung's earphone jack and there isn't an Android application to control it.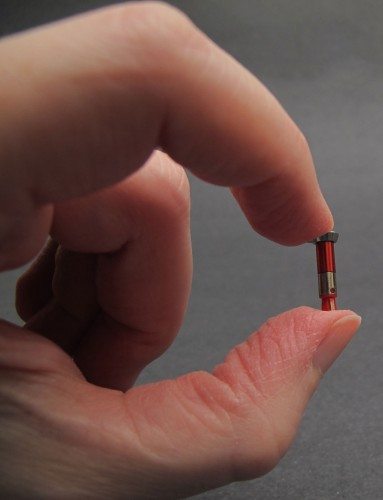 It adds almost zero bulk and weight to your phone. The iPin is less than an inch long and it fits completely into the earphone jack of the iPhone to where only the top cap portion sticks out. It doesn't require its own battery as it draws power directly from the iPhone.

You can leave it in the earphone jack if you like, or you can attach it your earphone cord using the included clip. Leaving it in the earphone jack isn't an issue as audio will still come through the iPhone's speakers as long as the iPin is in the off position (as shown above). Twisting the iPin's cap so it's pointing downward turns it on.
But before you can actually use the laser feature, you will need to install the free iPin app on your iPhone. It has a one button interface that controls the laser and along with a host app that you can install on a Mac or PC, it can control presentation slideshows. I installed the host app on my Macbook Air and was able to connect to the app on the phone, but my testing stopped there because I didn't have a compatible presentation application – it didn't seem to be compatible with the OpenOffice suite that I use.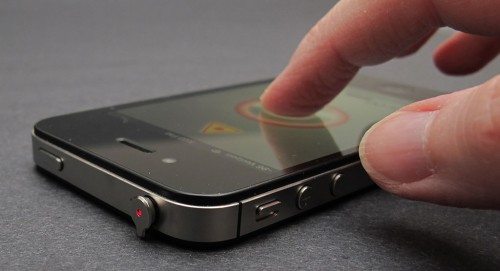 For controlling the laser, the iPin iPhone app has a big red button that activates the laser as long as the iPin is set to the on position and you are pressing the button. Press the button, laser on. Let go of the button and the laser goes off. Simple.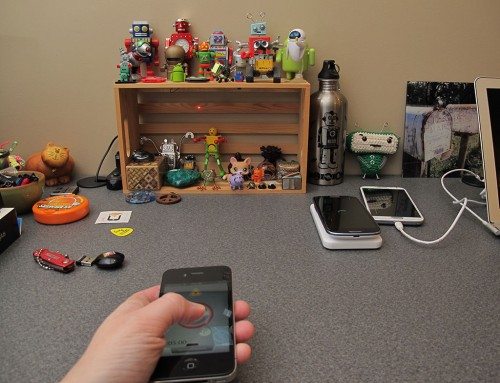 The laser looks and works like many other red lasers I've used in the past. I used the iPin at short range like you see above and at a longer range of about 20 feet. It worked flawlessly either way and it was always easy to see the red 635nm laser pointer.
The iOS app alerts you when you exit to remind you to rotate the iPin to turn it off. You'll definitely want to do turn it off when you're not using it because audio will be muted until you do. You'll also need to turn the iPin off in order to hear incoming calls.
For $49.99, the iPin is expensive when you compare it to other small laser pointers. But keep in mind that traditional pointers require batteries and with the iPin, you can carry it around with you all the time with no added bulk. If you often present at meetings and you have an iPhone, the iPin is a nifty little add-on for your phone.
Some of our links in posts like this one are affiliate links, which means that we may receive a small commission on purchases at no cost to you.
Product Information
Price:
$49.99
Manufacturer:
Conary Enterprise Co., Ltd.
Requirements:

iOS 4.3 or later
iPhone 4 / 4S / 5
iPod touch 4th / 5th

Pros:

Adds a laser pointer without adding bulk
Audio still comes out of speakers while in the off position
Easy to use
Requires no batteries

Cons:

Audio muted when in the on position