We use affiliate links. If you buy something through the links on this page, we may earn a commission at no cost to you. Learn more.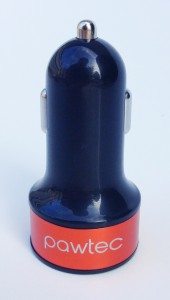 Mobile devices are great.  They help save us time, enable us to communicate and entertain us, and so we take them everywhere.  But their batteries sure don't last long enough, do they?  While we're on the road we need a way to charge our mobile devices and preferably to charge more than one at a time.  The Signature Mini USB Dual Car Charger from Pawtec runs on a standard 12 volt DC power input like that found in a car or a plane, and it can charge two mobile devices up to a total of 3.1 amps.  This could be two phones or a phone and a tablet.  Let's check it out.

 Options and Specs
Input: DC 12-18V
Output: 15W, DC 5V, 3.1A (2.1A USB Port & 1.0A USB Port)
Size: 2.4″ x 1.1″ x 1.1″
High-Speed, Fuse Free charging with voltage and overcharge protection.
Packaging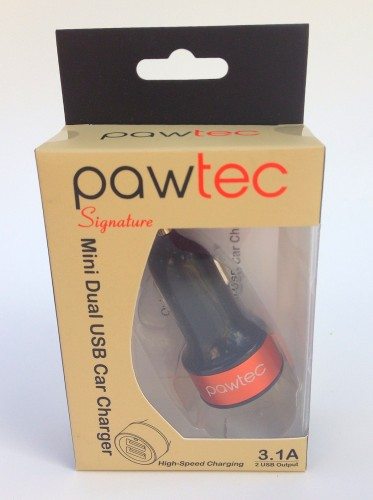 Packaging is simple.  It includes a window to view the product from one side.  A bit limiting but better than no view at all.
Contents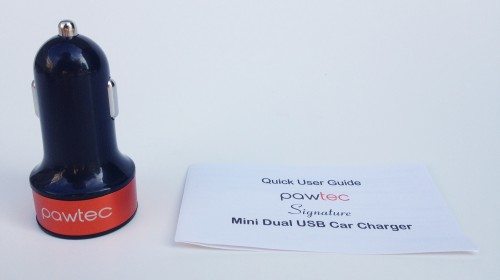 Pawtec Signature Mini USB Dual Car Charger
Quick User Guide
Features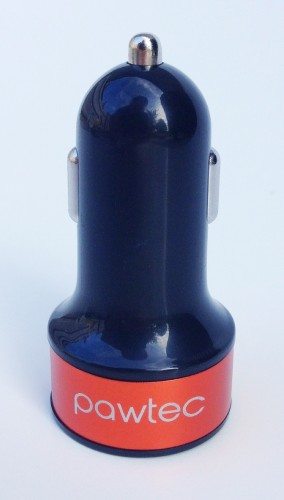 The body of the Pawtec Signature Mini USB Dual Car Charger is constructed of ABS plastic in either white or black.  Both versions have an orange colored aluminum band with the Pawtec logo on the side.  Pawtec calls this aluminum band a "grip," but an anodized band of aluminum doesn't seem very grippy to me.  Still, it is slightly better than smooth plastic.  The construction seems to be fairly robust.  The main body is a single piece of plastic, not two joined halves, so there are no seams to act as weak points.  Also, the aluminum ring provides an extra layer of protection.  According to the Pawtec site, the Charger features over-voltage and over-charge protection with no fuse.  Further, it is designed to stop charging when your mobile device is fully charged.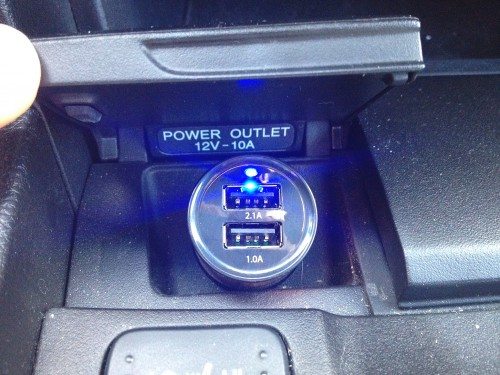 The Charger features a small blue LED that illuminates when it is plugged into a powered outlet.  I was recently told that these blue LEDs are being used in products more frequently rather than red or green LEDs in order to help users who are red-green colorblind.  Since I'm not colorblind (as far as I know), I can't really comment on this, but it does seem plausible.  Personally, I just think the blue-colored light looks cool.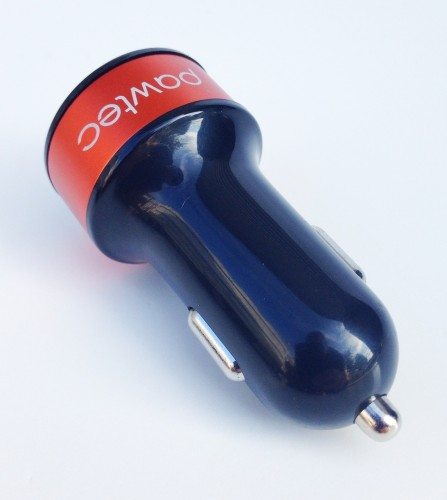 Like other, similar products, the Charger includes spring-loaded contacts at three points.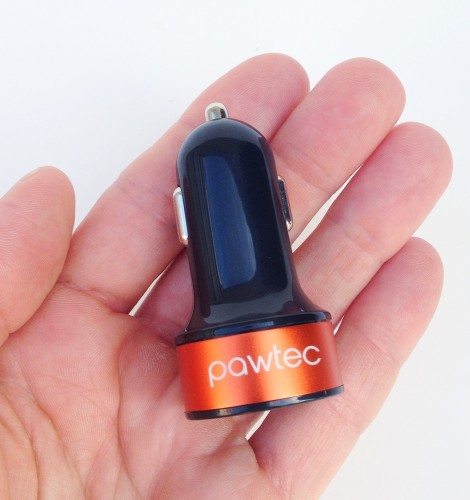 The Charger is relatively small and compact in size, but I've seen (and used) smaller ones.  Is this extra size relative to similar devices due to some special circuitry that avoids the use of fuses, or that allows "high speed" charging?  Maybe, but even if was willing to crack open the case, I don't think I'd be able to identify any special components of that nature.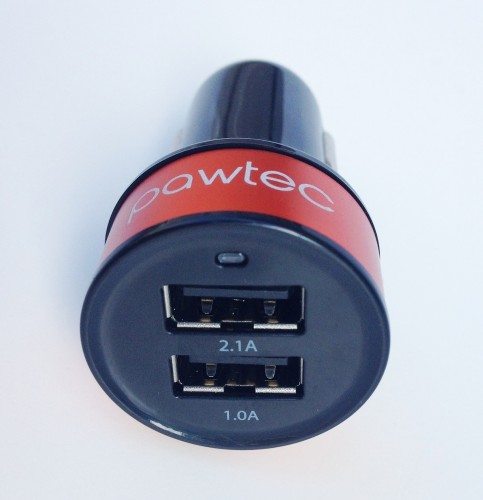 The Charger includes two USB charging ports, a 1.0A for most phones and a 2.1A for phones or most tablets.  There are lots of similar 12V DC chargers on the market, and many of them are capable of charging two devices at once, with a growing subset of them able to charge a phone and a tablet, so the Pawtec Signature Mini USB Dual Car Charger is not unique in this capability.  But beware, as many of these are Chinese knock-offs and could potentially damage your device.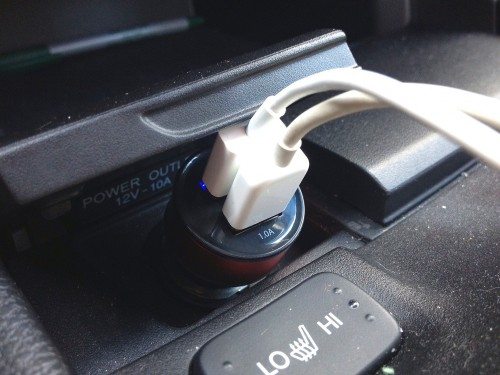 My 2002 Honda Accord has a small, spring-loaded door over the 12V power outlet.  When I plug the USB cables into the Charger, this door pushes down on the cable nearest it and applies a load to it that will almost certainly cause damage to the cord over time (particularly since Apple charging cords have to be the most fragile things EVER).
Conclusion
The Pawtec Signature Mini USB Dual Car Charger allows you to charge your mobile devices from a car's or plane's 12V DC outlet. Although a few similar 12V DC chargers are a bit smaller, many are larger, and the Pawtec's one-piece ABS plastic and aluminum band construction seem to make it a bit more solidly made and from higher-quality materials than some of the other similar products I've used.  It is also capable of charging either two phones or a phone and a tablet simultaneously with its combined 3.1A limit.  The Pawtec Signature Mini USB Dual Car Charger offers a good combination of features for the price.
Updates 04/09/15
I've been using this USB charger our minivan since I reviewed it. Works great and durable.
Source: The sample for this review was provided by Pawtec. Please visit their site for more info.

Product Information
Price:
$29.99
Manufacturer:
Pawtec
Requirements:

12-18V DC input
Up to two USB devices that draw no more than 3.1A total

Pros:

+ Can charge a phone and tablet simultaneously
+ One-piece ABS plastic and aluminum construction
+ Fuse Free design

Cons:

- A bit more expense than some comparable devices