We use affiliate links. If you buy something through the links on this page, we may earn a commission at no cost to you. Learn more.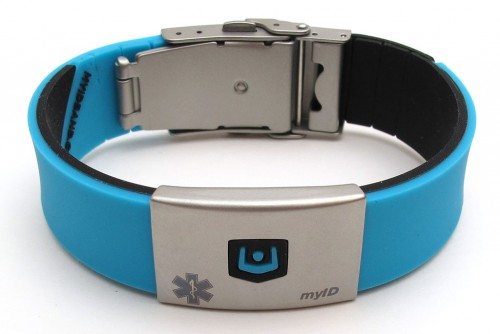 The myID Personal Identification Bracelet from Endevr (formerly LifeStrength) is an upgrade to the traditional medical alert bracelets that you've probably seen before. With myID, first responders can scan the QR code on the inside of the bracelet to immediately see your vital info including name, email, phone number, age, gender, blood type, organ donor status, eye color, height, weight, allergies, doctors, insurance, emergency contact info and other important health notes. The bracelet also claims to be a wearable vitamin that offers improved energy, better sleep and well being. Sounds great. Let's check it out.
Note: Images can be clicked to view a larger size.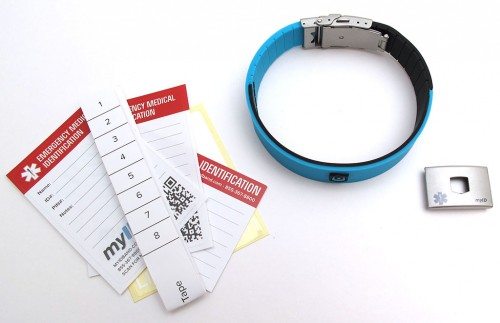 Package Contents
myID bracelet
Metal ID slider with scannable QR code
Wrist measuring strip
ID stickers, wallet card
Instructions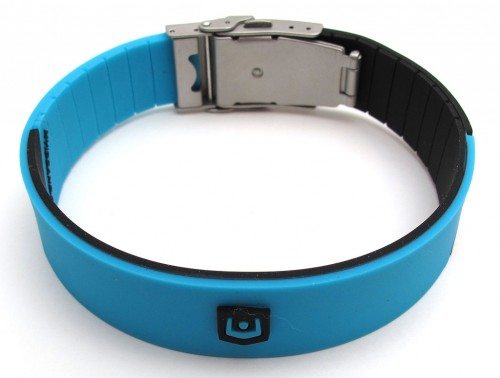 The myID bracelet is available in 3 colors including White/Grey, Black/Grey and Turquoise/Grey like the one sent to me. It looks and feels like a silicon bracelet like people wear to support causes and charities. The difference though is that this one can be sized, has a metal clasp with a scannable QR code and has Ions embedded in the bracelet that are supposed to make you feel better and more energized. More about that later…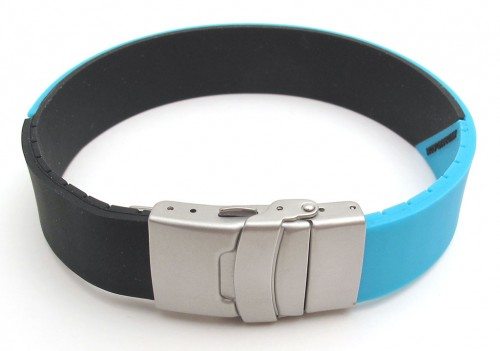 The metal clasp is easy to open and close without pinching your fingers or your wrist.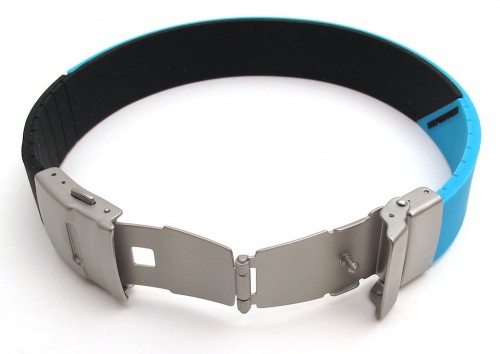 It opens to easily allow you insert or remove your hand.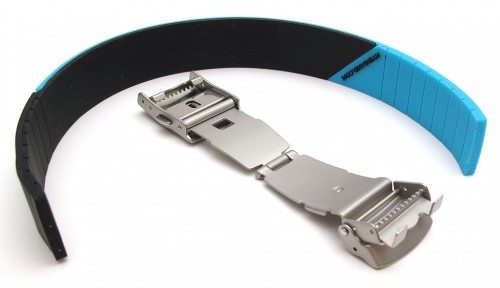 You can remove the clasp in order to size the myID band to fit your wrist. This is done by using the measuring strip included with the band.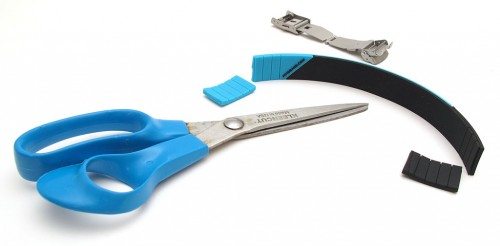 Once you have your measurement, the instructions tell you to trim both ends.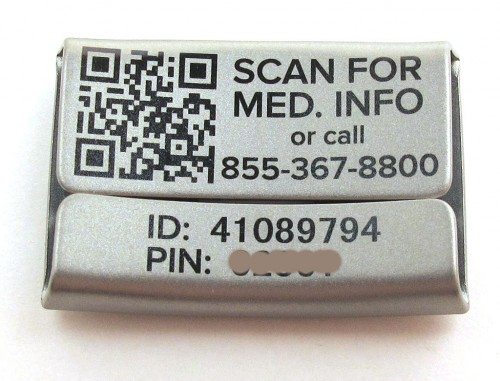 You then fit the metal slider on the band and pull it to the center where it stays in place. The inside of the slider has a QR code along with an ID and a Pin number.
Additional sliders for specific conditions can be purchased for $4.99 each. They slide on next to the main slider and list special medical issues like Diabetes, Peanut Allergy, Alzheimer's, etc.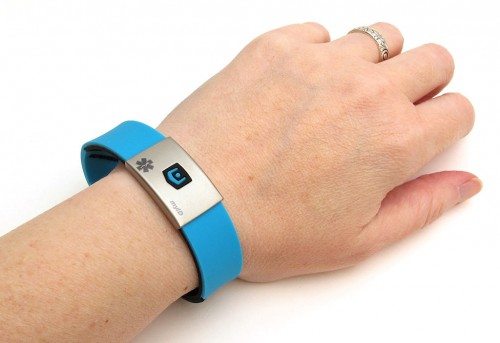 The band itself is not uncomfortable and not completely comfortable either. I know I have it on when I'm wearing it. Especially when I'm typing or am resting my wrist on a table. It's not as bad as some wrist worn items that I've tested in the past.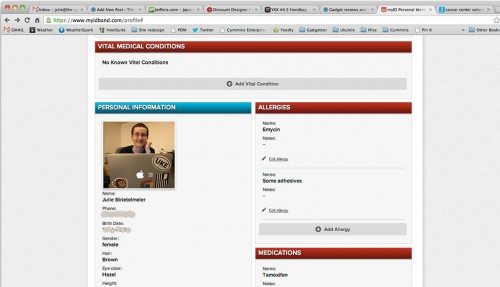 Once the band is fitted correctly you can login to the myID site to activate your account which will then be linked to the QR code on the metal slider. It's easy to set up and navigate the different areas where you can add your info. After you save your info, you can put on the bracelet and feel good about knowing that if you're ever in an accident, first responders can get your info in a flash. At least that's the theory.
So let's say John Doe, who wears an Endevr myID bracelet on his wrist with all his medical info, gets in an accident and is laying on the side of the road unconscious. First responders get to the scene and are supposed to notice the bracelet, flip it over to see the QR code, whip out their cell phone, scan the code, and then type in the ID and Pin numbers on the bracelet.
When they login, they are greeted with John's info. Sounds good, but I wasn't convinced that policemen, firefighters or other first responders would do all these steps. So I asked one of our own gadgeteer writers who was a first responder at one time, what he thought of the product and the required steps. Here's what Larry had to say:
"In the field, a lot of times we did a cursory type check for medic alert bracelets and such if time permitted, but something like this would be more for once you were in a hospital. The fact that you have to use an app to access the data is a no go in the field. The specific side slider would be a lot more help, but in general without any specific training or knowledge of the system it may get over looked. I don't know what kind of information the company puts out to educate the medical community about their specific device and its use."
That's pretty much what I had guessed. I would also guess that they might be more inclined to check a wallet for your info than sign on to a website or even call the 1-800 number on the bracelet to get the info.
Being able to wear your health info is an interesting concept as long as someone doesn't steal the bracelet and use the info printed on the band to login and get your personal information. There's also the fact that the purchase price of the myID only entitles you to a 1 year subscription to what they call their Premium Online Health Profile. After the year is up, you have to pay $9.99 per year after that. Really not worth it if you ask me.
BTW: you can also download the free iOS myID app if you don't want to wear a bracelet. The app lets you put a scannable QR code over any picture that you use for your lock screen. You have to pay $9.99 for 1yr though.
The Vitamin that you wear
It sounds like snake oil, but I figured what the heck, I'd give it a try. I've seen these types of bracelets before and always wondered if they really worked or if people just buy into the claims and then experience a placebo effect because they want to get their money's worth for their purchase.
First of all, what is the myID band supposed to be made of? According to the Endevr site it is made of 7 minerals and gemstones that have been charged through far-infrared waves so that they generate anions (negative ions). What is an anion?
An anion (−) (pronounced /ˈæn.aɪ.ən/ an-eye-ən), from the Greek word ἄνω (ánō), meaning "up", is an ion with more electrons than protons, giving it a net negative charge (since electrons are negatively charged and protons are positively charged).
and
"Generally speaking, negative ions increase the flow of oxygen to the brain; resulting in higher alertness, decreased drowsiness, and more mental energy," says Pierce J. Howard, PhD, author of The Owners Manual for the Brain: Everyday Applications from Mind Brain
I always go into reviews with an open mind, but after several days wearing this bracelet, I have felt zero difference in my energy levels, sleep or overall well being. I woke up this Monday morning feeling just as un-gung-ho as I have every Monday for as far back as I can recall. I haven't noticed any extra bounce in my step as I walk my 2-4miles per day either. I feel the same. I feel good, but not any more good than before I started wearing the myID. Some people swear by these types of bracelets, but I remain unconvinced.
Bottom line
I don't see any real advantage to wearing an Endevr myID bracelet because it's doubtful that the info would be used in the event of an accident by first responders. I think a person would be better off spending $40 on small flash drive that they could store their info on and wear around their neck. Or go the old fashioned route and get a metal ID bracelet and have it engraved with your important info.
And as for the wearable vitamin feature, I'd just stick with Flintstones chewable vitamins. They probably offer more value for your body than this bracelet.

Product Information
Price:
$40.00
Manufacturer:
Endevr
Pros:
Cons:

First responders have to know to scan the QR code
Have to pay $9.99 after the first year
Ion health benefits