We use affiliate links. If you buy something through the links on this page, we may earn a commission at no cost to you. Learn more.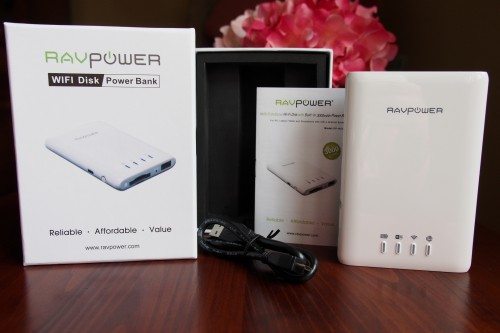 Do you want to expand the accessible storage of your tablet or smartphone but can't because they don't have an SD/microSD slot or USB port to do so?  The RAVPower  FileHub RP-WD01 3000 mAh power bank is a portable, self-powered WiFi file hub that doesn't require any physical connection to your device.  The FileHub can transfer files via 802.11b/g/n or from external USB hard drives, flash drives, or more portable SD cards, and it can add storage to your needy devices.  Basically any USB-connected or SD card storage you have laying around will work.  The great thing is the FileHub gives you device independent flexibility.  If you're at an event in charge of photo documenting with your phone, you can offload the entire group of photos wirelessly to the storage attached to the FileHub.  The photos are ready to share with guests as soon as they're written accessible whether they're on an Android or iOS device.
The RAVPower FileHub RP-WD01 3000 mAh power bank package includes:
1 RAVPower FileHub RP-WD01
1 USB-to-microUSB charging cable
1 User's manual
(Images can be clicked to view a larger size.)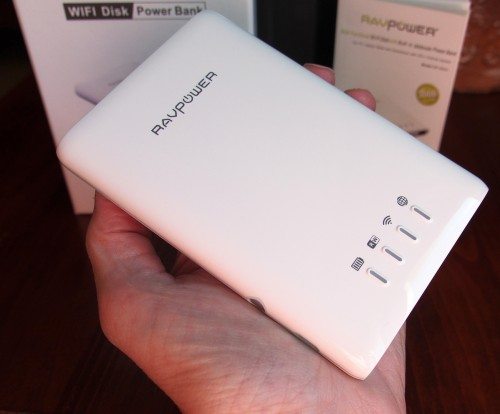 The FileHub is extremely lightweight, small with sleek rounded corners and no creaking if squeezed – a good sign IMHO.  It's really pocketable in size – smaller than the Samsung Galaxy SIV.  Its polished finish is reminiscent of the old white 13" MacBook I had many moons ago.  We'll have to see if it scratches as easily as that did.  It would be nice to have a black color choice, or something other than white.
RAVPower sells a variety of products, but most all have to do with feeding our power hungry devices.  The FileHub does have a backup battery inside.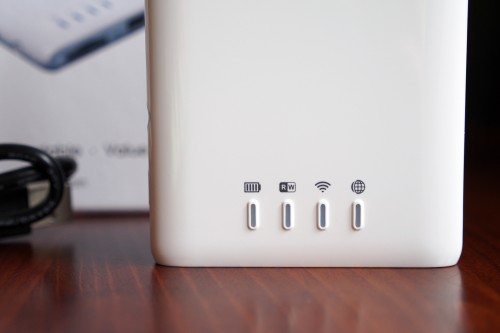 The photo above shows all four status LEDs on the front of the FileHub.  From left to right, they are: battery level, read/write, WiFi, and WAN.  The battery level LED will flash red when you're close to being out of juice.
Never miss one of our posts again. Sent MON, WED, and FRI with the latest gadget reviews and news!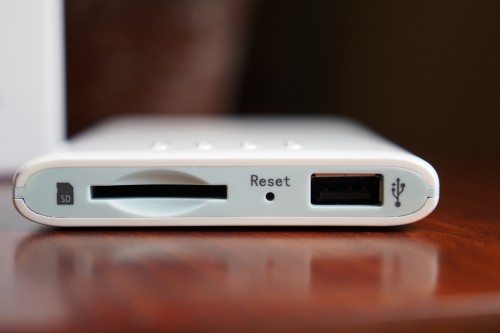 The working end of the FileHub has the SD card slot, a reset button, and the USB 2.0 port.
Specifications
CPU Model:  Ralink RT5350 (350MHz)
Wi-Fi:  802.11b/g/n, 2.4GHz, 72 Mbps @20MHz/150Mbps @ 40MHz
Battery Power Bank:  3000mAh, max input 1.5A, supports.5A, .8A, 1.5A.  Output of 1A
Power Consumption:  SD Card Read/Write 2W  Stand-by (HDD sleep mode) 1.5W
SD Card Read/Write Speed:  Read 3MB/s and Write 3.5MB/s
USB Interface:  Micro USB 2.0 for data transfer and charging
Dimension:  4.65" x 3.11" x .55"
Weight:  4.23 oz.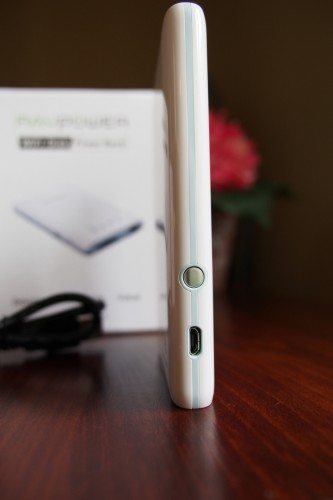 On the side of the FileHub, you'll find the power button and the microUSB charging port.  There is no AC charger included, which is a bummer.  You can charge it really slowly on your computer or use one of your other charging adapters.  Once you've powered on your FileHub by pressing the silver button on the unit's side, check for a new network named WiSD-XXXX on your computer, laptop, tablet, or phone.  You can join this network using the given WiFi network key.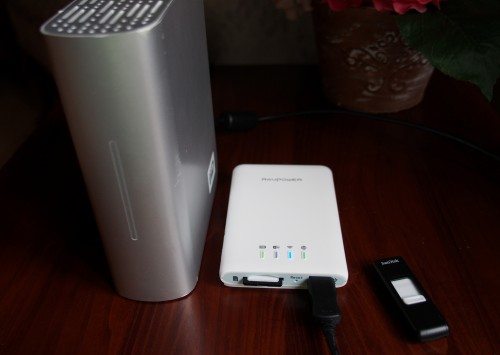 I attached a two-volume, 2TB WD USB hard drive and inserted a fast 32GB PNY SD card.  You could also use a flash drive in the USB port.  The preferred portable storage for the FileHub is a large SD card.  Stream your movies, photos, or documents wirelessly to up to five different devices.  You can also copy files to and from the different attached FileHub storage media or move files from your camera's SD card to the attached USB hard drive or flash drive as a backup for your camera.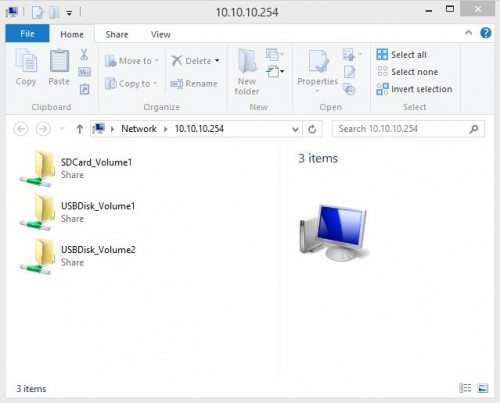 If you're on your desktop computer (this is a PC view; I don't have a Mac), to explore the FileHub attached drives you can go to the "Network Location" section of your "Computer" dialog box, right-click choosing add a network location, and browse for the FileHub and add the found attached storage.  You can also use the web app called MobileFun.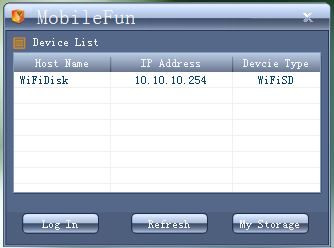 Download all the FileHub instruction .pdf's and .exe's, including the MobileFun .exe file, from RAVPower.  Once the Windows MobileFun app is installed, click on "Log In".  The login to the app is simply admin with a blank password.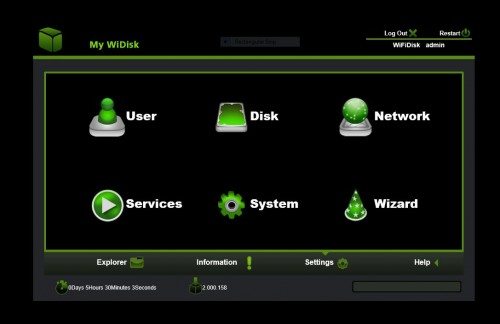 Once logged in, you'll see the web-based My WiDisk interface (WiDisk is the former name of the FileHub product).  It is a simple application that you can use for very basic file handling and photo viewing.  Click on "Wizard" to add your internet settings (home network information); set whether you want b/g/n coverage/speed.  You can also change the name and default password of the FileHub through the wizard.  The FileHub will automatically restart after these changes.  Much more detailed instructions for all options through the Windows web app are here.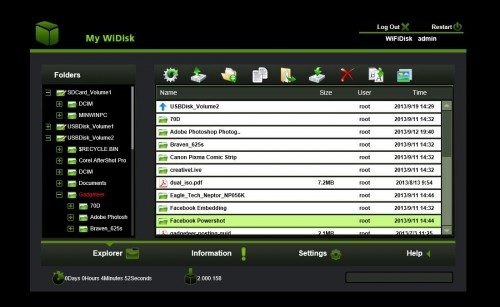 The MobileFun My WiDisk file explorer allows you to refresh, upload, copy, move, delete, download, rename, or use a minimal photo viewer while displaying files from your SD card or external HDD.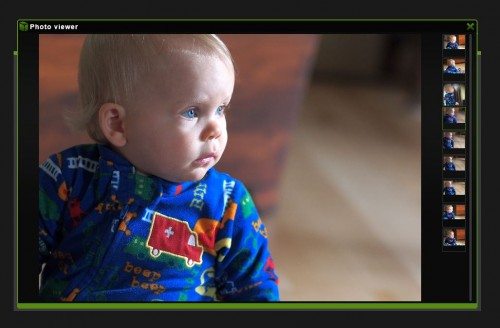 Sample of the simple photo viewer.  (Ah, aren't grandbabies cute?)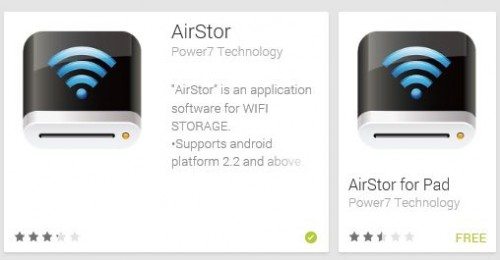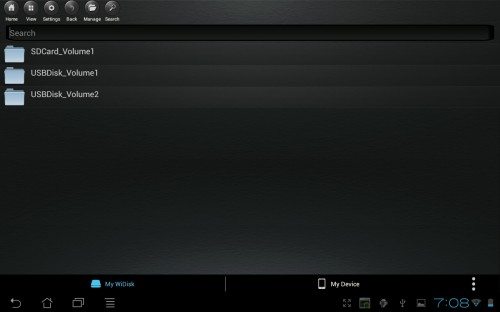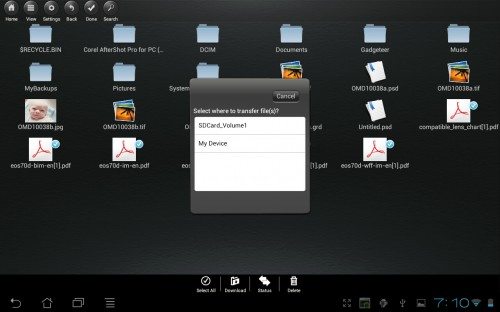 Streaming or doing file transfers from mobile devices requires an app on each device.  The instructions may list MobileFun again as the name of the app, but it appears to now be called AirStor.  AirStore is available for both iOS and Android devices.  You can download it from Google Play or the Apple App store.  When using the FileHub powered by its power bank, the unit lasts approximately 4-1/2 hours (using the SD card for read/write actions).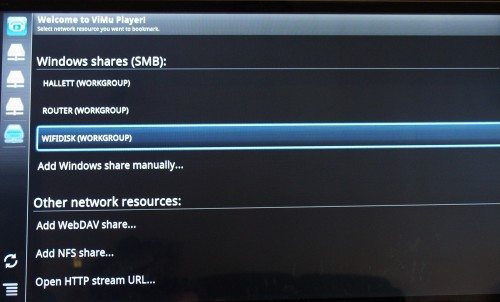 My Google TV box couldn't install "AirStor".  GTV apps are still limited, but through the ViMu (SAMBA) media player app, I was able to stream video from the FileHub.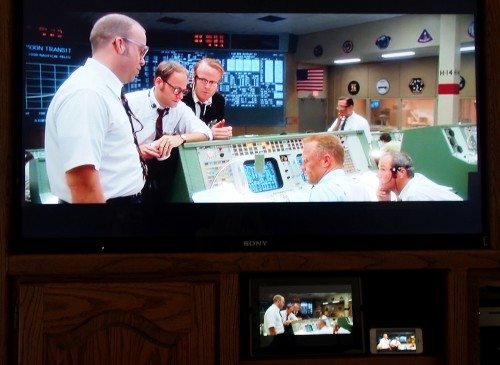 I copied several movies to the external HDD, and had the same movie streaming to my Android tablet, iOS iPhone, and Google TV box at the same time.  The movie playing on my TV did stutter a couple of times, but the file was over 1GB.  I did notice that it couldn't play .avi files.  What's up with that?
(Do you recognize the movie?  Don't even ask me how many times I've watched Apollo 13.  "You, Sir, are a steely-eyed missile man!")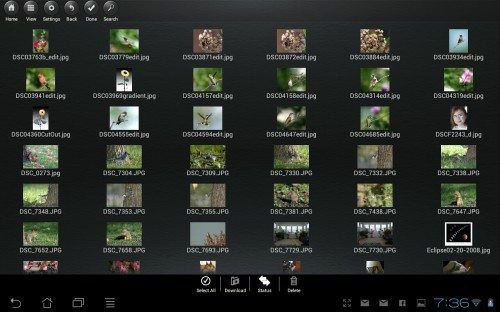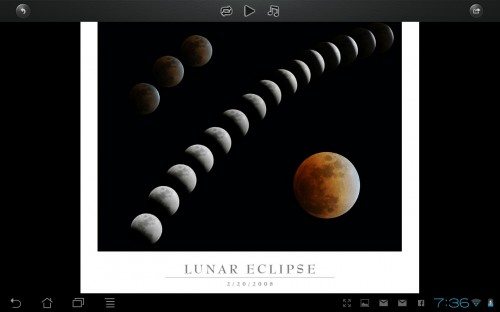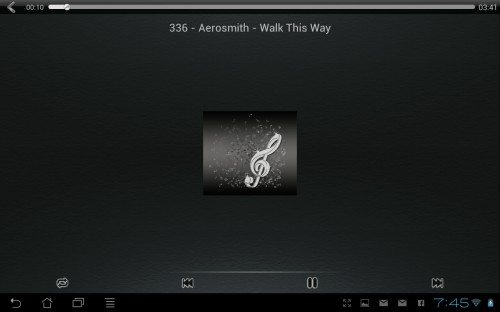 The AirStor app will open your device's player of choice for different file types.  It also does this for streaming movies.  This gives you the advantage of using more advanced apps, or maybe your favorite app, to listen and view your files on Android or iOS devices.  AirStor is virtually the same app for both Android and iOS devices.  See more detailed information about AirStor iOS features here.
Conclusion
The RAVPower FileHub RP-WD01 is a portable jack-of-all-trades with its built-in WiFi, power bank, SD card reader/writer, and USB 2.0 port for attaching disks or flash drives.  Multiple devices with different operating systems can access storage attached to the FileHub's USB port or SD card slot at the same time – up to five devices simultaneously.  It's very light, portable, and pocketable if using an SD card for storage.  The FileHub can also be used stationary as a NAS device on your home network.
Computers, tablets, smartphones, GoogleTV boxes and more can all make use of the FileHub's features.  You could carry your entire music and photo library with you – 5000 ~four minute songs or thousands of photos on one 32GB SD card.  That's a plenty.  Use it to stream movies on long trips in the car to help keep everyone happy.  I recommend watching the true heroes in Ron Howard's Apollo 13.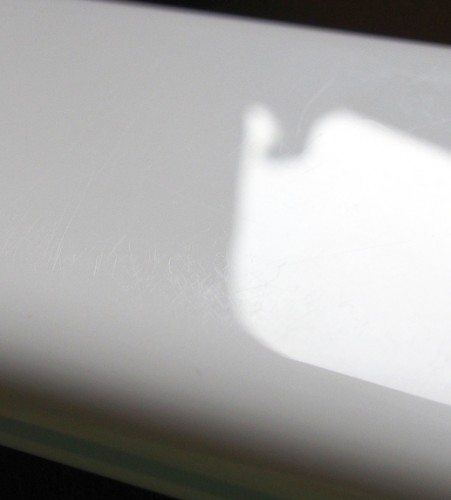 As for scratching easily, the verdict is in and it's not pretty.