We use affiliate links. If you buy something through the links on this page, we may earn a commission at no cost to you. Learn more.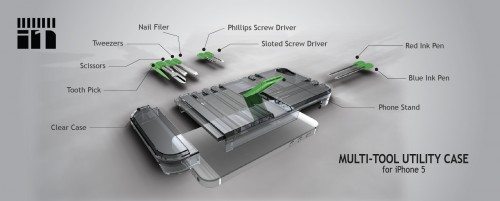 How many of you have a smart phone? How many have some sort of protective case on it? How many of you wish that your smart phone case did more than look pretty and protect your phone? The folks at IN1 probably felt this way when they designed their IN1 case for the iPhone 5 and 5s. The IN1 case not only protects your iPhone 5 and 5s, but it has nine useful accessories:
Blue pen
Red pen
Phillips screwdriver
Flat head screwdriver
Kickstand
Nail file
Tweezers
Scissors
Toothpick
It's made of polycarbonate with felt inside to protect your iPhone, and the IN1 case is TSA-compliant for all of you travelers. With a price of $44.95 from the IN1 website, you can own a phone case that MacGyver would approve of.