We use affiliate links. If you buy something through the links on this page, we may earn a commission at no cost to you. Learn more.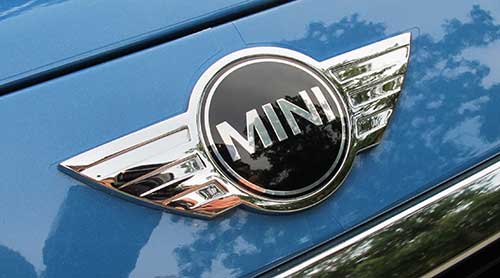 Last month I posted a short gadget diary entry about my new gadget transport system. Andy Chen suggested that the whole team should do a "What's my ride?" series of posts similar to our "What's in your bag?" and daily use apps posts. I'm up first with my brand new 2013 MINI Cooper S hardtop.

Note: Images can be clicked to view a larger size.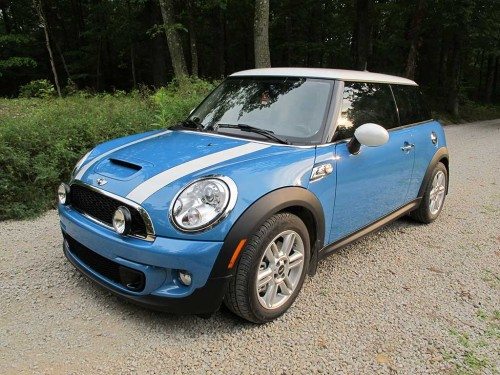 I've wanted a MINI for as long as I can remember, but I wasn't in a position to buy one till now. While on vacation in Indianapolis this past May, we stopped at Dryer and Reinbold, the only MINI dealership in Indiana. I had originally wanted to test drive the larger MINI Countryman because Jeanne didn't want me in a car smaller than my Mazda 3, but after test driving a Countryman, I immediately knew I preferred the smaller and more nimble Cooper. That afternoon we test drove 3 cars and then I went home thinking that I had gotten the lust for a MINI out of my system for awhile. The next day I told Jeanne that I was just going to hold off getting another car because there was absolutely nothing wrong with my Mazda. She actually seemed disappointed and talked me into calling the dealership and doing a custom order – it didn't really take much arm twisting 😉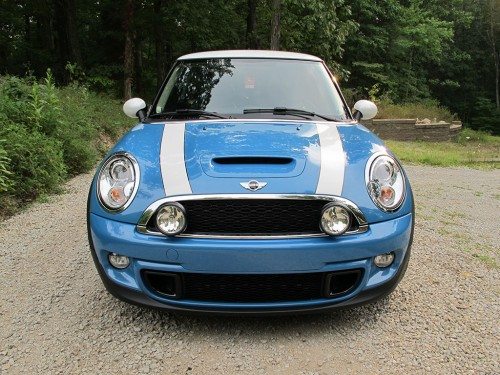 I decided to do a custom order because I didn't want a sun roof. I had one in my Mazda and had only had it open once or twice in the 8 years that I'd had the car. I also wanted to experience ordering a new car, which I'd never done before. We went back up the dealership the next weekend so I could test drive all three engine types. The Cooper, Cooper S and the John Cooper Works. I ended up with the MINI Cooper S which was plenty peppy. The JCW was crazy fast, but would have gotten me into way too much trouble…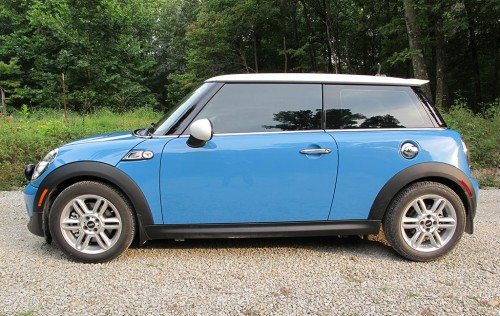 I chose an automatic Kite Blue with a white top, white racing stripes on the bonnet, different wheels, mud flaps, Xenon headlights, driving lights, leather heated seats, Harmon Kardon sound system and SiriusXM radio. The MINIs are made in Oxford England, so it took about 6 weeks to build and then ship it over – literally… on a ship 🙂
I've been driving it for a month and I love it. It's my favorite car of all time and is so fun to drive. I've already washed it more times that I washed my Mazda in all the years I had it. Ha!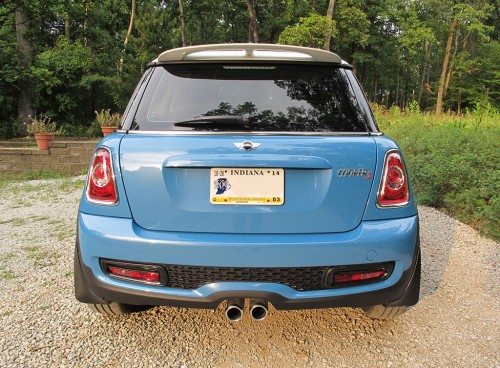 I think it needs some stripes on the boot too… What do you guys think?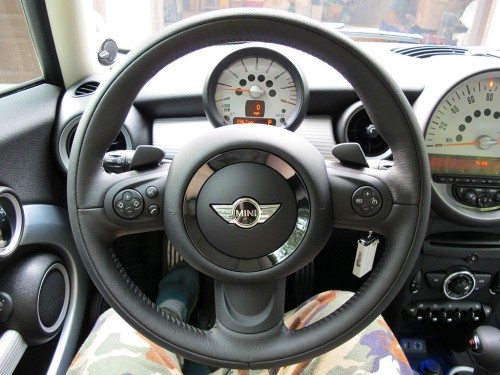 Don't pay attention to my camo pants… I'm not a hunter or anything. They are pajamas. 🙂
You would think that the interior of the MINI being mini sized and all, would be cramped. It's not. It feels just as comfortable and roomy as my Mazda. I wouldn't care to ride in the back seat, but I don't usually have more than one passenger, so I don't find that to be a problem.
The buttons and switches for everything are pretty well laid out although if I could redesign things, I'd make a few changes/additions. I think it's weird that the window controls are in the center console instead the door like all the others I've ever driven. I also wish the sport button was on the steering wheel. That button makes the already peppy MINI even peppier. I just never remember to use it because it's down next to the gear shift.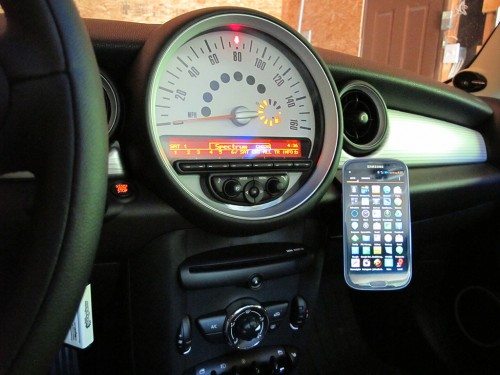 I'd get rid of the 2nd speedometer too. Although it looks cool, I'd rather use that space for a better display for the radio. As is, the radio display looks very old school / low tech. I had originally decided that I was going to get their nav system which did replace that speedometer with a digital display. The sales manager talked me out of it though. First of all I think it was a $1700 option and secondly he said why lock yourself into a technology that changes every couple of years when you will always have your phone with you. Duh… good point. And as luck would have it, I was offered a car mount to review that allows me to easily mount and unmount my phone just for that purpose.
I'd love a backup camera that would display on my phone, but other than that and potentially adding some stripes to the back, I can't think of anything else to add to the car.
The MINI Cooper S is definitely my biggest gadget purchase of the year and my life for that matter.