We use affiliate links. If you buy something through the links on this page, we may earn a commission at no cost to you. Learn more.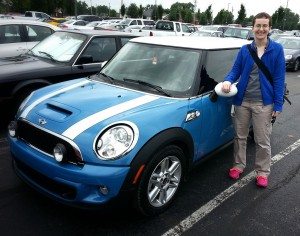 How's this for the ultimate "gear bag"? After years upon years of wanting one, I finally decided to just go for it and bought a 2013 MINI Cooper S Hardtop. I've been driving it for a little over a week now and I absolutely love it. I don't think I've ever enjoyed driving a car as much as I'm enjoy this one. At the mature age of 49, this is only my 3rd brand new car. It will probably be my last one too because I think I'm going to be driving this little guy for many many years to come.
I remember drooling over MINI Coopers back in 2004 when Judie Lipsett (Gear Diary) was still writing for The Gadgeteer. Judie ended up buying a MINI for herself, which really annoyed me (sorry Judie) because I could not afford or justify trading cars at the time. Time flies, years pass, things change, but I continued to want one. This past June while Jeanne and I were spending a few days in Indianapolis, I had the opportunity to test drive a couple MINI Coopers and Countrymans. I went home and ended up calling the dealership the next day to set up an appointment to test drive a few more and then I later placed an order.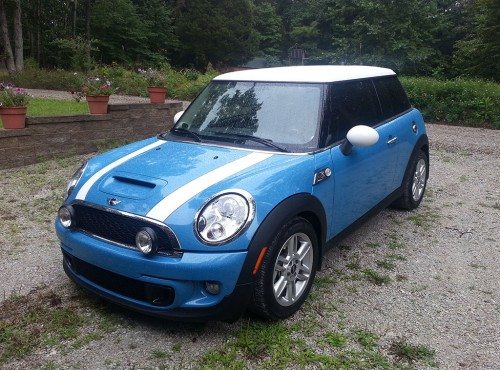 I definitely didn't want one with a sunroof, so I built one using the online configurator so I could get everything I wanted. I'd never done that before and went a little crazy – although I could have added a lot more options because they have too many things to choose from. I've always had an issue with making up my mind when there are too many choices. I decided on Kite Blue with a white top and white stripes. I had originally wanted the US flag on the hood but changed my mind.
Once I placed the order I had to wait for it to be built in Oxford, England, shipped on a boat to the US and then transported to the Dreyer & Reinbold MINI dealership in Indianapolis. The whole process took about 6 weeks and was mostly painless.
I thought my Mazda 3 was fast, but this car, which Larry has dubbed the Blue Streak, is much zippier. Hopefully I won't get any speeding tickets 😉
One funny thing I learned about MINI drivers is that they wave at other MINI drivers – kind of like motorcycle riders. I didn't know this and kept wondering why people were waving at me. So I googled it…
Anyway, I just had to share my biggest gadget purchase EVER with all of you. 🙂