We use affiliate links. If you buy something through the links on this page, we may earn a commission at no cost to you. Learn more.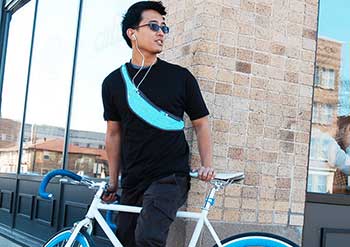 If you are more than 30 years old, you will remember the often ridiculed hip bag, or as we call them here in the US, the fanny pack. I apologize to our AU, NZ and UK readers… They were small zippered pouches designed to wear around your waist to provide quick access to necessary items. Although they were really convenient, they ended up being associated with tourists, older people and those without any fashion sense. Like many things, time passes and popularity returns. Although it's not exactly a hip bag, the Quivver is a narrow pouch designed to hold your phone, money and a few other important items when you're on the go. They are made in the US and are available in solid colors, patterns and with see-thru pockets. Prices range from $39.99 – $44.99.
The question is, would you wear one? I think it would be perfect as a vacation or weekend bag while walking and shopping and am tempted to get one for a vacation I have coming up in October. Good idea or bad? I already know I lack fashion sense, but they look cool to me.