We use affiliate links. If you buy something through the links on this page, we may earn a commission at no cost to you. Learn more.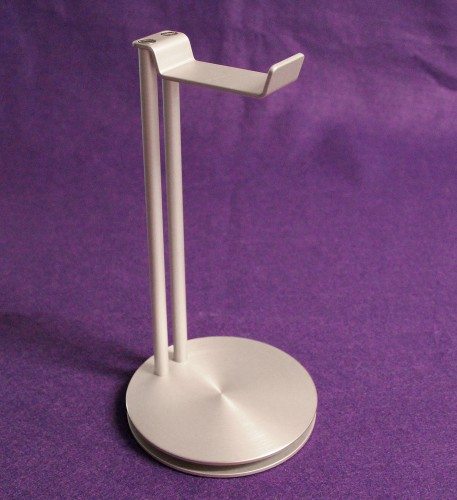 With all the headphones I've reviewed, I've never had a place to hang the phones, until now. Just Mobile – an award-winning maker of aluminum accessories – has come out with their version of a headphone hanger, the HeadStand. The HeadStand has one purpose only; a place to hang your over-ear or on-ear headphones. That's it.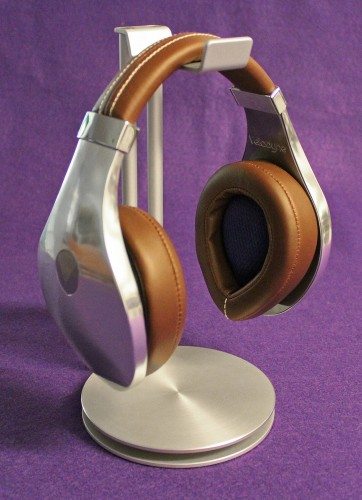 Since the HeadStand is a uni-tasker, this review is not going to be very long. However, this stand has and will continue to be used in much lengthier headphone reviews, so ironically, it will be seen in more photos than other products reviewed.
Basically, the HeadStand is a stylish, well-made stand that visually matches the looks of Apple's latest desktop computers and laptops. That's not surprising since Just Mobile makes many Apple-related accessories. However, if you aren't part of the Apple-Borg (I am) Just Mobile offers a black anodized version.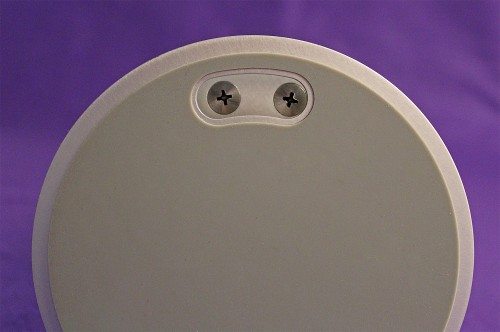 The brushed aluminum feels as good as it looks. It's lightweight and slightly weighted on the bottom to help balance the weight of the headphones. There's also a non-slip rubberized base that works quite well keeping it in place. The top part where the headphones hang is a flattened "U" shape which helps keep the phones from slipping off. It's wide enough to fit any headband, no matter how large it may be.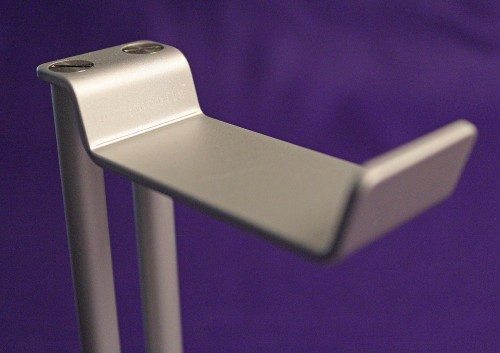 The HeadStand couldn't be any easier to set up. Out of the box, all that's required is a flat-head screwdriver for attaching two screws and voilá: Instant headphone stand.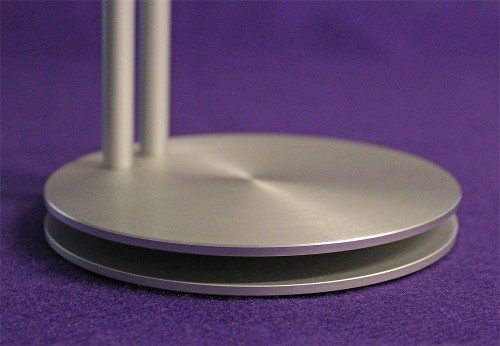 The HeadStand is designed so that the headphone cord can be hidden after wrapping it around and between the dual-layered base. While this may be a clever solution for a neat freak, it was just too much hassle to wrap and unwrap the cord, so I just leave it dangling. It may not be pretty, but I don't care. Also, not all cords can be hidden. My Grado 325is headphones have a cord about as thick as my wrist, plus coiled cords won't work, either.
The HeadStand is not cheap, but it should last a very long time and look good doing it.
As I said, this is not a long review, but it doesn't need to be. Just Mobile has this ability to see a need and than apply their unique design approach to a product that fills that need.
Updates
The Just Mobile HeadStand Headphone Hanger now shows up in every headphone review I do. It's so simple and useful and it has changed the way I show headphones in photos. I admit that I don't store headphones on it. Since I review so many, it's just not practical for that. But if I only had one pair of headphones, it would be used everyday as a stand, which was what it was designed for anyway.
Source: The sample for this review was provided by Just Mobile. Please visit their site for more info.

Product Information
Price:
$49.95
Manufacturer:
Just Mobile
Requirements:
Pros:

Matches the "Apple Look"
Well constructed
Lightweight
Simple to put together

Cons: