We use affiliate links. If you buy something through the links on this page, we may earn a commission at no cost to you. Learn more.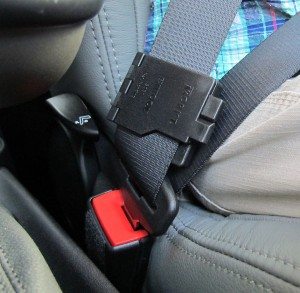 A few days ago I posted a short news article about an auto safety tool called the ExiTool by CRKT. I thought it looked like a handy tool to own, so I ordered one for myself. It arrived a few days ago and although I haven't had the opportunity to use it to help me escape from my car, I wanted to give you all the details. 
Note: Images can be clicked to view a larger size.
The CRKT ExiTool is a small 3-in-1 car escape tool that stores right on your seat belt. It's been designed to provide the 3 main tools that you might need in case you are trapped in your car and can't easily free yourself by normal methods. It's made of black plastic and features a battery powered LED flashlight, a glass breaker made of Tungsten Carbide and a hardened steel blade that is sharp enough to slice through a standard seat belt.
The flashlight is powered by a CR2032 coin cell battery that can be replaced. A small sliding power switch is located on the back of the tool.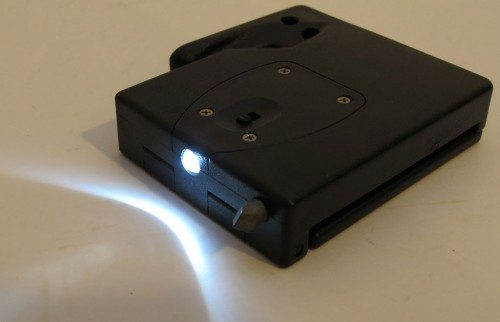 The beam isn't impressively bright, but it will help if you're in pitch dark. I do wish that the switch wasn't so tiny and was more like the clicky squeeze switch on my Photon X-Light micro flashlight which is part of my EDC. I think the other 2 tools are probably more important than the ExiTool's built in flashlight.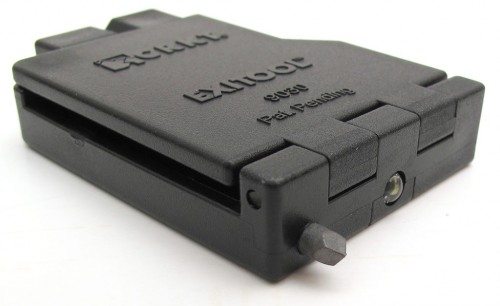 The glass breaker sticks out of the end like a nail point. Unlike some glass breakers that I've seen before, this one doesn't have a spring loaded tip. You'll be disappointed to learn that I didn't fully test this feature. I didn't feel like busting the side window of my new MINI Cooper 🙂 According to the instructions included with the tool, you grasp the ExiTool in one hand and strike the window along the bottom edge. Most modern vehicles have side and back windows that are made of tempered glass that are designed to shatter on impact. The instructions explicitly tell you NOT to use this tool to try to break the windshield.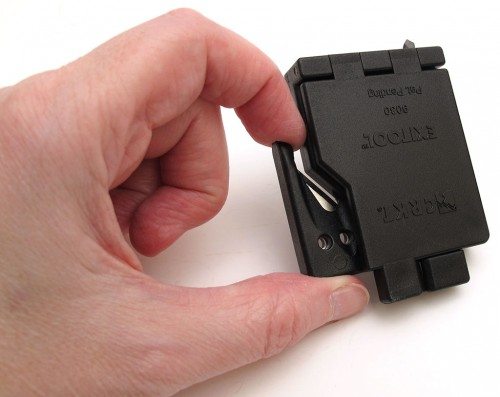 The ExiTool has a hardened steel blade that can be used to cut through a seat belt. The plastic surrounding the blade has been designed so that even small fingers will not be able to touch the blade.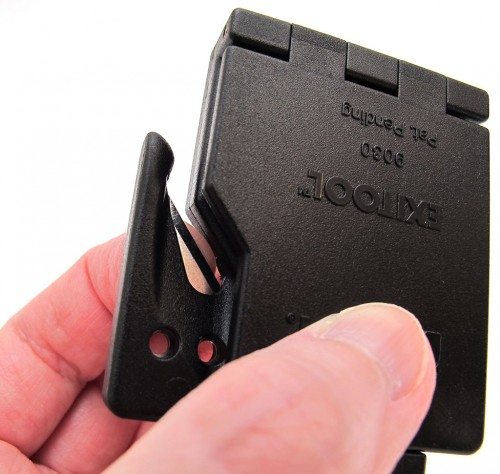 However, I did find that it is possible to cut yourself if you press the tip of your finger into the slot between the edge of the blade and the plastic case. Ordinary handling of the tool will not result in any cuts. You'll have to go out of your way to try to cut yourself for anything bad to happen.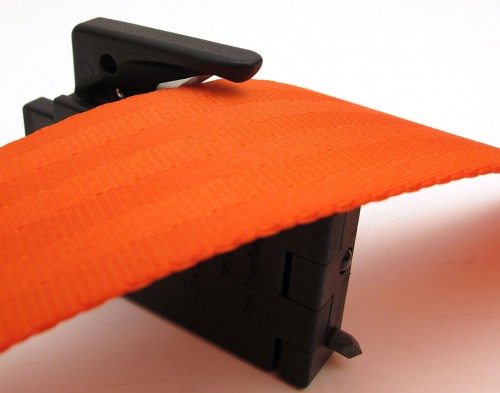 To use the blade, just fit the seat belt in the slot and yank.

The ExiTool has a 1.75″ wide slot that accommodates standard sized seat belts.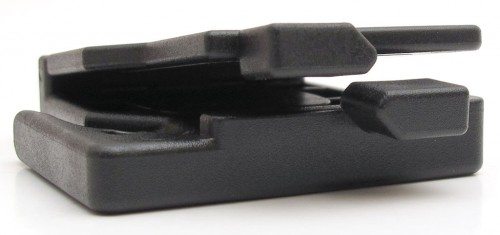 An easy to use twist clasp opens the tool to expose the seat belt slot.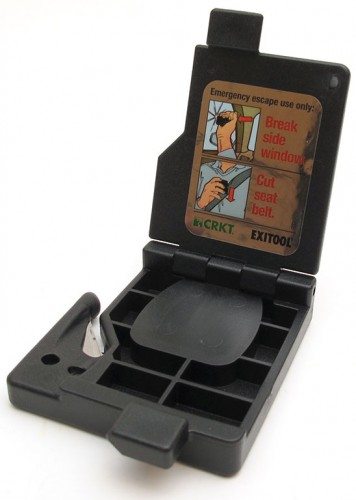 Included with the ExiTool is a sticker that you can stick to the inside surface of the tool to remind you how to use the blade and breaker in the event of an emergency.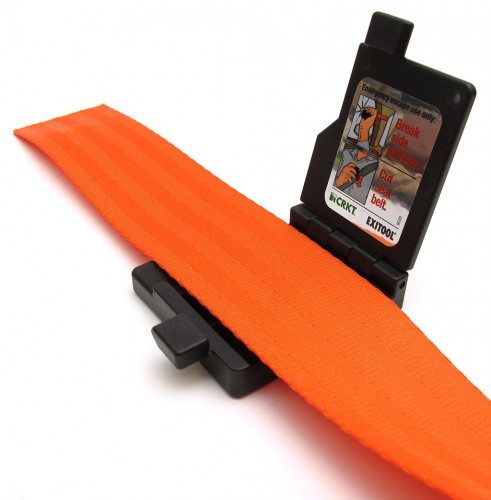 Place the seat belt in the slot…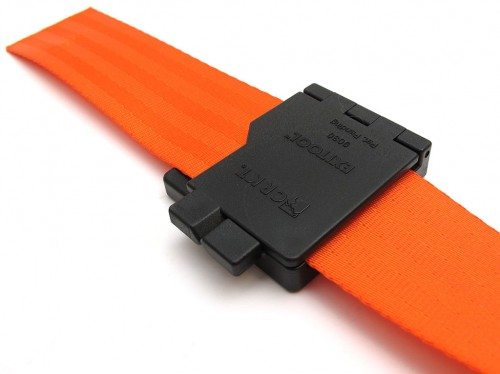 And snap it shut. It doesn't actually clamp down on to the belt. It can slide up and down freely.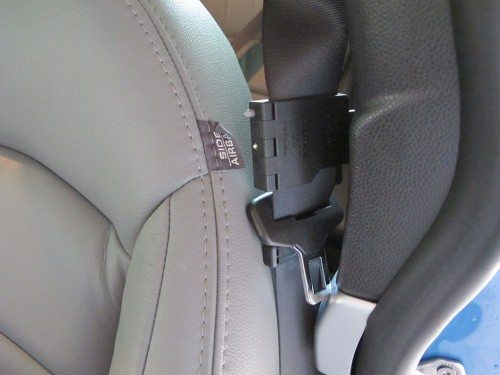 When the seat belt is not being used, it stays out of the way.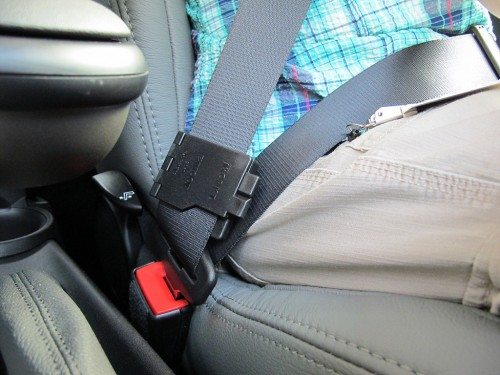 A day or so after I attached it to the seat belt in my car, I promptly forgot it was even there. I haven't noticed it when I put my seat belt on or take it off. The glass breaker tip hasn't caused any problems and neither has the blade.
Without actually using the ExiTool to break a window or cut a seat belt, it's hard to say just how effective it would perform in an actual emergency. It does offer piece of mind because it's always going to be right where I need it when I need it.
Tip: If you're interested in buying this tool for yourself, order the ExiTool through Amazon like I did and you'll save $10.
Product Information
Price:
$26.99
Manufacturer:
CRKT
Pros:

Easy to use
Puts life saving tools within easy reach

Cons:

Can possibly cut tiny fingers
Flashlight switch is tiny