We use affiliate links. If you buy something through the links on this page, we may earn a commission at no cost to you. Learn more.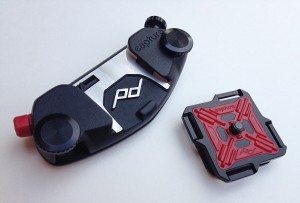 Though I am far from considering myself a "photographer," I do like to take lots of photos with my DSLR.  And one thing I can tell you after bringing it with me to all sorts of places is that it is a bit of a pain to lug around.  That's right.  I've tried the stock strap, an aftermarket strap (see my review of the Carry Speed DS-SLIM Camera Sling Strap), various camera cases—none of them have worked out that well.  They all just seem be awkward to use or to get in the way.  A while back I stumbled upon an article at Gear Patrol that showed the Peak Design Capture Camera Clip attached to a backpack's shoulder strap.  I became intrigued, but because it had been a Kickstarter project, I figured I'd missed the boat.  Recently I was offered the opportunity to evaluate the second generation Capture Camera Clip v2, also a crowdfunded Kickstarter project that as of this writing is ending in just a few days (Aug 23).  Let's check it out!
Background
Kickstarter is a crowdfunding site.  Crowdfunding is a way for folks to collectively pool their money toward making something happen.  That something might be a musical album, a game, or some other type of product or idea.  Kickstarter has taken this idea and run with it, giving creative folks a centralize place to get potential backers interested in their ideas.
Now then, what is Capture?  Paraphrasing Peak Design, Capture is a durable metal clip that lets you carry your camera on any backpack strap, belt or bag.  Its unique quick-release system keeps your camera rigidly secure, yet instantly accessible with the click of a button.  Sounds good, eh?
5,258 backers helped Peak Design raise $364,698 in a successful Kickstarter campaign to fund the original Capture Camera Clip, which is still available for sale through the Peak Design site.  They then spent the next 2 years building a team and taking suggestions for improvements to the original design.  The new design includes updates to most of the original design's features.  It is actually an almost total redesign.
Options
The original Capture Camera Clip was only available in one version.  The Capture v2 is being offered in two versions, the standard Capture and the CapturePRO for increasing Reward Levels (i.e. how much money you are willing to put toward the funding of the project).  Additionally, new accessories are also available with increasing Reward Levels.
Capture –  Standard entry-level version.  Made of aluminum with a glass-reinforced nylon backplate and comes with one standard quick release plate.  Pre-order at $50 starting Reward Level.
CapturePRO – Flagship professional version.  Made of an all-aluminum body and comes with one of 3 PROplates. Can be used as a tripod head and is compatible with multiple tripod systems, as well as sling straps and hand straps.  Pre-order at the $65+ levels.  Also available in a limited quantity "Naked Edition" early bird specials.
Accessories
PROpad – Compatible with all versions of Capture (including v1), this provides additional support and padding for folks who want to use Capture with heavy camera/lens/battery grip combinations, or those who are just looking for maximum comfort.  Included at the $95+ levels, or order it "a la carte" for $20 by selecting the $1+ reward.  PROpad is only useful if you have Capture.
POV Kit – Previously called the "GoPro® Mount," it's been redesigned and now lets you use Capture as a rigid, positionable video-capture mount for your GoPro®, or other brand POV camera, or your point-and-shoot camera. This means you can take POV video from any backpack strap, belt or strap-like object.  Best suited for Capture v2, but works with v1 too.   Included at the $95+ levels (except the Early Bird Special).
Leash & Cuff – Quick-connecting, minimalist wrist strap originally launched on a separate Kickstarter project in 2012. Included at the $150+ levels.
Now that all that is out of the way, let's check out Capture v2.
Specs
Blackplate Standard – glass reinforced nylon material
Backplate Pro – all-aluminum material; omni-directional clamping teeth prevent slippage on straps
Clamping Bolts – Large, easy to grip and turn; chamfered edge doesn't catch on your clothing or gear
Plate Lock – Enables use as tripod head and GoPro mount
Tripod Mount – 3/8 inch mount (with 1/4 inch adapter) allows Capture v2 Pr to be used as a tripod quick release-clamp
Chassis – Ergonomic shape and durable finish; slimmer and lighter; camera glides in and out of new slot geometry
Quick-Release Button – Redesigned double-spring action prevents binding; new safety lock—twist button 90 degrees to prevent accidental release
Manufacturing Location – China
Warranty – Lifetime
 Packaging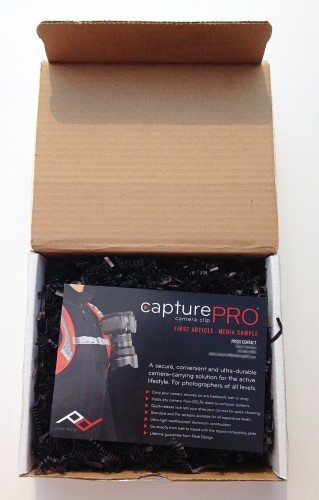 Since I received a "media kit" from Peak Design, I'm not sure if this packaging is typical of standard product.   It was packaged in a simple, nondescript, clamshell-style carboard box.  But with black crinkly paper as packing material.  Looks cool, but kind of a pain to dig stuff out of and ensure you have all the items.
Contents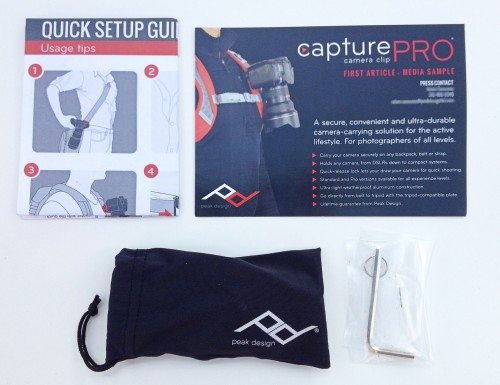 The media kit that I received included the following items:
CapturePRO back plate
ARCAplate Pro quick release plate
Cloth drawstring bag
Hex key with split ring
Quick Setup Guide
Media kit card
Note that I did not receive the Capture v2 standard camera clip, which would have been useful for comparison purposes with the CapturePRO.  I also did not receive any of the optional accessories, which bummed me a bit because I was looking forward to trying the Leash (and possibly the Cuff) and both the PROpad and the POV Kit—well, perhaps in a future review.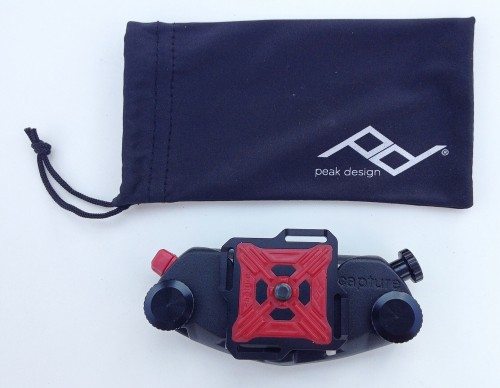 The CapturePRO came in its own microfiber cloth drawstring bag.  A nice touch in terms of both appearance affording at least a minimal level of protection to the Capture.
Features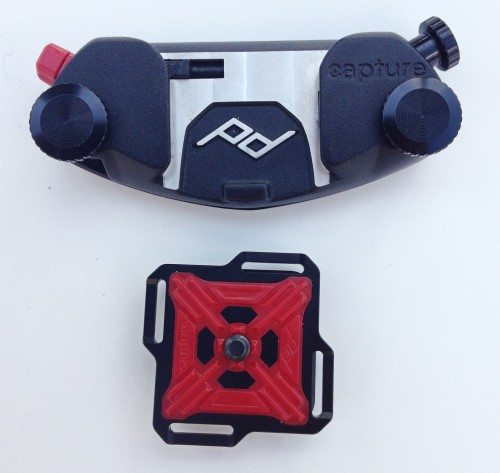 As mentioned above, the Peak Design folks sent me a media kit which consisted of one CapturePRO base plate and one ARCAplate Pro quick-release plate.  This would be the equivalent of the $65 Reward Level.
I was immediately struck by look and feel of the CapturePRO.  Pleasing aesthetic styling, but also precision manufacturing.  I could find very few instances of imperfections left over from the machining process and the anodized surface textures and finishes were uniform and consistent.  It is also very light weight, yet has that solid "heft" that you would expect from a sturdy, all-metal construction.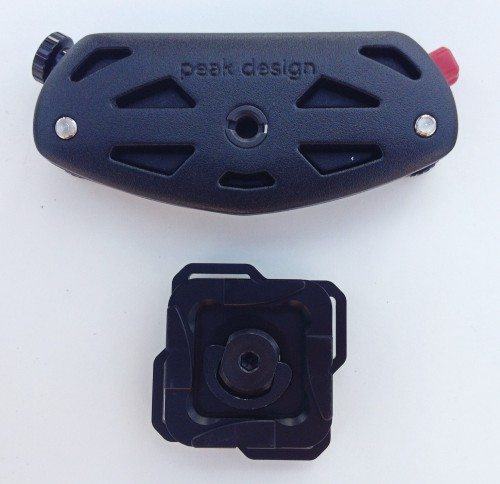 One of the differences between the Capture V2 standard and CapturePRO is the back plate.   The standard version has a glass-filled nylon back plate, while the CapturePRO has an aluminum back plate.  The back of the Capture PRO's back plate has a matte black anodized surface texture that is better for gripping than a smoothly-machined surface.  Note that the CapturePRO includes a threaded feature in the center of the back plate which also allows its use as a tripod quick-release clamp.   There is a3/8 inch tripod thread (with a 1/4 inch adapter if needed) that facilitates this.  However, I must admit here that I was unable to determine how to remove the 1/4 inch adapter.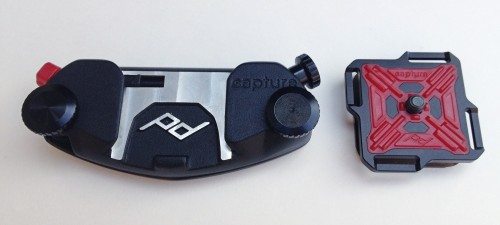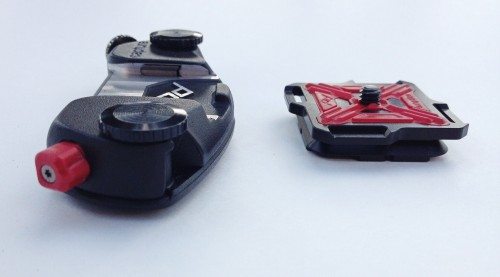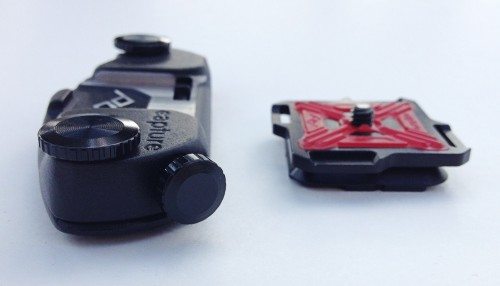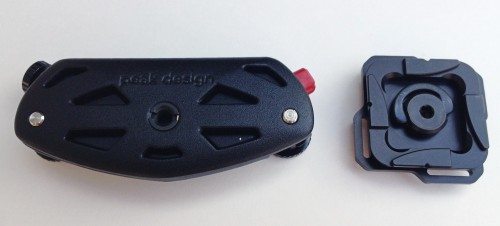 Chassis and Back Plate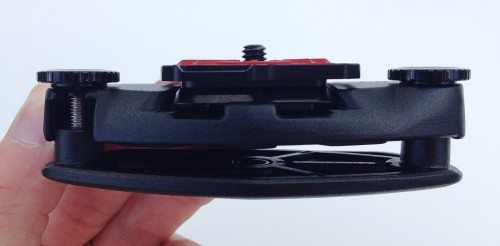 In order to mount the chassis and back plate to your shoulder bag strap, backpack strap, purse, belt or other item, the two Clamp Release Bolts on the front must be unthreaded.  Doing so will release the back plate from the chassis, providing clearance for a strap.  The Clamp Release Bolts are large in diameter and have generously-knurled edges, which makes them easy to grip when turning.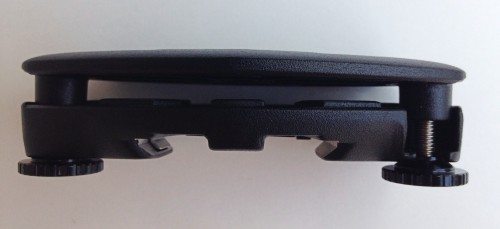 The next step in mounting is to pivot the back plate, swinging it away from the chassis.  There is a relief cut in the bottom of one the Clamping Button Holes that facilitates this.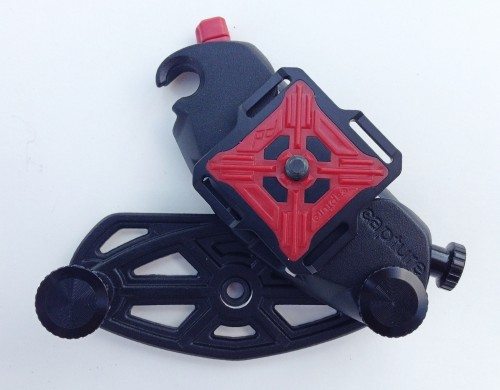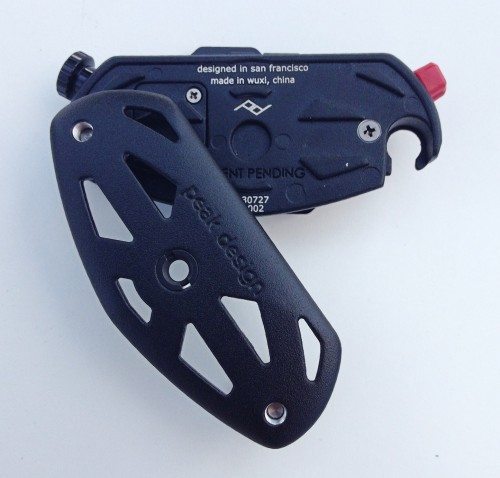 Note that the back plate can also be reversed, which exposes its openings and slots to allow their use with straps or other accessories.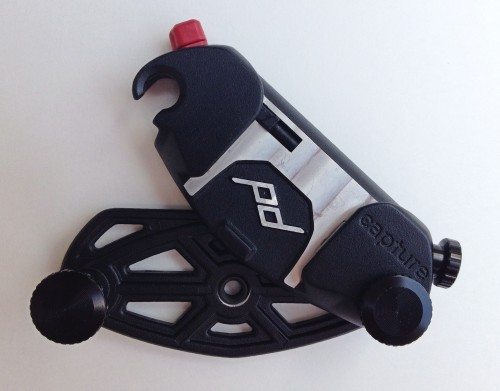 When mounting the chassis and back plate to thicker straps, additional clearance may be needed.  In this situation, the Clamp Release Bolts can be completely unthreaded, allowing the back plate it to be separated from the chassis.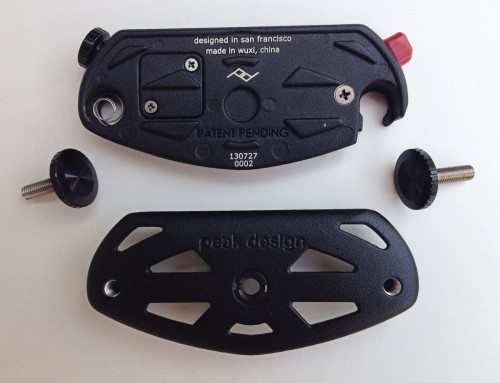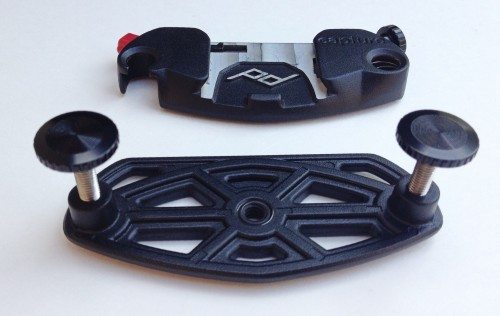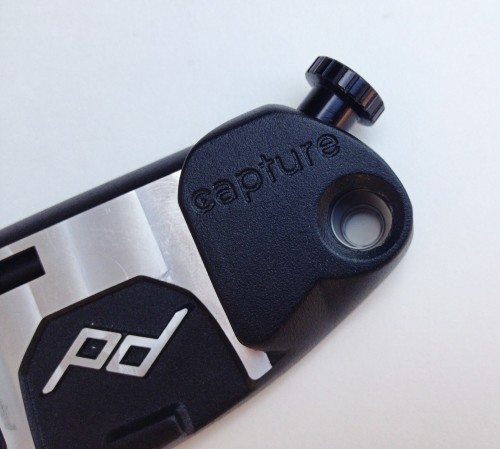 A spring is present in the Clamp Release Bolt through-hole that provides some tension while loosening to keep the back portion from flopping around.
Quick-Release Plate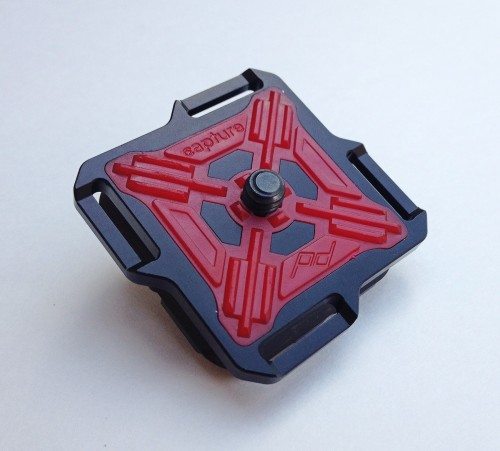 The quick-release plate attaches to the camera via the camera's threaded tripod hole, which is present on virtually all SLR-style and point-and shoot cameras.  Peak Design offers four different quick-release plates.  The standard plate is included with the Capture v2 standard version, while three PROplates are available with the CapturePRO: ARCAplate, DUALplate and MICROplate depending on which type of mounting system you plan to use with your CapturePRO.  Only one is included with each CapturePRO; additional PROplates must be ordered separately.   Pictured here is the ARCAplate, which is quad-directional (it can be inserted into the chassis from any of four directions).
Like the chassis, the quick-release plates are machined aluminum.  Additionally, the three PROplates feature a soft red base that grips the bottom of the camera and helps prevent it from accidentally unthreading from the camera's bottom.  In addition, the three PROplates also feature accessory slots around their periphery for attaching straps, lanyards or other items.  The ARCAplate include four such slots.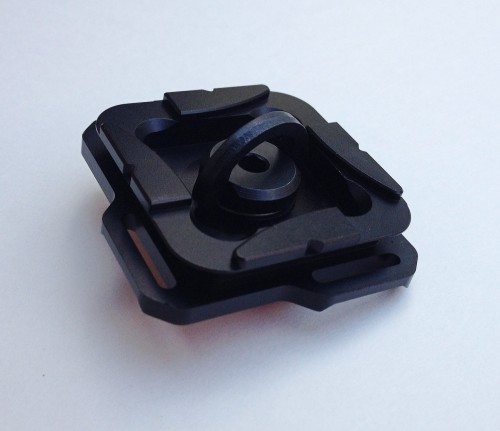 I don't know about the other two PROplates, but the ARCAplate includes a pop-up D-ring on its underside to aid in threading the plate to the camera.  The hex wrench can also be inserted here to further tighten the quick-release plate to the camera.  The D-ring can also serve as an attachment point for a strap when not using it with the CapturePRO.  I realize that the Peak Design folks are trying to offer the user lots of flexibility and options, but it seemed a bit odd to me that they would include a feature for attaching a strap to your camera, when one of the big advantages to the Capture Camera Clip concept is that it eliminates straps.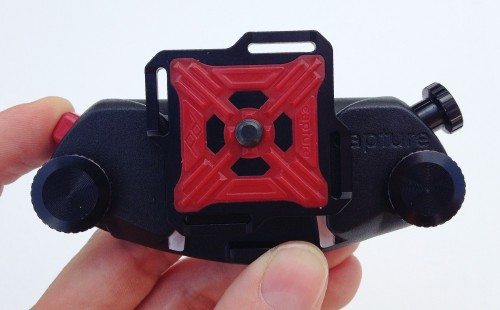 To insert the ARCAplate into the chassis, simply press the red Quick Release Button on the outside of the CapturePRO, slide the ARCAplate into the slots on the front of the back plate, and it clicks solidly in place.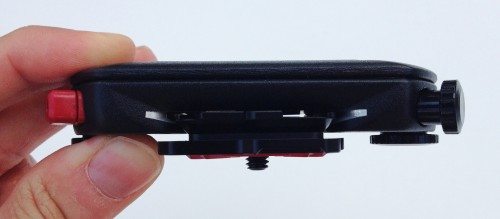 As can be seen in the image above, the ARCAplate (as well as the other quick-release plates) and the front portion of the base plate have mating dovetail features that capture the ARCAplate in the base plate.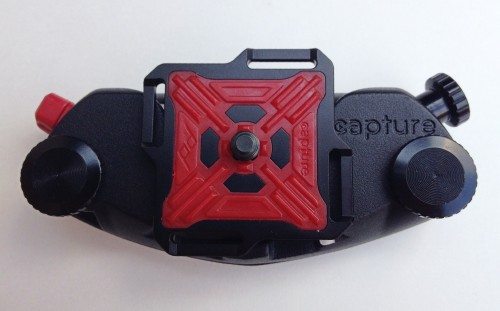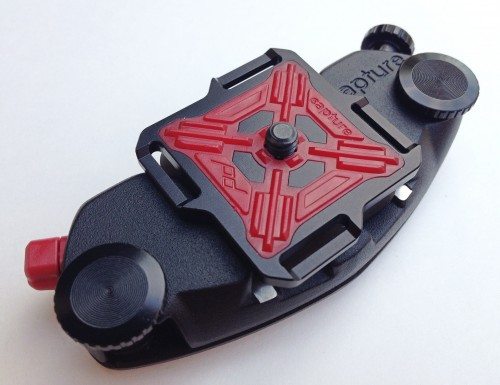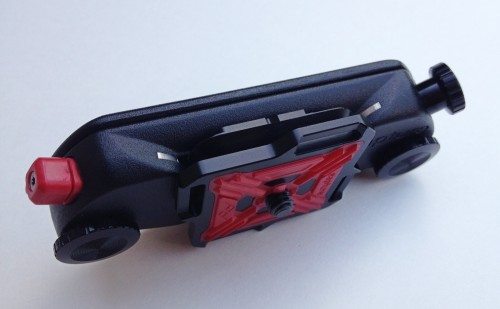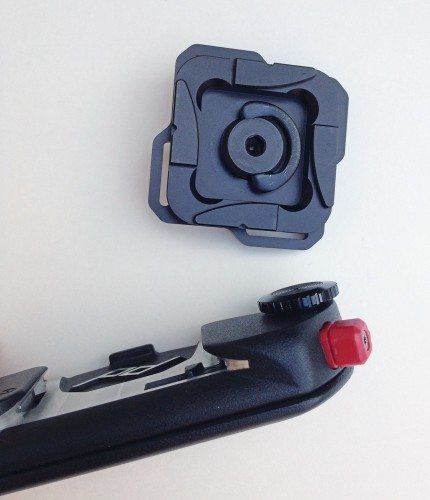 The image above shows the small black slider on the front of the chassis under one of the dovetail slots that locks the ARCAplate in place once it has been fully inserted.  Depressing the red Quick Release Button moves the slider and unlock the ARCAplate from chassis, allowing it to be slid upward and outward.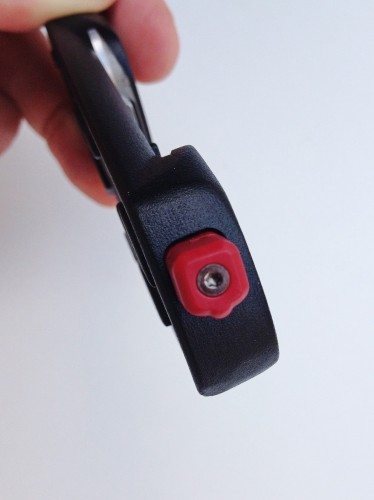 The Quick Release Button has a great added feature: a safety lock.  Shown above is the Quick Release Button in its open position…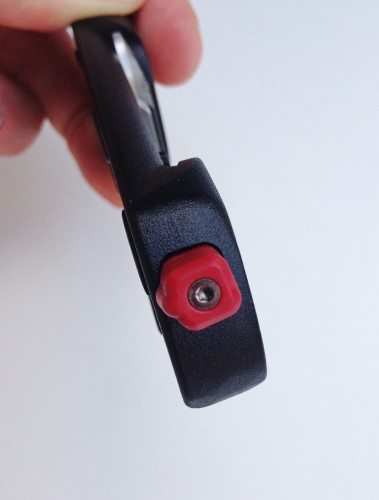 …but give the Quick Release Button a 90-degree twist and it is in the locked position, preventing the ARCAplate from sliding out of the chassis accidentally.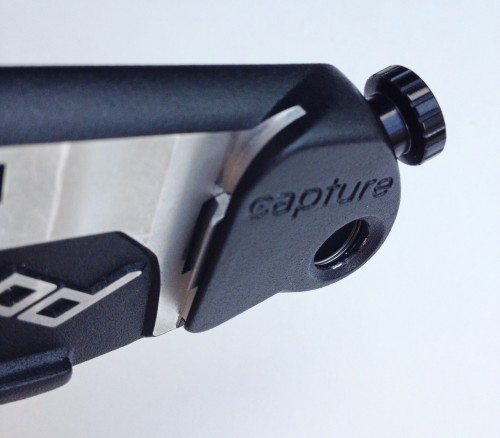 Additionally, tightening the Plate Lock knob further secures and stabilized the ARCAplate into the chassis.  This further allows the CapturePro to be used as a tripod head and a GoPro mount.  Additionally, note that the surfaces of the chassis that will see the most frequent contact with the mating surfaces of the ARCAplate have been left as-machined, free of anodization, which would eventually wear away from repeated use.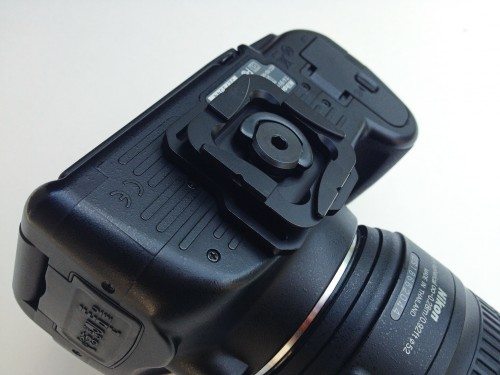 As described above, threading the ARCAplate to the bottom of my DSLR camera was quick and easy and felt solidly attached.
Using It

Mounting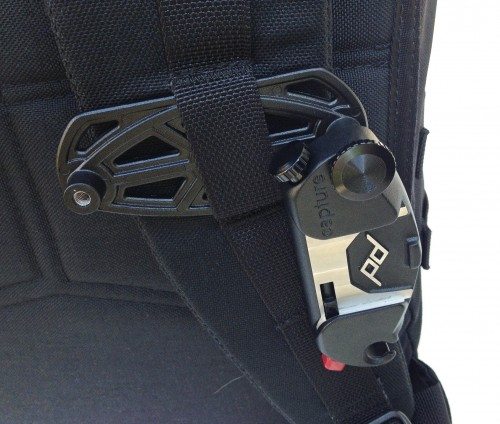 Although the CapturePRO was designed to accommodate a wide variety of straps, belts and so on, the back plate would not fit over the shoulder straps of my GoRuck GR1 backpack.  In fairness, the GoRuck GR1 has the widest, thickest, most well-padded back straps I've ever used (which is one reason that the GR1 is so comfortable to wear, even under heavy loads).  However, the GR1 also has a strip of MOLLE-style webbing running the length of each shoulder strap.  As described above, it was fairly easy to remove the back plate from the chassis along with the Clamping Bolts themselves, and place the back plate through a segment of the MOLLE webbing.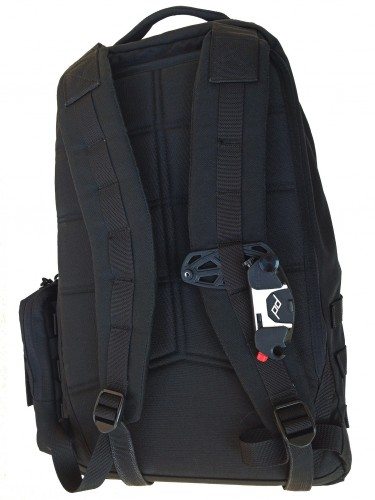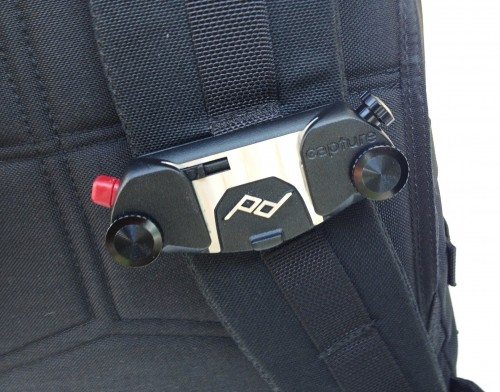 Then, I simply re-assembled the CapturePRO in place.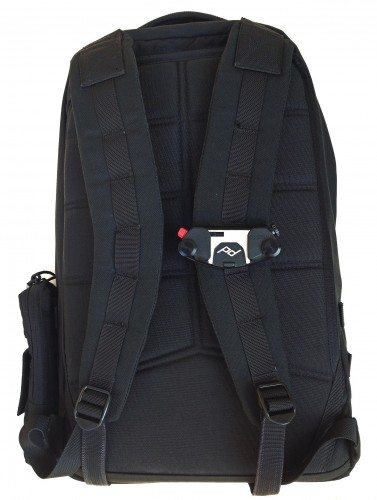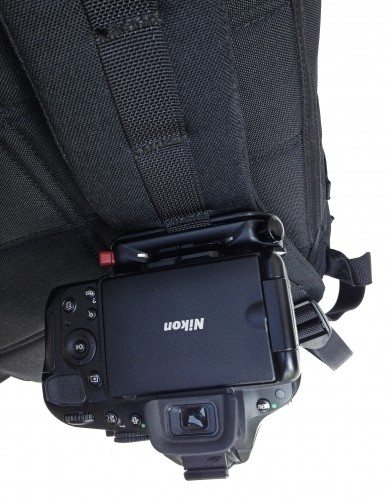 The result was a very solidly-mounted CapturePRO and in turn a solidly-mounted DSLR camera.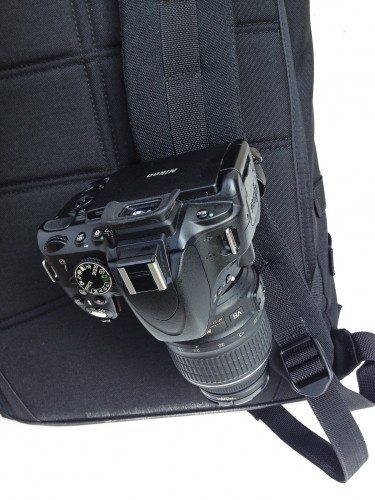 Actual Use

Due to the rather short timeframe that I had the CapturePRO in my possession to be able to write this review before the expiration of the Kickstarter campaign (a little over 48 hours), I was unable to completely put it through its paces in a way that I would find representative, such as on a hike.  However, I was able to assess the look and feel of my DSLR mounted to my GoRuck GR1 backpack with the CapturePRO.
I thought that the location of the camera when mounted with the CapturePRO was in a good spot for me.  Not swinging from a neck strap at my midsection, nor hanging from a shoulder strap at my hip.  CapturePRO puts the camera up higher, and in a good position to grab it quickly.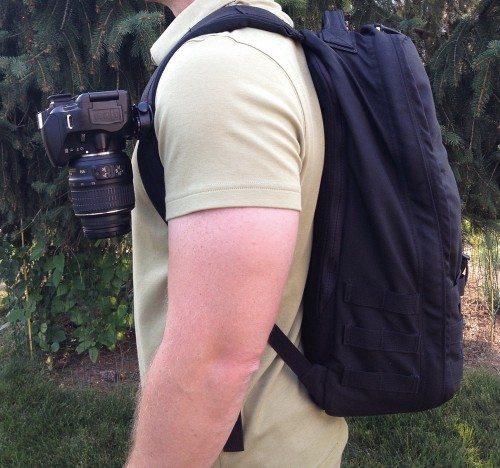 The camera does protrude away from the body somewhat, being cantilevered out from the CapturePro as it is.  However, if I were to use a neck strap, the camera would protrude further from my body.  Additionally, though it is in this cantilevered position, it felt much more solid that I expected it to feel; there was no "play" at all.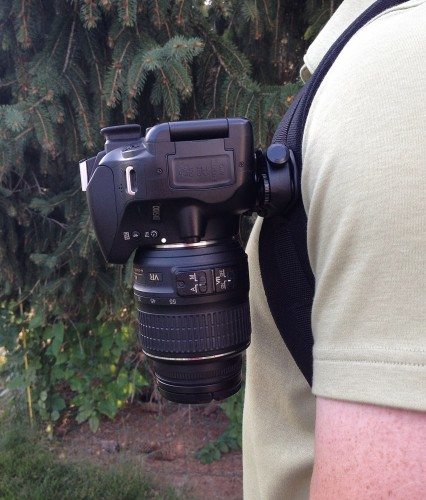 Additionally, I would argue that the lens-downward position of the CapturePRO affords some protection to the lens, while a neck strap offers less protection in a lens-forward position, exposing the lens away from the body.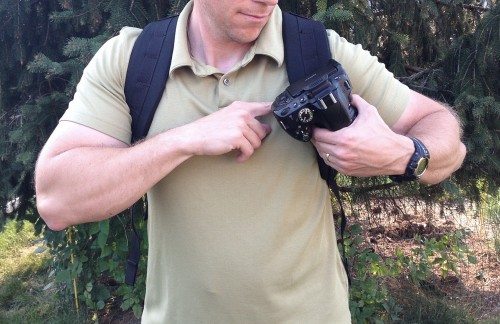 The CapturePRO makes it quick and easy to remove the camera from the base plate.  Just press the red Quick Release Button, slide the ARCAplate upward and outward and you are ready to start snapping photos.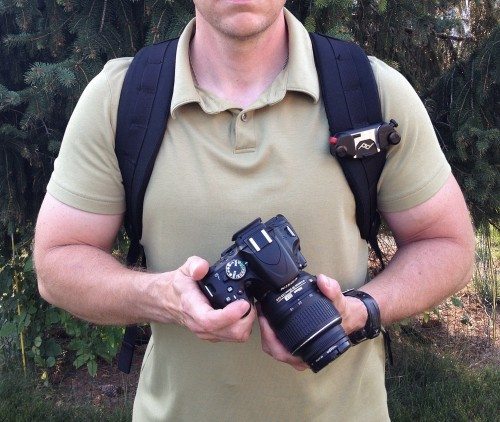 The CapturePRO allows me to get to my DSLR quickly, use it with more freedom without straps getting in the way, and secure it back in place quickly and easily.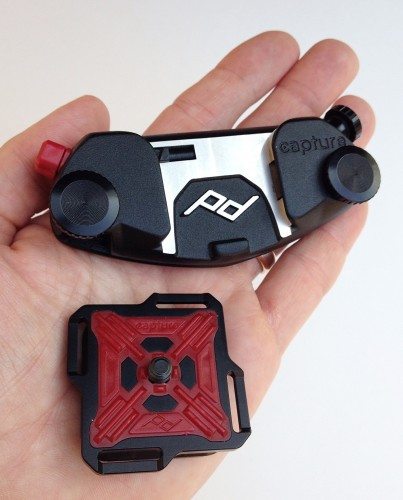 Conclusion
The CapturePRO Camera Clip is not only a unique camera mounting system, it is also a great design.  Solidly built from sturdy machined aluminum and with attention to details, it is the ergonomics and flexibility that really shine.  It can be mounted securely to many different straps or belts via the adjustable back plate, and the quick-release ARCAplate attaches to virtually any camera.  The ARCAplate slides quickly and easily into or out of the dovetail-slotted chassis, which allows use of a camera without being encumbered by straps.  Additionally, the multiple locking features help prevent accidental release of the camera during use, whether on a walking tour or on a trail hike.  I can picture myself (Get it?  Aww, come on!) using the CapturePRO often and it may just help me get rid of my sling strap altogether.  However, you think you might be interested in a Capture v2 standard or CapturePRO, I suggest you consider getting one from the current Kickstarter campaign, because as with any Kickstarter project there is no guarantee that this will become an actual, mass-produced product after the campaign ends.  And you may want to do it quickly–as of this writing there are only 32 hours left in the campaign, which ends at 9:00pm EDT on Friday, August 23.
Updates 04/09/15
This is a great camera accessory. Well designed and constructed, I continue to use it, but mainly for hiking and outdoor-type situations.
Source: The sample for this review was provided by Peak Design. Please visit their site for more info.
Product Information
Price:
Varies by Reward Level; starts at $50 for Capture v2 standard with standard plate, $65 for CapturePRO with one PROplate (as reviewed)
Manufacturer:
Peak Design
Requirements:

Camera with threaded mounting hole

Pros:

+ Easy to mount to straps, bags, etc
+ Quick & easy to release and reattach camera
+ Lightweight
+ Lots of useful features
+ Solid construction

Cons:

- I don't really see any, unless you just don't want to give up camera straps