We use affiliate links. If you buy something through the links on this page, we may earn a commission at no cost to you. Learn more.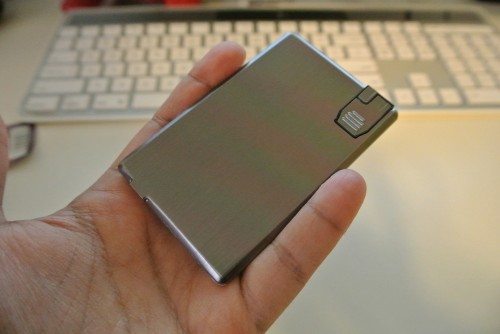 Technology is awesome and convenient, especially smartphones and tablets.  They are getting smaller, faster, and can have pretty good battery life built in.  Sometimes you go to an event where your mobile phone is searching for signal constantly, in which you find yourself in the predicament of losing battery charge quickly.  It's always a good idea to keep a spare battery handy.  I recently had the chance to try out the Super Slim Portable Battery with Flash Memory from Brando, so let's see how it did!
Note: Images can be clicked to view a larger size.
What's inside the box?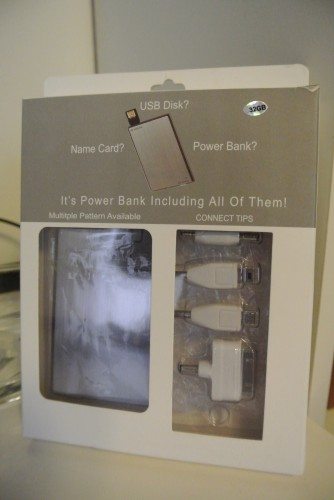 4.5mm Super Slim Portable Battery with Flash Memory
Charging Cable
Connectors x 5pcs (iPhone 4/4S, Lightning, Nokia, miniUSB, microUSB)
I opened the package and noticed that the Super Slim Portable battery is indeed quite thin and light, weighing in at only 1.2 ounces (33g).  I like that it came with 5 connectors to use with various mobile phones and devices.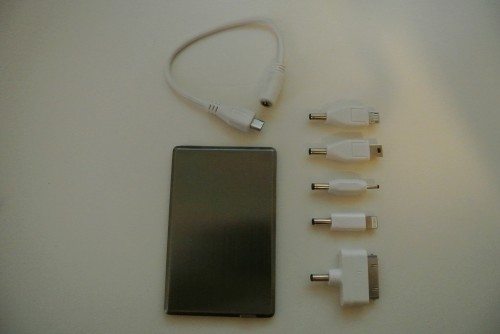 The dimensions of the battery are 2.13″ x 3.4″ x 0.18″ (thickness).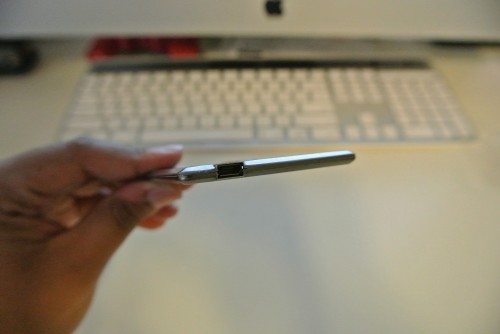 The charging cable it comes with is connected via micro USB from the battery, then ends with a generic input.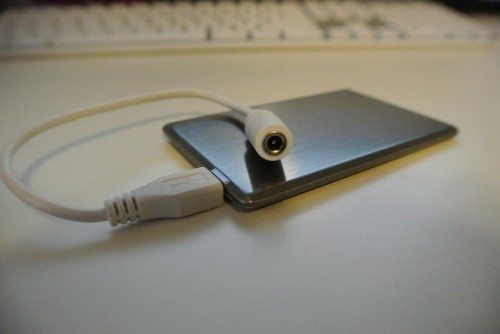 For my phone (the Samsung Galaxy Note 2), I used the microUSB connector to test charging capabilities.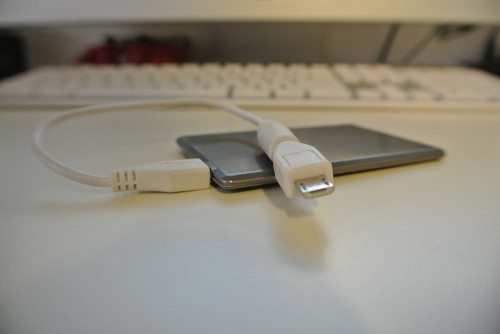 The built-in battery is a 1,000mAh Lithium ion.  It's perfect for my Note 2, since it's quite big and I need at least 1,000mAh to charge it.  The advertised max charge on this battery time is 3 hours.  I found that it did charge my phone for about 2 and 1/2 hours, which is pretty good in my eyes.  It's enough for me to be able to get the charge about halfway on my Note 2 (when my low signal was about 10%).
One thing I couldn't figure out was how to recharge this battery!  There were no manuals included in the box, nor did it say anything on the box itself. I had to go to Brando's website to ask them how to do so. It turns out it will re-charge via the built in USB port that slides out of the battery.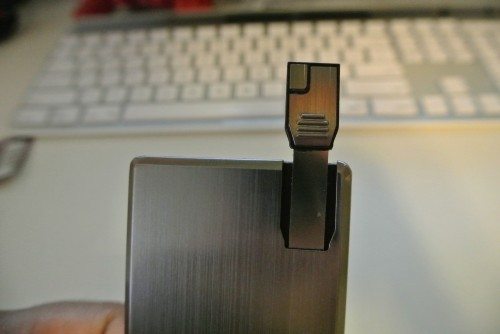 The cool thing regarding this Super Slim battery is that this model contains 32GB of internal flash memory!  You can conveniently access any files on your flash drive while charging it at the same time.  You can choose between 8GB, 16GB or 32GB.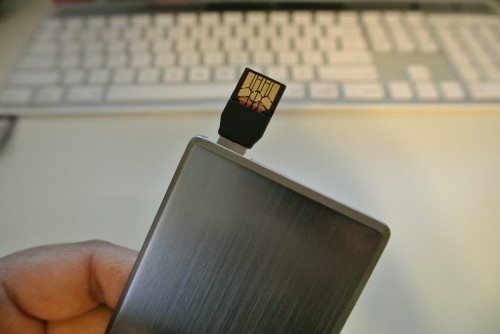 Overall I really like the convenience and dual use factor of this Super Slim battery.  It would be nice to have a slightly larger capacity, but considering how thin and light this battery is, getting 2 1/2 – 3 hours of charge time on my huge phone was great.  I really like that I can slip it into my wallet or purse with no bulk.  It would be great for big events where you are carrying a very small bag or none at all, as it can fit into your pocket quite nicely. The Super Slim Portable Battery with Flash Memory is available via Brando's website for about $30-$50 USD depending on the size chosen (8GB, 16GB, or 32GB) for the flash drive.

Product Information
Price:
$29- $49
Manufacturer:
Brando
Requirements:
Pros:

Slim, portable, lightweight
Flash drive included

Cons: