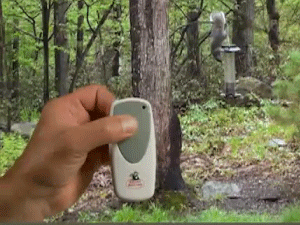 We have 2 large bird feeders in my yard that we've neglected to fill this year because last summer critters other than the birds, were eating the expensive seed as fast as we could keep the feeders filled. We have a large population of squirrels (and raccoons) in my area who think the feeders have been put up especially for them. They expertly climb up the pole and snack on the seed till their little bellies are full. When I saw the Squirrel Boss on the ABC show Shark Tank, I thought it could be a solution for a bird lover like myself. The Squirrel Boss is a hanging bird feeder that provides a low powered electric shock using a battery powered remote control from up to 200ft away. Don't worry PETA people, the shock isn't strong enough to fry the pesky little tree rats. It just scares the seeds out of them. Or at least it's supposed to. Reading the reviews on Amazon, it seems that there are just as many people who think it works great as those who say it doesn't work at all. There are 2 big gotchas with this product that you'll want to consider before purchasing. 1. The only time the Squirrel Boss will send a shock is when you push the button on the remote. That means while you're not watching the feeder, animals other than birds could be feeding from it. 2. You have to charge the feeder cap once a week, which I'd be way too lazy to do after the first time. Still interested? You can purchase one through the main site for $74.99, or save a few bucks and go through Amazon.
Support The Gadgeteer
:
We may earn a small affiliate commission from purchases made from buying through links on our site. As an Amazon Associate I earn from qualifying purchases. Learn more.