We use affiliate links. If you buy something through the links on this page, we may earn a commission at no cost to you. Learn more.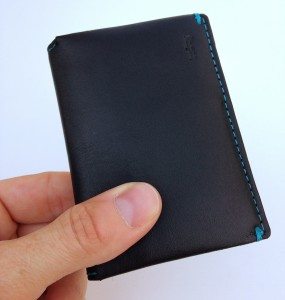 Wallets!  We've shown and reviewed quite a few of them here at The Gadgeteer, and I wouldn't expect that to change in the future.  Wallets seem to be a quintessential gadget item.  Part of our EDC, we carry them everywhere with us, and each of us has certain expectations for our wallets.  Bellroy is a company that gets it.  They design and manufacture wallets with an emphasis not only on slim, but on elegance and function.  One of Bellroy's online USA retailers, The Wallet Shoppe, recently offered me the chance to try out the Bellroy Slim Sleeve Wallet. Gadget on!
Background
In my gadget world, there are two ongoing quests.  The first is for the perfect (for me) gadget-hauling bag.  The second is the perfect (again, for me) wallet.  Over the years, I've come to realize that although I may never find the perfect gear bag for me (though my GORUCK GR1 comes pretty darn close – more on that in a future review), or the perfect wallet, I am enjoying the journey along the way.  A previous version of me was a "Constanza wallet" carrier, trying to jam and cram everything that I thought I needed to carry with me on a daily basis into my wallet.  But several years ago I decided that this was silly: I really didn't need to carry all the receipts, cards, slips of paper, and so forth around with me.  And so began the quest for the best slim wallet.
Fast forward to about a year ago, when I first spotted Bellroy while doing a web search for "slim wallets."  There are many companies offering slimmer wallets, but I was immediately intrigued by not only the functional features of Bellroy's wallets, but also the elegant, yet rugged styling.  So serious is Bellroy about helping you battle the bulge that they provide a set of friendly tips how to Slim Your Wallet such as eliminating coins, using your smartphone to take photos of your receipts and bundling cards.  I really wanted to try out one of their wallets, but the cost seemed prohibitive, even for a wallet of high quality.  Then recently, the folks at The Wallet Shoppe, sellers of several brands of high-quality wallets and also one of Bellroy's online USA retailers, gave me the opportunity to test drive the Slim Sleeve Wallet, which serendipitously had been high on my list of admired slim wallets.  The stars had aligned.
Specs & Options
Dimensions – 3.9 inches x 2.9 inches
Exterior – Premium vegetable tanned cow leather
Colors – Available in Black (reviewed here), Cocoa, Tan, Blue Steel and Russet (red)
Storage – Up to 11 cards in two quick-access card slots, a folded bill slot, and a slot with a pull-out tab for infrequently-used cards
Warranty – 3 years
Packaging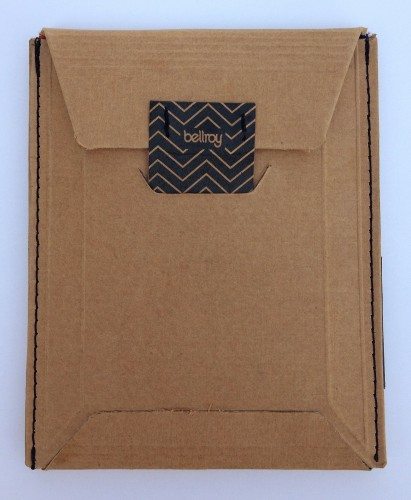 The packaging follows the Bellroy style: elegant, yet simple and functional.  It's basically an envelope with a tabbed flap that folds down and tucks into a slot for closure.  It is also made from a very rigid cardboard that affords some good protection.  Inside the tab it reads, "Bellroy: vegetable tanned, responsibly sourced, non-toxic leather to give a lifetime of happy service."  I like that.  The idea of purchasing an item of such quality, durability and craftsmanship, so to use it for a lifetime is appealing to me, especially in our consumable, throw-away society.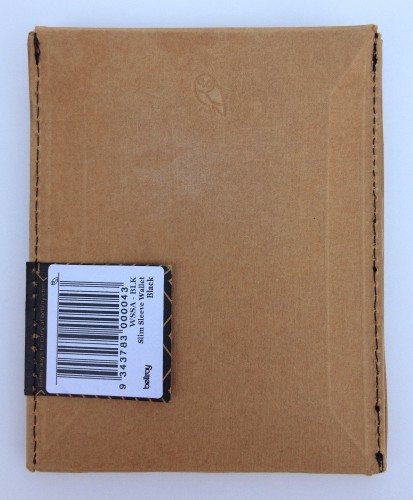 The sides are also stitched closed (a nice touch), with a tag sewn right in at the back of the package.  A small Bellroy owl logo is embossed as well.  It's the little things.
Contents

An instruction card and the wallet were stored inside the package.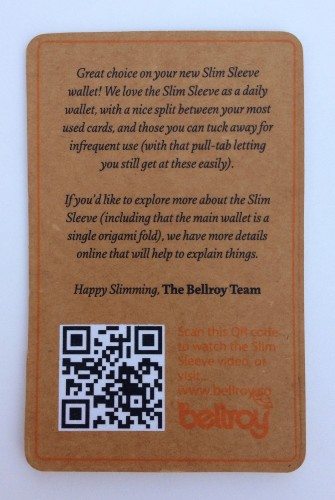 The instruction card gives a quick overview of product features, as well as some info about Bellroy.
Features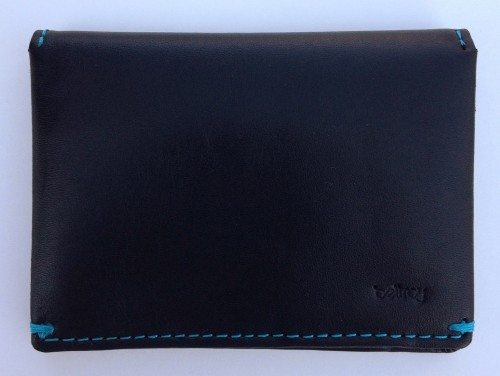 The first thing that piqued my interest in the Slim Sleeve Wallet was its styling.  I would call it simple and understated, yet ruggedly handsome.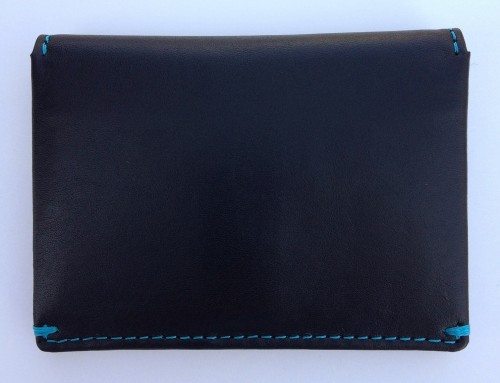 The exterior, made from premium vegetable-tanned cow leather, gives the Slim Sleeve Wallet the appearance of quality, as well as being soft and supple to the touch.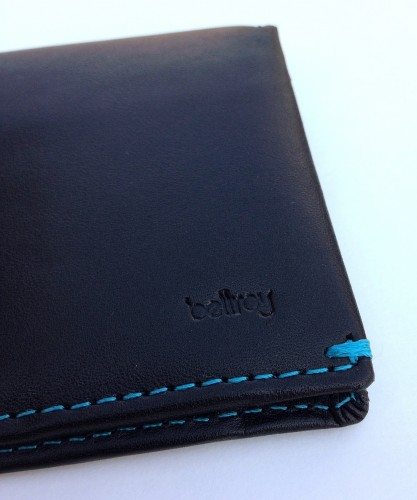 With Bellroy, it isn't just the overall look and feel, but the small, subtle touches as well.  For example, the blue stitching that stands out from the black leather is a minor touch, but gives it a hint of unique styling.  The embossed "bellroy" logo on the front is small and understated as well.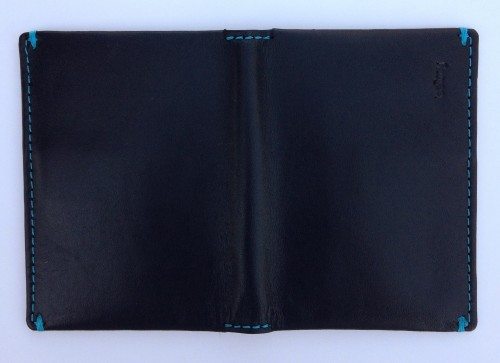 As noted on the instruction card included with the Slim Sleeve Wallet, the design is somewhat unique.  The main part of the wallet is a "single origami fold" construction which helps keep it slim.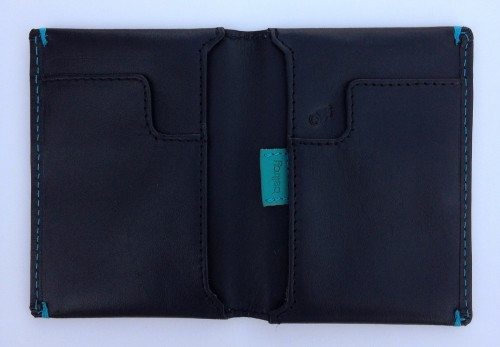 Inside the Slim Sleeve Wallet, the appearance is again simple, yet here is where the functionality and convenience begin to become apparent.  The first layer of storage is the two quick-access card slots.  Located on either side, they each include a small thumb notch in the corner to facilitate both a quick view of the card inside as well as ease of removal.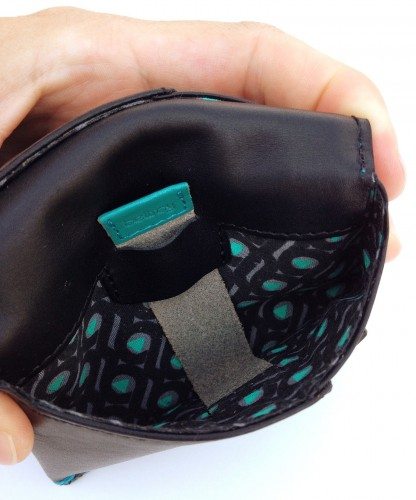 The second layer of storage is the two pockets located directly behind the quick-access pockets.  On the left is a simple pocket, on the right is a pocket with a quick-pull tab to allow access to infrequently used cards.  Also, note the interior lining of the two deeper pockets with the Bellroy logo.  Again, it's the little things.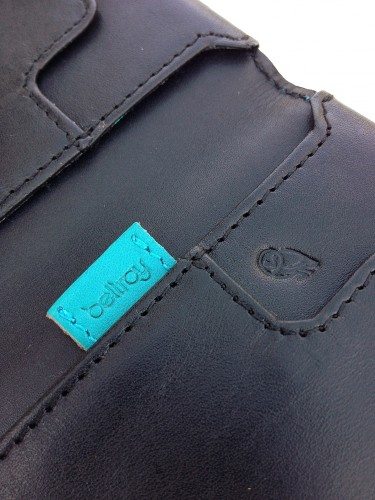 The attention to small details is evident inside as well.  The end of the quick-pull tab is the same color as the external stitching and displays the Bellroy name logo.  A tiny Bellroy owl is also  embossed into one of the quick-access card slot notches.  Again, it's the subtle details.  Stitching is impeccable throughout.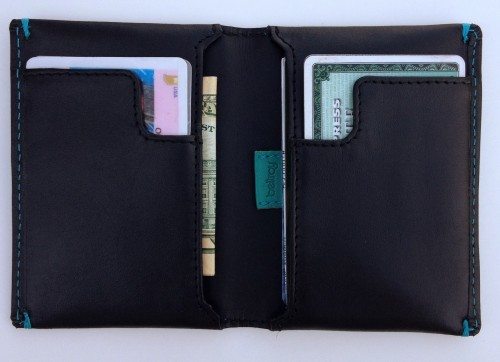 Shown above is the Slim Sleeve Wallet loaded with the contents of my old department-store wallet.  These contents are what I used in order to evaluate the wallet.  In the left quick-access card slot, I placed my driver's license and one credit card.  In the pocket behind this, I placed several folded bills.  I must admit that I wasn't really sure about not having a full-length slot for bills. Initially, I had folded the bills twice, into quarters, which added to the wallet's thickness.  Later I realized that only a single fold was necessary and this seemed to work fairly well for me.  Although you do give up some of the convenience of a full-length bill slot, the one-fold bill scheme coupled with the thinness of the Slim Sleeve Wallet seemed to make up for it.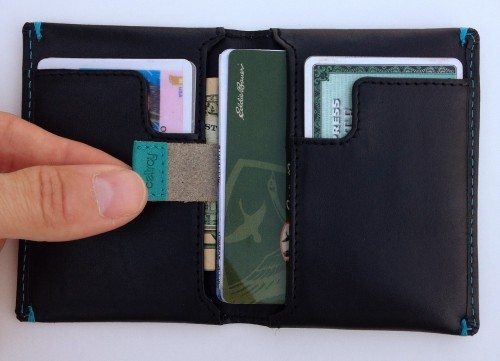 In the right quick-access card slot, I placed two other credit cards.  In the pocket behind this, the one with the quick-pull tab, I placed insurance cards and my Eddie Bauer card.  The Eddie Bauer card is not one that I would carry on a daily basis, it was really just to illustrate how much the Slim Sleeve Wallet could hold.  The quick-pull tab works quite well, providing easy access to the clump of cards that I use infrequently.  It also slides back in easily, ready to slide out again when needed.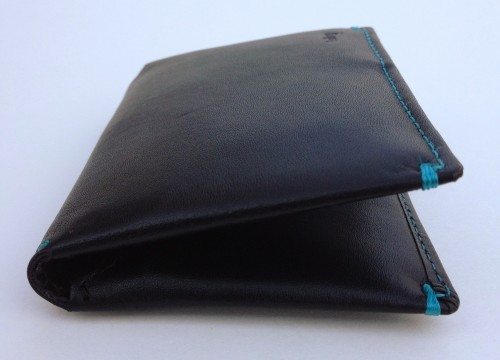 Empty, the Slim Sleeve Wallet is quite slim.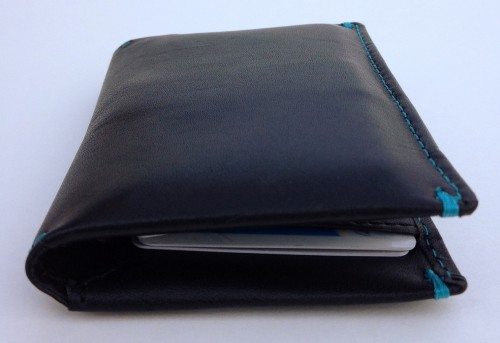 The above view is after having carried it in my back pocket for several days.  Filled with cards and bills, the Slim Sleeve Wallet does not increase appreciably in thickness, remaining quite slim.  While in a back pocket it is nearly undetectable, it quite can easily be used as a front-pocket wallet as well.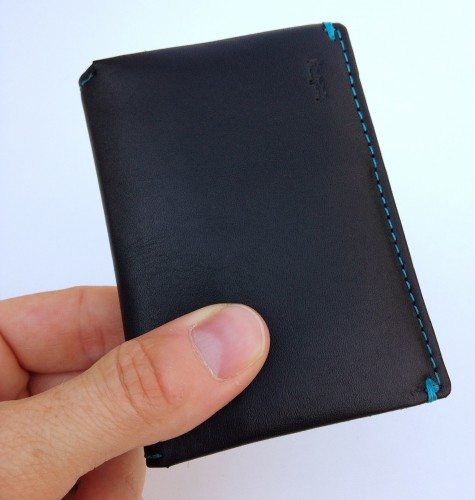 In addition to its thickness (or lack thereof), the Slim Sleeve Wallet has a relatively small footprint, which adds to its overall slim form factor.
Conclusion
The Bellroy Slim Sleeve Wallet is a great slim wallet.  It has an understatedly simple yet ruggedly handsome appearance, enhanced by its high-quality materials and attention-to-detail construction.  While you may at first miss having a full bill slot like most wallets, the Slim Sleeve Wallet's interior includes well-thought-out features that give it a good balance of convenience, allowing you to carry several cards and bills while remaining small and thin, great for either back pocket or front pocket carry.  Like all of Bellroy's products, its price is probably higher than what you might typically be willing to pay for a wallet, but considering that Bellroy intends for you to use this product for a lifetime, I myself find that the higher price is worth the quality, if that is important to you.  Finally, The Wallet Shoppe is one of Bellroy's USA online retailers, and is a great place to order Bellroy's products, including the Slim Sleeve Wallet .  Having tried out the Slim Sleeve Wallet, I'm taking a look other Bellroy wallets as well, like the Travel Wallet for my overseas excursions.
Updates 04/09/15
A great wallet. Slim, well-constructed. Excellent product.
Source: The sample for this review was provided by The Wallet Shoppe. Please visit their site for more info.

Product Information
Price:
$79.95
Manufacturer:
Bellroy
Retailer:
The Wallet Shoppe
Requirements:
Pros:

+ Slim profile
+ High quality materials and construction
+ Understated, ruggedly handsome styling
+ Convenient functional features

Cons:

- No full-sized bill slot (but you may not miss it)
- Will not hold "everything" (but not intended to)
- A bit pricey (but the quality balanced this)