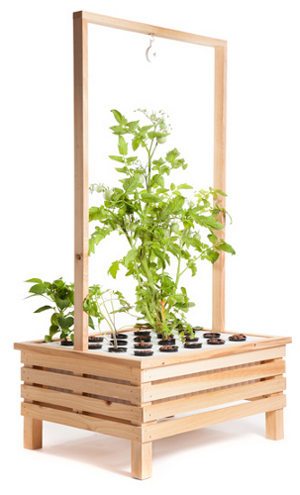 Ever since my cancer adventure a couple years ago (I can't believe it's been that long…), I've changed a lot of things in my diet in order to become healthier. I cut out 95% of the diet soda that I drink by carrying a Bubba Brands Hero bottle full of iced tea to work every day. I stopped eating cold cuts and deli meats. I stopped using plastic cookware even though it's supposed to be microwave safe and I stopped eating canned foods because of the BPA. But the biggest change I've made is that I'm eating 90% more non-processed/non-pre-packaged foods.  We even put out a garden this year and by "we" I mean Jeanne because I don't do dirt and weeds and all that 😉 Ha! Putting out a garden is wonderful – if you have a yard. But what do you do when you live in an apartment or don't have the outdoor space for one? You could check out the Fizzy Farm hydroponic indoor/outoor planters from Zero Mile Farms. These planters are made of pre-fallen Florida cypress wood and use 10% of the water it takes to grow plants in dirt in half the time. You simply fill the tub with water, add a powdered nutrient and plant your plants. Inside the planter is a special pump which draws air in as it circulates nutrients throughout the reservoir. The rapid circulation makes the fruits and veggies in your Fizzy Farm grow bigger and faster, year round, indoors or outdoors. Prices start at $149 and go up to $229.
Support The Gadgeteer
:
We may earn a small affiliate commission from purchases made from buying through links on our site. As an Amazon Associate I earn from qualifying purchases. Learn more.