We use affiliate links. If you buy something through the links on this page, we may earn a commission at no cost to you. Learn more.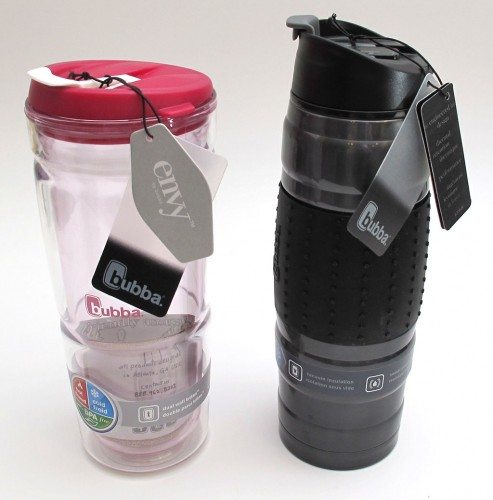 I'm a big fan of drinking… tea that is. 🙂 When I'm not sipping hot tea, I'm gulping iced tea. During daytime work hours, I take my 8 oz glass mug to the hot/cold water dispenser, fill it up and bring it back to the small microwave in my cubicle to get the already warm water boiling for tea. In the evening hours at home, I fill up a 12 oz Tervis mug with iced tea. Since I don't drink just one cup of tea in the morning or one mug of iced tea at night, it's a constant trek back and forth to replenish my beverage. When I was contacted by bubba brands to see if I would be interested in reviewing their Envy Tumbler and HERO Bottle, I was more than happy to accept their offer. Let's see if these products are better alternatives to my existing beverage containers.
Note: Images can be clicked to view a larger size.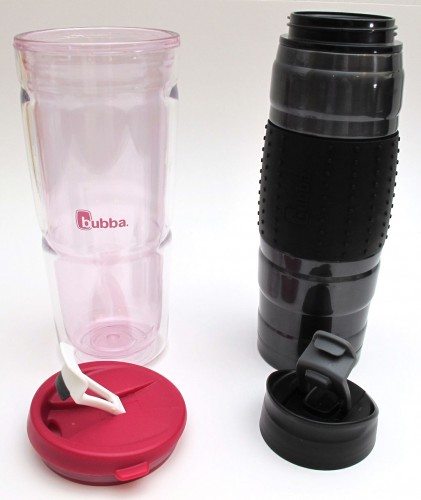 As I mentioned above, I use Tervis mugs at home. I love Tervis products and have been using them for many years. I had never heard of the bubba brands products, but when I first saw the Envy Tumbler, Tervis immediately popped in my mind. The Envy Tumbler has the same dual wall design that keeps warm drinks warm and cold drinks cold without the annoying condensation (sweating) that happens with normal glasses.
The bubba 24oz Envy tumbler is made of Eastman Tritan, which is BPA free. After my adventure with breast cancer, I make it a point to stay away from plastics which are not BPA free because I don't want to worry about chemicals leeching into my drinks. And although the Envy can be used with both hot and cold liquids, I only used it with cold because I still won't use hot beverages or food in plastic containers.
The Envy tumbler is very nice and although it isn't available with all the neat fabric patches and graphics like Tervis, it feels just as nice in hand and costs almost half as much.
The bubba 16oz HERO bottle also has a dual wall design, but it's made of stainless steel and can keep drinks hot for 8hrs and cold 24hrs. The HERO that was sent to me has a nubby rubber grip around the center that allows you to get a firm hold on the bottle.
Note: both the Envy and HERO are sized to fit in most car cup holders.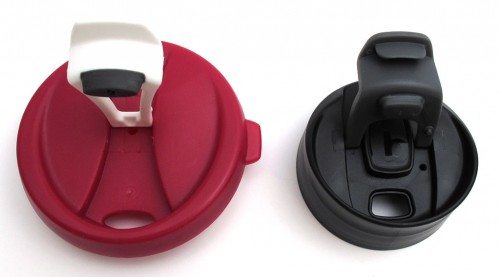 Unlike with Tervis tumblers, the Envy comes with a lid. Both the Envy and HERO lids have an easy open / close flip top.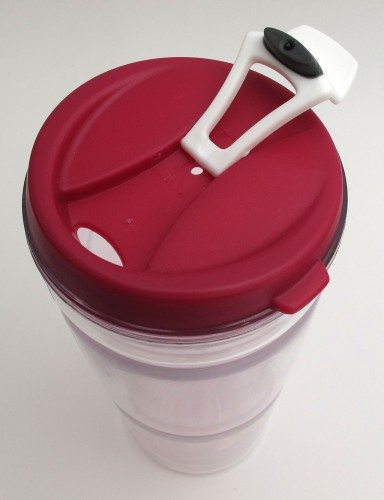 With the Envy, you can use the tumbler with or without the lid because the edge is smooth and doesn't feel uncomfortable to your lips when drinking. The lid is just as comfortable to drink from. Probably more so as you don't have to worry about ice getting in your way.
The top flips open with a flick for easy drinking and closes securely with the rubber coated stopper. You would think that the tumbler would be drip free once the lid is closed. Unfortunately, the design of the lid is not 100% leak free. Check out the image above. See that small hole in the center below the hinge point for the flip top? Nothing plugs that hole when the top is closed. That means if you turn the tumbler upside down, liquid will dribble out.
One other thing I noticed is that the opening in the lid is not quite large enough to accommodate a standard sized straw.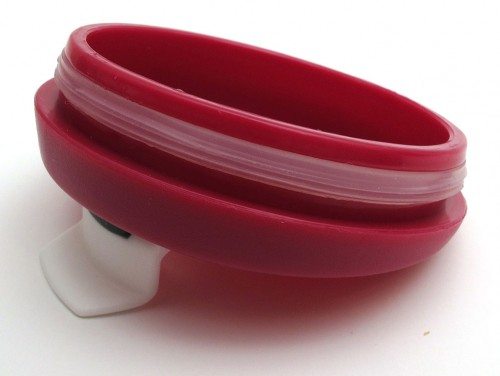 A rubber gasket keeps the lid securely in place and the simple design makes for easy cleaning. You can also get your hand inside the tumbler for washing. Or you can just put it in the dishwasher.
The Envy Tumbler worked great for my evening iced tea and holds twice as much as my Tervis mug.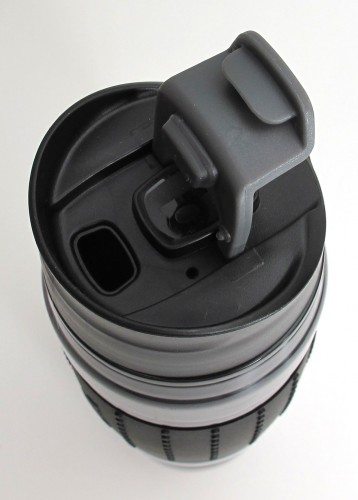 The HERO Bottle is close to perfect. Unlike the Envy's lid design, the HERO's lid is drip free. The small hole gets plugged when the top is closed.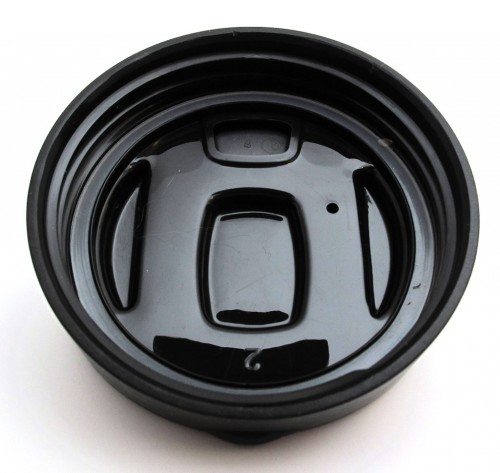 A rubber seal inside the screw on lid keep liquids from leaking even when turning the bottle upside down and shaking vigorously.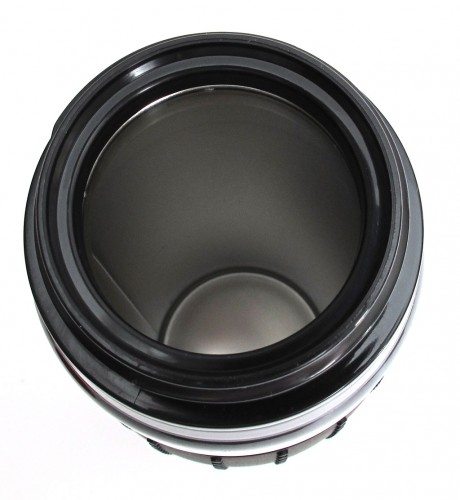 To test the HERO, I filled the bottle with hot tap water, put the lid on and set aside. I then boiled some water on the stove. Once boiling, I poured out the hot tap water and refilled with the newly boiled water. I then put a tea bag in the bottle with the string hanging over the side so I could easily remove it later. I then screwed on the lid, put the bottle in my bag and went to work. An hour or two later, I flipped open the top and poured the tea into my glass mug. It was still steaming and too hot to drink. Nice! I was able to drink a little at a time through out the morning and never needed to heat it up in the microwave.
According to bubba, the HERO is supposed to be able to keep liquids hot for 8hrs. My only test for this was to fill up the bottle with boiling water, screw on the lid and not open it again until 11hrs later at which point the liquid inside was only warm. I realize that test is 3hrs past the time they rate, but I'm not sure that the liquid would be steaming hot at 8hrs. Probably just very warm. That's perfectly fine in my opinion. If you're going to take a bottle of hot tea, coffee, etc with you, I would assume you'd drink it well before 8hrs.
My only complaint about the HERO is that it doesn't hold enough 😉 I want a 24 oz version. Luckily they bubba does sell dual wall stainless steel bottles in several capacities, including 24 oz. I'll be placing an order ASAP.
I'm very happy with bubba brands beverage holders and am glad to recommend them. They are high quality products at very reasonable prices.
Update 05/20/15
I actually don't know what happened to either of these items. I think they ended up going to in one of my famous gadget giveaways at my day job. It's not that I didn't like them, I actually liked the Hero bottle quite a bit. But I found that it didn't hold enough so I ended up buying two larger 20 ounce Hero bottles that look like they've been through a battle, but still work great at keeping hot drinks hot and cold drinks cold. I highly recommend these beverage holders.
Source: The sample for this review was provided by Bubba Brands Inc. Please visit their site for more info.
Product Information
Price:
ENVY Tumbler $10.98, HERO Bottle $9.98
Manufacturer:
Bubba Brands Inc.
Retailer:
Shop Bubba
Pros:

Very affordable
Quality construction
HERO bottle is drip free

Cons: