We use affiliate links. If you buy something through the links on this page, we may earn a commission at no cost to you. Learn more.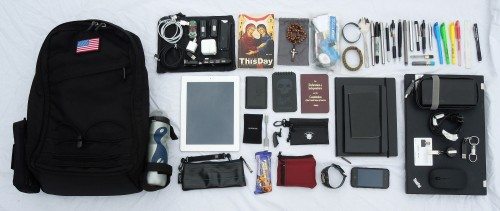 Your friendly, neighborhood Gadgeteer team has recently been posting some great news items describing their EDC or their everyday carry gear.  I'm a tad late to this party, but hopefully I can make up for it a bit with lots of detailed info on the items I carry and use on a daily basis.  Let's gear up!
EDC Pack and Gear
I am engineer with a desk job, therefore my EDC is fairly computer gadget focused.  I would also note that I travel on business an average of once per month, and bring many of the items below with me, though I tend to try to reduce this load to only the essentials for travel.  Seen in the top photo and described below are the items that I have been carrying and using over the past several months, though I would note that some of these items change on an almost daily basis depending on what I need, if I am in the office versus traveling, if I am trying out new items and so forth.  That said, the image is an overview of my office EDC; click it for a larger view.  Description follows the image, starting from the top left and working across and down:
GoRuck GR1 Backpack – I have been a messenger bag user for many years, preferring the ease of accessibility afforded by the over-the shoulder, big-flap style of the messenger.  That is, until I stumbled upon the GoRuck web site a while ago, and became immediately attracted to the simple yet ruggedly-styled gear.  The GR1 can swallow up 26 liters of whatever I can throw into it, and it is easy to pack and unpack with its lay-flat, zip-open design.  Its wide, thickly padded straps make it feel amazingly comfortable while wearing it, even when the load is heavy.  On business trips I've carried up to 30lbs in this thing through airports and around cities, and although I can certainly feel the weight, it is not painful on my shoulders and back.  A nod to its military pedigree (the company was founded by a former Special Forces operator), it includes MOLLE-style webbing inside and out to attach various accessories.  To the sides of the GR1, I've added a Skeletonized Water Bottle Holder from ITS Tactical on one side and a Condor MA57 GPS Pouch (to hold my computer power brick) on the other, as well as a Condor Tech Sheath to one of the shoulder straps (to hold my iPhone).  I could go on and on about this pack, but suffice it to say that the GR1 is currently my favorite pack/bag, and a full review is in the works, so stay tuned.
Gadget pouch – This pouch is a freebie that was included in an old Lenovo power supply kit I bought a few years ago.  It is a mesh zippered pouch that I use to store various smallish gadgety-type items.  See additional description below.
Give Us This Day – This is a Catholic monthly publication book that contains daily prayers, Mass readings, stories of the saints' lives and other great reading.  I use it multiple times per day to guide my prayers, devotions, and reflections.
Rosary with drawstring pouch – The Rosary is an ancient Catholic sacramental and devotional to the Blessed Virgin Mary, the mother of Jesus.  It is used as a guide in prayer to Jesus and in meditation on events in the life of Jesus, many of which were witnessed by His Mother.  I try to pray the Rosary as often as I can.
Ziplock bag full of stuff like dental floss, Band-Aids, wet wipes, sleeping mask, and other such person hygeine items for travel and/or emergencies.
Two bracelets: ITS Memorial Bracelet and a 550 paracord survival bracelet I made myself.  See additional description below.
Titanium spork – See additional description below.  Bought from eBay.
Assorted writing instruments – See additional description below.
Apple The New iPad (AKA "3rd gen") – The one has Retina Display but the 30 pin pre-Lightning connector.  16Gb.  I use it to check email, read books, edit photos, and play a few games.
Small leather business card holder – Work issued.
Ill Gear 'Write In The Rain' Notebook – In case I need to… you know, write in the rain.  Thankfully I haven't had to use this yet.
Declaration of Independence and The Constitution of the United States (pocket edition) – Bought in a small bookstore while waiting for a flight.  Trying to enhance my knowledge of our nation's founding documents.
Jawbone ERA Bluetooth Headset – For when I need to go hands-free with my iPhone.  Also shown are the case and mini-USB connector cable.
Small first-aid kit from Spear Tip Tactics, a small shop that carries survival gear and teaches survival courses.
Stack of Moleskine notebooks – Bottom: large sized, soft cover Moleskine grid notebook for work.  Middle: medium sized, hard cover Moleskine lined notebook for my personal daily journal.  Top: small-sized, paper cover Moleskine Cahier grid notebook for jotting.
Lenovo W520 laptop – Work issued.  Includes freakishly large and heavy AC adapter.
Work ID badge and remote network security token.
Cheap-o Bluetooth mouse I got from eBay.  Looks cool, but as of this writing (after only a month or so), it has already stopped working.
Alchemy Goods Goergetown Zipper Pouch Wallet – Alchemy Goods gear is made from recycled (or "upcycled") innertubes, so it is durable as well as environmentally friendly.  I use the Georgetown to hold my various pens, pencils and so forth.  I attach the Georgetown to the inside of the GR1 with an 8-inch Tom Bihn Key Strap.   (NOTE: Since this writing, I have already replaced the Georgetown with a Maxpedition Cocoon pouch in black, which is not pictured here.)
Pure Protein bar – Because I can get downright grouchy like Oscar when I'm hungry, and protein is the way to go.
Uncle Bill's Urban Wallet – Filled with my pocket EDC stuff.  See additional description below.
G-Shock wristwatch – See additional description below.
Apple iPhone 4S smartphone in Magpul Executive Field Case – See additional description below.
Not pictured: ZAGGsparq 2.0 – Battery backup and charger with two USB ports that can charge both an iPad and an iPhone/iPod touch simultaneously.
Gadget Pouch Contents
As mentioned above, I use a mesh zippered pouch that came with an old Lenovo power supply as my small gadget bag.  The contents, again starting from the top left and working across and down: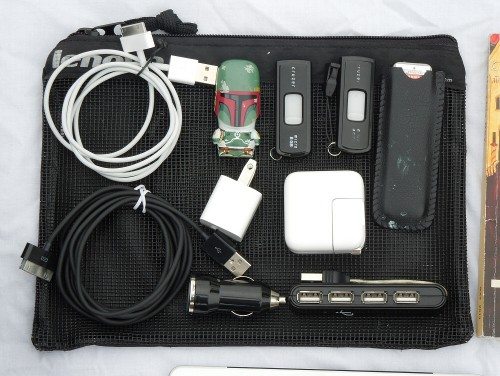 Apple iPhone/iPod/iPad 30-pin charge/sync cable
Laser pointer/LED light combo in faux leather case – A cheapie given to me by a friend.
6ft iPhone/iPod/iPad 30-pin connector cable – Bought on eBay.
Apple iPhone AC Adapter
Apple iPad AC Adapter
Double DC Adapter – With both 1 Amp (iPhone/iPod touch) and 2.1 Amp (iPad) ports, this is great for car rides.  Can't remember where I bought this.
4-port mini USB hub – Bought forever ago and can't remember the manufacturer.
Writing Instruments
As mentioned above, I carry a fair array of writing instruments in my Alchemy Goods Georgetown Zipper Wallet (now Maxpedition Cocoon), which to me is really more of a pencil bag than a wallet anyway.  Do I carry all of these every day?  No, my writing instruments vary almost daily, depending on what I expect to need.  Working left to right: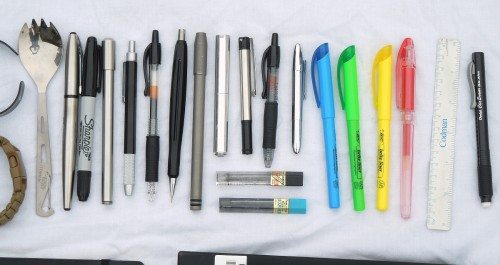 Pocket EDC
There are certain items that I carry on my person at virtually all times and not in my EDC pack.  These items have stayed fairly constant over the past several months, but like the items above, have evolve over time.  Again starting from the top left and working across and down: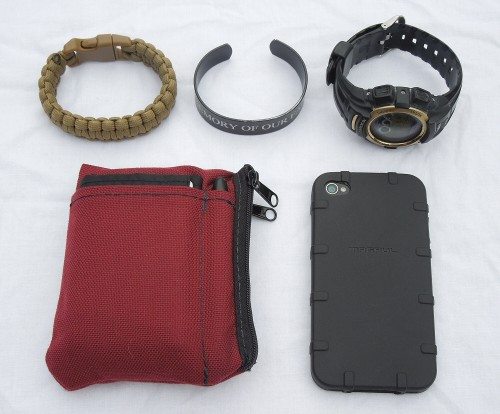 Paracord survival bracelet – Made by yours truly from an online tutorial.  Cobra weave braided from coyote tan 550 parachute cord and a side-release buckle, all of which was purchased at my local Army Surplus Store, but these parts can be found all over the web.  I've not yet had to use it, but you never know.  Worn on right wrist.
ITS Memorial Bracelet – Aluminum bracelet which has been anodized in black and laser-etched to read "In Memory of Our Fallen."  I wear this nearly every day both as a reminder to myself of the sacrifices that have been made in the defense of our nation, and in support of our brave men and women in uniform.  It has also been a conversation piece on occasion.  Worn on right wrist.
Casio G-Shock GW330A wristwatch – I've owned G-Shock watches for decades, but this has been my workhorse for years now.  Tough as nails, water resistant, lots of features and functions.  Plus, this model is in the black and gold color scheme of my alma mater, Purdue University.  Bonus.  Worn on left wrist 24/7.
Bill's Urban Wallet – Carried in back right or left pocket.  See additional description below.
Apple Black iPhone 4S in Magpul Executive Black Field Case – I am never without my iPhone.  Ever.  And this case from Magpul is perfect for my needs: slim, yet protective, and with rugged yet understated look and a grippy exterior.  Carried in right front pocket.
Contents of EDC Wallet
And finally, below are the items that are inside my Bill's Urban Wallet, with the exception of the Butterfly Wallet.  I typically carry the Butterfly Wallet in my back right pocket and the Bill's Urban Wallet in my back left pocket.