We use affiliate links. If you buy something through the links on this page, we may earn a commission at no cost to you. Learn more.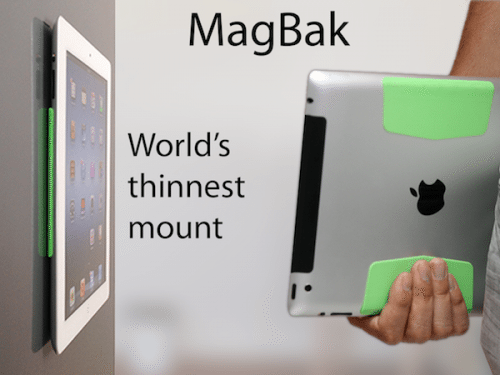 Ever need a magical third hand to hold your iPad? Have you ever wanted to temporarily mount your iPad on a wall? Do you want to amaze your friends with your ability to stick your iPad to almost any metal surface? MagBak, The Worlds Thinnest iPad Mount may be just what you are looking for. This Kickstarter project is an interesting concept by Alex Baca; it's basically a magnetic mounting system designed for iPad. The system works by applying two silicone covered adhesive pads to the back of your iPad. These pads have magnets embedded on the edges to allow you to mount your iPad on most metal surfaces. The MagBak pads have a nice texture to help prevent sliding on smooth surfaces, are shaped to fit your hand when carrying your iPad, and come in six different colors. The MagBak also ships with the Metal O-Ring, a round metal mounting ring that can be stuck to non-metal surfaces by its 3M adhesive backing, allowing you to mount your iPad almost anywhere. The MagBak is designed for use with the second, third, and fourth generation of iPads.
The MagBak is a current Kickstarter project seeking funding until September 26, 2013. A $24 pledge gets you a MagBak of your color choice and the Metal O-Ring. You can get an additional free Metal O-Ring free by sharing this project on Facebook or Twitter. If the project is successfully funded, the MagBak is scheduled for delivery in September 2013.