We use affiliate links. If you buy something through the links on this page, we may earn a commission at no cost to you. Learn more.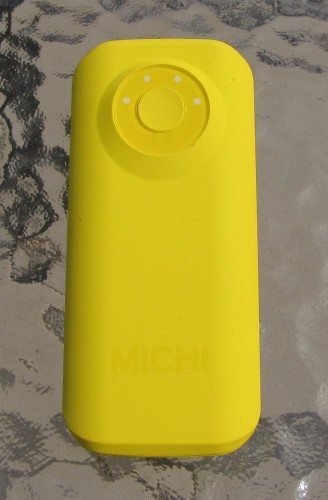 I wouldn't think that I am alone in my observation of our increasing use and reliance on mobile devices in our everyday lives. I also wouldn't think I was alone in noticing that those devices seem to run out of juice at the most inopportune times. There has been more than a few occasions in my travels when I have been caught out looking for a place to plug my device to get a charge. A common solution to this problem is having a portable power pack, and the Michi Strengtholic 5600 mAh from Brando is a fine example of one.
Note: Images can be clicked to view a larger size.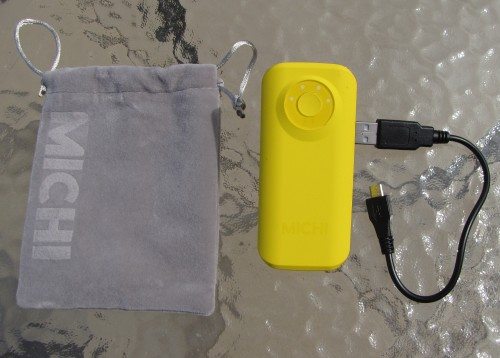 There are a lot of back up battery packs on the market right now, in various shapes sizes and power configurations. At 5600mAh (milliamp hours) and based on its size, weight, and features I would consider the Michi Strengtholic 5600mAh to be an upper mid-range battery pack/charger. The device lists the following features:
5600 mAh capacity
Perfect protection
Portable
LED indicators
16 colors available
While we are talking about the features of the Strengtholic, let me also point out that it has a rubbery, soft covering on the outside.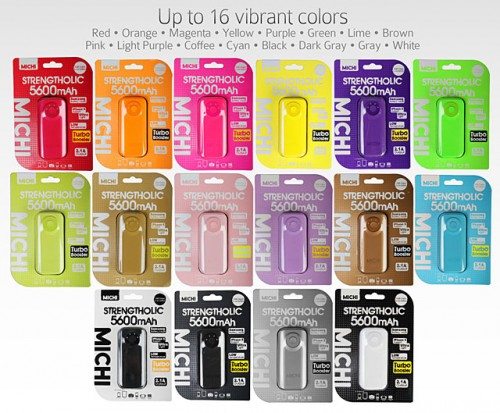 The 16 different color choices adds some personality. As you can see by the pictures, mine is yellow.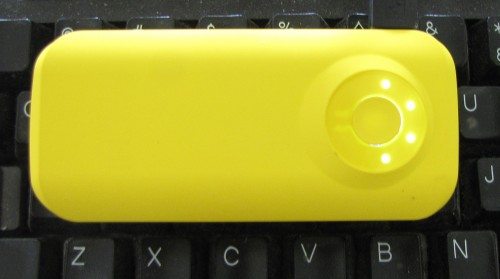 After removing the Strengtholic and its accessories, which include a USB charging cable to charge the battery pack, a carrying pouch, and the instructions, I plugged it into my keyboard USB port and started charging it.
Specifications
Battery type: Samsung lithium-ion
Input: 5V-1A
Output: 5V-2.1A(MAX)
Capacity: 5600mAh
Self-charging time: 3-4hrs
Battery life: 6000hrs
Product size: 97mm x 44mm x 22mm ( 3.81″ x 1.7″ x .86″ inches)
Product weight: 123g ( 4.33 ounces).
As you can see, the Strengtholic is compact and light for its output abilities, small enough to throw in a bag or purse.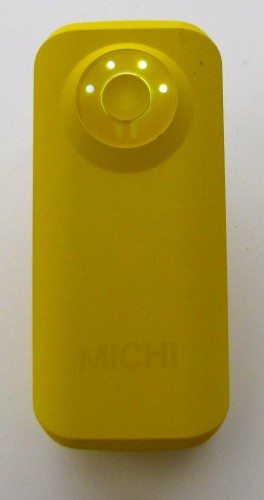 The front of the Strengtholic has a power button and four LED indicator lights to show charge level. The power button area is raised, and the button is easy to feel even in the dark. The indicator lights are bright when illuminated and easy to read.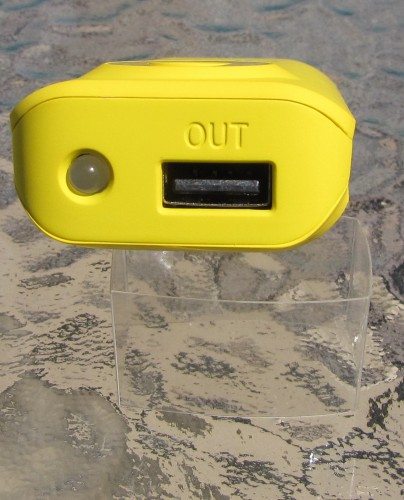 The top of the Strengtholic has a USB port for your device cables and a green indicator light. It has the word "OUT" written over the USB port to prevent you from trying to charge the Strengtholic from this USB port.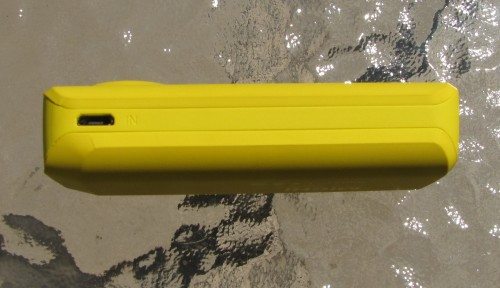 The left side of the Strengtholic has its charging port; it comes with the necessary charging cable. The port has the word "IN" written above it as a reminder.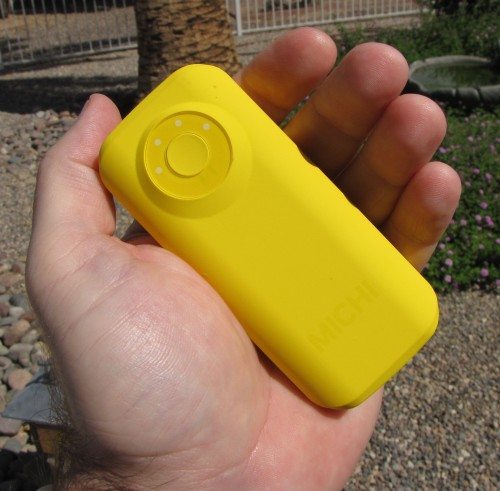 The rest of the Strengtholic is pretty plain, but as you can see from the picture, the size is pretty compact. I am actually still amazed at the weight of this; I guess with very few frills you can keep the weight down.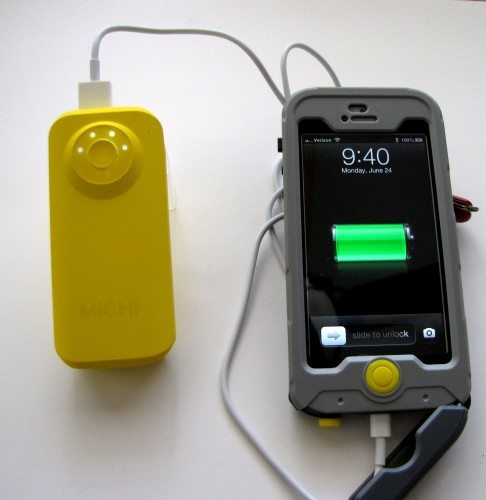 So let's get down to the nuts and bolts of what the Strengtholic is designed to do, charge electronic devices. As stated above, the Strengtholic takes three to four hours to fully charge when the battery is run down; I found this to be pretty accurate. My first order of business after fully charging the Strengtholic was to see how long it took to recharge my iPhone 5, and how many times I could charge my iPhone on one full charge of the Strengtholic. I ran my iPhone's battery down to about 15% for each test. On average, my iPhone 5 charged in about an hour and 40 minutes, and I got three full iPhone 5 charges out of one full Strengtholic charge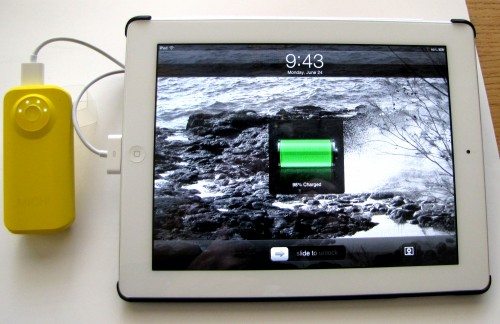 After testing the Strengtholic with my iPhone, I moved on to my iPad. For this test, I used a second generation iPad. Just as a pre-test note, I do not expect the Strengtholic to fully charge a low iPad or any other tablet device's battery, but it will be interesting to see what kind of charge you can get and how long it takes to get it. I ran my iPad battery down to about 15%, plugged in the charger and waited for the results. While my iPad was charging, I noticed that the Strengtholic became a little warm. The charger got my iPad battery up to 72% from 15% in about 2 hours. Not bad for emergencies.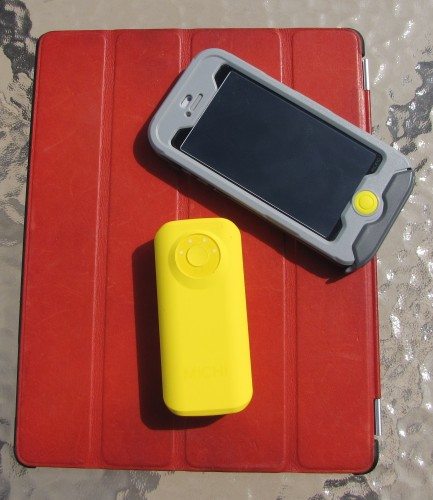 So what's my verdict on the Michi Strengtholic 5600mAh? Aside from the long name, I think it is an excellent product. The simplicity of use, the size and weight, and its ability to recharge my phone multiple times on one charge of the Strengtholic is a plus. The rubber-like soft texture and multitude of available colors are sure to please almost anyone's color palette, and the price, at $48, is very reasonable. If you are on the go a lot and need an emergency back-up battery charger, I don't think you can go wrong with this one.
Update 01/30/15
Since I have upped my traveling over the last year, the Michi Strengtholic has been a constant companion on trips. I still love the size and weight and it comes in handy for long trips when an outlet is not readily available. The Michi Strengtholic basically stays in my carry on waiting for its chance to preform.
Update 12/15/16
I reviewed this battery back in 2013 and believe it or nit it is still one of my mainstay products for travel. It has a good compact size and light weight and produces enough of a charge to get me through most situations when on the road. I liked this battery so much I have actually bought a second one for my other half.

Product Information
Price:
$48
Retailer:
Brando
Pros:

Lightweight
Compact
Easy to Use
Price

Cons: