We use affiliate links. If you buy something through the links on this page, we may earn a commission at no cost to you. Learn more.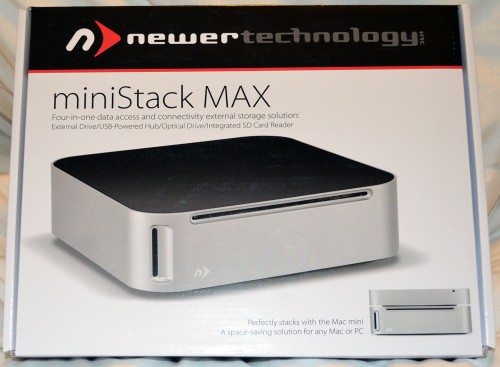 Back in May, I posted a news item about the Newer Technology miniStack MAX.  As I said in that post, the miniStack MAX is "an external drive, SD card reader, one charging-only USB-A port, 2 USB 3.0 A ports, one USB 3.0 B port, eSATA port, 2 Firewire 800 ports, and an optical drive with DVD/CD read/write capabilities plus either Blu-ray read-only or read/write capabilities in a single, sleek aluminum case."  I was bemoaning that I had just purchased an Apple USB SuperDrive, because the miniStack MAX offered so much more than that simple device.  The folks at Other World Computing (OWC for short) heard my wish for the miniStack Max for Mother's Day, and they offered one to The Gadgeteer for review.  Luckily, Julie assigned it to me, so I passed along the SuperDrive to my daughter, and I got started discovering just how many things the miniStack MAX could do for me.
Images may be clicked for a larger view.
The miniStack MAX comes in a lot of configurations.  You can buy an empty enclosure and add your own hard drive (or SSD) and optical drive, or you can get it fully tricked out with a 4TB 7200RPM hard drive and a Blu-ray read/write optical drive.  OWC send me a very nicely equipped unit with a Blu-ray read, DVD/CD read/write optical drive and a 2TB 7200RPM hard drive.
All versions come with the USB 3.0 A ports, USB 3.0 B port, eSATA port, Firewire 800 ports, and the charging-only USB A port.
Tech Specs (as equipped)
2.0TB Toshiba/HGST Deskstar™ 7K1000.D 7200RPM hard disk drive

64MB drive cache
Hitachi-LG CA10N internal slim Blu-ray reader and DVD/CD writer
Bridge chipsets: JMicron 355 chipset with eSATA & FireWire 800 (1394B), JMicron 539 chipset with USB 3.0/USB 2.0
USB ports: two USB 3.0 A for data transfer or powering/charging devices, one 2.1A USB A for charging devices like the iPad
FireWire 800/400 ports (backward compatible with FIreWire 400 via connector or optional cable)
eSATA connector (cable sold separately)
Maximum data transfer rates: USB 3.0/2.0 – up to 300MB/sec; eSATA – up to 300MB/sec; FireWire 800/400 – up to 100MB/sec
Compatible with Windows, Linux, and Mac computers with the ability to support a USB 2.0, USB 3.0, eSATA, FireWire 800, or FireWire 400 connection
There are many more specifications that you can see at the OWC page.
In the Box
My miniStack MAX arrived with an AC power adapter, two cables, an info card about included software, manual (not shown), and a few small screws in a plastic bag.  I assume the screws were necessary to install your own drives, so I don't need them.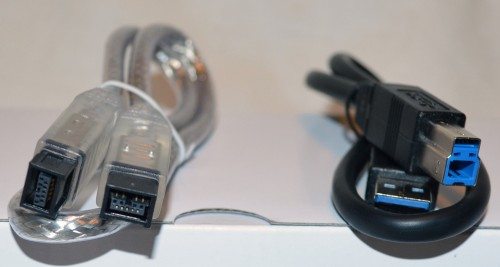 The two included cables are a Firewire 800 cable (left) and a USB A-to-B cable (right).  I'll be testing the miniStack MAX with my two computers.  I have a Mac mini that has USB 2.0 and Firewire 800 ports and an 11″ MacBook Air with USB 3.0 ports.  Between the two, I'll be able to check out how it performs with all but the eSATA connection.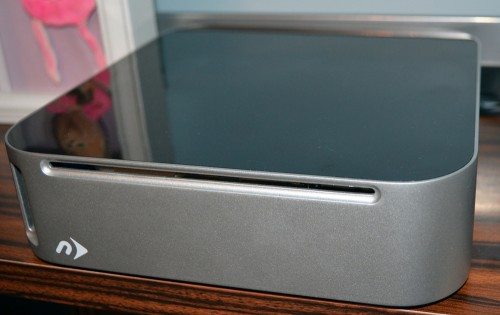 The miniStack MAX has an aluminum-finished enclosure and a shiny, black plastic top.  It's 7.7″ wide X  7.7″ deep X 2.33″ tall.  It has the exact footprint of Mac minis built since 2010, so I could stack it with my mini, if I wanted.  I have the room on my new desk setup, so I decided to set it beside the Mac mini for maximum airflow and cooling.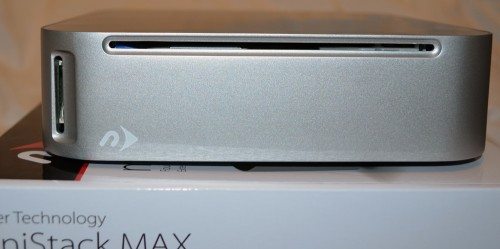 The front has a Newer Technology logo.  It also has the SD card reader at the left front and the slot-loading optical drive at the top.  My Mac mini has an SD card reader, but it's on the back, so it's difficult to use.  (All my cable controlling efforts make it a bit difficult to pull the Mac mini out to reach the card reader.)  Having one on the front of the miniStack MAX will be very convenient.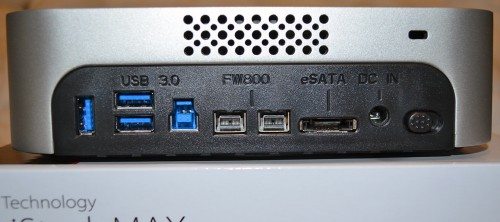 The sides of the device are plain, and the back has all the connectors.  From the left: powered (non-syncing) USB A charging port, stack of two USB A 3.0 ports, USB B 3.0 port, two Firewire 800 ports, eSATA port, DC power in, and a power switch.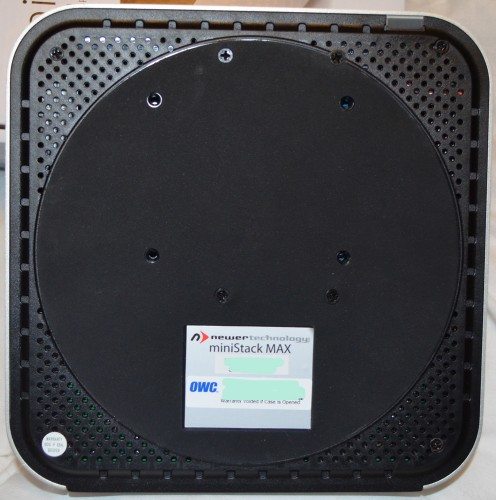 The bottom has screws so you can open up the enclosure to add your own drives.  My unit had everything pre-installed by OWC, and you'll notice the label warns that opening the case voids the warranty.
Setup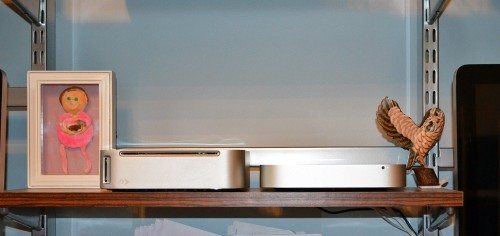 Here's the miniStack MAX sitting by my Mac mini.  If you enlarge the image, you'll just be able to see a very faint, white status light at the bottom left of the miniStack MAX.  The light is on steady when the unit is powered and ready; it blinks with disk access.  It matches the pale white status light on the mini.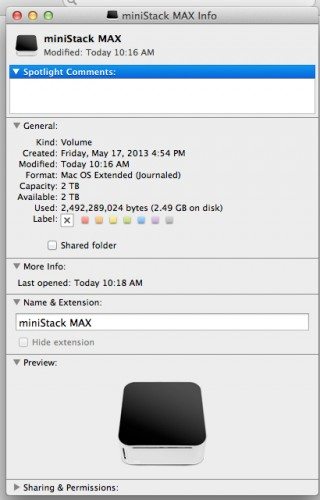 The disk came pre-formatted and ready for use with a Mac computer.  You can see that almost the entire 2TB of disk space is available to me.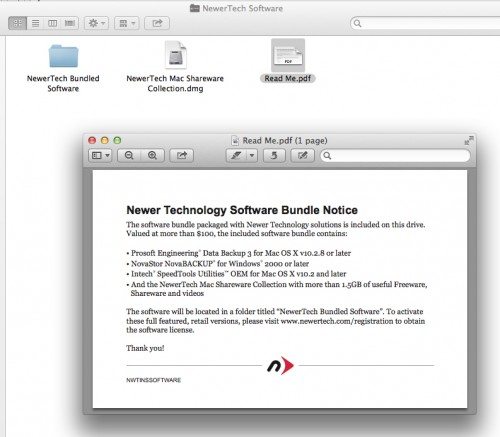 The 2.49GB of used space contains some software that Newer Technology includes.  Both Mac and Windows versions of the software are included.  After I got everything hooked up and working with my Mac mini, I tried to authorize this software by following the steps in the Read Me PDF file (and duplicated on the included card), but I wasn't successful.  It kept telling me that it needed to create an account for me before it could authorize the software, but there was no way to create the account.  I didn't waste too much time with the software, because I have my own backup utilities and the like.
Because I do intend to permanently use the miniStack MAX with my Mac mini, I decided I would start my evaluations with it.  After consulting the included manual, I realized that I would not be able to access all the features using only the Firewire 800 cable.  The Firewire cable only allows access to the internal hard drive.  To use the USB hub, SD card reader, and the optical drive, I needed to connect via USB.  Luckily, the USB 3.0 ports on the miniStack MAX are backwards compatible with USB 2.0, and I could connect both cables between the MAX and the mini.  (To connect the MAX to the computer via USB, I used the USB B port on the back of the MAX and the USB B-to-A cable to connect to one of the USB A ports on the back of my mini.)  With both cables connected, the Firewire handled hard disk access and the USB handled everything else.  I didn't need to install any drivers – everything was ready as soon as I connected both the USB and Firewire cables and flipped the power switch.
USB hub and charger, optical drive, and SD card reader functions
I should mention how quiet the miniStack MAX is.  The specs say that the miniStack MAX uses the same MagLev fan used in the Mac mini, which "offers frictionless, whisper-quiet operation."  I don't hear the miniStack MAX or the Mac mini under normal circumstances; they really are whisper quiet.  The only time I hear anything from the miniStack MAX is while it is actively spinning up a disk in the optical drive.
Once both cables were connected, I was easily able to read my Class 10 SanDisk Ultra SD card to copy over pictures for this review.  The optical drive worked with my disks; I stuck in a DVD movie, and the mini's DVD player popped up.  When I put in a Blu-ray movie, I could easily read the disk, but I couldn't play the movie, as the mini didn't have a native Blu-ray player.  I downloaded a trial of the Macgo Blu-ray player app to my Mac mini, and I was able to watch a Harry Potter Blu-ray with no problems.  Although it worked fine, I deleted the Macgo trial, because I won't be watching Blu-rays on my 27″ Thunderbolt display when I have a huge HDTV and a Blu-ray player in the same room.  I'll still be able to read Blu-ray data disks, though, should I ever need to.  Again, all of these functions, plus the USB hub functions (covered in the following paragraph), are through the USB connection.
The USB hub worked as you'd expect.  You plug in a USB device, and it's ready for access.  You are basically replacing one USB port on the back of the Mac mini with two USB ports.
The powered, non-syncing USB port on the back of the Newer Technology device is a useful addition.  I do everything wirelessly through the Cloud on my iPad and iPhone, including backups and updating and installing apps, and I don't like using the USB ports on my Mac mini to charge these devices.  With the MAX's power-only USB port, I can charge my devices without iTunes popping up and trying to mess with my device setups.  That powered port is 2.1A, so it can even charge our iPads.  It charges the iPad as quickly as does Apple's iPad AC charger.  It quickly charges our iPhones, too.
Hard drive tests with Mac mini
So we know the USB ports, card reader, and optical drives all work.  What about the 2TB hard drive?  I wanted to find a way to test the disk speeds, so I purchased the Blackmagic Disk Speed Test app from the Mac App Store.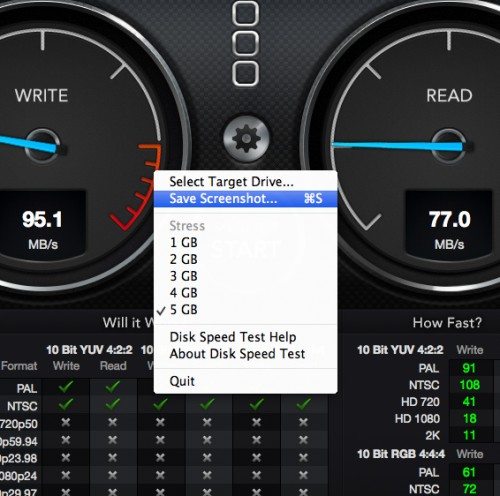 Here is the setup function for the Blackmagic app.  I chose the 5GB stress option, and I first selected one of the internal drives in my mini.  I chose the system drive; it is the standard 500GB 5400RPM drive that came with the computer.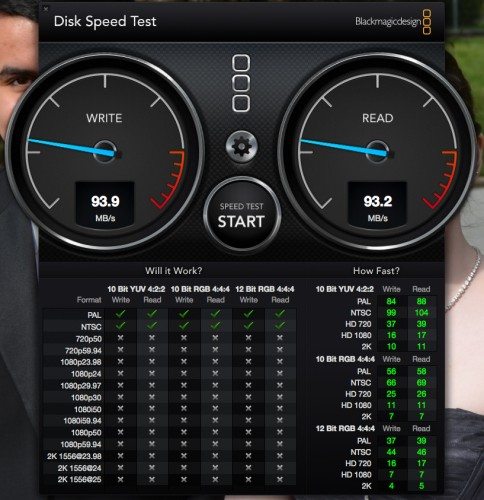 I started the test and let it run for a while as it continually did read and write tests.  Here you see the average speeds for the internal hard drive.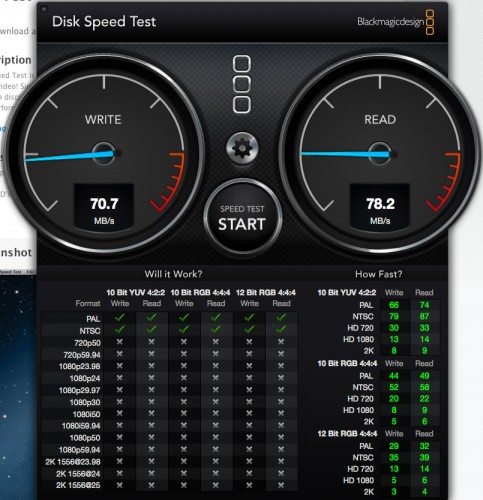 Next I did the 2TB drive in the miniStack MAX.  Remember these are through the Firewire 800 connection, with a maximum speed of 100MB/sec.  It's slower than the internal hard drive, but not bad.
Hard drive tests with the MacBook Air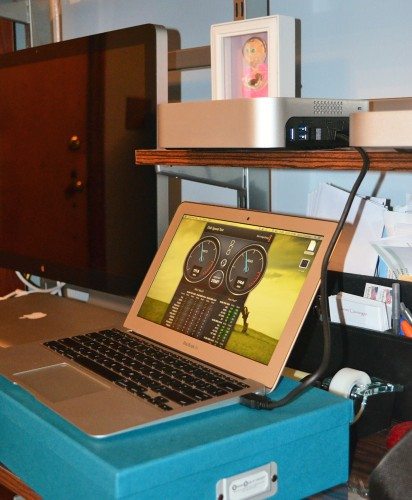 I then ejected the miniStack MAX from the Mac mini and hooked it up to the MacBook Air.  The Air has USB 3.0 ports, so I could use only the USB connector for everything – hard disk access, as well as USB hub, SD card reader, and optical drive access.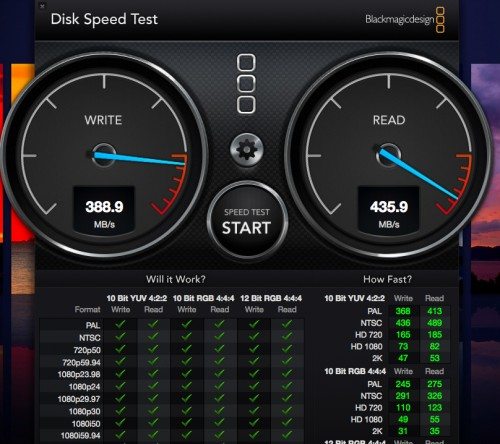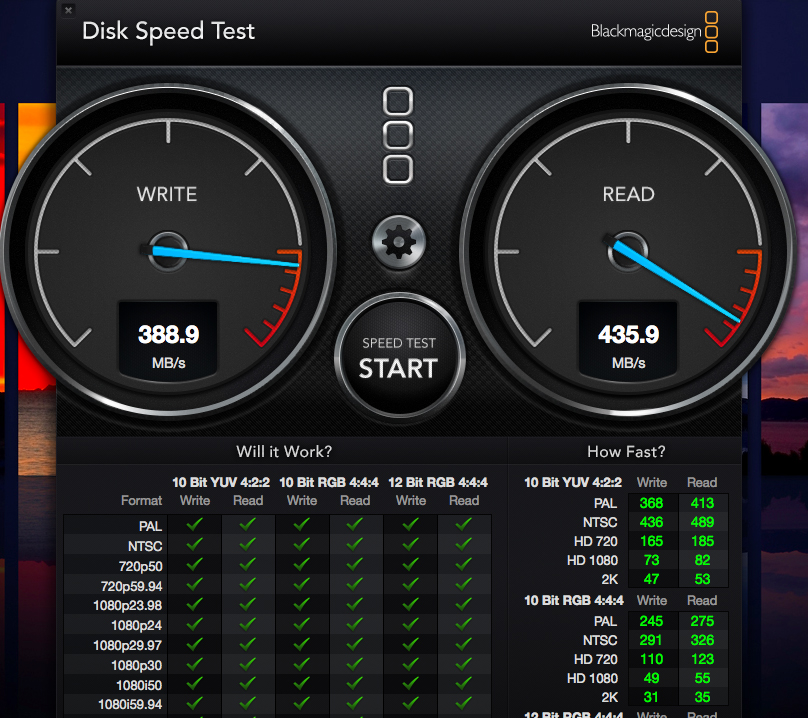 I started out testing the internal drive in the Air.  Remember, this is an SSD, and its speeds show how much faster it is than the hard drive in the Mac mini.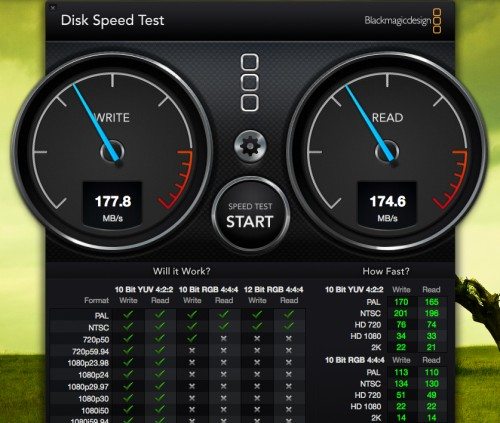 Then I tested the miniStack MAX through the USB 3.0 connection.  Although it's about half the speeds of the Air's SSD, it's about 2-2.5 times faster than the Firewire 800 connection on the Mac mini!  And, it's much faster than even the internal hard drive in the Mac mini.  (Maximum speed through USB 3.0 is 300MB/sec.)
Use as a backup disk
As I mentioned earlier, I intend to use the miniStack MAX with my Mac mini.  I want to use it primarily as a secondary backup for the data on the mini.  The mini is the location for all our personal documents and data, all our music and eBook files, and most importantly, all our pictures since we converted exclusively to a DSLR 10 years or so ago.  That data is very dear to me, and I do back it up daily on our Apple Time Capsule.  However, that Time Capsule is also the router for our home network, so I can't just pop it in my bag and take it along for every trip.  The miniStack MAX will be much easier to quickly unplug and take with me when we're on a trip, so I'll have a copy of my backup with me.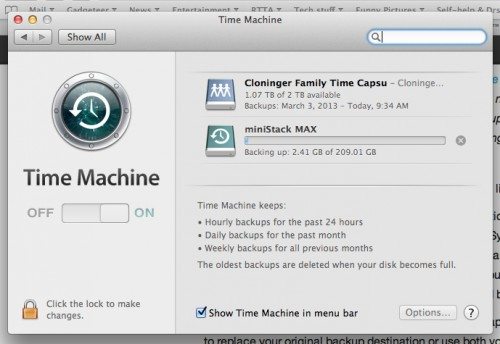 I set up my Time Machine software to do backups to both my Time Capsule and my miniStack MAX disk.  The software will alternate backups between the two disks; I have it set up to do daily backups, so a backup will get written to a disk every other day.  If I've just added a bunch of files, I can always force a backup to either or both of the disks.  The mini is connected wirelessly to the Time Capsule, and file writing is pretty slow.  When I did the first backup, I actually cabled up the mini to the Capsule with an Ethernet cable, and it still took about 5-6 hours to back up.  Because the miniStack MAX is already cabled up to the mini, I expected that the first full backup might take about the same time as that first backup to the Time Capsule through the Ethernet cable.  I was wrong.  Even using the Firewire connector, it took only about an hour to back up all 209GB of files on my mini.  Now that only incremental backups are being made, the backup procedure takes longer for the Time Machine software to set it up than for the actual writing of the files.
I'm thinking of starting over and partitioning the hard drive in the miniStack MAX.  That way, I'll have an extra storage disk and a backup disk in one device.  Even if I decide not to partition it, it's well worth having for just the backup function alone.
The miniStack MAX monitors the state of your computer, and it spins down when the computer is asleep.  The status light goes off the instant I put the mini to sleep.  More importantly, the status light comes on immediately when the computer wakes, so the miniStack MAX is instantly available.
Final impressions
The Newer Technology miniStack MAX disk does everything I hoped for.  It gives me an extra USB port (3.0, but can drop back to the slower USB 2.0 used by the mini), an easily accessible SD card reader, and an optical drive that adds the ability to read Blu-rays to the optical functions of the Apple SuperDrive it replaced.  Having an extra USB charger that doesn't start up iTunes every time I plug in an iPhone or iPad is wonderful, too.  Hard drive access is fast through the Firewire 800 connection, and even faster when you can use USB 3.0.  I like having a secondary complete backup that's always current, so I no longer have to rely on my husband remembering to bring our off-site backup disk home from his office so we can update it.  When I'm leaving for a while, I only have to unplug the miniStack MAX and bring it along so I'll be covered in case something unfortunate happens at home while I'm gone.
The miniStack MAX is a very versatile product.  You can get it as an empty enclosure and add your own drives for a custom setup, or you can get it preloaded with the optical drive and hard drive that best suits your needs.  Other World Computing has just about every combination you can think of, so you're sure to find what you need.  The unit I received was $330; it seems like a fair price to me when you consider I'm getting an optical drive with Blu-ray reader, USB hub and a USB charger, an SD card reader, and a 2TB backup drive.  I'm very happy with the miniStack MAX.  Don't tell my family, but it may be my favorite Mother's Day gift…
UPDATE (Jan 2015):  I'm still using the miniStack MAX.  It functions as a daily backup disk for my family's computers, and it serves as the only CD/DVD reader I have for my Mac mini and the MacBook Airs we all use.  It's a workhouse, and it's never given me any trouble.
Product Information
Price:
$329.99, as equipped
Manufacturer:
Newer Technology
Retailer:
Other World Computing
Requirements:

Mac running Mac OS 8.6 or later or Windows 98SE or later; both systems have further requirements for disks greater than 2TB

Pros:

Very versatile - connect via USB, Firewire, or eSATA connections
Comes with Firewire and USB cables
Adds a power-only device charger that can even charge an iPad
Adds an extra USB port to the computer
Plays CDs and DVDs using the Mac's native players; requires you to install a Blu-ray player for watching movies, but can read Blu-ray disks without the additional player
Serves as an extra data disk or as a backup disk
Wakes/sleeps with your computer to save energy
Quiet operation

Cons:

I couldn't get the included software authorized - although this is no fault of the disk itself.