We use affiliate links. If you buy something through the links on this page, we may earn a commission at no cost to you. Learn more.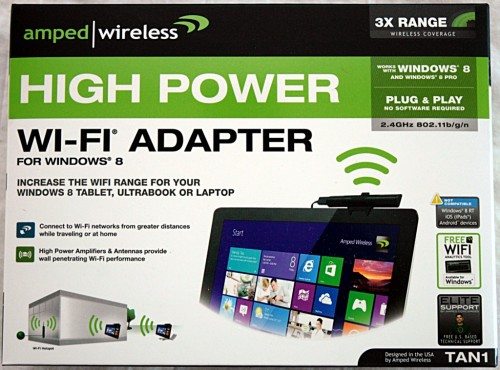 The TAN1 High Power Wi-Fi Adapter for Windows 8 from Amped Wireless is a USB 2.0 2.4GHz 802.11n Wi-Fi adapter that uses high-power transmission amplifiers and high-gain antennas to boost wireless range of Windows 8 devices. I tested it out on my aging Acer Netbook to see how it stacked up against typical low-end, built-in WiFi hardware (as well as a previously reviewed USB dongle-based unit) for range.
In The Box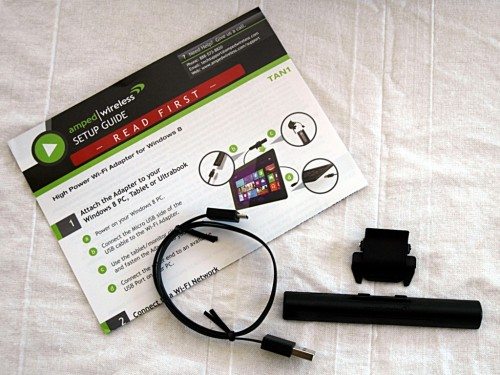 The TAN1 is a small half-tube shaped device that ships with a clip and a 3′ or so flat USB cable. You also get a glossy setup guide. It does not ship with nor use special drivers – it works only with Windows 8 and is directly supported by the drivers that ship with Windows 8. It won't work with Windows RT/Android/iOS/OSX – just Windows 8.

The front of the TAN1 is unadorned. The device itself is 4.5″ long, less than half an inch tall, and a hair more than half an inch deep. It weighs almost nothing – think "a pair of quarters" and you've got a good idea of the weight.

The back of the TAN1 has an LED (on the far right) showing link/activity.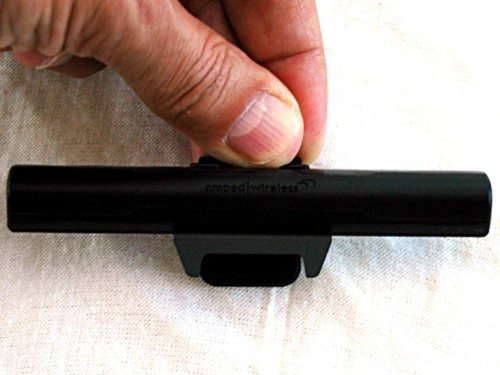 The clip snaps onto the TAN1 and allows you to securely clip it to your laptop/tablet. The clip isn't lined with anything, but doesn't seem to mar the surfaces I clipped it to. It does extend about a half-inch onto the front of whatever you clip it to. There is a notch in the front, which helps to prevent blocking  your front facing camera when it's clipped on.
Setup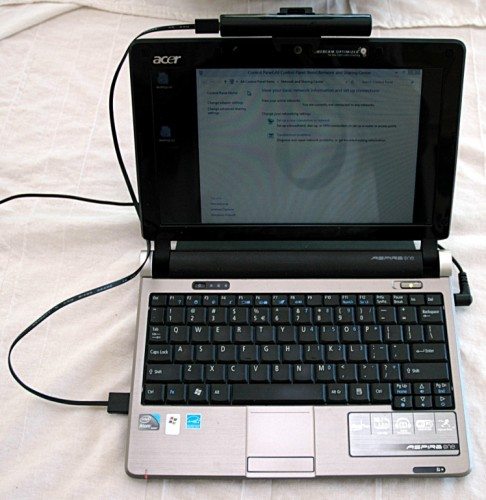 Set up is simple – snap the TAN1 into the clip, snap the clip to some edge of your device, and plug in the USB cable. Windows will detect the TAN1 and enable it.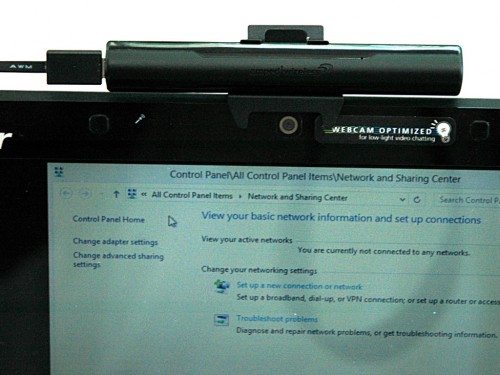 You can see above the clip cutout allows the front facing camera to function unobscured. Also note if this were a tablet you'd have the clip covering some of the front of the device. Most (all?) Windows 8 tablets have some bevel areas that are not touch sensitive so this should not be an issue, but the device may be slightly in the way when performing "swipe in" actions on a touch screen.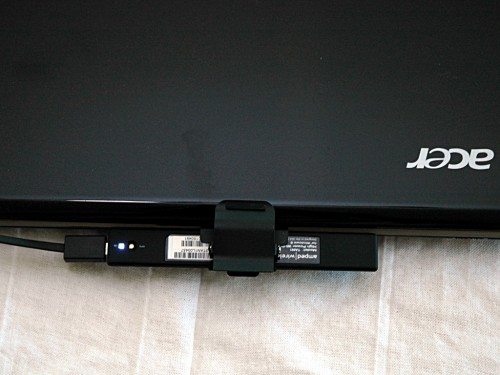 Back view – you can see that the clip doesn't really get in the way even when closed. You can also see the LED lit up in this shot.
Range/Performance
Let's Try Science
The premise of the TAN1 is that you'll get better range. Several times better range. This claim is based on using large amplifiers and higher-sensitivity antennas. I'm not an RF engineer, but I do know that Wi-Fi uses two way radios, and that your range is dependent on the base station transmitter power as well as your own transmit power. Then there's the issues of contention (in the 2.4ghz band there is plenty) and the ability to penetrate walls.
The limit for transmit power (from our friends at the FCC, who would prefer we didn't bake nearby brains) is 1 watt in the unlicensed 2.4ghz band. Typical 802.11, 2.4GHz access points or devices will max out at 1/10th of that, or 100mW. The output power interacts with the antenna number, size, etc, to give you a power ratio in decibels (dBm) on the transmit side (higher is stronger.) On the receiving end, you're talking about sensitivity, and this number is expressed as a -dBm. A 3 dBm increase is roughly a doubling of power.
Put all together and you see the problem with getting "more range" – you're going to need to transmit at higher power (in dBm) and you're going to need to be more sensitive to receiving the signal from a transmitter that's not going to be transmitting at more power than before.
Range Test Vs Internal
The internal WiFi on the Acer uses a low end, fairly average Atheros b/g chipset and two antennas (only 1 used at a time), so that's about as poor as you'll see. In my home I have three access points named, cleverly enough, "no access" "no access N" and "no access N5". The neighbors have several as well. On the native WiFi I see the following: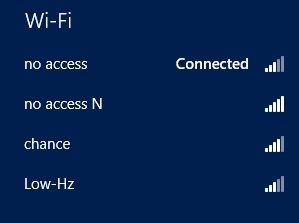 The distance to "no access" is 60′, plus three walls, two of them exterior. "No access" is an 802.11b/g network.
After plugging in the TAN1, and verifying it worked, then rebooting for good measure and turning off the internal WiFi, from the same spot I can see the following: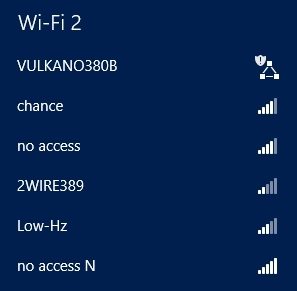 This is interesting, The TAN1 picked up the Vulkano Flo in infrastructure mode that is 70′ away, and the 2WIRE389 from my neighbor that is ~300 feet/three houses away. We've also picked up one bar on the link to "no access". Clearly it has improved range somewhat.
Speed
The TAN1 isn't claiming to be a faster WiFi adapter, although in general your speed should improve if you have a better link. I checked the Connection Properties, and compared them to the Intellinet 802.11n USB dongle from a previous review. That dongle uses dual antennas for send/receive, and is also fairly high powered. The TAN1 didn't fare so well there – the range of the two devices was essentially identical, and the link speed of the TAN1 was lower due to its antenna configuration.
TAN1: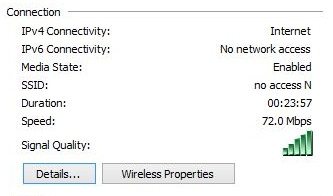 Intellinet: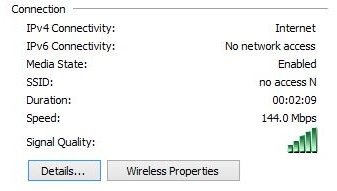 However, the throughput measured via iperf showed that the connection speed was in the mid 50mbit range downloading, and the mid 40mbit range uploading. These are quite reasonable numbers for 2.4ghz 802.11n – a hair faster than the native Acer WiFi, but nowhere near as fast as the speeds delivered from the Intellinet 300N.
Final Impressions
I'm not entirely convinced that the TAN1 is dramatically better than using a high-powered USB dongle-based WiFi adapter. It also might not be much help if your tablet or ultrabook has decent built-in WiFi – and these days many devices do. The form factor of the TAN1 (clipping onto an edge of the device) is nice, but you end up with a loop of cable to deal with, and it does cover an edge of a tablet or screen which can be an issue on touch devices. Given it is Windows 8 only, you'll likely be using it on a modern device with the latest WiFi chipsets, decent antennas, and a touch screen – and in that setting it's unclear if the tradeoffs of the TAN1 are worth any slight potential gain in range.

Product Information
Price:
$59.99
Manufacturer:
Amped Wireless
Requirements:

Windows 8 (not RT) and USB 2.0

Pros:
Cons:

2.4ghz only
No drivers
No support for any OS other than Windows 8