We use affiliate links. If you buy something through the links on this page, we may earn a commission at no cost to you. Learn more.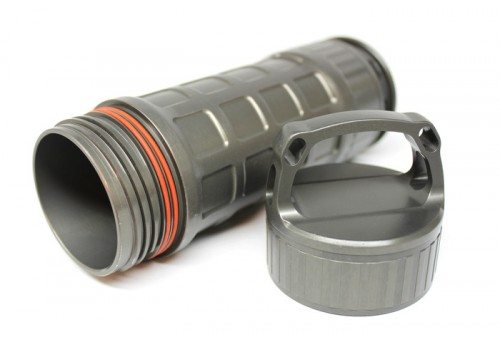 Hiking, fishing, white water rafting, geocaching – these are all things I do not do on a regular basis. I do travel a bit though, and when I do I am always looking for neat, multi-purpose, rugged, functional products to take with me on my adventures. The Ti2 Sentinel X Aluminum Cache, a Kickstarter project by Mike Bond is made to handle all the adventure I can handle and more. The Ti2 Sentinel X Aluminum Cache is made of 6061-T6 aluminum, has an internal diameter of 2 inches, an external diameter of 2.5 inches, is 6 inches long internally and 8 inches long overall. The weight of the cache is 14.110 ounces (400 grams).  It will hold 18+ cubic inches of gear or 11 fluid ounces. Both ends of the cache are threaded and removable for easy access and have double food-grade O rings for a water tight seal. The Ti2 Sentinel X Aluminum Cache can also be used over an open flame to boil and sterilize water. The wheels in my head (do I smell smoke?) are spinning, just thinking of what I could store in this thing.
The Ti2 Sentinel X comes with two versions of Type 3, hard anodized coating. The X1 has a Type 3, Class 1, food-grade anodization. The X2 has a Type 3, Class 2, non-food-grade anodization. Pledges for this project start a $1 and run up to $110 with a $90 pledge getting you a Ti2 X1 version of the cache. This project is seeking funding until July 6, 2013, with first deliveries expected in September 2013.