We use affiliate links. If you buy something through the links on this page, we may earn a commission at no cost to you. Learn more.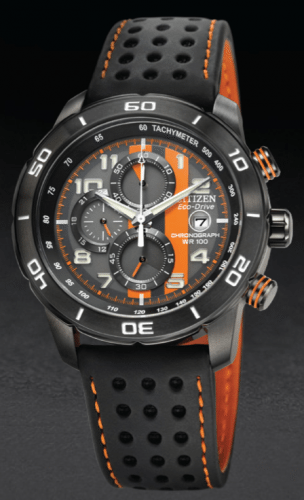 With only one week left until Father's Day, I'm sure a lot of you are still scrambling to try to find the perfect gift for your dear old Dad. How about a very snazzy watch? Citizen sent me one of their latest Eco-Drive watches – the CA0467-11H Eco-Drive Primo Chronograph Watch to be exact to try out. With a racing inspired design, this is a cool watch that will keep time and turn heads. Let's take a closer look.
Note: Images can be clicked to view a larger size.
I wanted to start off with a little Gadgeteer trivia… Fourteen years ago, back in 1999, we posted a review of then brand new Citizen Eco-Drive watch. That review continues to make our yearly top 25 most read reviews even after all these years. That goes to show that Citizen Watch Company and Eco-Drive watches are just as popular as ever.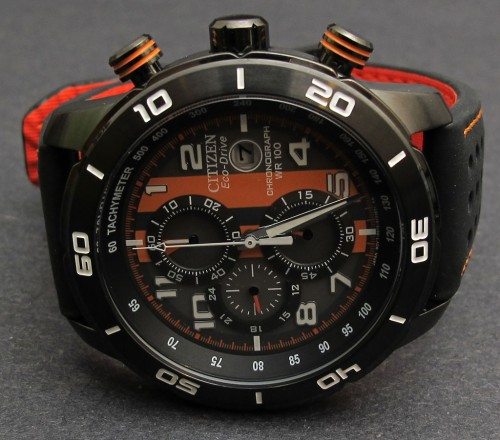 It's easy to see why these watches are so popular. The new Primo watch has a sporty style that features a chunky stainless steel grey ion-plated case and a clear mineral crystal. It has a 1/5 second chronograph measuring up to 60 minutes, tachymeter, rotating 360 degree bezel and is water resistant to 100 meters.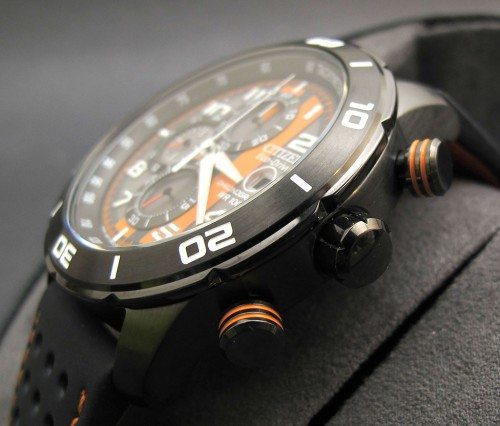 And of course it offers the ultra-convenient (and eco-friendly) charging design which is powered by light – any light. It never requires a battery change and will charge in the sun, in the house, anywhere where there's ambient light. When fully charged, it will run for up to 6 months. Light is absorbed through the crystal and the dial where the solar cell converts the light to energy.
Although the watch doesn't have an easy to see charging status indicator, when the reserve power becomes too low, the 2nd hand will start moving in 2 second increments instead of 1 second increments. This is an alert to let you know it's time to expose the Primo to direct light. Placing the watch in a window sill on a sunny day for 5-6 hours will fully charge it.

The soft-touch strap is made of black polyurethane coated leather with a black metal buckle. Orange stitches pair with the orange watch face details.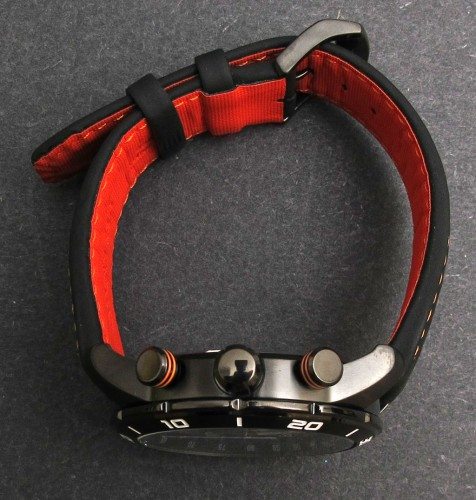 The strap is backed with orange nylon for added good looks and comfort.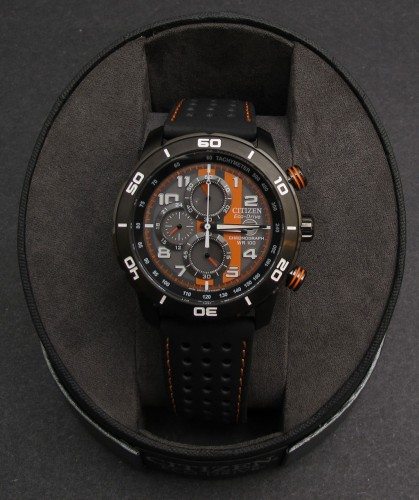 It is very easy to set the time and date on the Citizen CA0467-11H Eco-Drive Primo Chronograph Watch by using the crown which pulls out to 2 positions.
There are 3 dials on the face of the watch. The top most dial is the minute hand for the chronograph / stopwatch feature. The dial below that one is the 24hr hand and the bottom most dial is the second hand.
The stopwatch feature is very smooth and easy to use. Just press the top button to start the chronograph and press again to stop it. Pressing again will restart and pressing the bottom button will cause the chronograph 2nd hand to sweep back to the 12 o'clock position and the chronograph minute hand to sweep back to the 0 min position in one smooth sweep. The chronograph can measure up to 60 minutes. The watch will continue to keep time while it's also being used as a stopwatch.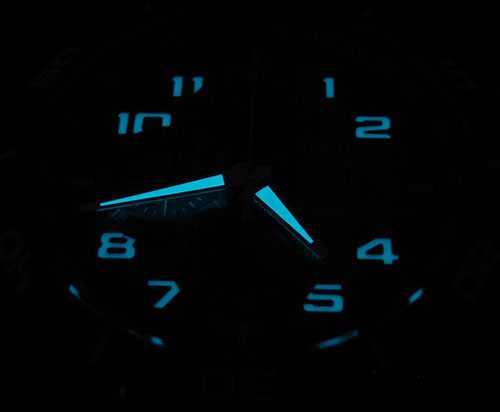 It's easy to see the time in the dark and the watch is completely silent. I couldn't hear any ticking when held up to my ear.
I tried wearing this watch for a couple of days and found that it was a bit too much for my little wrist. It's chunky and heavy… but that's also what makes it look and feel like a quality time piece. During my short time trying it, I could easily view the time with a quick glance. There's a lot going on on the face of the watch, but the numbers and minute/hour hands are clearly visible.
In this age of the smartphone and the smartwatch, wrist watches like the Citizen CA0467-11H Eco-Drive Primo Chronograph Watch are still very popular and make a great gift for anyone that wants to look great while being on time.
This watch is also available in blue, green and yellow. The MSRP is $395, but you can save about $100 through Amazon.