We use affiliate links. If you buy something through the links on this page, we may earn a commission at no cost to you. Learn more.
Citizen has now gone high-tech with a new line of solar powered wristwatches. These new Eco-Drive watches will never need to have the battery replaced. And they come in a wide variety of styles for both men and women.
My brother first introduced me to these cool watches, and after researching them, I just had to have one! I chose the Solar-Tech 180 TITANIUM, (model AP0410-58H). It happens to be a divers watch, and is water-resistant to 200 meters. This quartz watch has a one-way rotating elapsed-time bezel, a screw-down crown, and date. (Although the only time that I have taken a dive is in a hockey game, I wanted a water-resistant watch.)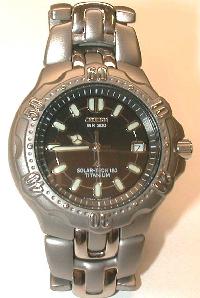 The main selling feature of these watches is the solar construction. It's best described by this diagram that I downloaded from the Citizen web site. (See below)
Sunlight and any artificial light are absorbed through the
crystal and dial. CITIZEN uses special filters which allow a wide range of dial colors and
styles.A solar cell beneath the dial converts any form of light into electrical energy to
power the watch. With regular exposure to light, ECO-Drive continuously recharges itself.

ECO-Drive's revolutionary lithium-ion rechargeable battery stores enough energy to
power the watch up to sixteen months (depending on model)
Ok, so much for the canned science lesson, now let's review the features. The lithium-ion battery will probably run this watch forever. My watch, a Solar-Tech 180 is designed to run on a full charge for 180 days, (or 6 months). It takes 3.5 hours to charge fully, in sunlight; and 1 minute to charge for one day's worth of power.
Although I'm not fond of bracelet watches, this watch, being mostly titanium is extremely lightweight and very durable. The finish on the band is very comfortable. I also like the safety clasp they selected.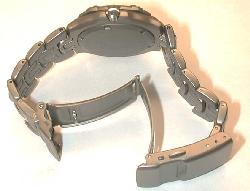 There is a fluorescent coating on the dial face for the tick marks and the hands. The marks are easy to see in the dark as well as in daylight. There are 27 different men's styles and 9 different women's styles. Out of those styles, there are 9 men's/women's matched sets.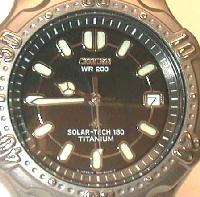 I'm a bit surprised that it has taken this long for someone to develop a solar watch. I guess that the Lithium-ion battery has made it possible for them to run longer, and recharge to full capacity better. The older technology rechargeable batteries, (ni-cad), had kind of a "memory", they needed to be almost fully drained to recharge fully. These lithium-ion batteries recharge better when not fully drained.
If you like gadgets and also like watches, you have to check out the ECO-Drive watches from Citizen. As for where to purchase it, you can check web sites like www.wristwatch.com for price comparisons, but be sure to go to a reputable watch dealer. You will need to have the band professionally adjusted, most people will not have the tools to do it themselves.
Price: $395 (retail)
Pros:
Never needs a battery replaced.
Titanium case and band is extremely lightweight.
Resists water to 200 meters.
Cons:
Need to have the band professionally adjusted.

Product Information
Price:
$395.00
Manufacturer:
Citizen
Pros:

Never needs a battery replaced.
Titanium case and band is extremely lightweight.
Resists water to 200 meters.

Cons:

Need to have the band professionally adjusted.