We use affiliate links. If you buy something through the links on this page, we may earn a commission at no cost to you. Learn more.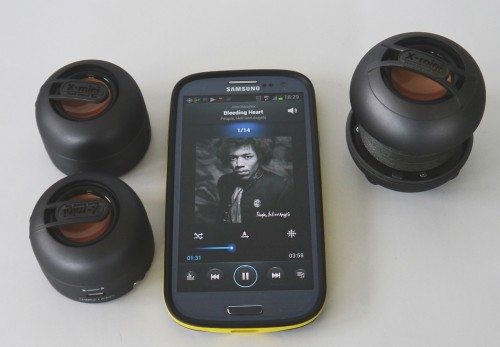 If you read my article of Life as a Gadgeteer reviewer, you'll know that review gadgets that get used frequently after reviewing are far and few between. It's no secret that I loved the X-Mini Capsule II, KAI, and Max II (see related posts), and in fact these still get heaps of use and have gone way beyond review.  The kids love the portability of being able to take them to the beach, camping, and various other activities, plug in their phones or MP3 players and have music to share with their friends. I use them  to replace the often anemic sound on my phone, tablet, and notebook for music and movies around the house or even on the dashboard of the car to catch up with my TV shows while waiting for the kids.  X-Mini is a very copied speaker and one of the company's ways of dealing with counterfeits is to keep developing and releasing new products to stay ahead of the pirates.  X-Mini was good enough to send me review units of their new UNO and Max. They promise "sound beyond size"; let's see.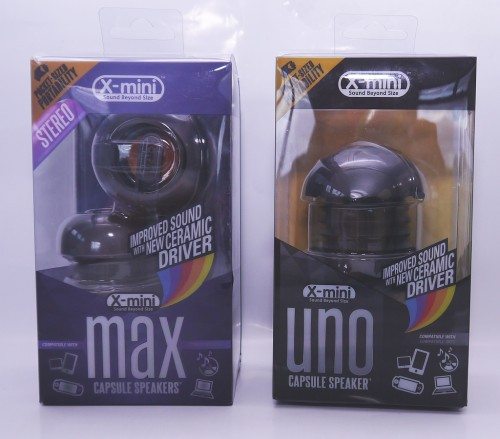 Packaging: 
Both models come in a nice clear plastic box. The box is easy to open and all the accessories are contained in the bottom of the box.
The UNO: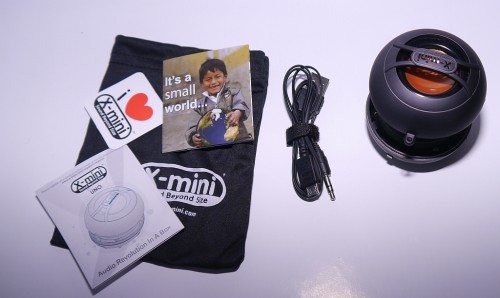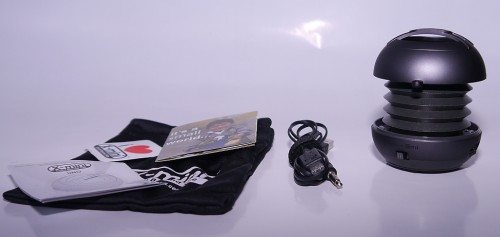 Like it's predecessor, you get everything you need to get started. There's a nice soft carry case, a charge/extension cable, and the capsule itself.  Other extras include the small instruction manual, an X-Mini sticker, and the charity appeal flyer.
Comparison with the X-Mini II Capsule:
There's four major differences between the UNO and the II Capsule: the new 40mm Ceramic Cone, a weighted base to stop the UNO skipping around the table as much (4.2 ounces), the use of microUSB instead of mini for charging (much more useful, as I can carry one less cable), and it's now rated at 20 hours compared with 12 hours. Closed, the UNO is 2.4″ x 1.9″  and the unit puts out 2.5W. You can see that the UNO is slightly larger when opened, I suspect for better bass response. The use of the ceramic tweeter allows for a much better frequency range, both high and low frequencies.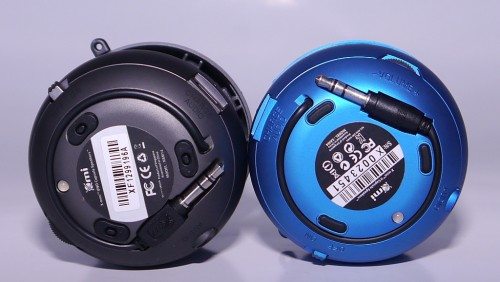 The UNO has a short built-in audio cable for plugging into your device. If you need to extend the distance, you can use the charge/extension cable. You can still 'Buddy Jack' or daisy-chain  the UNO to other X-Mini speakers to give you a fuller sound. The UNO is heavier and feels much better made than the II Capsule, and its finish isn't so plasticy.  It's available in 6 colours: blue, green, orange, purple, red, and the gunmetal I received.
The MAX: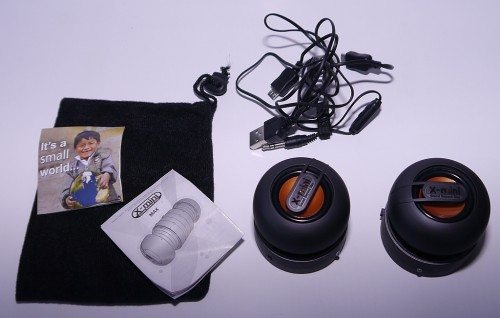 If you're after stereo sound, the MAX is the way to go. Again, you get the standard kit with the MAX: a nice soft pouch and connecting cables, as well as an instruction manual and charity appeal flyer. MAX speakers use 36mm ceramic cones and are rated at 18 hours playback.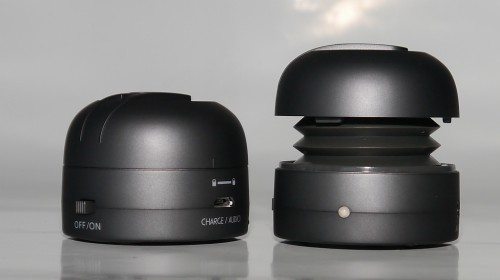 The MAX is available in gunmetal, blue, green, orange, purple, and red. Twist and open to reveal the bass frequency chamber. On the opened speaker, you can see the indicator LED that shows you how much power you've got left.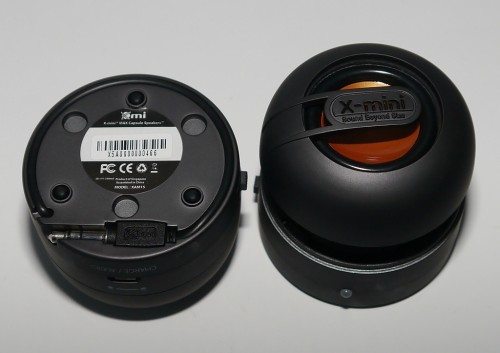 Something new compared to its predecessor the MAX II. (I'm not sure why the older version is MAX II and the newer version is just MAX :))  is that each of the speakers now has its own built-in audio cable.  This is really useful if you just want to plug a single speaker in, though it is worth noting that you can only control your volume from your device if you connect this way. You can of course 'Buddy Jack' the two speakers together by plugging one into the other, but of course doing this gives you mono sound .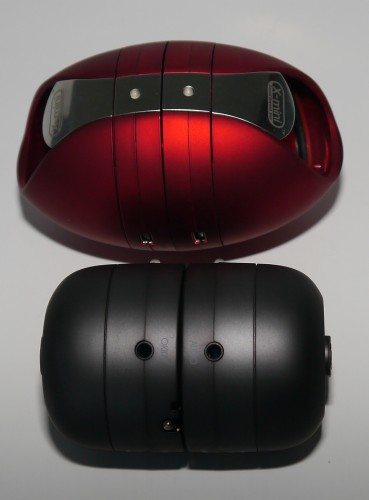 Like the MAX IIs , the MAX clip together magnetically when not being used for convenience. Note that the MAXs are much smaller (and hence more portable) than the MAX IIs at 5.6 oz and 2.1″ x 3.2″ when closed and stuck together.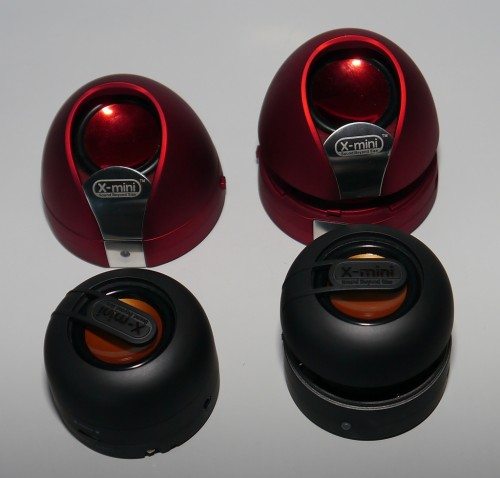 The MAXs look much more like traditional X-Mini speakers, with flat tops and X-mini covers.  One thing that always worried me about the MAX II was the exposed tweeters.  The new MAXs are one step better, but still not the most protected. The cable that connects up your MAX are long enough to get good stereo separation, and they have an in-line analogue volume slider on them.  Once again though, it is a very proprietary cable, and if you do break it you'll have to go to X-Mini for a replacement. The good thing is that with the built-in audio cables now, you'll still be able to use your MAXs while waiting for the replacement cable to arrive. 🙂
Sound:
Once again, no matter how good a speaker looks, it's the sound that counts. Playing a wide variety of music and spoken word once again, I wasn't disappointed with the new X-Mini range. The ceramic tweeters seemed to create a much more natural sound to me. By my untrained ear, I'd say that both highs and lows are much better, and tones just seemed to be more 'earthy' than their predecessors. Distortions, cracks and pops are much less noticeable than with their previous models at the same (high) volumes.
Conclusion:
I really love the update to the X-Mini range.  The new speakers feel and look much more professional, polished, and finished. Sound-wise, I really do think the new design with the ceramic tweeter has improved quite dramatically.  Okay, once again you're not going to get the sort of sound an audiophile wants, but that's not the market these units are aimed at.  These are made for portable, on-the-go sound, and for this purpose they certainly hit the mark.
My older versions of the X-Mini speakers have now been permanently given to the kids, and they use them all the time, and the MAX (with its smaller size) is now part of my EDC kit.
If  you're looking for a new portable speaker, or perhaps an upgrade from your old X-Mini range, I'd highly recommend these.
Updates 04/21/16
There's now a plethora of mini speakers out there and my original X-Mini review back in 2013 made the top 25 for that year and these units were really just updated versions of the old model; primarily smaller and better built. The older units have been passed on to the kids and I've actually purchased the newer WE and ME thumbsize speakers for when I'm travelling overseas and need to go just that little bit smaller. Still "Sound beyond size" ? Yep.
Source: The sample for this review was provided by X-Mini. Please visit their site for more info and Amazon to check prices and order.

Product Information
Price:
UNO $49.90SGD ($39.90); MAX $79.90 SGD ($59.90)
Manufacturer:
X-Mini
Retailer:
http://amzn.to/1SxLJbP
Requirements:

MP3 device with 3.5 cm audio jack

Pros:

'Large sound' for such a small size
Highly portable
Improves the sound of your MP3, phone, tablet, or notebook

Cons:

Cone still exposed
UNO is heavier than its predecessor