We use affiliate links. If you buy something through the links on this page, we may earn a commission at no cost to you. Learn more.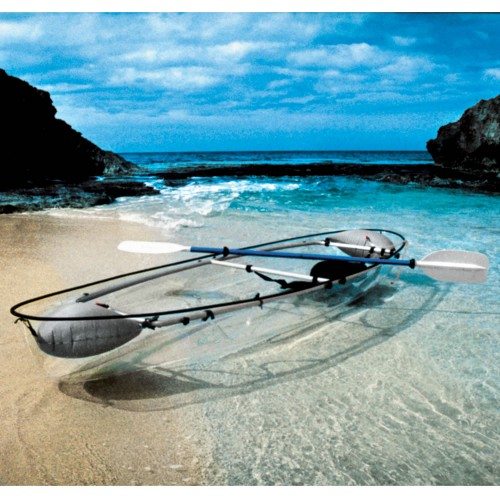 Imagine gliding across the water, peering down into the crystal-clear depths directly below you without anything in your way.  Instead of having to crowd on a glass-bottomed boat, pushing and shoving other people for a better view, what if you were able to recreate that magic in your very own canoe?
Oceans aside, I watched two giant 50lb snapping turtles from the safety of the shoreline at my lake this weekend, and that's about as close as I'd ever want to be to them.  But to each their own!  For the adventure seekers there is now a transparent canoe–or rather a Transparent Canoe Kayak.  The craft is made from a transparent polymer and is the same material that is used in the cockpit canopies of supersonic fighter jets.  The occupants are able to sit lower in the boat for better stability and balance, and the maximum combined weight for passengers and their gear is 425lbs.  Hammacher Schlemmer carries the two-person Translucent Canoe Kayak for $1,900; this price also includes adjustable front and back seats, two fixed estuary paddles, a water bailer, two paddle leashes, and two flotation devices.