We use affiliate links. If you buy something through the links on this page, we may earn a commission at no cost to you. Learn more.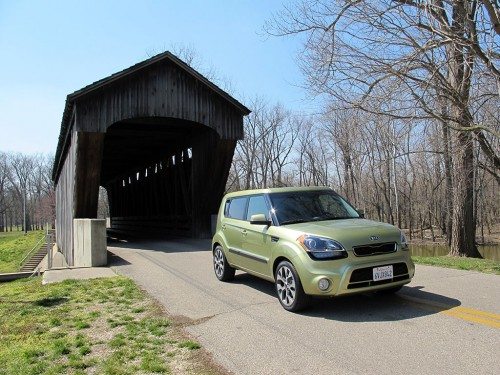 It's been almost a year since my last test drive, so I've really been missing that new car smell. Lucky for me, I was offered an opportunity to do another test drive a couple weeks ago. This time it was for a fully loaded 2013 Kia Soul. It was delivered to me with a full tank of gas, a quick demo of the important features and then the key fob was handed to me and I was on my own to drive it for a week. I've been curious about this vehicle ever since seeing those cute hamster commercials on TV. So let's take it for a spin.
Note: Images can be clicked to view a larger size.
Let me start out with a standard disclaimer letting you know that this will not be a technically detailed vehicle review like you might read in a car magazine or see on a car show. I'll be honest and tell you that I don't know much about engines. I do like to drive cars though, so I know what I like and don't like about them. If you want a lot of info about gas mileage, horsepower, torque and all that, you're going to be disappointed in this article. But if you want to know what it feels like to sit in and drive the 2013 Kia Soul, this article will provide that level of info.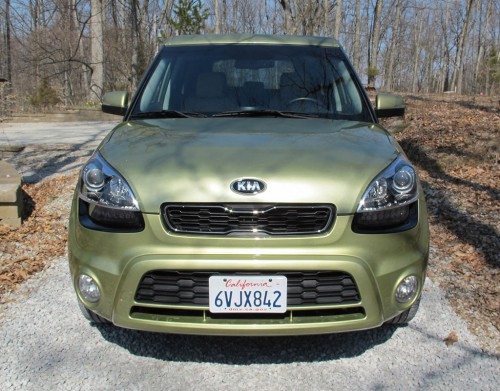 Style, fit and finish
Starting at a price of $14,400, Kia describes the Soul as an urban crossover vehicle otherwise known as a CUV. CUV stands for Crossover Utility Vehicle, which is basically a vehicle that has been built with a chassis and drivetrain similar to a car instead of a truck. CUVs have some of the same features and styling of an SUV (Sport Utility Vehicle), but tend to offer a more comfortable ride and better gas mileage due to their lighter construction and smaller engines.
Although the Kia Soul has been around for a few years, I've only recently started noticing them driving around town. The Soul is a mid-sized boxy shaped car that looks small-ish on the outside, but feels roomy on the inside. There are 3 trim packages with strange names like Soul, Soul+ and Soul!. I was sent the top end Soul!, with a sticker price of $23,575. Available in 8 colors; I was given the Alien version to drive. Yes, that's really the name of the color, which is a metallic green that goes great with the black grill and side moldings.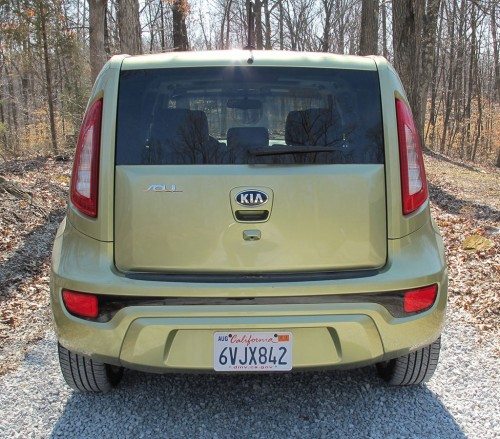 The Soul offers some nice features on the Soul! trim package like large brake lights in the rear and turn signals on the side mirrors.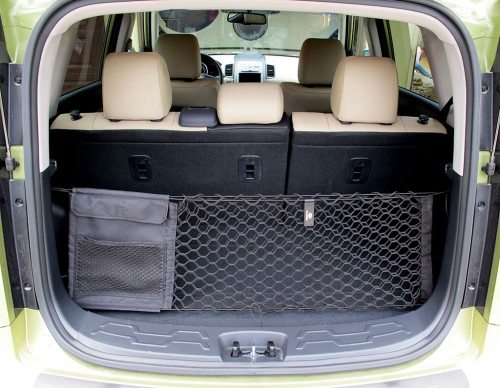 The back hatch opens to reveal a decent sized storage area that can be enlarged further by folding down the back seats. My loaner had an optional stretchy cargo net installed in the back that worked perfectly to keep my grocery bags from sliding around. I need one of them for my Mazda.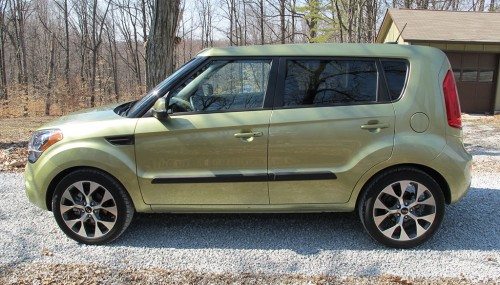 At a time when all but a couple makes / models of cars don't look alike (and boring) to me, the Kia Soul has a design that makes me take a 2nd look. It's slightly boxy, but with enough curves to give it a fresh style that sets it apart from similar CUVs like some of the Scion models.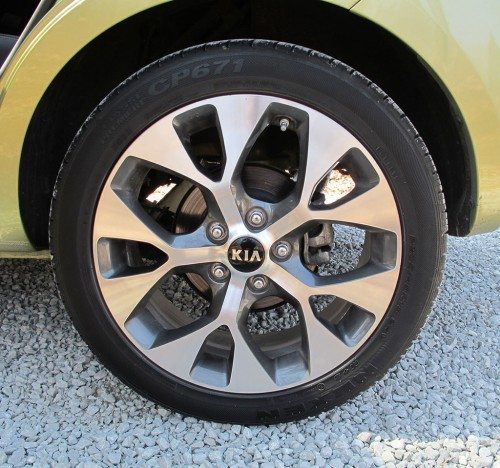 The 18″ tires with alloy wheels look really nice. During my week with this vehicle, I had a couple days of rainy driving mixed in with normal dry days. The Soul performed well on both dry and wet pavements. I had no problems with sliding or spinning tires, which I sometimes notice with the low profile tires on my Mazda.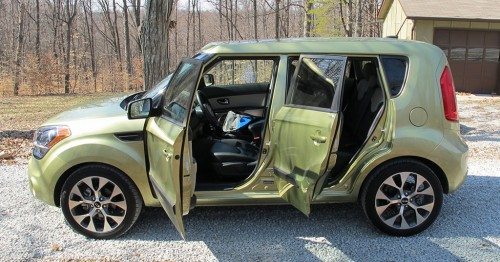 With 4 doors, the Soul can comfortably seat 5 passengers, 2 in the front and 3 in the back. The bench style seat in the back provides room to spread out and offers ample knee clearance – unless you're 6 ft tall or something. 😉
The loaner vehicle provided to me had the premium package which includes leather seats (the front 2 are heated). I find leather seats to feel slightly hard on my tush, so I would probably not pay extra for them if I were buying this car… but that's just me. That said, having heated seats is a real luxury on freezing mornings.

Tech bells and whistles
As mentioned, my Soul! came with the premium package that includes all the tech goodies that a gadgeteer like me would love to have in a vehicle… especially since my 2006 Mazda 3 has almost no tech worth mentioning (sigh).
This car has a push button start with the included Smart Key. That means that you don't have to press a button on your key fob to open your locked doors. With Remote Keyless Entry, as long as the fob is on your person, when you walk up to the car, you can just touch the handle button and it will unlock. The same goes for starting the car. As long as you have the fob with you, you only need to press the brake pedal and then press the start button. You don't have to insert the key in the ignition.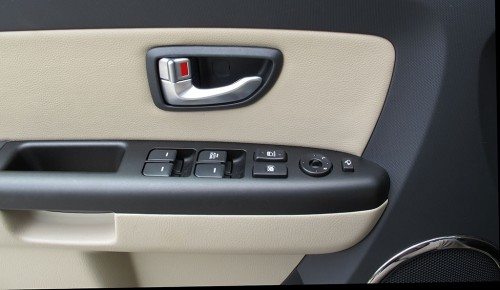 The Soul comes standard with power windows and locks and has all the normal switches built into the door to control them and the adjustable mirrors. The top end model also includes dual powered folding side mirrors, which are handy when trying to maneuver into tight parking spaces.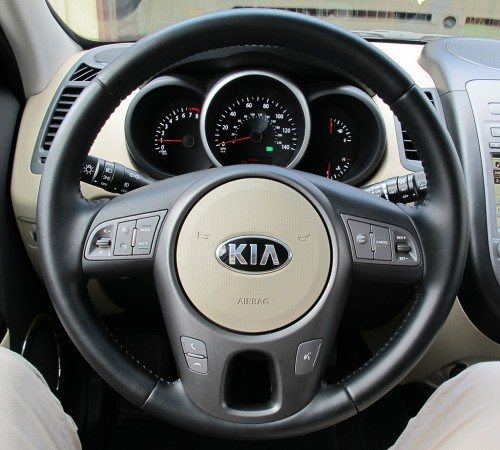 The steering wheel controls and dash instruments are laid out well and easy to operate in daylight and night time. The only dash feature that I had problems with was the odometer, which has red LEDs on a black background. I had problems reading it in daylight, but it was fine at night.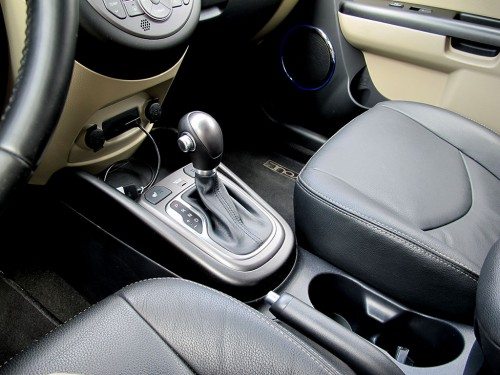 The Soul has 2 large cup holders in the center area between the two front seats. I wasn't sure if they could hold 2 McDonald's large sized cups, but I'm happy to report that they do. It's always important to know your car's beverage storage capacity.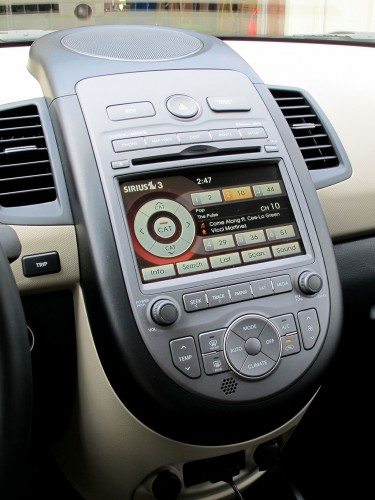 My 2 favorite tech features of the Kia Soul are the auto climate control and the SiriusXM radio with built-in navigation and backup camera. I like that you can set the temperature that you want for the interior and the car will use the heater or AC to give you what you want.
I was able to easily pair my phone via Bluetooth, for great handsfree calling. Controls located right on the steering wheel allow for easy phone interaction. The SiriusXM radio automatically paused and resumed with incoming calls.
I also liked the HD radio features for listening to good old local FM radio. Depending on the station, the artist and song title were displayed on the LCD. If you're not interested in any type of radio, there's was a CD player and an iPod/iPhone connection…. 30pin cable though, not a lightning connector.
Also up front were two 12V power ports, which are always handy.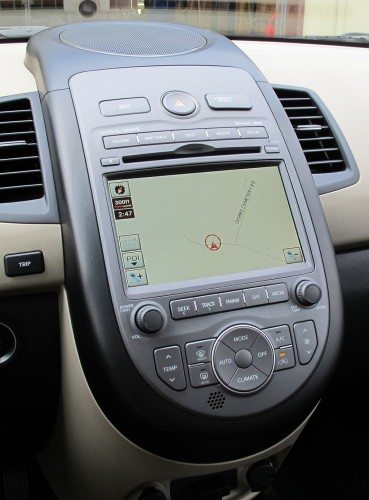 The color touch screen was easy to see in both bright sun and at night.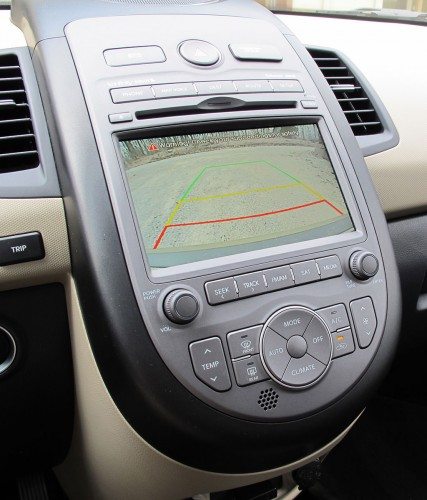 The rear camera automatically displays when you put the car in reverse. I would really love a rear camera for my car. They are so helpful for backing up in tight areas.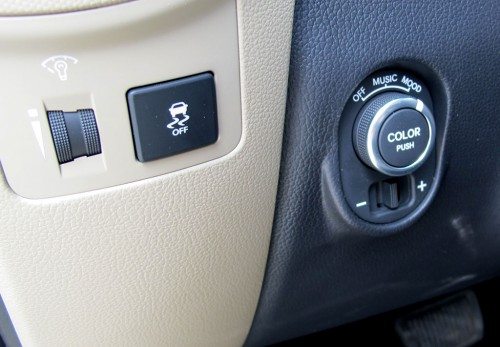 Remember those hamster commercials from TV? Well, you can have your own party in the Kia Soul with its built in color cycling LEDs around the door speakers. You can set the LEDs to cycle fast or slow, or you can have the colors change to the beat of the music playing on the stereo.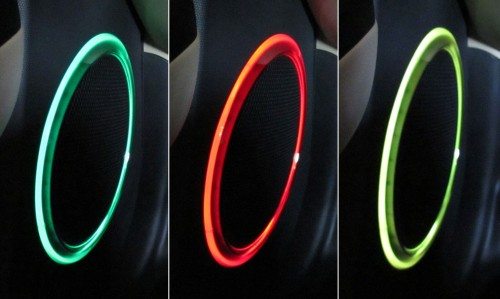 This is a fun feature, but I did find it a little distracting while driving at night, which is probably the only time you'd want to use it since it's not easy to see the colors in broad daylight. I played with it for awhile, but grew bored with it quickly. Younger drivers will like it…
Behind the wheel
First of all, it's comforting to know that the Kia Soul has been an IIHS Top Safety Pick in the past. The Soul features dual front advanced airbags, front seat mounted side airbags and full length side curtain airbags. It also has anti-lock brakes, traction control and vehicle stability management.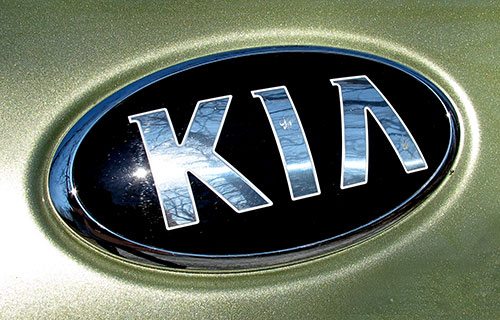 The Soul! loaned to me had a 2.0L 4-cylinder engine with a 6 speed automatic transmission w/ active Eco system. My eyes just glazed over… 😉 More important to me is fuel economy. The Soul has a 25MPG (23 city / 28 highway) rating which is probably slightly less than average for its size. I wasn't able to really test this with only a few days of driving though.
I've been driving a 2006 Mazda 3 5 door for almost 7 years now. It's a very zippy car, so I tend to compare its zoom zoom ability to all the other cars I drive. The Soul looks like it could be a little jack rabbit on the road, but it's not quite that frisky. That said, compared to my better half's larger Kia Sorento SUV, the Soul was very nimble and capable. But compared to my Mazda, it felt a little sluggish on initial acceleration. I really only noticed this when pulling out on the highway and trying to quickly get up to 60MPH. Once up to speed, I had no complaints, and driving it around town at lower speeds was perfectly enjoyable.
The same goes for handling, steering and braking. You know how some new cars feel weird when you drive them, like the car has the control, not you? This wasn't the case with the Kia. It immediately felt familiar and comfortable and safe to drive.
The Soul was fun to drive on the interstate, highway, twisty rural country roads, gravel roads and city streets. If it were just a little zippier, I'd add the Kia Soul to my very short wish list of potential next cars. But as is, I think the Kia Soul is a very nice CUV that offers a good value for your dollar while being safe and fun to drive.
Product Information
Price:
Starts at $14,400 ($23,575 as configured)
Manufacturer:
Kia
Pros:

Roomy interior for a small CUV
Great tech features
Fun to drive
Good value for the price

Cons:

A little laggy on initial acceleration