We use affiliate links. If you buy something through the links on this page, we may earn a commission at no cost to you. Learn more.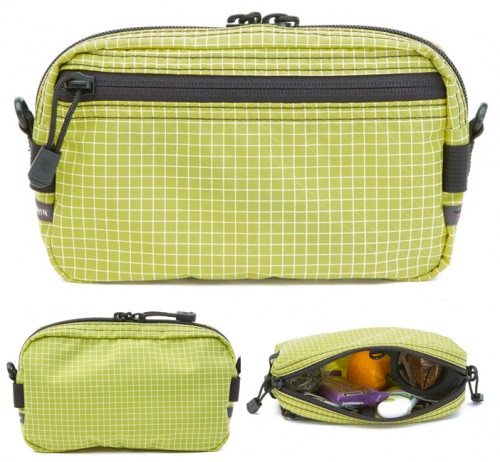 The Side Effect started out as a waist pack, but Tom Bihn decided to change it after reading about all the ways customers were modifying it to meet their needs.  The new Side Effect can now be worn or carried in a variety of ways, but it still has plenty of room to carry your gear.  It measures 8.6″ x 5″ x 2″ and weighs 3.4 ounces in Dyneema (as shown) or  5.2 ounces in Ballistic nylon.  There's a long zipper compartment on one side that's sized to hold your passport (or your family's passports).  It comes with a 5/8″ shoulder strap, but you can purchase an optional waist strap or an optional handle loop for wearing it on your wrist.  You can also use Tom Bihn's key straps to attach the Side Effect inside one of their bigger bags.  Right now, the Side Effect is only available with the Dyneema exterior shown, but Ballistic models will be available in late May.  (By the way, both the Dyneema and Ballastic models are lined with Dyneema.)
The Side Effect with included shoulder strap is $40.  The optional Handle Loop is $3.00 and the Waist Strap is $5.00 more.