We use affiliate links. If you buy something through the links on this page, we may earn a commission at no cost to you. Learn more.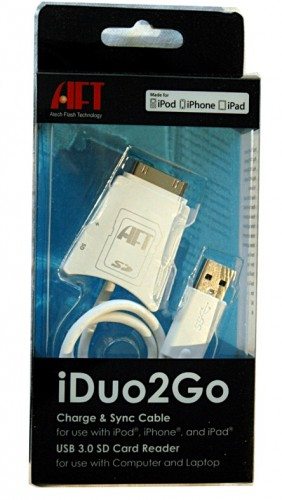 The iDuo2Go Charge and Sync Cable for iPod, iPhone, and iPad with USB 3.0 SD Card Reader from Atech Flash Technology is a surprisingly useful if simple bit of mobile gear. It's a USB 3.0 SD card reader, or an iPhone/iPad 30-pin sync/charge cable. Why bring two things on your next trip when one will do the job?
In The Box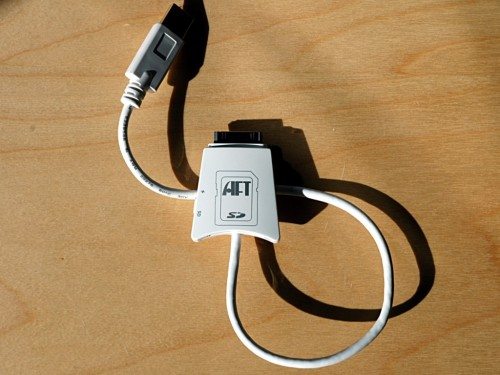 Inside the box is the cable. There is a "manual" on the website, but given the single switch on the side, you'll not really need one. The cable isn't terribly long at about 15 inches.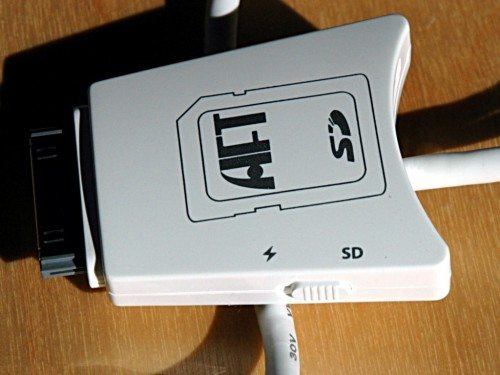 The 30-pin end of the cable is where you'll find the mode selector switch. In the charge position (indicated with a lightning bolt), it's a standard 30-pin iPhone/iPad/iPod sync charge cable. In the SD position, it's a USB 3.0 SD Card reader.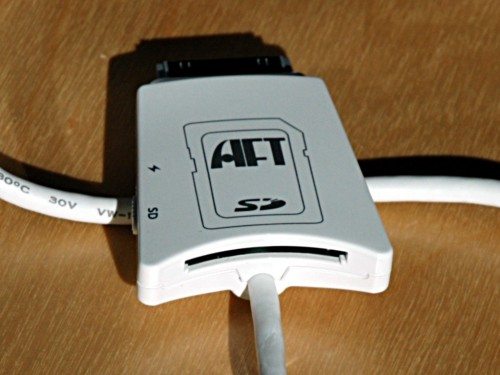 The SD card slot is found on this end of the connector, too.
The Two Modes
This cable doesn't allow you to read SD cards on an iPhone/iPad.  It's strictly an either/or proposition – either a cable for an iOS device or an SD card reader. As such, there's not much to say other than it works fine for both modes. I was able to sync and charge an iPad 2, iPhone 4/4s, and iPod Touch with this cable. As far as the various iDevices were concerned, it wasn't any different from any other 30-pin sync cable. Flipping the switch to the SD side, I was able to mount an SD card on Windows, Mac, and Linux boxes, as expected. The USB 3.0 capability is realized – the reader is detected as a USB 3.0 device when used in a USB 3.0 port. Given that the read/write speed of Class 10 SD cards is 10MB/sec, and  USB 2.0 runs up to 60MB/sec, there isn't much need for USB 3.0's 600+MB/sec speeds – the fastest cards supported (SDXC UHS-1) might push you sightly over that. Fear not, it works fine (as you would expect) when plugged into a USB 2.0 port, and delivers transfer speeds that matched whatever card I was using.
Conclusion
This cable is a handy addition to the road warrior kit, if you need the two capabilities this cable offers. It doesn't enable reading SD Cards on the iPad/iPhone, but it does eliminate the need to haul an SD card reader along with all your other cables on your next road trip.
Product Information
| | |
| --- | --- |
| Price: | $19.99 |
| Manufacturer: | Atech Flash Technology |
| Requirements: | USB 2.0/3.0 port. SD Card (or SD Card adapter.) iDevice with 30 pin port. |
| Pros: | |
| Cons: | |