We use affiliate links. If you buy something through the links on this page, we may earn a commission at no cost to you. Learn more.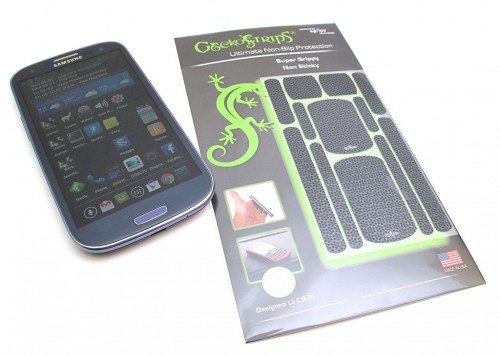 Although I've written a lot of case reviews over the years, I personally prefer NOT to use one on my phone. I just don't care for the added bulk. Unfortunately my current phone, the Samsung Galaxy S3, is so slippery that I was forced to use a snap-on back cover to give it some extra grab action. I've been using the elago Breathe cover for months and although I have no major complaints about it, I decided I was tired of using it and went searching for an even thinner alternative. I think I found it with Egrips Non-Slip Strips.
Note: Images can be clicked to view a larger size.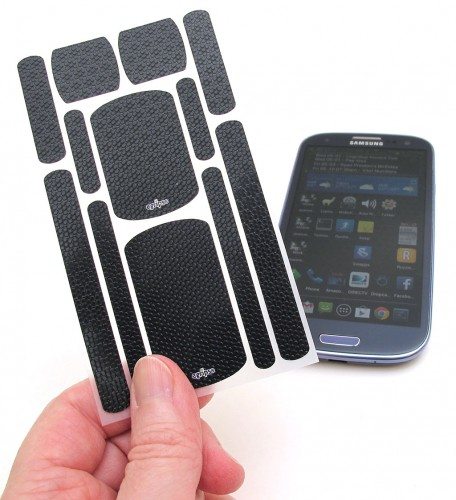 We actually reviewed this same product 10 years ago… That's what gave me the idea, as I had remembered it. I was sure that they couldn't still be around after this long, but I was happy to be wrong when I clicked the website link in that original review and ended up on the Egrips website. I figured it wouldn't hurt to do a really quick new review on the same product, so here goes.
What exactly are Egrips? Here's a quote from the Egrips site, which explains it pretty well…
Made from a specially formulated, patent pending, dimpled silicone elastomer, the material has an extremely high coefficient of friction, which prevents devices from sliding around on dry surfaces, like car seats, center consoles, counter tops, desktops, laptops and even your shirt sleeve.
As an added bonus, they are made here in the USA.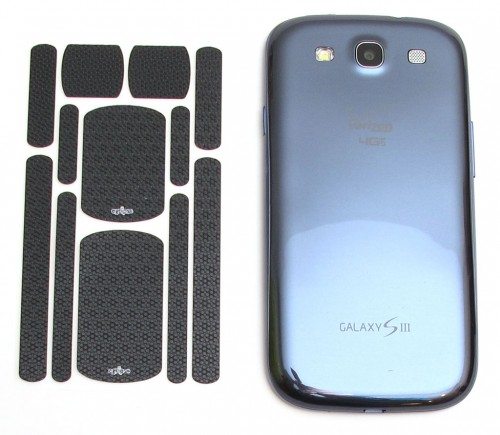 Egrips are available in black, clear, purple, pink sparkle and come pre-cut for different phones, or you can buy universal packs that can be used for any device you like. That's what I ended up doing by purchasing a 12-pc universal pack in black. Priced at $12.95, the cost has increased over the years, but I think this 12 piece pack will serve me for quite a while.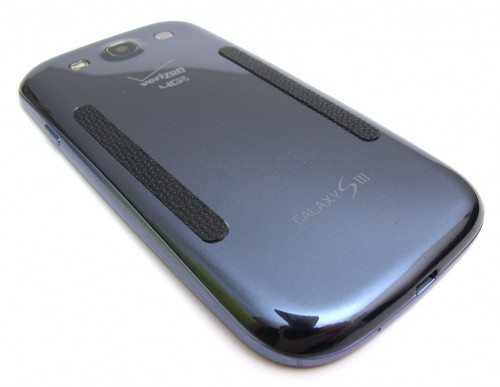 I placed two thin strips on the back cover of my SGS3. The strips are thin, but strong. I had to remove and reapply one of the strips several times before I got it lined up just the way I wanted. When you remove the strips, they don't leave any sticky residue behind.
The strips aren't that noticeable and don't get in the way of charging with my USB dock or with my Nokia DT-910 wireless charging dock. They provide the perfect amount of grip in hand as well as in my pocket. Now I don't worry about my phone sliding out of my side cargo pants pocket when I sit down – which has happened several times since I stopped using the elago cover…
The Egrips material has a slight sticky feel to it, so I thought it would probably end up looking nasty from lint, dust and whatever else it might attract in my pockets, but I'm happy to say that after 2 days of use, the strips still look clean. I'm sure if I took a magnifying glass and looked really closely that I would see debris between the raised bumps, but that doesn't bother me.
The adhesive that holds the strips must be very strong because they are not coming away from the cover after repeated friction of being inserted and removed from multiple pockets.
I've only been using the Egrip Non-Slip Strips for a couple of days, but so far I'm very impressed. I'll do a follow-up report in a couple weeks to let everyone know how well they are holding up after daily use. But so far they get two thumbs up from me.
Update 05/02/13: The 2 Egrips strips on the back of my SGS3 still look and feel brand new after 1.5 weeks of being inserted and removed from various pockets. 🙂
Update 08/09/13: Back on 05/04/13 I switched the back cover on my SGS3 to the Samsung back cover with wireless charging built in and immediately added some Egrip strips. I'm happy to say that 3 months later they are still holding up. They are starting to look a little worn down, but not horribly so. They still provide grip and keep the phone from falling out of my pocket.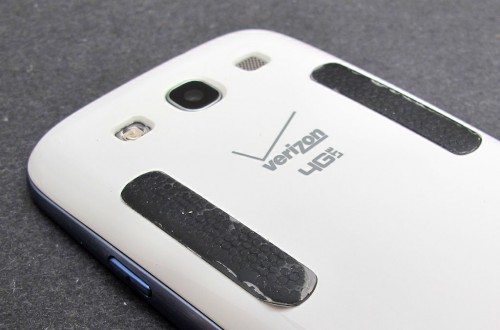 Update 08/30/13: The strips are looking pretty ratty and one side is peeling up. It's time to replace them. The strips lasted almost 4 months though, so that's not too bad. The strips were easy to remove and didn't leave any sticky residue.

Product Information
Price:
$7.95 and up, varies by pack
Manufacturer:
Egrips
Pros:

Provides extra grip without adding bulk to device
Easily removed without leaving residue

Cons: