We use affiliate links. If you buy something through the links on this page, we may earn a commission at no cost to you. Learn more.
Product Requirements:
Device:
Reviewed for Palm Zire 71 and Innopocket Aluminum case for Zire 71 – available for just about anything!
Also reviewed for Tungsten T|3
One of the few complaints about the Zire 71 that is almost universal among users is that its casing is very slippery to hold.
Enter Egrips. Egrips are custom made for many different electronic devices, including the Zire 71. Made from a very "grippy" rubber, Egrips use a special adhesive that is easily removable if you want to take them off or change them for a different design.
The website description is: "Egrips is comprised of an adhesive backed graphic design or color (the possibilities are endless!) covered with a clear rubber layer that grips on virtually any surface."
I was contacted last week by Fred Antonini who asked me if I wanted to review the 4th generation eGrips they were just releasing. I told him I would be thrilled to as I was very impressed by the 3rd generation ones and was anxious to see what changes had been made. I personally didn't think that Fred and Cheryl could have done that much to improve eGrips as they were pretty darn good IMO to begin with. Was I wrong.
They come in many different styles for many different devices. (I chose plain vanilla silver) In fact, the website states that if you can't find your device, contact them and they'll see what they can do.
I have used 3m grip tape for years on my Rhinoskin cases and when I first received my Innopocket case, that was the first thing I added. While functional, the grip tape was not very attractive. So when I first read about the Egrips I was immediately intrigued. I sent off my $9.95 US and waited patiently for my custom made Egrips to arrive.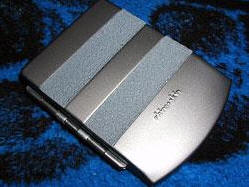 When the package arrived, I anxiously opened it up and carefully read the directions before applying. Nicely packaged, the Egrips were nicer than I had expected. Egrips thoughtfully even provided a small alcohol wipe to clean the surface of your device before applying.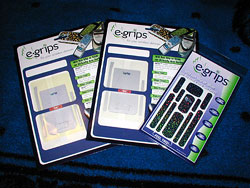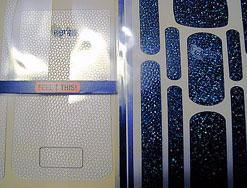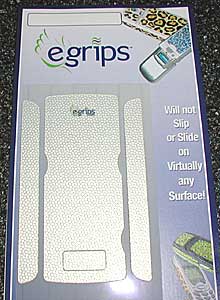 New Packaging! New design for Z71!
They still include the alcohol wipe, and the package is basically the same, but the eGrips are now on heavier plastic that you peel them off of. The Zire 71 cut out has been completely re-designed to fit the Z71 much better The side grips are much wider and the back piece is thinner.
I carefully applied them to both my Zire 71 and my Innopocket aluminum case. I used the smooth surface on the Zire 71 and the rough surface on the case. The smooth surface Egrips are .017 inches thick and the dimpled surface Egrips are .022 inches thick. While not as slippery as the Zire 71 case itself, the Innopocket case could sure benefit from the Egrips as well.
eGrips no longer offers the smooth surface, they only offer the dimpled surface – BUT – the 4th generation dimpled eGrips are now the same thickness as the smooth surfaced 3rd generation ones – .017 inches thick. It is a difference you can definitely feel. Much improved!
Once applied they added a sense of security when holding my devices that was amazing! They not only make them easier to securely hold, but when you place them on a surface they don't slide around at all! This will really enhance the safety of your device both when you are holding it and if / when you put it on desk or table.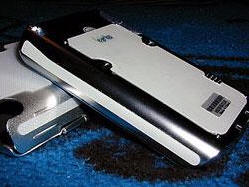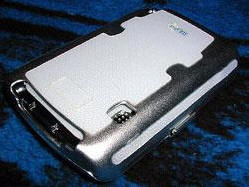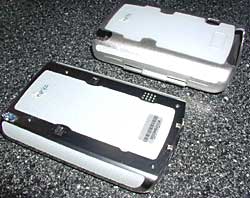 New 4th gen design next to old 3rd gen design

This would also be a very useful feature if you applied these to a cell phone. It would keep it from sliding around on the dash, or the seat or a table as well as when you hold it.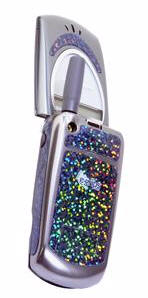 Fred Antonini and Cheryl Marshall are the owners of Flexible Innovations, the makers of Egrips, and they are very nice people. Not only did they send me the samples shown above after I had purchased my original set of Egrips, but they included a 'generic' sampler for use on any device.
I applied this generic sparkly Egrip to my GameboyAdvance SP. Very sharp! Thanks Fred and Cheryl! I love it!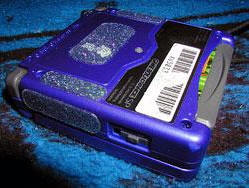 I would like to state on record that the Egrips product is probably one of the most useful items I have ever purchased for my Palm PDA, and now consider it an essential add-on to my PDA accessories right alongside a custom stylus and a hard case.
Highly, highly recommended.
The 4th generation eGrips are now much more durable utilizing a better adhesive to keep the bonded film together longer. While I had no problems with my 3rd generation eGips – I can see how this would benefit the longevity of the product. The 4th gen eGrips fit much better inside the Innopocket case of my Zire71, they slip easier into the case and yet are still there to provide a firm grip whenever I remove the Z71 from the Innopocket.

closeup of thinner version of dimpled eGrips, 4th generation
As I have upgraded to a Tungsten T3 and "inherited" my Z71 to my wife, Fred and Cheryl sent me a very nice 4th gen set of eGrips for my T3 as well.
The design has also been changed on the T3 eGrips, providing better side panels than the older cut-outs did. The Tungsten T3 is a very slippery metal and the eGrips have made my T3 feel *much* more secure in my hands than it did before.


4th generation eGrips on Tungsten T3
Just before finishing this update to the review – Fred sent me another note with some great information – "
we actually lowered our prices in that now Dimpled is standard and colors/graphics other than Black or Silver are only $1 more (with the exception of the Treo 600 selective Black back/Silver sides for $3 more)."
As an added value, eGrips also supports the GetBack program. Once you receive a GetBack sticker, you can remove a small space on the back of the main panel of the eGrips and the GetBack sticker will fit perfectly in the space that is left behind. A GetBack information card is included in the package for every eGrips.

Closeup of the GetBack space provide for in the 4th gen eGrips.
The 4th generation eGrips have actually done what I thought impossible, improve upon a stellar product. I cannot stress more strongly how essential I feel this product is to enhance the security of any electronic device you handle frequently. The feeling of security while holding any electronic object that is equipped with eGrips is unparalleled.
Price: $9.95 for smooth black or silver, add a
$1.00 for dimpled surface and another $1.00 if you choose a custom color. NEW PRICE $9.95 for standard dimpled black or silver, add $1.00 for other graphics except for Treo 600 with selective black/silver sides for $3.00 more.)

Product Information
Price:
$9.95
Manufacturer:
Egrips
Pros:

Well crafted and useful product.
Custom made for many devices.
Adds security to your PDA or case when held in your hand or set down.
Reasonably priced.
Great support from developers
Improved a stellar product by making it thinner, cheaper and more durable! You can't ask for more!

Cons: