We use affiliate links. If you buy something through the links on this page, we may earn a commission at no cost to you. Learn more.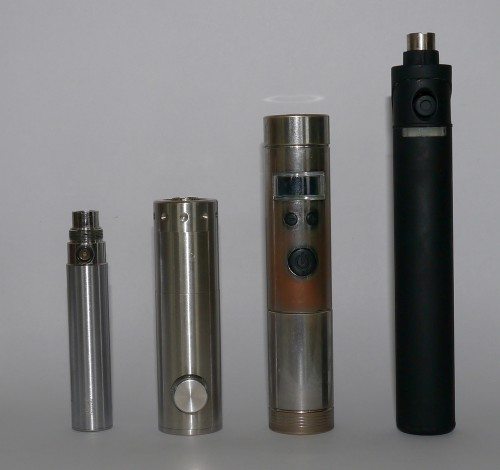 I felt it was time for a quick followup on my original Joyetech e-cigarette review.  I've now been almost six months cigarette-free, that's approximately 4500 cigarettes I haven't smoked!  So no 4000+ nasty chemicals, a huge saving in money, my taste has returned, I'm feeling way healthier and my clothes (and I) don't stink !  I've reduced my nicotine e-juice from 1.8% to 0.3% and about to reduce it either 0.1% or zero.  In my original article I mentioned that if you got into mods, then it could be a dark and deep rabbit hole. Luckily, I haven't gone too far in. Many vapers will spend $200+ on a single battery mod, but I've managed to limit myself to cheaper Chinese mods.  What's available to you?  Read on……
In the lead picture you can see the 4 different types of mods I have which I'll discuss in order.
Joyetech EGO-T battery
This is where most vapers start and where a lot of them stay, if you don't get into the modding scene.  There's a small PCB in the battery that puts out a constant 3.3V current to your atomiser or tank. The generally come in 400, 650, 900, and 1000 mAh capacities ( 650mAh shown).  Basically the larger the capacity, the more time between charges. They're small and portable and easily maintained.  Though it's my first kit, it still gets used now and then just for it's sheer portability.
Smok Tech Natural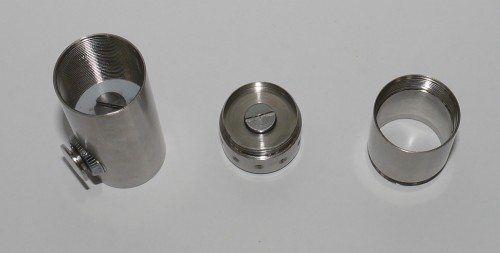 The mechanical mod comes in all sorts and shapes and sizes. There's absolutely no electronics in a mechanical mod; it's made up of tubes, springs, and pins. Kind of the steampunk of vaping. 🙂  Most mechanical mods  use 18XXX batteries, and many can also be adjusted (by additional tubes or telescoping threads) to fit from 18350 (700mAh) to 18650 (2200 mAh) batteries.  As mentioned above, the bigger the battery, the longer the life, and you can carry spare 18XXX batteries with you for a mechanical mod to easily swap out as your battery goes flat.
Unlike a regulated battery, the mechanical mod puts out the "native" power of your battery, so normally from about 4.2V down until your battery is too flat to drive your coil, and the power (and vapor) will decrease over time. Higher power tends to produce a thicker and more flavorsome vapor, though this will depend on what flavour your are using. I really like the mechanical mod because it's just so basic, and the Natural is my favourite mod at the moment.
Vamo/Bamboo Variable Voltage/Wattage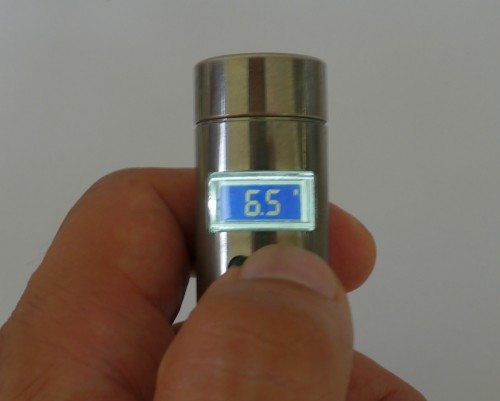 The Vamo or Bamboo is what's known as a variable voltage/wattage mod.  The voltage or wattage that the battery puts out can be easily changed just by pushing a button.  Circuitry inside has the ability to boost your output past what your native battery can do.  Different e-juices may need different power to get the best vapor and flavour.  For me, lighter e-juices like fruit flavours need lower power while heavier e-juices like chocolate or coffee need more power to really make the flavours come out. With the variable settings, you can instantly go up and down until you find the setting you want.
Again, variable mods tend to use 18XXX batteries, so longer battery life can be achieved (though battery life will depend on how high you set it), and spare batteries can easily be carried with you.  In the top picture you'll see one of the "downsides" of buying a $40 Chinese mod versus a $200+ European/American mod – the chrome plating has worn off in the last few months, leaving a very brassed mod.
Janty MiD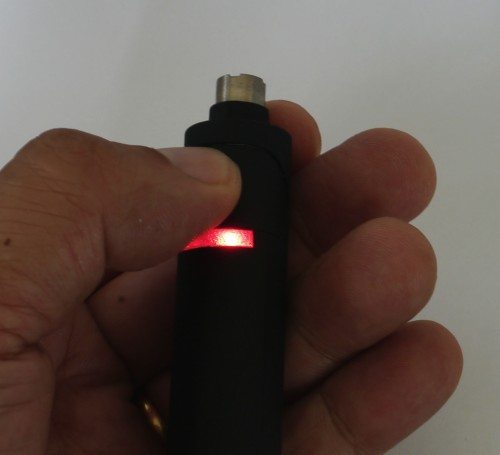 The Janty MiD is being marketed as the "Most advanced e-cigarette", and even though I've only just received this one, it's very different from any of the other mods mentioned above.  It has a joystick and a variable colour LED as its interface.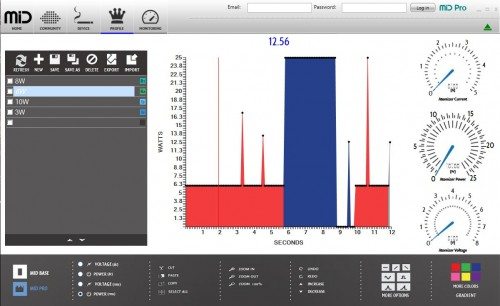 You can control and program the MiD via your PC.  It will do variable voltage and wattage, and you can even program how much power it puts out every second of its 12 second vape cycle, and you can even set what colour the LED will be.  I've only just started playing with this mod, but expect a full review as I come to terms with what it can do and how to program it 🙂 The MiD uses multiple 16xxx batteries.
Conclusion
What you vape on and how much you spend on a mod really can vary from cheap to very expensive.  That being said, they'll pretty much all fall into the 4 catagories above.  While the Chinese Natural cost me $65, a very similar European one might cost you $150. Whether you're willing to pay the price difference for perhaps better quality components or build really does depend on your budget.
In the end though, they're all really just battery holders of some description, and it really doesn't matter which sort you're using. As long as you're not smoking cigarettes, I reckon it's all money well spent ! 🙂