We use affiliate links. If you buy something through the links on this page, we may earn a commission at no cost to you. Learn more.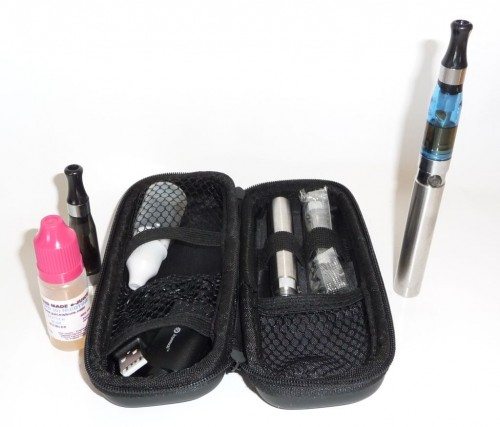 Quick hands up please, how many Gadgeteer readers smoke?  Another quick poll, how many have tried to give up?  I know I have, multiple times. 🙂  I've tried Nicotine Replacement Treatment (NRT) in the form of gum, hypnotism, cold turkey (not smoking, not the meat 🙂 ) and Zyban. Yet after 30 years I'm still smoking.  Well I've now been cigarette free for quite a while now with the help of the Joyetech EGO-T e-cigarette.  From day one of receiving this item I haven't picked up a smoke or even been tempted.  Want to know more ?  Read on.
Disclaimers
I am not a medical professional 
I have written this article without trying to make it an anti/pro smoking , anti/pro tobacco company or anti/pro government article. 🙂
The information supplied here based purely on my own personal experience.
Introduction
It's funny how things happen sometimes isn't it? I was reading a thread on e-cigarettes on another forum and even though I'd read about them before I put up a quick post asking a question. I then found out that there was an e-cigarette seller in the same city as me. Within three hours I was having a coffee with the owner and walked away with a starter kit.  After doing a bit more research I discovered I wanted a different kit and swapped it over with him in a supermarket carpark at 9:30pm.  The wonders of buying locally 🙂 And since that night, I haven't had a cigarette.
Is smoking tobacco really  bad for you ? 🙂
According to the CDC, smoking tobacco exposes you to around 7000+ different chemicals, hundreds of which are toxic and 70 of which are known to be carcinogenic, and that's without even considering other  factors like the tar that coats your lungs.
Besides the health concerns there's also the cost of regularly buying cigarettes, the smell, the burn marks in your clothes, the list just goes on and on.
Those of you who do smoke or have given it up will know that it's not just the chemical addiction that's hard to give up but also the behavioural habit as well.  Isn't that first smoke with your morning coffee fantastic?  🙂
It's worth noting here that unlike many NRT options like patches or gum, e-cigarettes aren't actually recognised by Governments in many countries as a means of reducing/quitting smoking.
E-Cigarette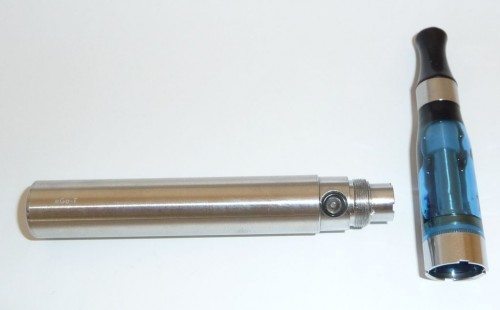 E-cigarettes come in all shapes and sizes; however, the basic principle remains the same. A battery supplies power to an atomizer which transforms glycerin, nicotine, and flavour stored in a cartridge to vapor.
Batteries are available in all sorts of shapes, sizes, colours and charge capacities. A single 900 mAh EGO-T battery lasts me about a day and a half and they're easily charged via a USB charger. It's worth having two so that you can still vape while your other one is charging.
I'm using Vision Star Dust clearomizers, which integrates the atomizer and the chamber.  This makes it easy to use and gives me a solution that's foolproof and more importantly leak proof.  I wanted to keep it as simple as possible. The Star Dust will hold about 1.6ml of e-liquid and most people use around 3ml per day. They can be cleaned, but in the end are a disposable item and should last at least a couple of weeks or more.  They cost around $4.90 to replace, and newer versions allow you to rebuild them at a cheaper cost.
If you go down the rabbit hole, getting into vaping can be  expensive as you upgrade into all the different mods and models that are available.   The entire starter kit you see in my header picture set me back just over $50 or just over one week of tobacco. To this I've had to add some juice and nicotine, probably around another $60 worth.  That's still only about 3 weeks worth of tobacco and I've now got enough equipment to last me around 5 -6 months, I'm guessing.
e-Juices
e-Juice can be had in almost any flavour you can imagine. You can either purchase pre made e-Juices or make up your own with or without nicotine.  While many try to stay with a tobacco type flavour, it's possible to be vaping Key Lime Pie, Roast Chicken and Potatos  or  Bourbon and Cola.  Makes it quite interesting and you can vary as much as you like. I can load up different Star Dusts with different flavours for a bit of variety during the day. My current favourites are Whisky and Butter Rum 🙂
Nicotine
To the flavour you add nicotine though it is an option to vape without the nicotine content.  Nicotine can be ordered in different concentrations with the intention that you gradually reduce the amount of nicotine until you ween yourself off it completely, well at least that's the plan. 🙂 At the moment I'm vaping 18mg/ml (1.8%), and I've already made up some 12mg/ml  (1.2%) nicotine e-juice ready to go down to. You do have to find the right level initially though.  I started off with 12mg but still had thoughts about smoking a cigarette, changing to 18ml has fixed that.  My research seems to point to the fact that those who try and give up smoking using e-cigarettes without nicotine seem to fail.
Usage

Here's my e-cig assembled, it's around 5.5″ (14cm) in length. It doesn't really physically emulate a cigarette, though it is possible to get e-cigarettes that do.  You remove the mouth piece, drop some of your e-Juice into the chamber, screw the chamber to the battery and you're good to go. The battery can be locked or unlocked by pressing it 5 times quickly, so it doesn't "discharge" in your pocket or bag unintentionally.  The e-Juice is wicked up into the atomiser, and as you push the button, you basically draw back and breathe in the vapor produced. The only by-product when exhaling is water vapor, which is odourless and dissipates quickly.
To me this covers off 3 of the habits/addictions you've developed from smoking; the nicotine, the inhaling and exhaling smoke and the hand to mouth action.
Conclusion:
So since starting I haven't had a single smoke. Yes I'm still taking in nicotine, the most addictive part of smoking, but considered "harmless" in itself in the amounts that I'm vaping. Because I'm mixing my own juices, I can slowly reduce the amount of nicotine I take in until I'm completely weened off it. The best thing,  I haven't subjected myself to all those 7000+ other noxious chemicals.
Other advantages I've found so far:
Being a roll-your-own smoker, I (and more importantly, the wife) don't find particles of tobacco on benches, in pockets and all over the place anymore
My sense of smell and taste are slowly repairing themselves
I don't smell anymore. One of my smoking mates came around the other night, after he went out for a smoke he stunk. Wowsers did I smell like that? 🙂
I took the dog for a walk the other day up and down hills, and while I won't be running the Boston Marathon in the near future, I certainly didn't get anywhere as out of breath as I used to.
Have a look at my "motivational" sig below (it's live updating) .  It's not the  financial details that really blow me away but look how many cigarettes I HAVEN'T smoked 🙂
The only thing to mention here is that there's been no long-term studies on the effects of e-cigarettes, but in my own mind if I'm avoiding all the effects of smoking tobacco, any side effects will be minimal in comparison.
As anyone who's ever tried to give up smoking will know, it's not easy. I know; I've tried multiple times before. Besides the chemical and habitual addictions, you have to want to give up smoking. Well I just fell into this solution, no fore-thought or pre planning.  It just worked.  If you're thinking of  giving up it may well be a good option for you. Heck, it even involves gadgets 🙂
Update: One year later…
Product Information
Price:
$52 for the Starter Kit above with 2 X 900 mAh battery, charger, 3 x Stardust clearomizer, carry case and 10ml flavour
Manufacturer:
Joyetech
Retailer:
Ecig Quality in Tasmania Australia or various resellers around the world
Requirements:

USB port to charge your batteries
Nicotine Juice ( not mandatory but highly recommended)
Flavours

Pros:

Stop smoking tobacco almost immediately
Cheaper than smoking tobacco
Healthier

Cons:

No long term studies on effects of e-cigarettes