We use affiliate links. If you buy something through the links on this page, we may earn a commission at no cost to you. Learn more.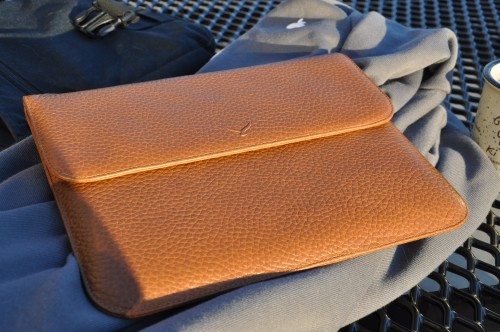 Like most everyone who has ever used one, I love my iPad. And, true to my gadget-loving nature, I'm never satisfied with the case I'm using for long. Sometimes, I want a casual case, sometimes I want maximum protection, and sometimes I want it to look nice, because I'm going to be in a business meeting where "sporty" would be considered unprofessional. Enter the MAPI Byze Leather iPad sleeve.note: Images can be clicked for a larger size.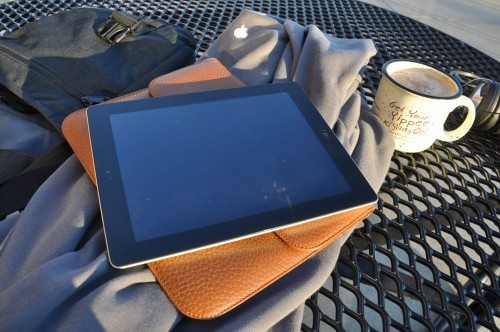 This envelope of pebbled cowhide is lined partly with the same material as the outside and under flap, and partly with a soft, smooth cotton suede. The fit is tight on the newer iPads. Using a case or Smart Cover, you can get it in, but it's quite a snug fit. Over time, it would probably stretch somewhat, but I prefer putting mine in with nothing else on it.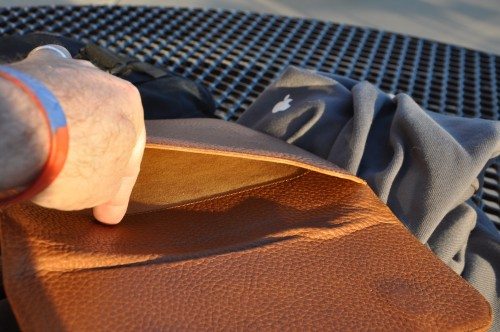 While the sleeve is padded and soft to the touch, the edges are sewn tightly, so there is a fair degree of edge-drop protection. Closure is by dual magnets under the ample flap. I never once had the iPad slip out or felt that the case wasn't secure, which is a good feeling.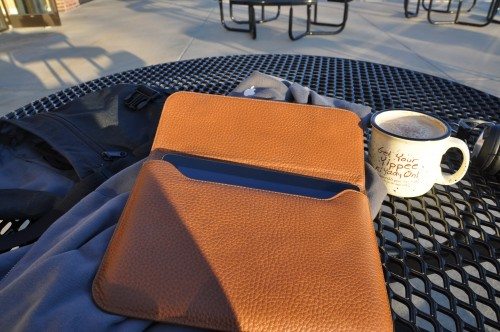 The seams are top-sewn, very tight and even, with no raw edges showing. There are two small embossed emblems: on the center of the flap is what looks like a stylized bird in flight, and on the back lower middle, there is a simple "MAPI" logotype. Both are small, not too deep, and can be covered with a US quarter (about the same size as the €2 or £1 coins.) They are almost unnoticeable. The overall size of the sleeve is roughly that of a standard letter or A4 sheet of paper, so it will fit right in with business papers and binders.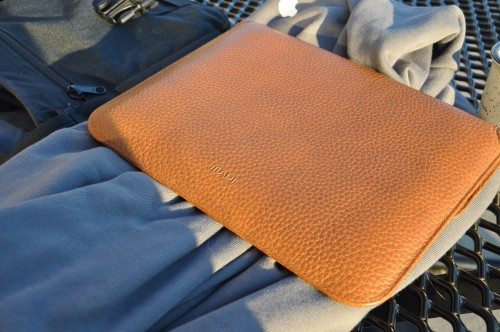 I found that carrying my iPad in this sleeve got a lot of "Oooo, very nice" type comments, since I'm not one to hang out in boardrooms and bank offices. It would probably be noticed there, but not commented on. Since it is just a plain sleeve, however, I found myself missing the holding-stand feature of a case or cover that can allow for typing or movie viewing. When I'm typing on my iPad, as I'm doing now, it's not as comfortable flat on the table as it is with a slight incline, and the thickness of the MAPI sleeve doesn't quite do it. Also, as with any case, there comes the matter of what to do with it while you're using your iPad, which I feel is a strike against sleeves. I do like that the inside of a sleeve is never in contact with a table or desk, so is not transferring foreign materials back to your screen. With the MAPI sleeve, I didn't notice the 'screen wiping' action that some tight sleeves have, where the inner lining is microfiber and will wipe off fingerprints and such every time you slide the device in or out. My daily driver JAVOedge sleeve has this somewhat, but I usually have a cloth in my bag to handle cleaning duties, since fingerprints are a constant thing with tablets, not just when you are putting them away.
Overall, a fine piece of workmanship, and a well designed sleeve – if a sleeve is what you like. Four stars out of five.

Product Information
Price:
$100 (extra points to MAPI for not putting it down as $99!)
Manufacturer:
MAPI
Retailer:
MAPI
Requirements:

iPad or similar form-factor tablet

Pros:

Premium leather - soft, pebbled texture.
Tight hand-sewn seams.
Good protection during transport.

Cons:

Cannot use with any other cover.
No angled stand functions.