We use affiliate links. If you buy something through the links on this page, we may earn a commission at no cost to you. Learn more.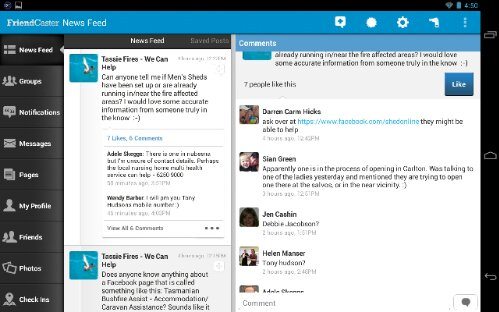 I'm not a big Facebook user, but these days it's a bit of a necessary evil. In my opinion, the official Facebook app for Android is nothing short of atrocious. It appears just to be a different interface to the mobile web site. Friendcaster is an alternative client that makes using Facebook just that little bit more bearable, especially on a tablet like the Nexus 7.
Down the left side is an access bar that allows you to easily go to groups, notifications, messages, or pages you belong to, amongst other things, and you can change the order depending on your needs. If you need the "real estate", you can also hide this bar.  The middle column is a summary like you get on the web client, and if you click on an item here, you get the full post with all its associated likes and comments on the right side.  Of course you can customize all the options, like notifications.
It's a much nicer interface, including a nice scrollable widget.
Root required: No