We use affiliate links. If you buy something through the links on this page, we may earn a commission at no cost to you. Learn more.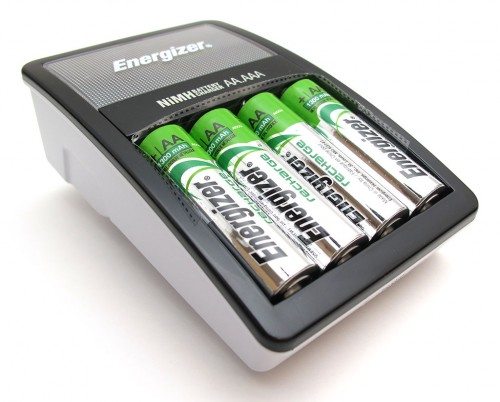 How many devices, toys and gadgets do you own that use AA or AAA batteries? Do you feed these devices standard alkaline batteries, or do you use rechargeables? I personally prefer to go the rechargeable route mainly because it's easier and less expensive for me to pop a set of drained batteries into a charger and wait for them to rejuice, then it is for me to drive to the store and buy a brand new set. I've been using an ancient Realistic (Radio Shack) branded charger for years and although it charges batteries just fine, it's bulky and not efficient because it continues to charge the batteries even after they are fully charged. When the folks at Energizer asked if I would like to review one of their chargers, I gladly accepted and they sent me a sample of their new Recharge Value AA/AAA NiMH Battery Charger. Let's take a look. 
Note: Images can be clicked to view a larger size.
Hardware Specs
Model: CHVCM4
Charges: AA NiMH batteries up to 2650mAh, AAA NiMH batteries up to 1000mAh
Input Voltage: AC 110-127V 50/60 Hz
Charging Current: 260-300 mA for 2AA and 120-140mA for 2AAA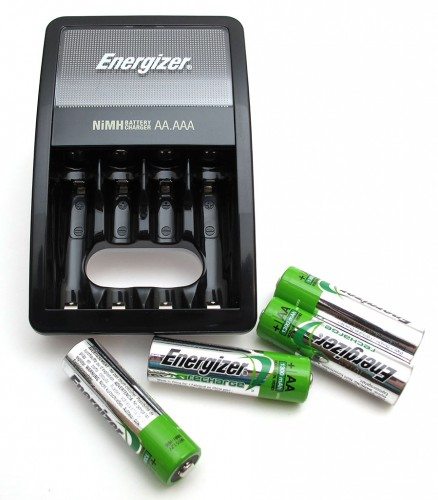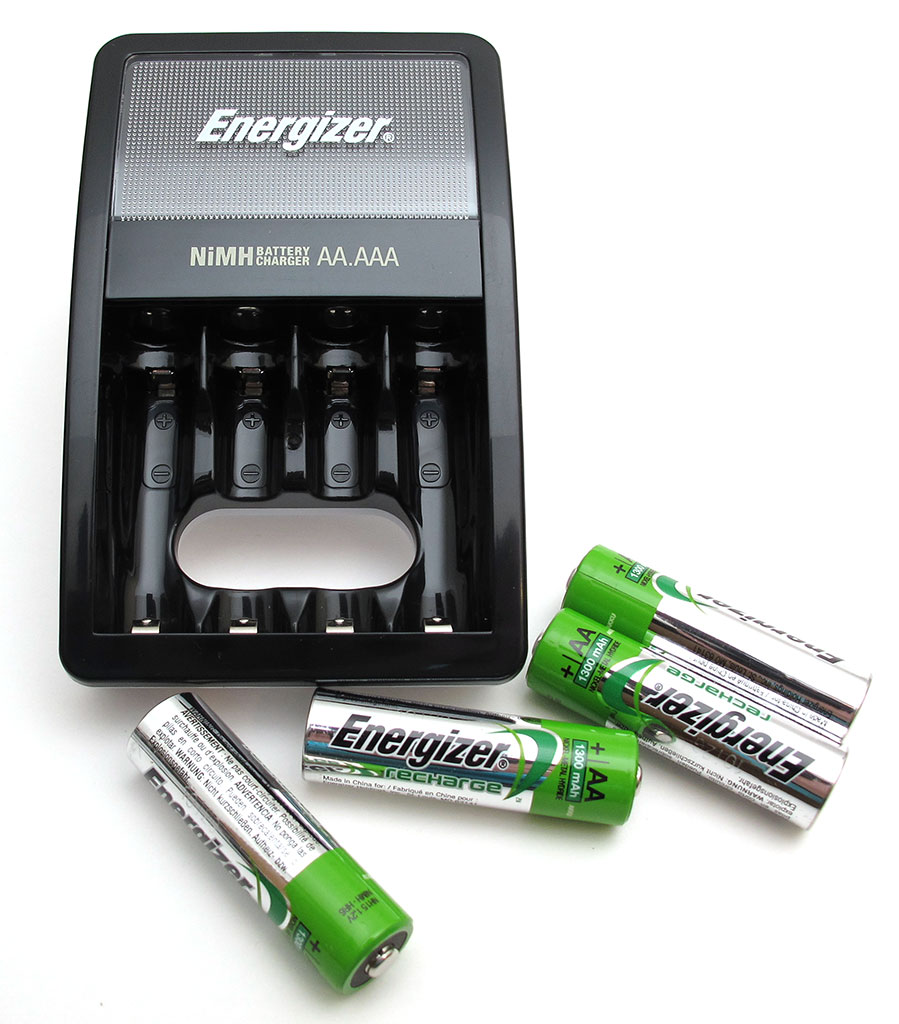 What's in the package?
Energizer charger
4 AA NiMH 1300 mAh batteries
Instruction sheet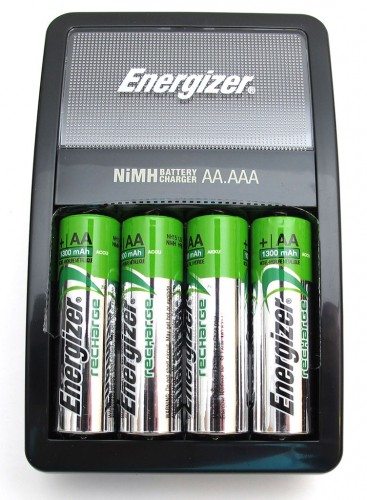 This charger is designed to accommodate 4 AA or 4 AAA Nickel Metal Hydride (NiMH) batteries. You can not use this charger to charge other types of batteries such as Lithium Ion and standard alkaline cells. It will allow you to mix sizes, so you can charge 2 AA's and 2 AAA's at one time as long as you make sure that each battery type is of the same mAh rating. However, you can't charge an odd number of batteries such as 1 or 3 cells.
The Value charger comes with 4 AA 1300 mAh pre-charged batteries. I was surprised to see the low 1300 mAh rating on the included batteries considering that Energizer also offers 2300 mAh batteries.
Never miss one of our posts again. Sent MON, WED, and FRI with the latest gadget reviews and news!
The charger itself is compact and attractive.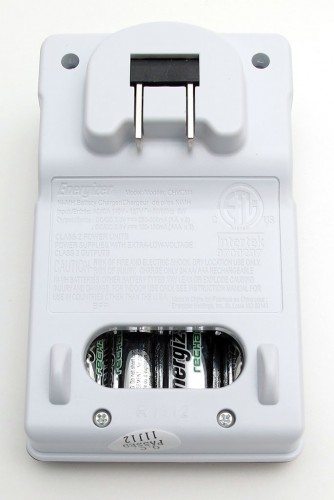 It has fold down prongs, which allow it to easily store in a drawer or gear bag.
One feature I really love is the hole that goes straight through the charger. How many times have you used a screwdriver or another pointy object to help you remove batteries from a charger? Removing batteries from the Recharge Value charger is much easier because you can just push them out with your fingers.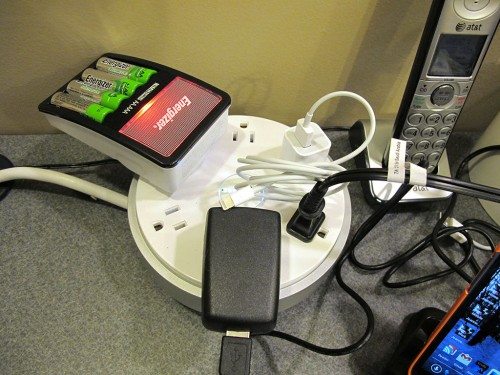 The other feature that I like is the large status indicator, which glows red while charging, green when finished and flashes red when a bad battery has been  detected.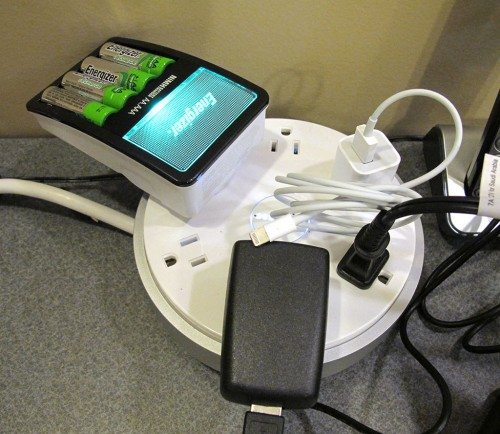 During the time that I've been testing this charger, I've used it to charge the included batteries as well as another set of Energizer AA's that I already had on hand. As luck would have it, I didn't have any other brands of batteries to test.But the charger should work just fine as long as the batteries do not exceed 2650mAh for AA's and 1000mAh for AAA's.
It's important to note that this is not a smart charger. It's actually a timer-based dumb charger. What's the difference and why should you care? A Smart charger monitors the voltage of each cell individually during charging and stops when a charge-termination signal (negative delta-Voltage) is detected. This avoids over-charging. A Dumb charger relies on a timer to stop charging or has no termination mechanism at all. This usually results in over-charging which is bad for battery lifespan.
The Energizer Recharge Value Charger charges at a fixed current (300mA for AA, 150mA for AAA) for a fixed time of 11 hours. No matter what the actual capacity and status of your batteries, it will charge for that length of time and will then turn off.  When you use it to recharge the included 1300mAh batteries, you have to remember to remove them after 5-6 hours (because 1300mAh/300mA = ~5.5 hours). If you forget and leave them in the charger until the auto timer turns off after 11hrs, those batteries will be over-charged by over 50%. That doesn't mean the batteries will explode or catch fire, but it can negatively impact the overall life of the batteries.
Should you buy the Energizer Recharge Value AA/AAA NiMH Battery Charger? I wish that it was a smart charger with the capability of not over charging each individual battery because I really like this charger for the main two reasons I mentioned above: easy battery removal and large status LED. As is, you're probably better off spending a few extra dollars on a smart charger so that you'll get more rechargers per battery, which will save you more money and energy in the long run. I'm going to continue to use this one because it's less bulky than my old one and it's easier to remove the batteries. However, I'm going to search around for a similarly sized smart charger.
03/05/13: Update from Energizer
The Value Charger does include delta voltage detection to avoid over charging. It monitors the voltage to determine when the batteries are full and will then automatically shut off. The green light will remain on to serve as an indicator that the batteries are full.

The charge time for the included 1300 mAh AA batteries is about five hours.

The 11-hour timer is strictly a back-up safety feature in the event the charger doesn't turn off once the batteries are fully charged.

The Value Charger will recharge any NiMH AA and AAA batteries. We recommend using Energizer rechargeable batteries with Energizer chargers.
Updates 10/12/2015
I still like using this charger for one main reason, the large status light. I don't pay attention to how long it takes to charge the batteries, I just like that light. It's easy to just look in my office and see if the batteries are done charging without walking in for a closer look. I also like that it takes no effort to insert or remove the batteries from the charger.