We use affiliate links. If you buy something through the links on this page, we may earn a commission at no cost to you. Learn more.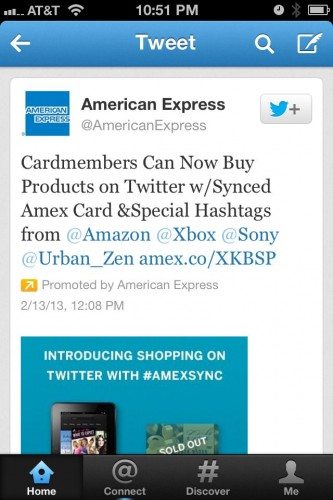 American Express recently announced that consumers who use Twitter will be able to pay for items using a special hashtag for certain products and websites.  After tweeting them what you want, you get a confirmation hashtag.  You then need to tweet back the confirmation hashtag, an email will be sent to you, then you need to confirm again that you want the product. It then gets shipped to your billing address.
Although this seems easy enough, a lot of questions come to mind.  Is it secure?  With recent news of Twitter passwords getting hacked, it would make me a bit uneasy to sync my credit card information with this social network. It also seems like too many steps are involved to pay.  Do I want the "Twitter-verse" to know what I'm purchasing? After all, @replies in Twitter are public.
I'll be interested to see how this plays out with major vendors and users who adopt this payment system.  This seems like a new use for social media just for the sake of being able to do it, not so much to make it easier for consumers to purchase goods and services.  I think I would feel a bit uneasy using this service since it seems too "public" facing to the internet.
Right now the service is only available in the United States.You can try out this new service over at the Amex Sync website.  If you decide to give it a try, let us know how you made out in the comments!